Happy Spring my friends!  I'm really excited about today's post because not only is Spring here, I'm joining 29 other bloggers for a fun and inspiring spring home tour, where you will be invited in to see how all these other bloggers decorate for Spring.  I know it's going to be fun to see, so get ready to be inspired!
Marty from A Stroll Thru Life is our hostess and she does a great job organizing this tour. Be sure to stop by and see her too!
And if you're coming over from Summer at Simple Stylings, welcome!  I know you were inspired at her house!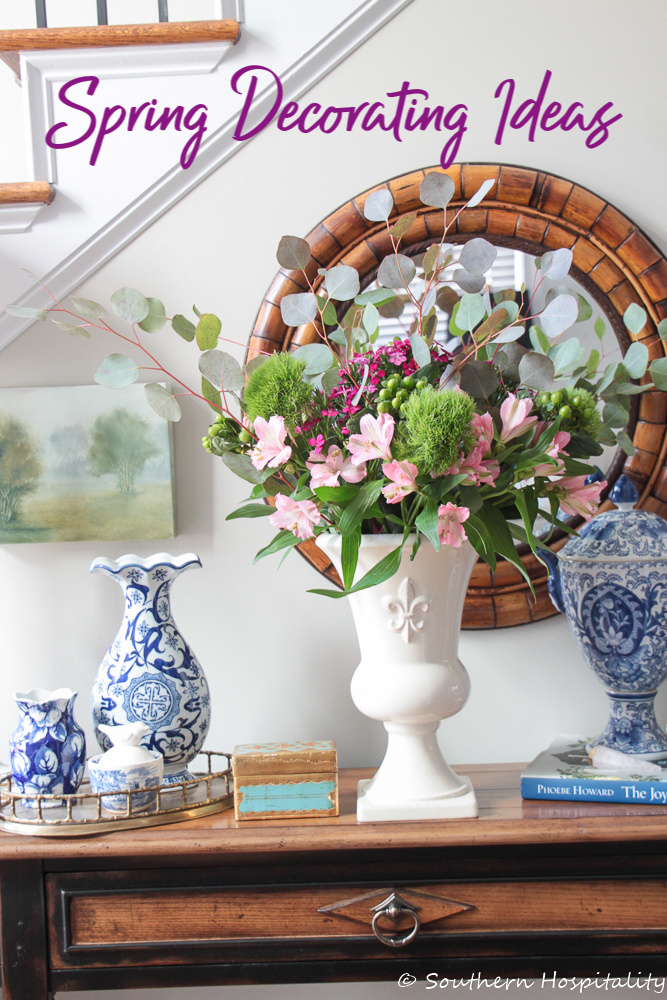 If you're new to my blog and haven't been here before, let me tell you a bit about me.  I've been blogging about home decor and renovations for 11 years now and so I've been doing home tours for a long time on my blog. Since I was newly married last summer to a wonderful guy named Mark, we bought a house together and have been working on it for 6 months, adding both of our styles in here.  We finally have the main level looking so good and it totally feels like home now.  It takes awhile after moving to finally feel settled in, but we are there now (at least on the main level) and it feels so good!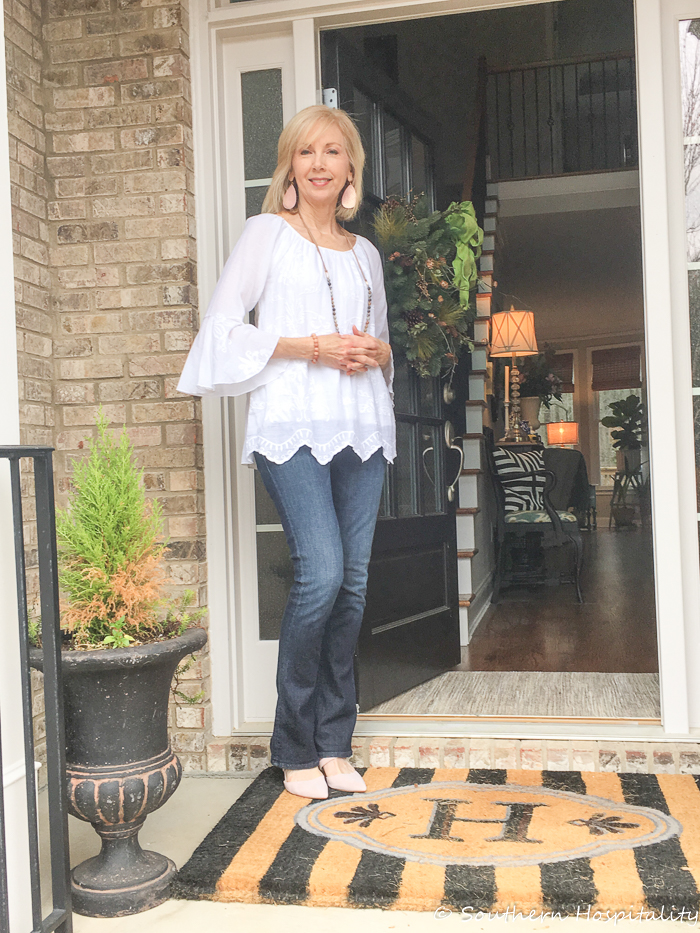 Come on in for my spring home tour!
Since I also do fashion posts for the over 50 crowd, I'll add this recent shot of me standing in my front door, with all my spring decor in the background.  I will confess to still having up a Christmas wreath but it does have a bright green bow on it, so it works for now. I'll get to the outside of decorating for spring later, but for now, let's go inside.
Warning!  If you're looking for an all neutral home, you're in the wrong place. This girl loves color and spring is the perfect time to pop it!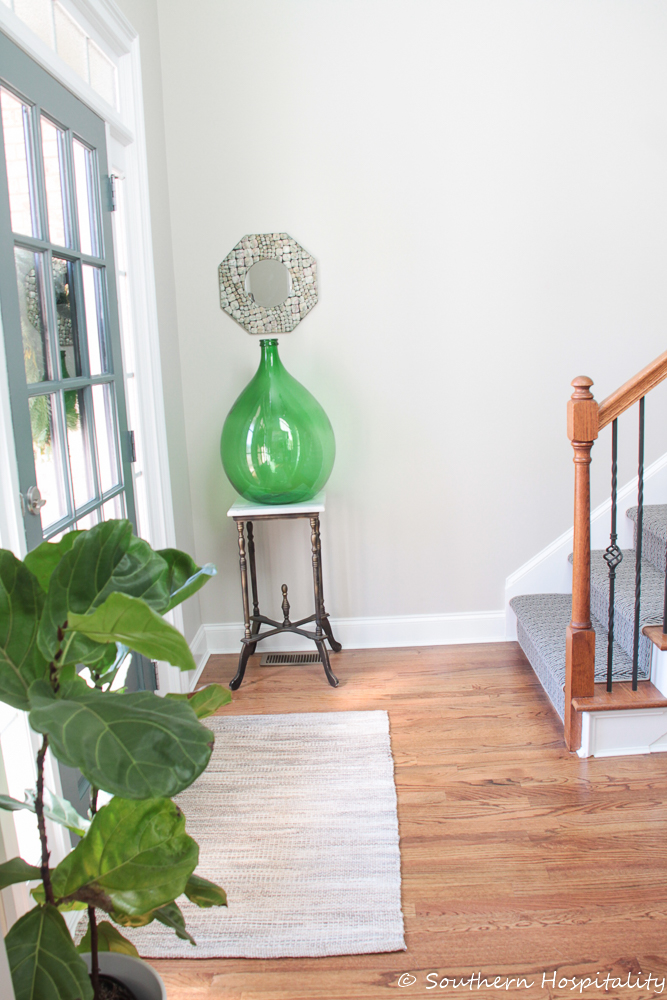 Right inside our front door is a simple look with a fiddle leaf fig and my antique green Italian wine bottle.
Straight ahead is the foyer table filled with blues and greens. Those colors make me so happy and in this house I'm doing a lot of blues.
To the right is our smallish living room, but it's filled with lots of color and style, I think.  The large gray green cabinet grounds the room and the sofa and 2 leather chairs I've had for many years. They just keep going!  Mark had the cabinet and I had the rest of this furniture and it all works well together.
We've been in our house for 7 months now and my hard working talented husband added the board and batten in the living room, the beadboard wainscot in the dining room and trimmed out the kitchen bar with that gorgeous beadboard, so we have been busy, busy in this house changing it from plain builder's beige to a stylish elegant look that totally suits our classic style.
I'm not one to change out my pillows for every season, but I do add some seasonal accessories around the house and spring is the time to bring out all the color.  I went to Trader Joe's and bought fresh flowers for all around the house and that does the trick of adding spring for me.
Nothing like tulips to brighten up a room!
This gallery wall is filled with vintage paintings that I've collected over the years and I love having them grouped here on the navy blue wall.  That's my grandma's little vintage side table.
I dyed these leather chairs last fall and love how they turned out. They were a gold color and I decided I didn't have anything to lose by trying to dye them and they came out great.
Foyer table that was newly added since we moved in. I needed something long and skinny for this space and love this piece.  You can find many things that I have in my home on my Shop my Home page.  I'm standing in our dining room to take this picture.
I'm a fan of blue and white and vintage things too, so it's a mix around here.  Fresh flowers make any space look better!  That vintage rattan mirror was a recent thrifting find in FL.
I love bunnies too, in case you can't tell.  This cute bunny came from Soft Surroundings and they recently sent it to me.  He has a fluffy tail and is so cute, perfect for my Spring decor, you can find him here (affiliate link), I got the Medium.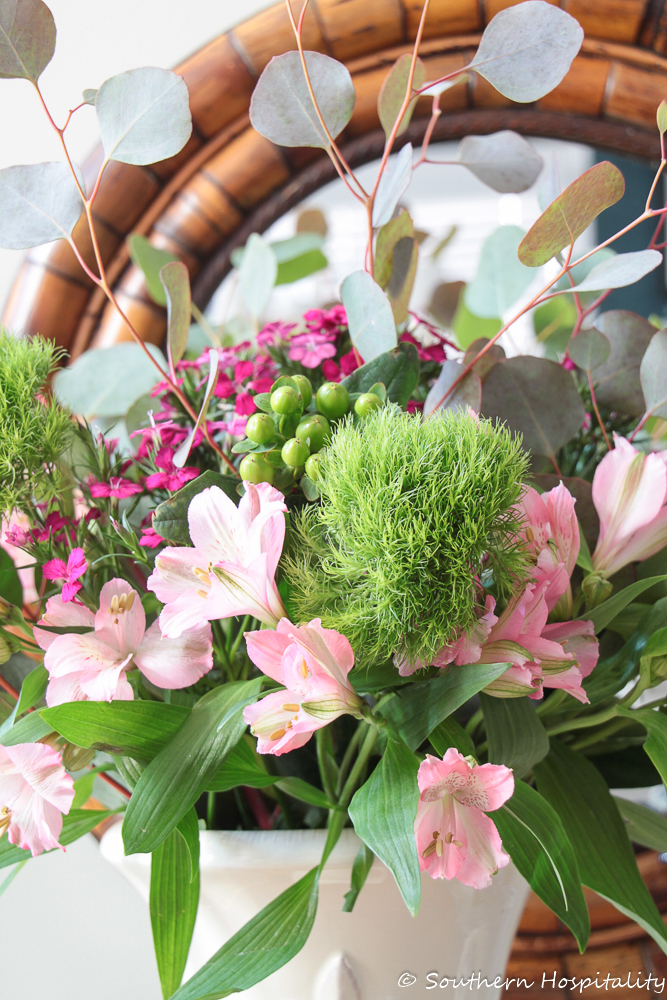 Fresh flowers from Trader Joes.
Next, we have the dining room. Our house is sort of all open to each other on this level.  The living room, dining room and kitchen are all connected through doorways as well as our family room too.  So you can see almost everything from the front door.  I am in love with our dining room and it's great to  have it finished!  My talented husband, Mark, did all that beadboard wainscot and I had the wallpaper installed before Christmas.
My Bordallo bunny plates are perfect to pull out this time of year and make a great display on the dining room table.  I mix blues and greens in here as well.  That tray is from Homegoods and the black metal vase pieces in the middle are a Magnolia Home find when I visited Magnolia Home in Waco last year.  Those faux tulips came from there as well. Bunnies on a stick were from Pier One several years ago.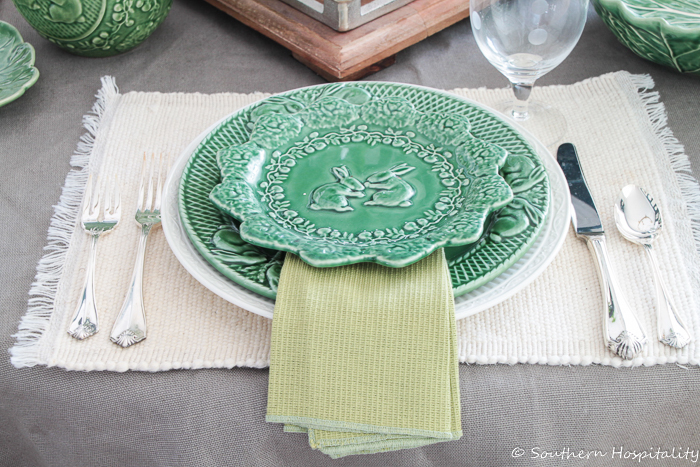 I've got a large collection of these Bordallo plates and accessories and collected them all more than 20 years ago.  I know many of you out there have them too and they are still a favorite!
More fresh flowers from Trader Joe's. Those lamps are just gorgeous and were a very lucky find at Homegoods.  I have those linked on my Shop page too, for the best price I've found online.
Our family room is just around the corner from the dining room and adjoins the kitchen.  It has a large bank of 5 windows across the back of our house, letting in tons of light.  I love this room and all the light we get in this house.
Those bamboo shades are from Payless Decor, who sponsored them for me.  They are Premium shades in Dali Natural.  I get asked about them a lot and I just love them. They add so much warmth to the windows and blend in nicely with the floors.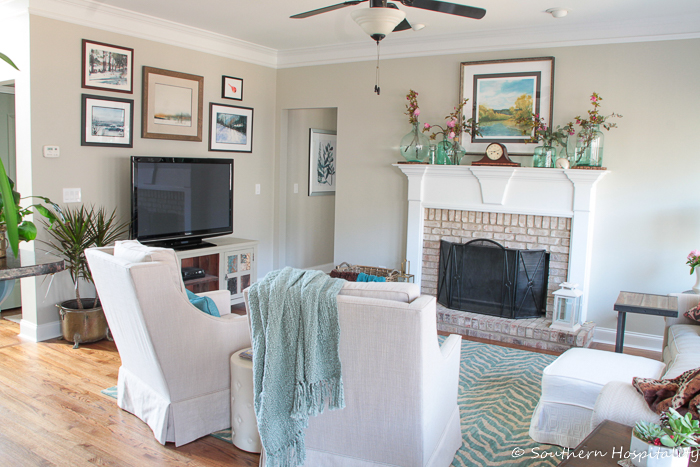 Those swivel chairs were found at Scott Antiques back in the fall and they fit so nicely in this space.  We are about to do a refresh in here soon and add a few new things that will really finish off the room so I'm excited about that.  I love how this room as come together.  Rug is from Shaw Floors, but discontinued.
Wall color through our whole main level is Magnolia Homes Gatherings, a soft gray beige. 
For the spring mantel, I wanted to keep it simple and pretty.  Those aqua glass jars I've been collecting for awhile and they make the perfect spring display with fresh cherry blossom branches in them and watching them bloom has been fun.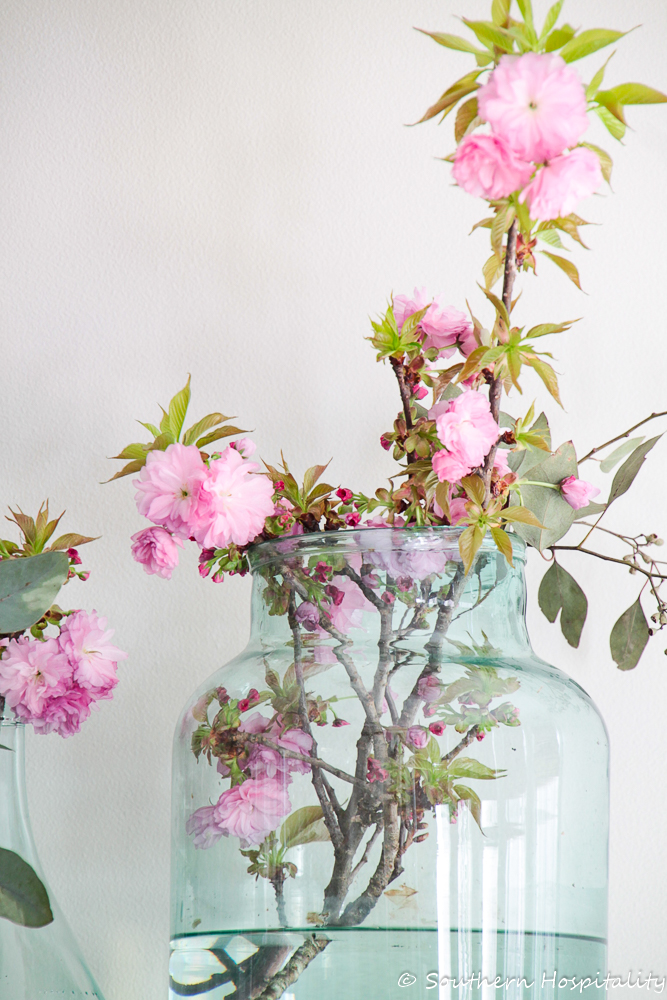 I just love to see these soft pink flowers burst open with beauty!  These branches were cut from the tree at my old house.
The mantel for spring!  I just got that new art print, from a local place called Tucci's.  This piece is a numbered print and very soft watercolor and I just love the colors.
We did a trade and I told her I would mention her store. She has some great looking furniture, accessories and artwork at really good prices, so if you're in the area, stop by Tucci's on Barrett Parkway. That was my first time in there and I was impressed with what she had.  The artwork is really well priced.  I got another piece from here that I'll be sharing soon in the new guest bath.
And here's a shot with Mark's beloved clock that was his grandparents.  He treasures this clock and it is nice to hear the Westminster chimes going off every hour.  I took pics with and without it, but it does normally stay on the mantel.  Sometimes I like the mantel to be more bare for pictures.
More flowers and pillows on the sofa.
View from the family room into the keeping room (that's what I'm calling it anyway).
Since this space is pretty small, we didn't see the need to add a breakfast table here, so I made it a sitting area. This is a beautiful antique French cupboard that I've had for many years and this was the perfect spot for it. I recently added this pretty vintage shelves above and filled it with my favorite vintage collectibles.
I haven't changed it up much since I installed these shelves, but added a couple of new things.
More blooming cherry blossoms in the glass jar.
And another of my bunny pieces, in white ware.
Our kitchen is small, but functions very well for us.  You can see all the way into the dining room and all the way to the living room from here.  The lower kitchen cabinets and bar are painted Ben Moore Knoxville Gray.  It's not quite this bright as this picture shows, it's more moody and darker in person.
Looking back towards the family room.
Looking back to the front door.  I hope you enjoyed this tour of our Spring home!  I'm so happy to have things where they are now and mostly finished on this floor.  I'll be sharing the new guest bath soon and since I took so many pictures of each of these spaces, I'll be doing a tour of each room with more detailed shots too, so stay tuned for those.  It's been nice to finally get out my big camera to take decent pics.
Head on over to Jenna at Rain on a Tin Roof for her spring tour!  You are sure to be inspired by all these bloggers sharing this week and Marty has the entire line up posted HERE.
I'm still in Austin, TX and so tomorrow I'm skipping Feature Friday, but I'll be home soon and I'm sure I'll have some fun things to share from my TX trip too! Hope y'all have a great weekend!
Here are all the bloggers sharing their spring homes this week!
Thursday – March 22
Fri –March 23
Don't Miss a Post, join my list!