Spring in the South is just beautiful and I arrived home just in time for the flower show of azaleas and dogwoods in April.
This beautiful pink dogwood always puts on a show outside my parent's house, along with the hot pink azaleas, a staple in most Southern yards. My parent's house was built in 1973 and just like they are, it's simple and unpretentious.   We lived next door to this house for about 10 years previously in a brick rancher. My dad built both homes and we've lived on this street since the mid-60's.  Home sweet home.
A cute young newlywed couple bought the brick rancher next door over a year ago and are fixing it up SO adorable. I'm planning to do a blog post on that house that I grew up in and show you the Before and Afters. But, that will have to wait until Fall, since they are still doing some work on it.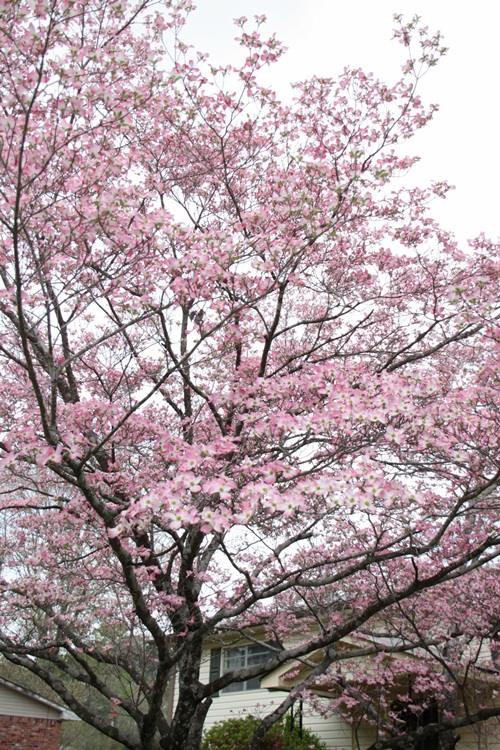 I love this pink dogwood and the beautiful show it puts on every year about this time. 
Welcoming Spring and just in time for Easter.
These hot pink azaleas are always abundantly pretty too and this year they were loaded with fluffy magenta blooms.
So pretty!
Come on in and I'll show you the room I call home now. I moved in this room for the first time when I was 16 and it's been through a few changes over the years.  The last time I lived at home was when I was saving to build my own house back in the early 80's.  I lived at home for a few years until I could afford to build and then I moved in that house at 28.  I try not to dwell on the loss of having a home of my own now.  I have to look forward and not back.
My niece Lauren used to have this room, since she had a room at her house and her Nana's house when she was growing up.  She made herself at home and had it decorated with lots of animal prints and stuffed wild animals.  My mom got a little misty-eyed, I think, when the room had to be cleaned out so I could move in here, but she made it through the changes.  Now that Lauren is a married woman, it wasn't as hard to let this room go.  Lauren gets her pack rat tendencies from my dad and we all three have a little hoarder in us. 🙂  
You can see I did manage to squeeze my big king sized sleigh bed in here. I wasn't sure how much I could fit in this small space, but I did get everything in here that I had hoped.  You can see the bed looks sparse.  All my fancy pillows were packed in a box somewhere in that storage house and I did dig out a few of them after I took this pic. This room will not be a showplace, but it's comfy.
My jewelry armoire fits fine on that little wall and I even got my chair and ottoman in.
Back to a standard small closet, I did get all my clothes in except for some sweaters that got packed away in plastic bins.  Between me and my mom, we have a lot to fill up all these rooms.  They have 3 small bedrooms upstairs and the master bedroom is down.  One of her rooms is a sewing room and one a guestroom.  They are all filled to the max.   But, we are all adjusting to the move.  I just have to be deliberate about picking things up to keep this room straight.  The closet still needs some work.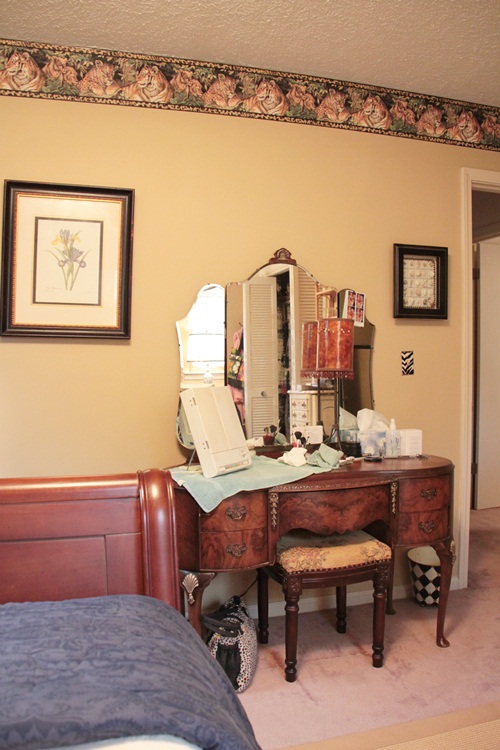 I was very happy to be able to fit my vanity in here, since I use it every day.  Shield your eyes from the mauve carpet. I'm afraid it's not going anywhere.
You can see the cornices from my old blue bathroom fit the windows in here too.  With my TV and fan, I'm set now.
This border HAS got to go!  Left over from the animal print days, it will be ripped down sooner rather than later.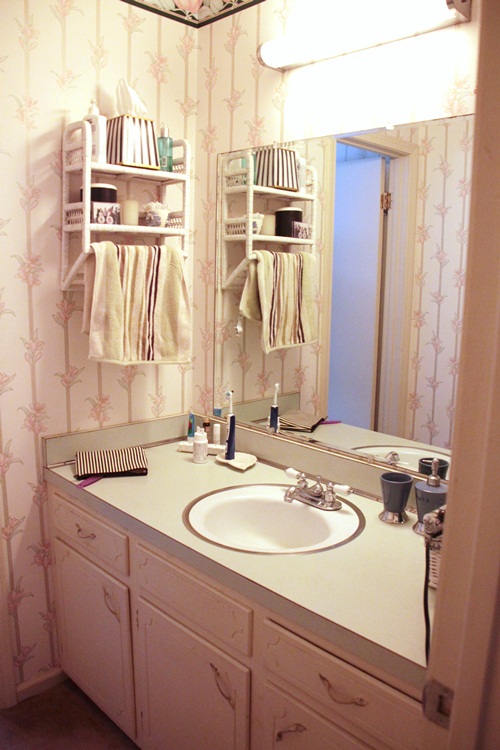 Now the bathroom is in dire need of an update.  Stuck in the 70's, this wallpaper was put up sometime in the 80's I think and it's time for a redo.  My mom is cool with that and ready to rip down the wallpaper in both bathrooms, so that is on the to-do list soon, as well as ripping up the mauve carpet in here.  The entire upper level has this carpet and even though I'd love to see it all go, at least I can take it out of the bathroom.  There are some great alternatives out there now for flooring, so I'll be looking at some of them and deciding what to put down over the plywood that is underneath.  Tile or laminate, or something, I'll be DIYing this.  Of course, I'll share it all with  you!
I really don't mind the aqua laminate counter top.  I can work with it.  I think I'm going to do some beadboard wallpaper in here and in the tub room too.
Here's the original tub with avocado green tiles, which I don't mind either.  I can definitely work with this color.  If you wait long enough, a color will come back around again.  This is my clothes drying space too.
The tiles are a nice shade of green and will work fine for what I want to do.  I'll update in here and make it look so much more up to date and of course, I'll share it all along the way.  Time to get this space out of the 70's and into the 21st century. 🙂
So, that's a tour of my new digs.  I'm really enjoying being back with my family after a chaotic few months.  I'm so grateful for my parents and the opportunity to be here with them. The house is 2 levels and they are downstairs and I'm upstairs, so that works out great for all of us.

It will be fun to do some updates for them too.  This might not be what I had planned, but I'm learning to be content with where I am.

Don't Miss a Post, join my list!