Planning a vacation is always so exciting and when we planned this beach vacation about 2 months ago, we had been anticipating going ever since. Mark's family has been going to St. George Island for over 20 years and they have so many family memories tucked away. I went with the family for 2 years, the last time 3 years ago. Now that all the kids are grown and having kids of their own, it's hard for everyone to get together for a beach trip, so we figured then that might be the last year unless they make the plans and make it happen.
Mark's parents loved to go down there too and were there the 2 years I went. It was so much fun. I blogged both of those trips and you can see 2016 and 2017 St. George trips if you want to read more. I wrote a lot about St. George in the first post, so if you want to know more about this island, go and read those as well. Near Apalachicola, St. George Island is truly Old Florida, no high rises allowed. That's the best part, you are truly away from it all and this part of the Panhandle of FL is not nearly as crowded as Destin and Panama City Beach.
On another note, Mark's dad is not doing well. He was in the hospital for 3 weeks and rehab for 3 weeks and now at home for a couple of weeks, so we are very concerned about him as well. Just 2 short months ago we were all talking about going to the beach and then this turn of events with Mark's Dad's health. He had a tumor on his spine and couldn't walk all of a sudden. That's when he went in the hospital and we had hoped he might get rehab and walk again, but that didn't happen. He just got weaker and weaker and he has cancer too, so the long term prognosis is not good. We don't know how long we will have him.
Here's a shot of the whole family on the 2017 trip. Doesn't that look fun? It was! 
You know what they say about the best laid plans…they don't always go as you imagine they will. Such was the case with our beach trip this year.
As you can imagine, we were excited to go even though it was a small group this year: Me and Mark, Mark's sister Kim and BIL David, and Mark's cousin, Gary and his wife Debbie, who brought 2 couples with them from Orlando. A much smaller crowd than year's past, but we sure were looking forward to it. We all booked 3 houses to stay in and we were 7 houses apart, with Gary and Debbie in the middle with a pool.
We first heard about the upcoming Hurricane Sally the day before we were leaving for the beach. We knew from the weather app that it might be bad rain, but we couldn't cancel because of weather anyway, so we all headed down to St. George on Saturday. I had no idea that it would really be as bad as it was.
That pretty St. George sign was a good sight to behold on Saturday. That day the weather was decent, cloudy with some sun.
I took these pics in between rain coming through, but we stayed here in The Extra Mile, a two bedroom beach cottage across the street from the beach.
It has a nice screen porch all the way across the front with a nice view of the ocean. Unfortunately we only got to sit here one day. The rest of the trip it was a soggy mess.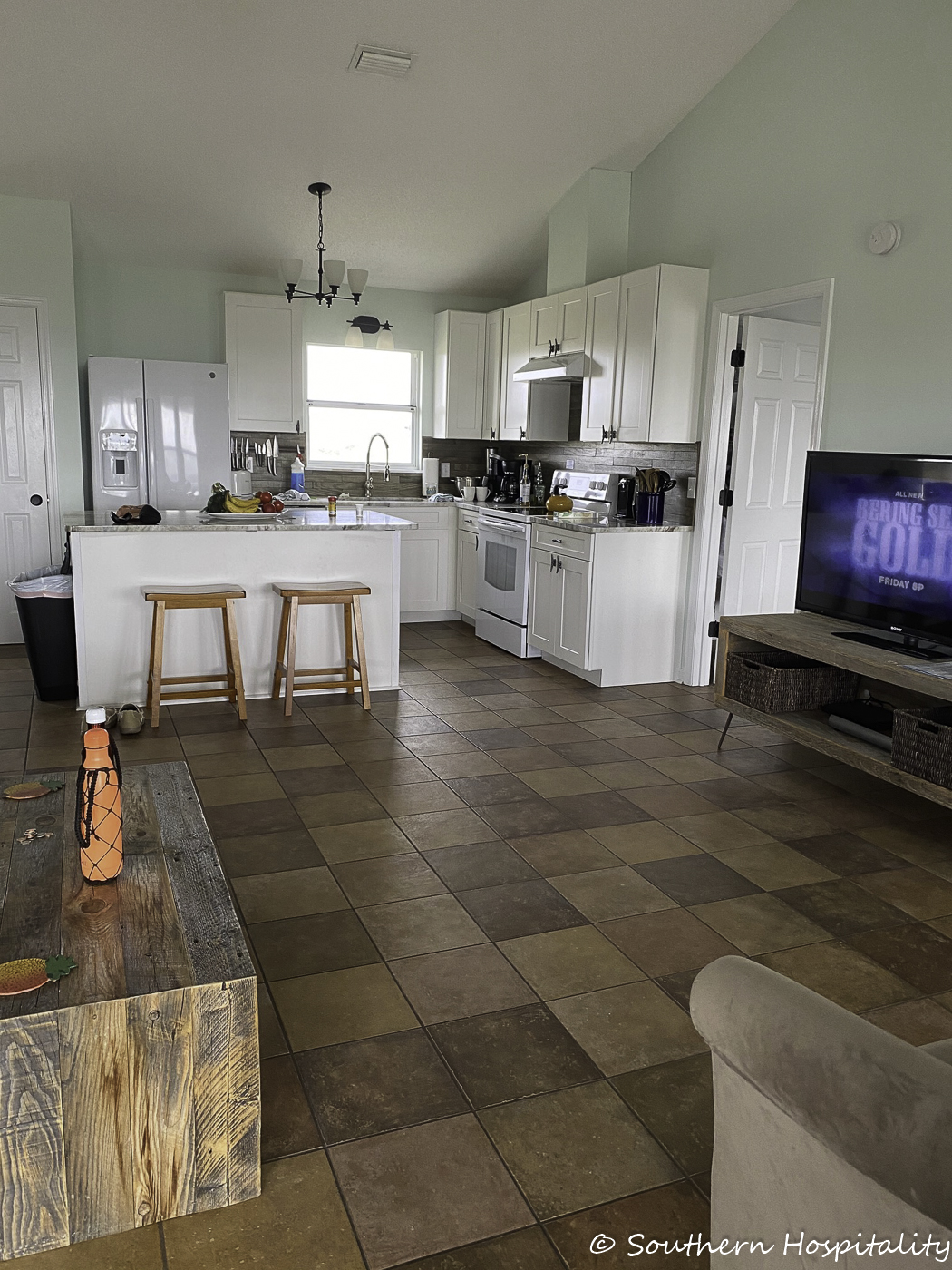 Inside is a spacious open floor plan with well stocked kitchen and a cushy sofa.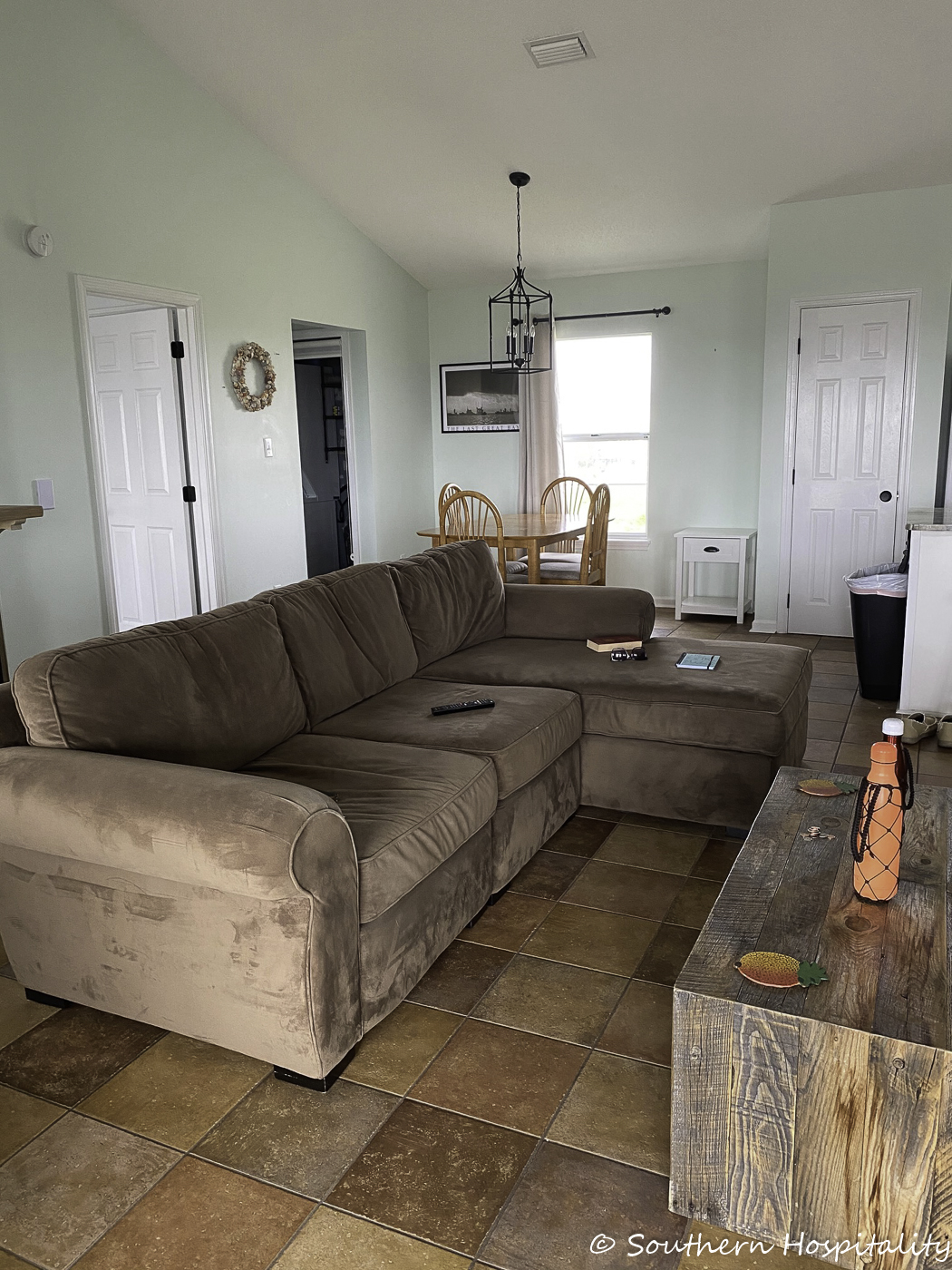 Cute and very adequate. Mark's parents were supposed to go with us and stay in the other room, but Mark's dad got sick and those plans were off. At this point, it does not look good for Mark's dad, he's not getting better and hospice is involved now. I mentioned earlier that he had a tumor on his back which caused him not to be able to walk. That was radiated in the hospital, but he also has other issues including cancer and after being in the hospital and rehab for 6 weeks, he's very weak.
He has declined so much since going in the hospital and rehab. It's very sad to lose our older generation and I knew when Mark and I got married that we would experience the loss of all 4 of our parents together. It sure isn't easy, but I know we will get through this together.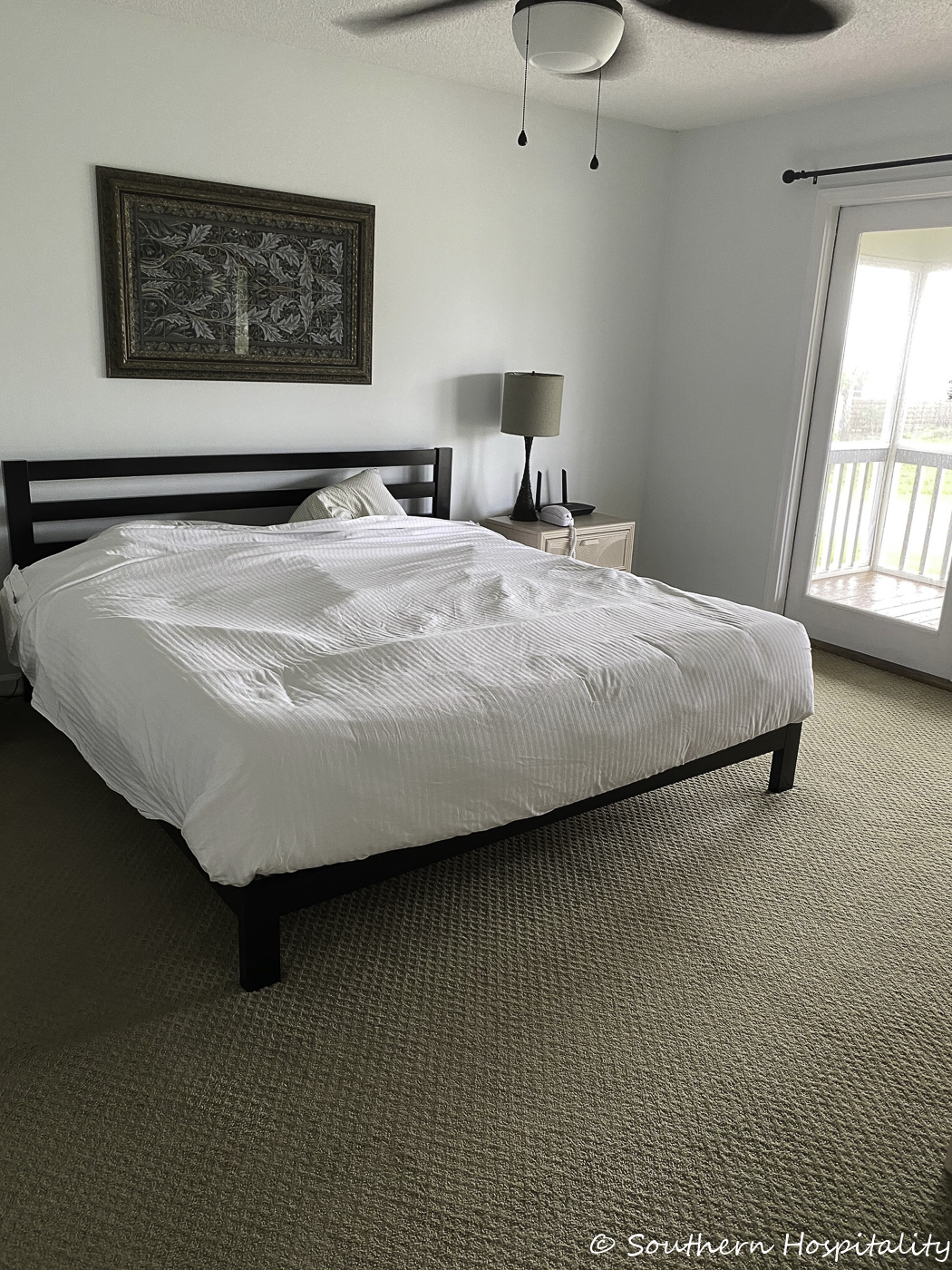 The king size bed was very comfy.
View from our porch. Notice all the clouds. This was a precursor to what was coming.
Right across from us was a cute beach path directly to the beach.
We had hoped to all be on the beach at least part of the week there.
The first night we saw a partial rainbow.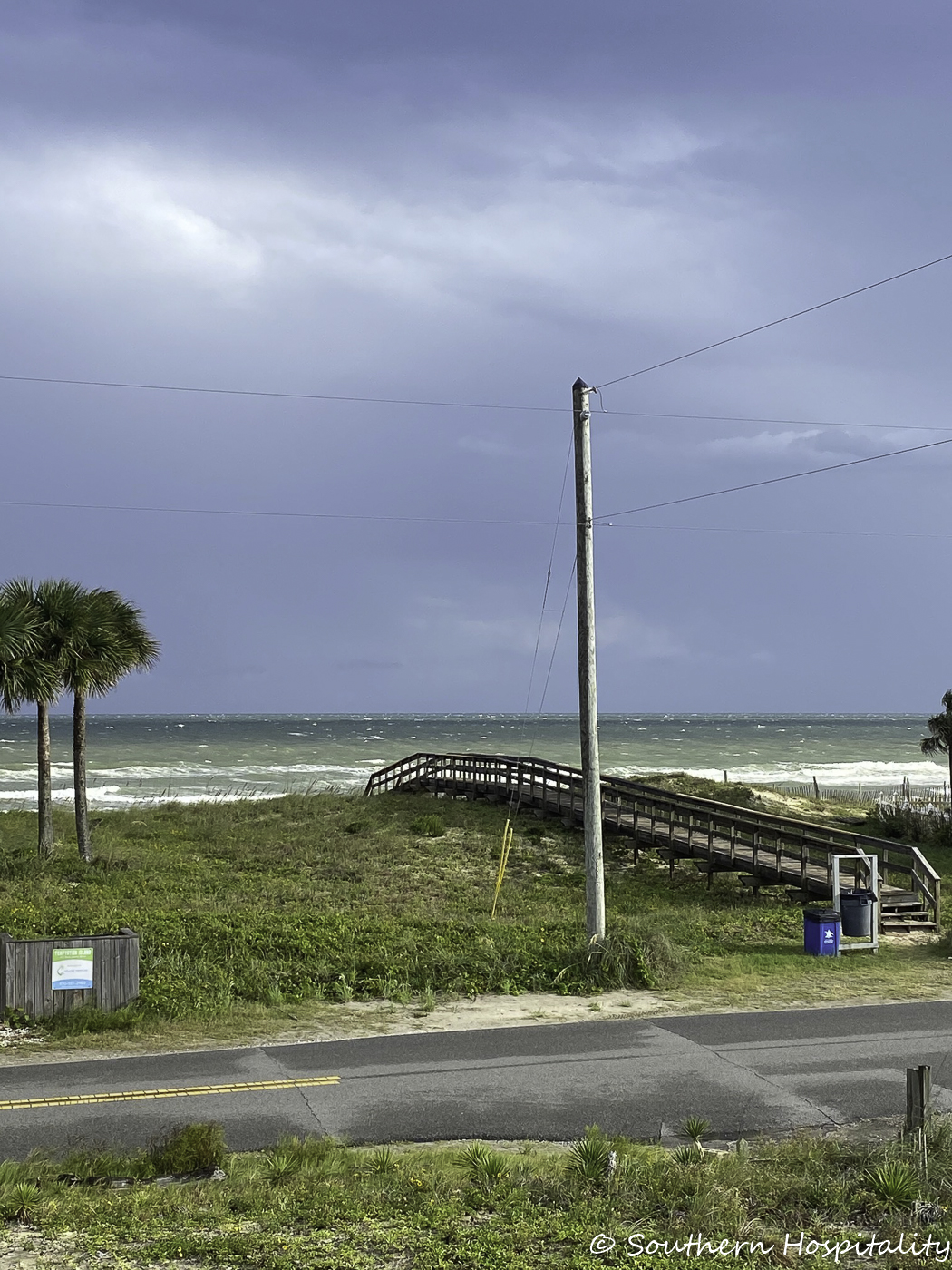 Boardwalk over to the beach next to the house that Kim and David stayed in. We also had bicycles included in our rental and that was going to be fun to ride bikes around the island since it's all flat. We rode once and it was very windy.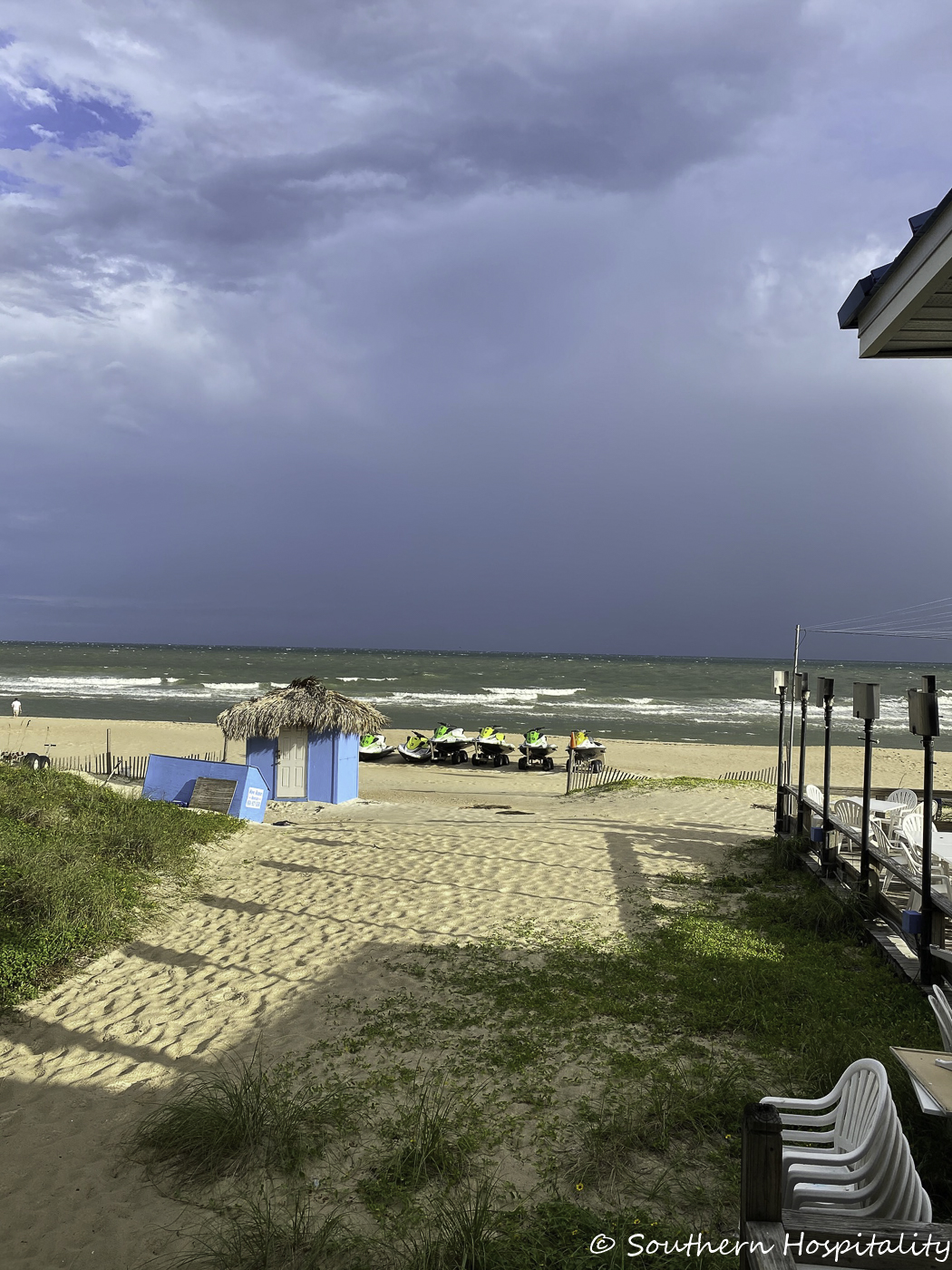 The first night we always go to the Blue Parrot so that's what we did for dinner that night and we all ate there together.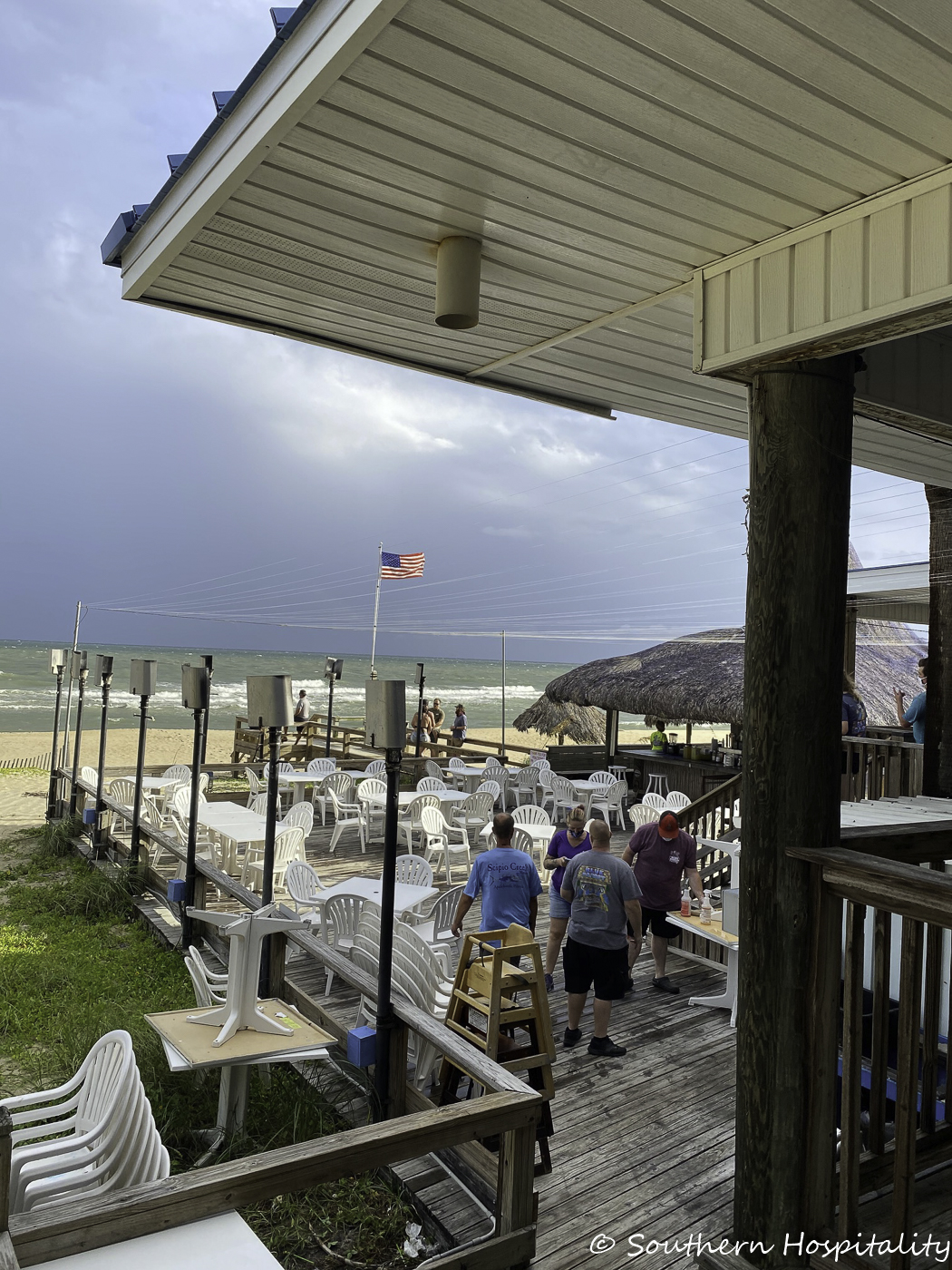 The outdoor area wasn't open, so we sat inside.
Grilled shrimp for me.
Pretty at dusk.
And the only sunset we saw that week. These pics actually look pretty good don't they? But the reality wasn't that pretty.
On Sunday we had part rain and part sun. We did get to go to Gary's pool for a bit that afternoon and that was the only day I had on my swimsuit. We all walked out to the beach on Sunday in the wind and the sand was blowing all around. The storm was coming.
On Sunday night, we went to eat at the Red Pirate a place we found when we were there 3 years ago. They have great peel & eat shrimp, potato skins and fried mushrooms, so we got that again this year. All was not lost, we did get some pretty good seafood while there.
This is what we saw on Sunday. We walked out took pics and went back in.
We walked out there twice during our stay and it was really windy both times. This was between rain storms blowing through.
The waves were really pounding during most of this since the wind had kicked up with the approaching Hurricane Sally.
We knew we were in for rain, just not as bad as it was. Now I have to say I'm really sorry for the folks in Gulf Shores, AL with such devastation and Pensacola for all the flooding that happened there. There is major damage and flooding damage to clean up. Our vacation was ruined as were countless other people's vacations and in the scheme of things, this is not a big deal at all. It was just disappointing in the middle of it but something that most of us will deal with at some point. We have no control over hurricanes and weather and everyone was at the mercy of this storm. I've seen the damage on the news and it's so bad. Hurricanes are such forces of nature with tremendous power.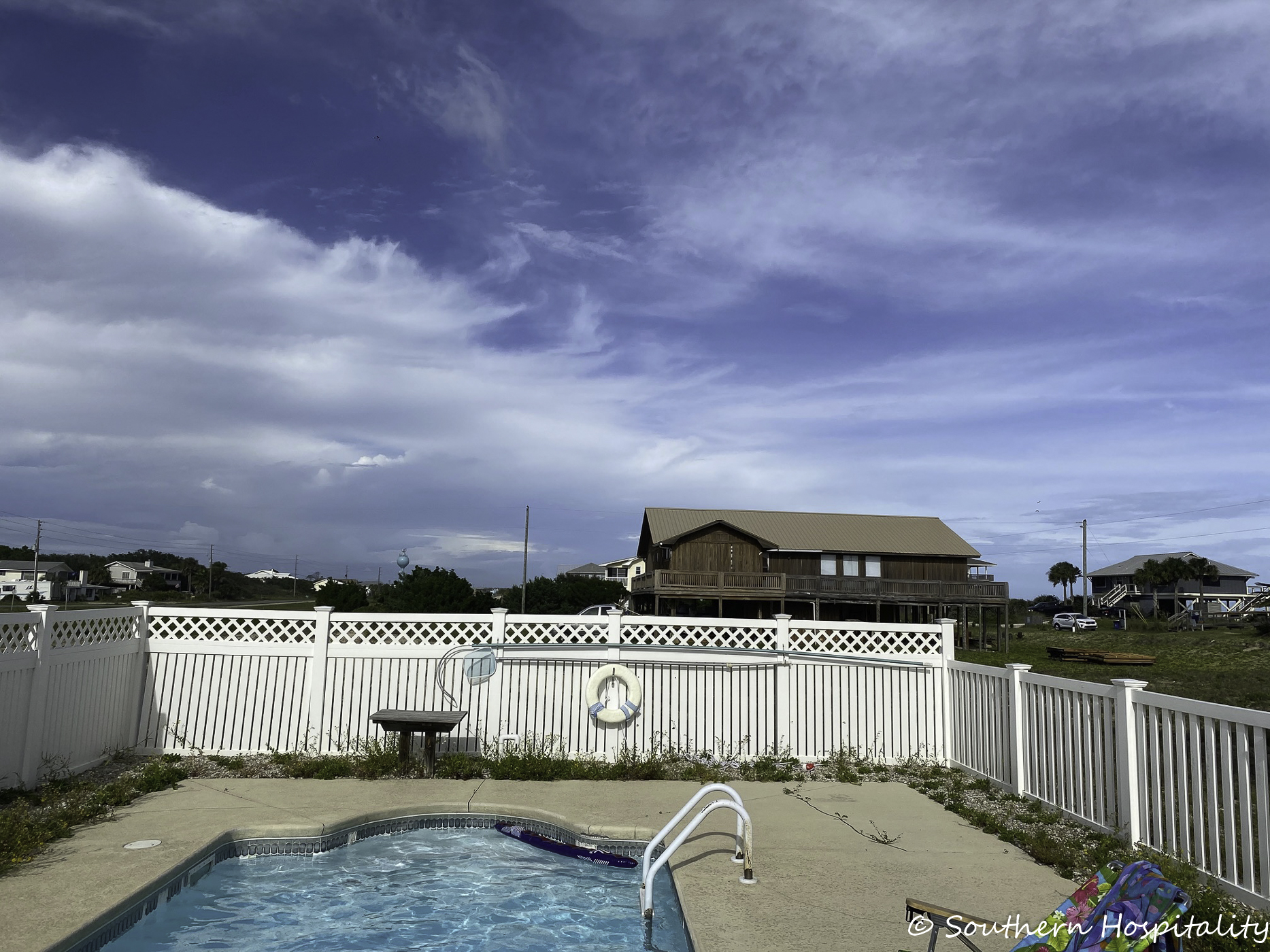 The only day we sat out by the pool on Sunday. The next day it all changed for the worst and lasted 3 days.
We did go out to dinner 3 nights and drove around a bit in the car so I took a few pics of houses while it wasn't storming.
St. George is just as cute as ever, just not during a major storm blowing through.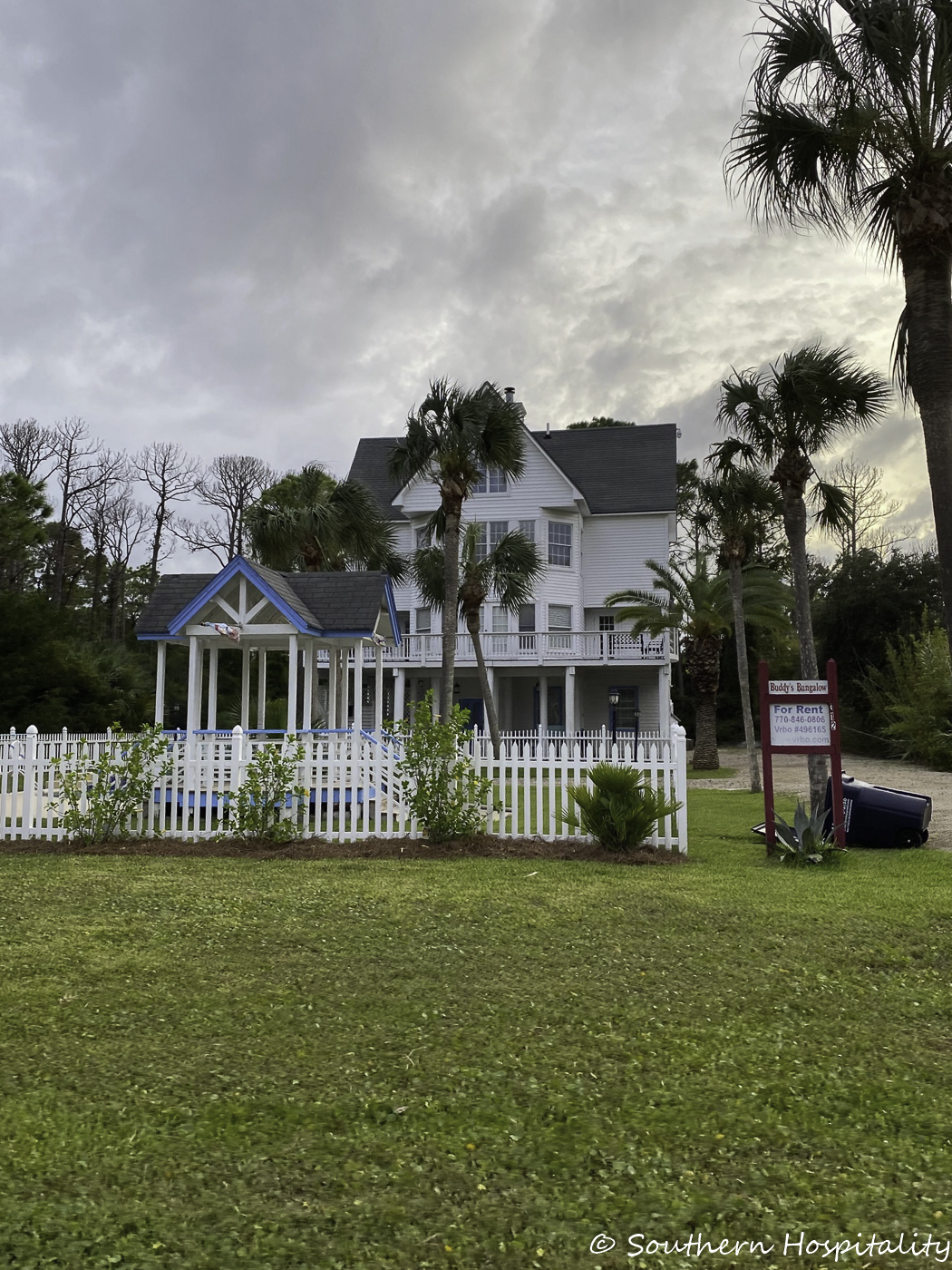 The bay side of the island.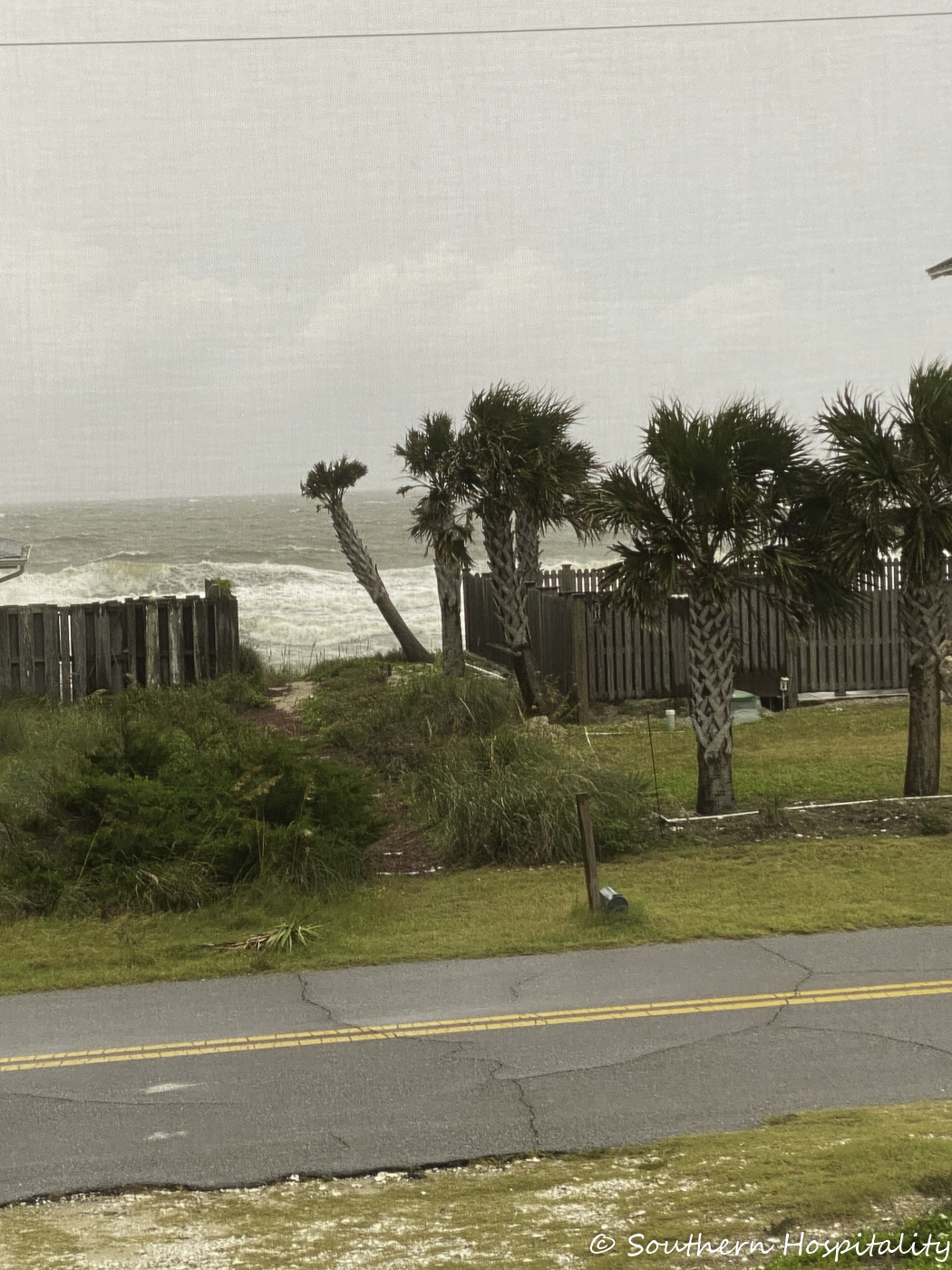 You can see how rough the surf and waves were here. The storm was moving so slow at about 2 mph that it took days to go through our area. The wind and rain howled for 3 straight nights, Sunday, Monday and Tuesday nights. It was loud! The wind was blowing between 25 and 30 mph. I can't imagine going through a Hurricane closer than we were at the wind speeds they get up to. That must be horrendous. This is as close as I've ever been to a hurricane and I know I don't want to be close to another one. Our house was shaking with all the wind.
Between rain squalls, Mark went over to look at the beach on Wednesday. It had been raining off and on for 3 straight days by then, some really blowing and pounding rain. Mark's sister, Kim and David decided Tuesday night that they were leaving the next morning. With such bad weather lasting who knows how long, we were all bummed that this was how the week turned out. Nothing like the previous years.
Once they decided to leave, I though we might stay through Thursday and see how it looked and actually by then it was probably much better. We left early afternoon on Wednesday and decided to cut out early and come home. We had just had enough at that point. We felt that we probably wouldn't even get to go to the beach but maybe part of Friday if then. I think things looked better Thursday (although still really windy) and Friday but we didn't stay to find out.  We sat in our beach house most of the time, or visiting with Kim and David and his cousin, Gary. We all went out to eat together twice. It was just not what we thought it would be, rain all the time and a storm blowing through. You can't predict these things, so you just have to deal with whatever weather comes along this time of year. We couldn't have picked worse unfortunately.
Here's a video of our porch during yet another blowing rain on Wednesday morning. This was the 3rd day of waking up to this.
We got dressed one night to go out and this was as good as I looked all week. I was pretty bedraggled looking most of the time. That wind did a number on my hair. We got to ride bikes in the wind one time and then we put them away. No bike rides, no beach, and the wind and rain was such that we didn't even want to get out in it at all. Just to go out to eat a couple of times.
We didn't make it over to  Apalachicola at all this trip. I hate we cut out on Wednesday (we were supposed to come home Saturday), but it just seemed pointless to stay. Maybe we would have enjoyed the last two days, I'm not sure. But we drove home in the rain and got home safely, thank goodness. There was so much flooding around and we saw plenty on the backroads of Florida and Georgia.
Sometimes you just don't know what a vacation will bring your way and this was one for the record books. We all kept saying, well it is 2020, what do we expect? This has been some kind of year, hasn't it?
Have you ever had a Hurricane ruin your beach trip. I heard from many on Instagram who had the same thing happen and I know there were countless people all up and down the Gulf coast who had theirs ruined too. As I mentioned, I know our situation was nothing compared to the destruction that is left in the aftermath of a hurricane, so I am keeping all that in mind, it's just disappointing to spend money and have things turn out like that.
That was our beach trip to St. George Island 2020. One for the books!
Don't Miss a Post, join my list!