A couple weekends ago, I headed down to St. Simons Island with 2 of my special girlfriends, Ruby and Wanda.  We had a great time getting away for just one night and got the opportunity to explore St. Simons for a couple of days.  In spite if the fact that I grew up in Georgia, I have never been to St. Simons Island, but have heard about it all my life.  I knew it was a small and quaint coastal spot on the Georgia map, but that was about it.  It didn't disappoint and it is a lovely little weekend getaway.
Lighthouse in the small coastal town of St. Simons.
Large stately oak trees were in abundance.
Lighthouses are so cool.
The rocky beach.
Serene and calm
Pier of St. Simons
Beautiful old trunk
Walkway to the water
We ate lunch at Barbara Jeans, one of the best known restaurants in the downtown area.
They are known for their crabcakes and yes, they were delish.
We browsed in a few shops along the way.
Then headed out to Christ Church, an old Episcopal church in St. Simons built in the late 1800's.
It's sits in a beautiful location with a sweeping green lawn.
Church steeple.
Beautiful stain glassed windows.  We learned that several US Presidents have attended services here.
Beautiful rafters inside the church.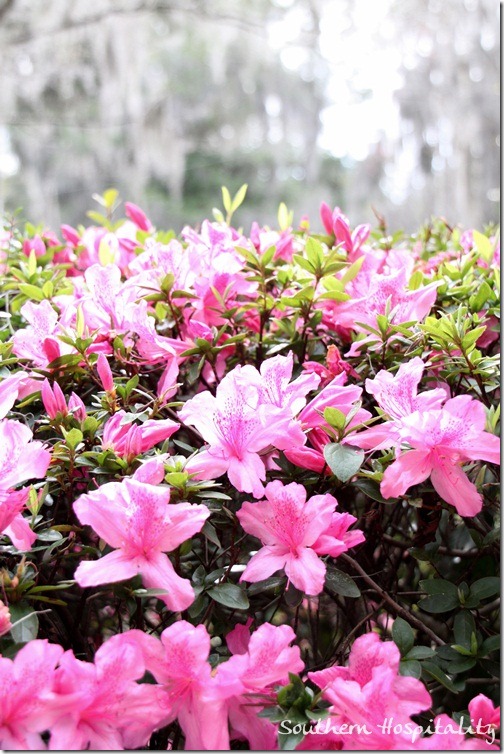 Believe it or not, the azaleas were already blooming in St. Simons.  We have had some unseasonably warm weather this year.
Camelias were in full bloom too.
There was a pretty old cemetary behind the church.
Gravestones
Tabby (a mixture of crushed oyster shells) is popular on the coast and used like concrete in building.
The church was so picturesque.
We also got a peek across the way to The Cloisters, a beautiful old resort on St. Simons (Sea Island) that goes way back.  It's known to be a place for the rich and famous to hang out.  Maybe that is why I've never been. 🙂
St. Simons is a beautiful little coastal town in Georgia and I'm so glad I finally got to see it for myself.  I took lots more photos along the way in some of the cute shops and I'll share those later on.
Happy Weekend!  I'm heading to Scotts Antiques market today.
Don't Miss a Post, join my list!