Finally, finally things are beginning to warm up around here.  We've had SO much rain (much needed) this winter and the ground outside in my backyard still hasn't completely dried up yet from all the raindrops we've seen lately.  Dreary weather, we've had our share. But, the sun is finally peeking through once again, as we knew it would and Spring looks to be on the horizon.
Yippee! I love Spring, don't you?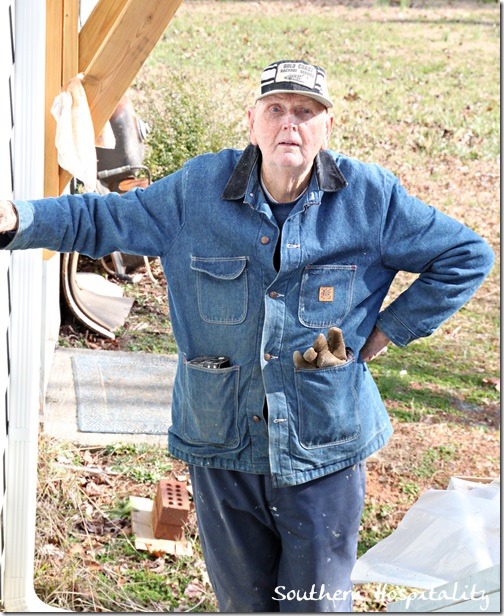 Have you missed this guy?
My dad has taken a much needed break since the Holidays, but now we are ready to start that screened porch of mine.  Just in time to enjoy it for the summer.  I cannot wait to get that thing painted and decorated with furniture and accessories, which I already have plenty of in storage.  Banner day, indeed.  A screened porch was on my wish list and I'm so happy to have it.  It will be the most adorable screened porch ever.
He has been ready to go, waiting for it to warm up more so he could get over here and work.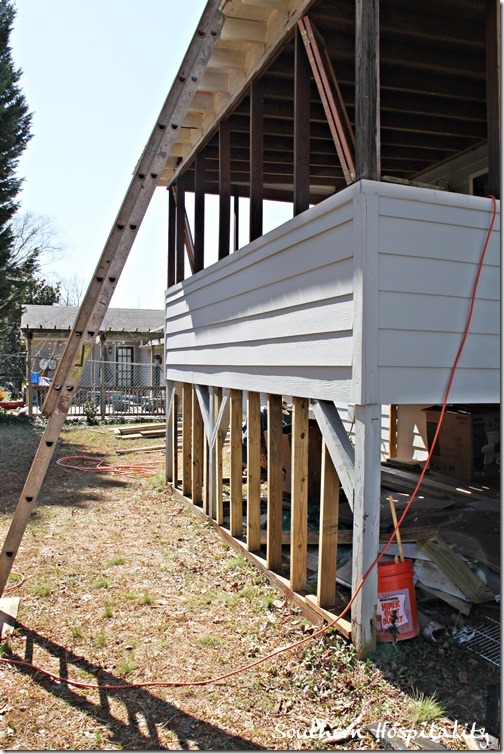 He's had a few days here and there that warmed up enough and he's installing 2 x 4's under the porch so that he can nail up lattice around the bottom of the porch and that will dress it up more.  Eventually I'll get all of this painted out, as well as the inside of the porch when we are finished with it.  Lots more work to do around here!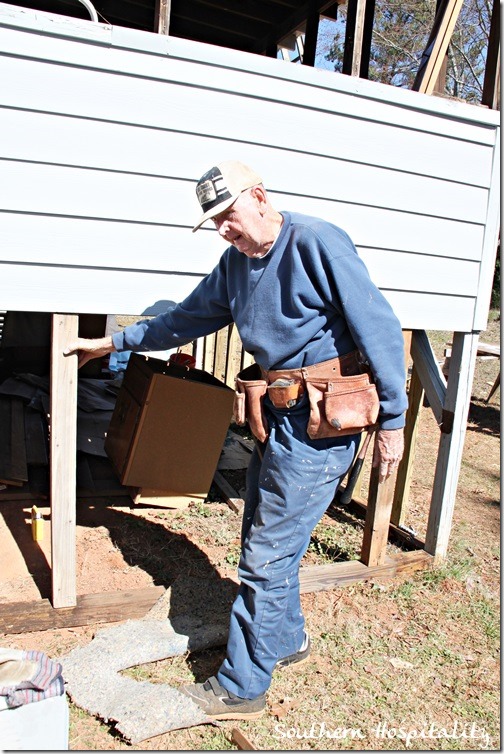 He finished up the 2×4's in a couple of days and is now ready to start the lattice, then we'll move on  up to under the eaves and inside the porch itself. I'm adding a beadboard ceiling, as well as beadboard around the base of the porch.  Since the porch planks are already in place on the floor up there, I'm going to give them a fun diamond paint treatment.  You know it's going to be cute when I'm done, right?
Did I tell you I bought a riding lawn mower?  Yep, I did!  My parents' next door neighbors just moved recently and they were selling a really nice riding lawn mower (Craftsman) for $400, so I bought it used and it is in great shape and it's RED.  I also bought a Honda push mower first, but then the rider came along too and I decided it was too good a deal to pass up. So, now I have two. I will need the push mower more for the front yard anyway, so we'll put them both to good use.  My dad is building a door at this end of the porch, so that I can put my riding lawn mower under there to keep it dry.  Smart, huh?
Daddy enjoys a good project, I think this keeps him going, but he'll also be ready to get his garden plowed and planted soon too.  We both are so glad that this last year is behind us and the inside of the house is finished.  What a relief that is!  This porch will be small potatoes compared to 2012's renovation.
Another thing we just got finished on the porch is adding a new metal roof.  The existing roof wasn't in too bad shape, but it was only plywood covered with tar paper and no shingles. My dad has used this metal roofing on both of his houses and loves it, so we decided to use it on my porch too. This is a Charcoal color.  We ordered the materials from Lowes and I hired a young guy to do the work, who was recommended by a friend of mine.
Dad came over to supervise, of course.  I think it kills him that he can't get on a roof any longer.
He actually put an entire metal roof on his own house all by himself, probably 15 years ago and he wasn't a spring chicken then.  But, he knows that at 85, he should not be climbing on roofs anymore.  Besides, I wouldn't let him up there!  He did manage to climb up the ladder (I wasn't watching at the time) to measure the roof when we were ordering the materials.  He didn't trust my measurements from my office window, so HAD to do it himself.
This young fella did a great job and knew exactly what he was doing.  My dad was impressed with him.  I may be hiring him for more projects around here that require climbing and things that we can't do ourselves.
And now, my metal roof is complete.  No worries with leaking at this point.  We'll soon be sitting out here under cover, enjoying a nice cool breeze this summer.  The sound of rain falling on this roof should be a pretty sound, no doubt about that.  I took this pic from my office window.
So, that's an update on what is going on around this place.  I'll be sure to share all the details with you as we get moving along on this project.  This is one I'm SO excited about and I know we will be putting this porch to good use soon enough.  I really plan to enjoy my backyard this year!
Don't Miss a Post, join my list!