I've long been a fan of the Ballard Designs catalog and eagerly await a new copy, almost as much as a favorite decorating magazine. They have some great ideas and inspirational photos in every catalog that is released.
So, when I opened up a recent email and saw that famed and super-talented Atlanta designer, Suzanne Kasler has partnered with Ballard, I quickly clicked over to read the story. Here's what Ballard says about the collaboration:
Some people are born with that special something,and Suzanne Kasler is one of those people. Her sense of style and proportion is evident in everything she creates. Ballard is honored to have Suzanne put her creative signature on our March/April 2010 Catalog. Her look is distinctive and upscale. We were able to catch a few glimpses of Suzanne on location creating her look with the use of Ballard items. Her work style is to stand back and edit until she reaches a perfect harmony of space and design. We hope you enjoy a peak at the behind-the-scenes journey of Suzanne Kasler through Ballard's looking glass.
I'm adding a few of the pics over at the Ballard site, as well as a small part of the interview that Suzanne did for Ballard.  It's a great interview with lots of good advice by this extremely talented designer.  I love her work!  Click over to Ballard for the complete article and more about Suzanne.  She also has a brand new decorating book out, that is offered on the site, called Inspired Interiors.  I know I'm completely inspired by her work and have always enjoyed seeing her work in the major design magazines, like Traditional Home, Veranda, House Beautiful and Elle Decor, to name a few.  Gorgeous, her style is that and more.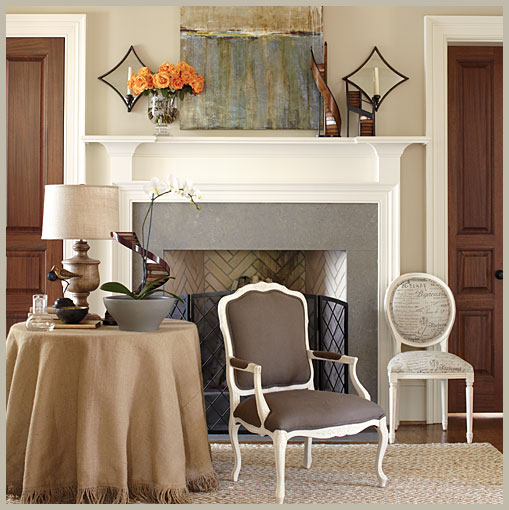 What advice would you give to someone who's thinking about redoing a room?
Suzanne Kasler: Be true to what you love. That's really the key to creating a space that feels personal. Buy things that you like, and don't worry about whether or not they match. Matching is overrated.
I like the two ottomans at the foot of a bed—it seems to finish it off.
They've got a great shape, and I love the nailhead trim. They also provide extra seating. I thought of this as a young girl's room, a place where she could hang out with friends. They can sit on the sofa or the stools or the rug. Actually, it's two rugs put together. You can usually find a way to make readymade rugs work, even if they're not the perfect size for the room.
Where do you get your inspiration?
Everywhere and anywhere. Wherever I go, I'm always looking. I was in a store buying some shirts for my husband and noticed how smart the sisal rug and white slipcovered chairs looked against the dark, more traditional paneling. I have to say I just love to shop. I could spend days going through flea markets and antiques shops and retail stores. And then I get in bed at night and look through all the catalogues.
That's it. You've convinced me. I'm getting rid of everything in my kitchen that isn't white.
It does look amazingly good, doesn't it? And then I mixed in some wicker baskets, just to give you that contrast of dark and light. That cabinet is a lesson in display. It's all about multiples. Even the cabinets are five separate shelf units. They're usually shown in twos, with a piece in the middle that's wider and taller. But I just wanted the skinny ones, and I wanted five. Repetition is powerful. It always works. Pick one or two colors, and then stick to them.
This may be the most elegant mudroom I've ever seen. What's the story?
I live in an older Atlanta neighborhood, where houses are very open to the outdoors. People are constantly coming in and out, and I believe an entryway should be practical as well as pretty. These black wooden units are a more elegant version of a locker, and I put three together because multiples are always more interesting. And you should have one for each person in the family! They're good-looking and let you keep all your outdoor gear in one place, so it automatically organizes you. There are drawers underneath for scarves and hats and the open shelf can act as bench when you take off your boots. I added the big clock so everybody can check the time as they're running out.
What's the secret to hanging a group of prints?
Don't do those dull rows. And add some random piece that doesn't match all the others. It catches the eye and enhances everything else. Here, I grouped everything around that great mirror, and then added those unexpected sconces. I love mirrors. They add sparkle and open up a space. This one is pretty but not too feminine. It's like a piece of jewelry pinned to the wall.
I love her advice on hanging groups of prints.  The interview and complete article can be found at Ballard and I'd highly recommend reading it.  They also list all the Ballard Designs products that Suzanne used in decorating this entire house just for them.  Suzanne is also coming out with an accessory line with Ballard Designs in the Fall. That should be exciting!
Don't Miss a Post, join my list!