We were blessed again this year with a wonderful Thanksgiving day, so I wanted to share some of our highlights of food and spending time with family.  I hope you all had a great day with family and friends too.
As you can imagine, it was extra special this year with the addition of our sweet baby Parker. She delights all of us and all we want to do is watch her play and kiss her.  She's crawling up a storm and standing up now, so it won't be long before she is walking.
Our family pic this year was a little challenging.  I tried my camera on the tripod with a timer and I couldn't get it set without keeping the shutter open a long time, which meant everyone had to be really still.  Guess who wasn't really still?  Yep, you got it.   That cutie pie in the middle didn't understand the posing part.  Philip used his Nikon to get this pic on the tripod and snapped it pretty fast, so at least we got one decent family pic.   After trying to get several pics with a timer, mom and dad didn't know when to smile, so that's why they look so somber.  Oh the joys of capturing family pics!
We did a lot of this.
And this.  With Parker the star of the day.  She's all over the place now, not walking yet, but crawling and standing up.
I always help Lauren and Philip get a good pic for their family Christmas card, so we took some shots of the family of 3 this year.  I'm sure they will find one that is perfect for their Christmas card.  Aren't they an adorable little family?
We did lots of baby kissing too.
She can't quite decide if she likes this smooching stuff yet, but she'll tolerate it for a little bit.
We checked out Renee and Bruce's new master bathroom progress.  It's coming along and the plan is to get it finished before Christmas.  Bruce has been working hard on it and it's going to be gorgeous! He's putting in the floor tile planks right now.  Of course, when it is all done, I'll share it with all of you.
Bruce cooked the turkey on his big grill and it came out great, as usual.  He's a grillmaster!
\
Mom and Dad with Parker.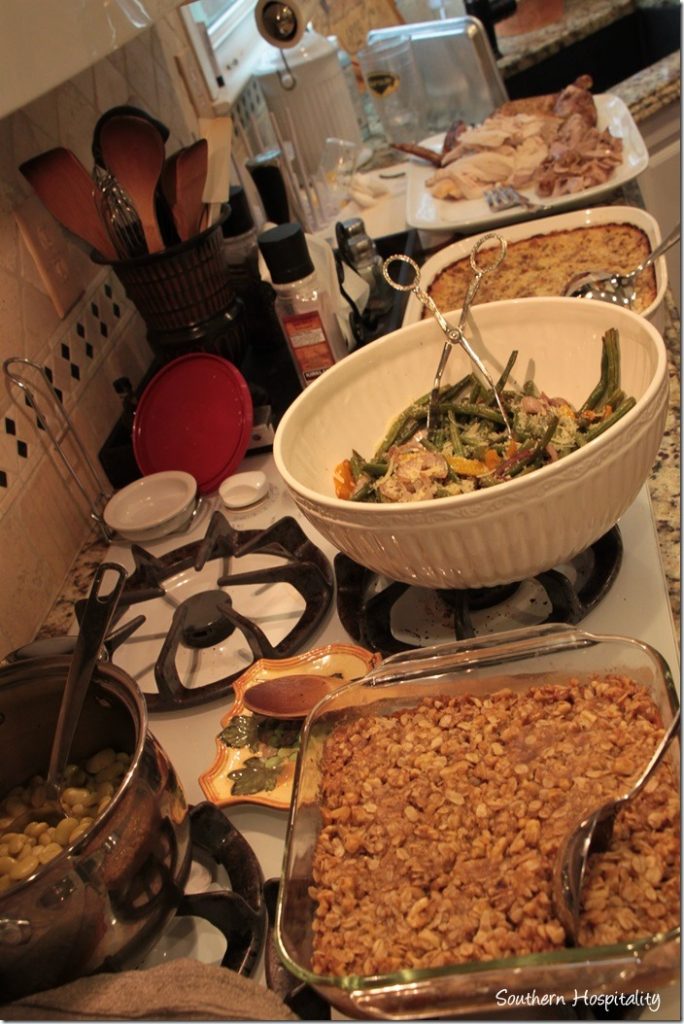 We had way too much food, as usual too and it sure was delicious.  Turkey, Southern dressing, lima beans, the roasted green beans I made, sweet potato casserole.
Mashed potatoes and gravy and collard greens.
Mom made this delicious salted caramel chocolate pecan pie that was outstanding. It's from Southern Living and I'll share it later on before Christmas.
She also made another new cake from Southern Living, an apple carrot cake that was also a winner.  I'll share this one later too.
Little miss is eating plenty of solid foods now and her parents are feeding her healthy food.  She loves to pick up small bites and feed herself.  Mom is making her homemade baby food from garden vegetables, so she is getting so much good nutrition.  She's a really good eater too and is still getting milk from her mama as well.  Lauren has been such a great mom and still pumps 3 times a day to feed this baby all that good milk.
We didn't set a fancy table this year.  We used big foam plates and enjoyed sitting around the big round table with our little family gathering, enjoying the bounty of the day.  It's all about spending time together for us.  
The roasted green beans recipe was really good, so I'll share that one with you.  It's festive looking too and so easy.  This one came from Kroger.
Sprinkled with parmesan cheese, it was a healthy winner for our Thanksgiving dinner.  Dad was the only one who didn't like it.  He loves his traditional cooked down green beans, but the rest of us like to try new things.
Balsamic Roasted Green Beans
Balsamic Roasted Green Beans
Ingredients
2

lbs

green beans, trimmed

1

orange (or yellow) bell pepper, cut into 1/2 inch wide strips

1

small red onion, sliced

2

cloves garlic, sliced

2

tbsp

balsamic vinegar

2

tspn

olive oil

Salt and pepper to taste

Shredded Parmesan cheese, for garnish if desired
Instructions
Preheat oven to 400 degrees.

Toss green beans, bell pepper, onion, and garlic in the oil and vinegar mixture, and place on a sheet pan. Roast for about 20 minutes or until vegetables reach desired tenderness. Season to taste with salt and pepper. Add Parmesan cheese, if desired. Refrigerate leftovers.
Don't Miss a Post, join my list!