Back to Asheville, it was a great time to revisit The Screen Door and Tobacco Barn, as well as a few other thrifty stops along the way. We hit some thriftstores and those were where we found some super slamming deals.  But, how to get them home?! My friends, Kristin and Tracey, had to give them up, when they just couldn't find an affordable and easy way to transport them back to Atlanta.
That's when you gotta wish you had a truck!  I have wished that a few times myself.  I do have a Dad with a truck, so that helps too if I find something close to home.
I took you all to the Screen Door last August, when a group of bloggers went to the Cottage with Angela and we all went out shopping.  It's a great place to browse for goodies.
Old doors and plenty of vintage things are found at the Screen door.
Lots of eye candy and inspiration.
Old silverplate.
Chairs and art.
Shabby fireplace mantel, I think this was $150, not bad at all.
While browsing in Screen Door, I met up with a reader who stopped and introduced herself.  I love when that happens!  If you ever see me out somewhere, please come and say hello!  It was great to meet Diane with Cottages Wishes.
This was a pretty shabby chic booth and it looks like they might be using chalk paint on these pieces.
Grays and whites.
How about that funky turquoise sofa there in the background.  Wouldn't that be fun to decorate with?
Art, chairs and manzinita branches.  Love that as an accent!
Lots of fun things in this booth.
All you girls who love reclaimed wood would go ga-ga over all of this.
Especially this wall!  Cool, huh?
This mirror was pretty cool too.
Love these old corbels.  Those are one of my weaknesses.
Tracey bought this big glass float for $28, not a bad price for a large one.  After I showed her my post about ripping the carpet off stairs, she went home and ripped her's all off in a couple of days.  I took before pics and when she gets them all painted up, I'll show you.  She had perfect stair treads underneath for painting.  She is so excited to get that done.  I'll do a little photoshoot on her pretty house in Woodstock and show you what she did with the glass float.
Loved this blue lantern too.
And this tripod lamp was snazzy.
We stopped to take one pic of the 3 of us.  Tracey, Kristin, me.
A wall of old spools.
Some words of wisdom.
More eye candy.
Yep, I have had to do this a time or two myself!
Great idea for bulletin board and storage.  Check out the baskets attached.
More ideas for hanging things.
And these cute little holders up on the wall would come in handy too.
Just down from the Screen Door was a thriftstore and I can't remember the name, but if you are there, you will find it.  Here's where we found the deal of the century. We walked by this beautiful huge chest of drawers.  I opened the top drawer and lo and behold, it is stamped Ernest Hemingway by Thomasville.  OH MY Goodness!  The top is marble (or a marble composite).  Check out those pretty lion's paw silver feet and the hardware.  Sticker price:  $40.  Tracey was really, really interested in getting it, so we went up to the counter and then about fell over when the lady told us it had come from an estate sale and she had to get it out.
All furniture that day was 1/2 price!!
$20!!!
What a sinking feeling to know that it's going to be almost impossible to get it home.  And although we tried to brainstorm all sorts of options, we just couldn't come up with a viable one that would justify the bargain it was.  So, we left it for someone else to take home.
I know!! The one that got away.  It was a little beat up, but could have probably been touched up with stain or would have looked great painted with chalk paint too.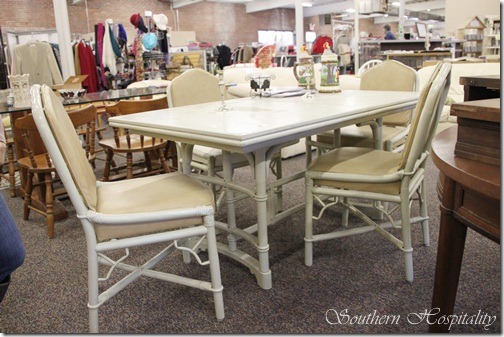 Kristin spotted this retro bamboo table and chairs that she dearly wanted to haul home.  It would have been $32 that day!   She wanted to paint it a poppy bright color.
We stopped for lunch at Tupelo Honey Cafe and it was out of this world.  Tracey had heard about it and I'm so glad we looked it up.  There is one downtown and one about 5 miles out, so we drove by both and after seeing the long line at the downtown cafe, we chose the other one.
They bring out homemade biscuits and blackberry jam for the appetizer.  Oh my gosh, was it good!
I ordered a delish chicken breast sandwich with sweet potato fries and it was lip-smacking good.
That was part of our thrifting time and I've got more to share too!  I know you all love these adventures as much as we do.
Don't Miss a Post, join my list!