We (my friends, Debbie and Tiffany), hit a big church sale this week, as well as a few other yardsales along the way. She found some great things for herself (an upholstered rocking chair)and her son (2 end tables, lamp, and misc. stuff), who just bought a house. Now we really will have to look out for some furniture for him.  I didn't take pics of her haul, but she did great this week.
I love finding a good tool at a yardsale.  This is the only thing I picked up this week, but I'm excited to find it, as I don't have one of these power screw drivers/drills.  This one is cordless with a charger and I made sure it is working before I bought it for $9.  Great deal and I will definitely put this to good use.  I even got a small pack of drill bits and can always add more later.
I'm very happy to share that I will be a Contributor for Matthew Mead's new Holiday magazine, along with several other talented bloggers and I'm very excited about that!
And, head over to Holiday with Matthew Mead to find out how you can win the opportunity to have your blog or online shop mentioned in the magazine. Holiday with Matthew Mead is a "book-azine" celebrating and offering inspiration for the Christmas holiday season. To be released in October 2010, Holiday is offered via online orders only – in limited quantities – and will not be sold on newsstands. But, by simply following the BUY HOLIDAY MAGAZINE link below their banner, you can reserve your own copy of this beautiful magazine, with guaranteed delivery of the magazine straight to your mailbox! Holiday with Matthew Mead is 144 pages of holiday inspiration with well-known and admired designers, bloggers and top-notch features, printed on beautiful paper and not drowning in ads!
I'm definitely going to reserve a copy for myself, how about you?
Now, head on over to Holiday for your chance to win!
So, now it's YOUR turn for the party this week! What have YOU found lately. Add your link to the Linky list and remember our guidelines for the party:
Add your permalink to the link list, which is the actual post that you did for this party, NOT your general blog url. To get the actual post, after you publish the post, just click on the title and THAT will be your party post url. Last year, I can't tell you how many links I had to fix. This year I might get mean & delete them, so PLEASE try to get the correct url in the first time! 🙂
Please add my button to your post or blog OR at least link back to this post in your post. That's all I ask. It's common courtesy to link back to the person having the party, so that all of your readers can find it too.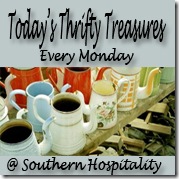 Thanks and let's have some fun this week with Today's Thrifty Treasures party!
Powered by MckLinky
---
---
Get your free Mcklinky here…
Don't Miss a Post, join my list!