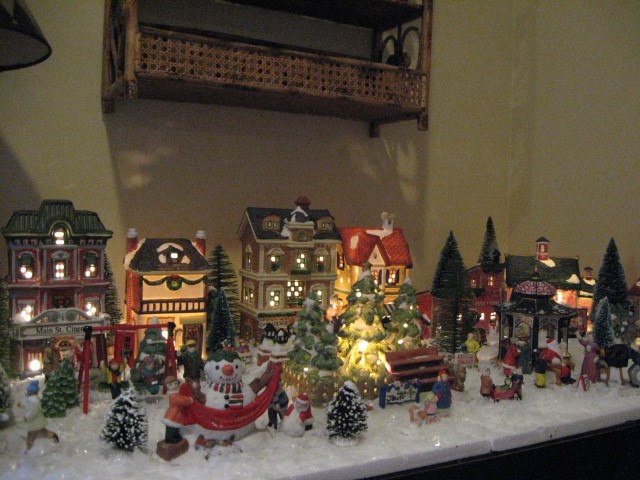 There's something magical about those tiny Christmas villages.  I've had my collection for a few years and now have about 20 houses, but this year, I only got out about 6 of them to sit on my downstairs desk in the den.  Just a little bit of cheer down there.  I love to imagine living in a tiny town like this and how quaint it all is with the little people scurrying around in the snow.  My sister gave me the idea to use those flat styrofoam squares that come in packing boxes and it's a great tip.   Add some snowflakes on top and it's an instant village.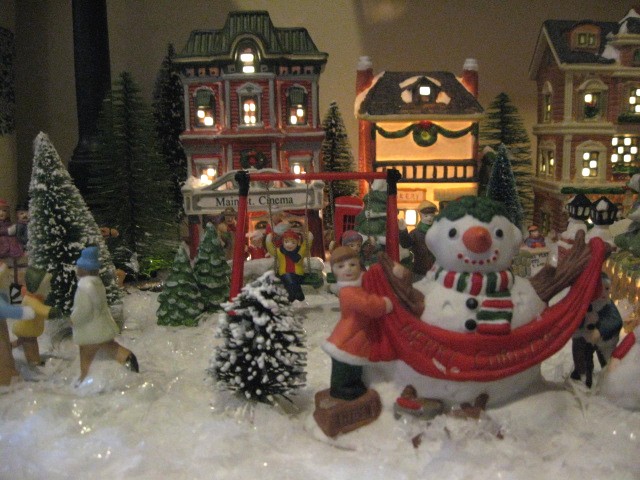 Mr. Snowman is in the center of town.
Love the children swinging on the swingset with buildings all lit up in the background.
This lit tree grouping is perfect for the Town Square too.
Announcing Carols tonight.
Gazebo and lots of little people, even Santa showed up.
Christmas tree lot.
One of my favorite buildings, the Chicken Coop Produce & Gifts.
Reminds me of Mayberry and how fun it would be to live in a little town like this.
Christmas is over for the year and it's time to start putting things away.  When do you un-decorate for Christmas?  My goal is to get it put away by New Year's weekend.
I always feel the need to clean really good after Christmas, do you?

Don't Miss a Post, join my list!