One of the fun changes I made to my porch furniture was spray painting my old wood former kitchen chairs in a glossy gray to better flow with the new porch.  I have had this set for over 10 years now and bought them originally unfinished at a place here in Atlanta.  They are solid wood and very sturdy and I'm happy to still have them, Queen Anne style that they are.  I did a whole post on how I spray painted and distressed them early on, as well as a follow up post on spray painting black  in 2010, which continues to bring lots of traffic to my blog.  But, it's time for a new look! I've changed the seat cushion fabric on them several times now and they just keep getting reinvented (sort of like me, ya know?!) 

So, this time the glossy gray spray paint won out and I love how they turned out.  Now spray paint isn't a completely fool proof way to makeover furniture so you have to be aware that there can be drips and blobs if you don't spray carefully.  Overall, I love my new chairs and think they look wonderful on the porch now.
I used Valspar (from Lowes), paint and primer in one, in Cobalt Cannon, a nice glossy gray. You can see my old table base was a little chipped up. It's been several years (over 10 to be exact) since I painted my chairs black.
Chairs in black. I have loved them for years in black, but it was time for a reinvention for the porch.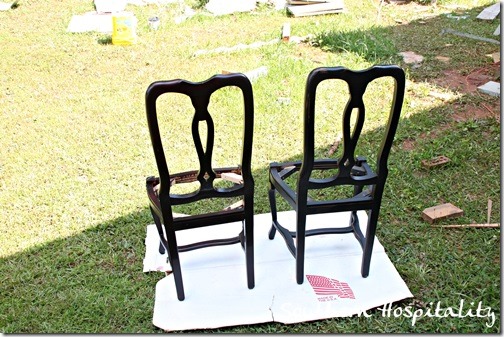 4 side chairs, soon to be glossy gray.
I sprayed over all the chairs giving them one good coat, left them to dry and then flipped them upside down so I could get under the edges of all the wood.  It took about 1 can per chair.
Spray painting outside is quick and easy and I just left them out to dry until they were dry to the touch and I brought them back inside.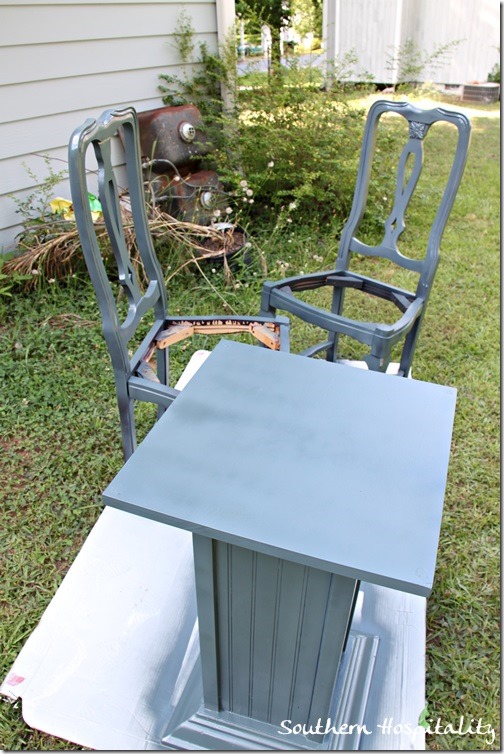 I love this new color. I wasn't sure about the gloss finish, but now that they are done, I love it.
I opted not to distress them this time, but left them with a smooth all over color.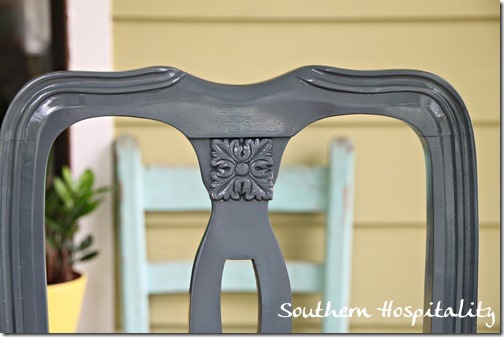 And here's what they look like up close.  Love them!
Spray painting is such a fast and easy update on chairs like this.  It would take so much longer brushing it on and when I can spray paint, I do it!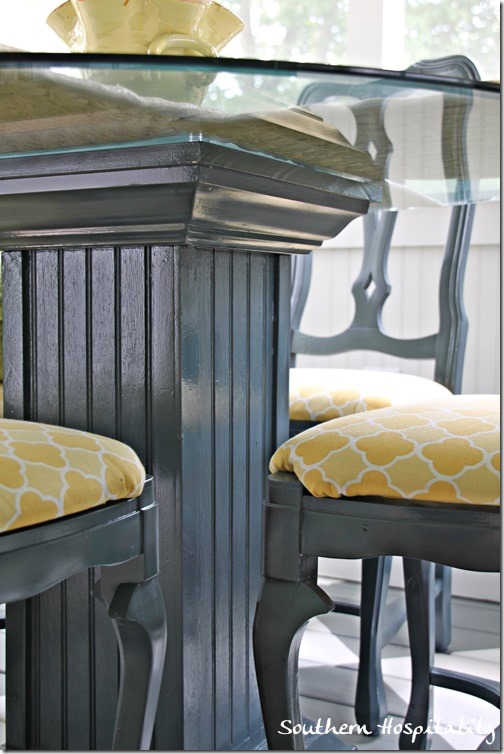 The table base is all nice and smooth now. I added some of those clear dots to the top of it and placed the beveled glass piece on top and we have dining for 4.
We have already been using this table and chairs, sitting out here in the morning for breakfast or lunch.  I know it's going to come in handy, so I'm so happy I saved this set just for this use.  I don't get rid of things that easily and if I can reinvent and reuse, I do it! This set was in my breakfast area in my old house and they are perfect out here and fit in this corner nicely.  If a little rain blows in here, it won't even matter.   You can also see I hung a lantern over the table, this was a find from Homegoods ages ago and it was hanging at my old house too.  Thanks to Wayfair, I also got another set of striped window panels for this side of the room.  Amazing how it feels just like a room with these drapes up!
I'm loving the screened porch SO much already and it's quickly becoming my outside office now. I love sitting at the table or on the loveseat, blogging away!
Don't Miss a Post, join my list!