This post is especially appropriate for St. Patricks Day, so Happy St. Patricks Day to you.  I'm gettin' my green on today!
As I mentioned yesterday, this desk that I found over 10 years ago at a yardsale for $25 is now getting it's 2nd transformation in my house.  I love when I can keep a good solid wood (Henredon) piece of furniture for so long, getting mileage out of it for years with a paint treatment.  This one started off natural wood when I bought it, then with black paint and now it's green.  A lovely shade of kelly green.
Annie Omar with Maison Blanche paints was kind enough to send me some sample products last year of her chalky paint line.  It's very similar to Annie Sloan chalk paint.  I used it on Ruby's little drop leaf table that I painted last fall and then I got a quart of Saint Anne for this project.  Once I looked at the color chart, I knew I'd love this color and I do.
Available in 36 colors, there are some beautiful shades in the line.  The paint goes on velvety smooth and I enjoyed working with it a lot.  She has waxes and many other paint treatments you can use on furniture too.  I opted not to wax this piece, but to use a water-based satin varnish in the same line.  
So, as usual I began my paint project by spreading out cardboard in my living room. I had some folks on Facebook who were aghast at my painting methods, not putting down drop cloths or taking it out of the living room.  Nope, this is how I roll.  I guess I've been painting so long that I don't have a fear of making too much of a mess.  I didn't get a drop on the floor!
Here's the wood detail on the legs and front of the desk.  I love this piece, it truly is a gorgeous piece of furniture.  When I painted it black I went back and used Rub N Buff in Antique Gold on the wood details, giving them an old-world look.  I decided to keep this with my new green paint color too and love how it turned out.
I'm very professional with my painting application, as you can see.  A paper plate, foam roller and small brush is what I used. I rolled the top and part of the sides, then used a brush on the legs and drawers where the details were.
Foam roller on top.  It did take 3 coats to cover the black completely. I let each coat dry well in between.
After the first coat.  That F initial down there is my roommate, Rhonda's. She had that and asked me to paint it green for her.
First coat, you can see it is still splotchy.
After 2 coats.  It's really not this bright, so hopefully at the end you can see the true color of it.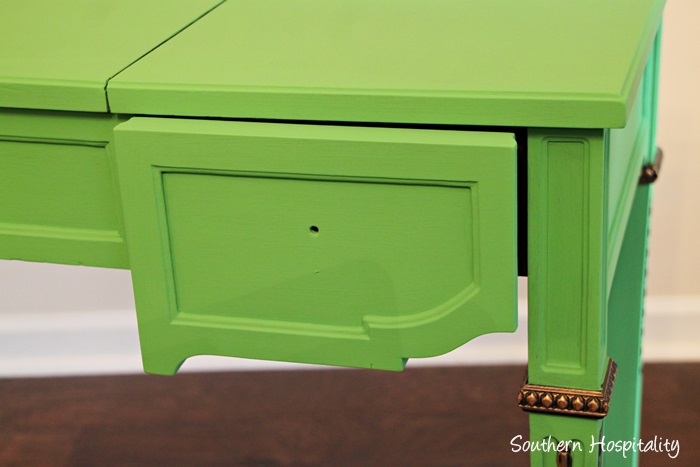 After 3 coats. I did go back and brush on any areas that needed extra coverage.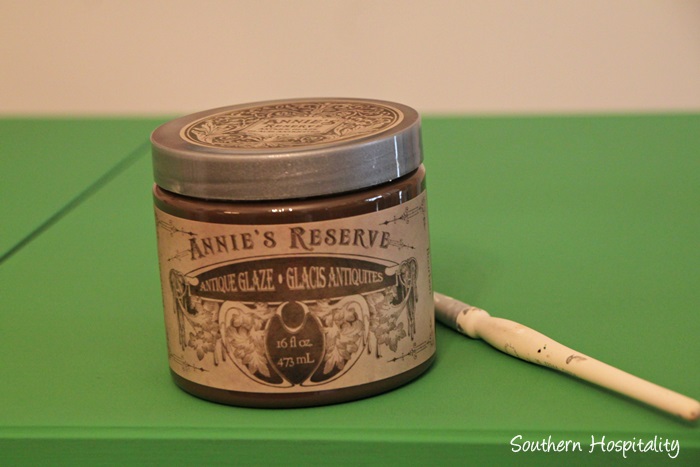 After 3 coats, it was time for a little glaze.  I decided NOT to glaze the entire desk, but only the detail areas.  Using Annie's Reserve Tobacco glaze, I added it in the drawer inserts with a small brush.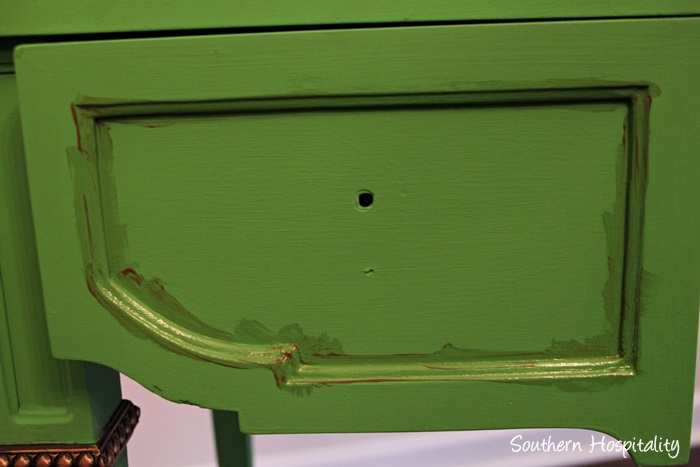 Like this.   With a damp paper towel, I immediately wiped it back, leaving only a bit in the creases.
Here you can barely see the glaze.  I didn't leave much. I did this on all the drawer fronts and around the front legs.
The finishing touch was adding the Satin water-based varnish for protection.  This also gives it a little sheen and not the flat chalky look of just the paint.  I actually like varnish better than wax.
I applied 2 coats of varnish to the top and used a brush to cover the front, sides and legs with varnish.  I love how it turned out!
With a bit of glaze on the details, and leaving the black and gold from my original paint job, it's a masterpiece now and I couldn't be happier with it. It has all brass knobs and feet.
It's a classic!  Now it stands out between my black painted Queen Anne style chairs.
I happen to love green, so this is a perfect change for it.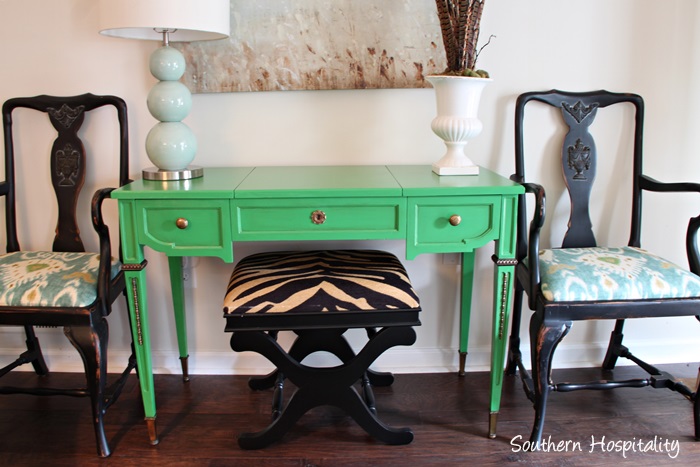 And here's how it looks on the wall now.  I moved the big chair out of the way to take this picture.  And I moved the Big Lots bench under the desk and really like that too.  I will change out the fabric on the bench.
That fabric will probably go back to the black and white zebra which I had on there awhile back.  This is a peek at the wall through the caramel leather chairs and how it's going to look.
And when the new chair comes in and I get everything done in here, I'll do a new photoshoot of the whole room. I really loving how fresh and colorful it feels now with these new additions and I think it's going to all come together beautifully.
I've already heard comments about how bright this green is and I know not everyone will love it, but hang with me until it's all finished and you might change your mind!
I also painted the black lantern in the same green paint, to bring it around the room a bit.  It's a pretty mix in here.
Decorating is all about making changes in time and letting our styles evolve and mine has certainly done that.  I always enjoy improvements and making my house feel even more cozy, don't you?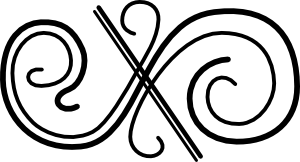 Spring is almost officially here and I've added a new guide on Ebay for creating a beautiful outdoor space.  I've so enjoyed my porch, making it a cozy and comfortable outdoor room.  Click the photo!
Don't Miss a Post, join my list!