Since I shared my sister's first guestroom makeover and also the 2nd guestroom/nursery combo, I wanted to show you how we made over the furniture.
Before those makeovers could happen, we worked a couple of days getting all the furniture painted for both of these spaces and that's a job right there.  We used Annie Sloan chalk paint and also ended up spray painting the baby bed after we realized how ridiculously long it was going to take us to paint all those spindles on that bed.  Spray paint was the fastest way to get it done, even if it did take about 9 cans of paint.  Worth it!
We used Country Grey and Old White.  Country Grey is not named very well, in my opinion.  It is not grey…at all!  But a very nice light-ish khaki shade.  Just so you know!
So, here's our day of furniture painting…all finished. This took us about 6 hours at least to get all of this done one sunny afternoon at my parents house. We decided to meet over there and my sister brought this all over in her truck and we all hung out together, painting.   And eating lunch.  My parents loved it.
This is my old drum table, that you already saw in the room, but it was a brown wood with leather top when we started painting it. It was an antique store find of mine many years ago and I wasn't using it right now, so passed it onto my sister.  It was the perfect candidate to paint.
And this is the other side table you saw in my sister's guestroom, a cheap Target table that she found on Craigslist.
The baby bed that Renee used when Lauren was a baby, is going in the nursery at my sister's house, so we decided to lighten it up by painting it white.  We were going to paint it with Old White, but a few swipes of the paintbrush and we realized we would be working on that bed all day, so we went to the hardware store and bought about 9 cans of Satin creamy white spray paint and got it done.  Not a fun process, but it worked. Any Satin white spray paint would work for this project.
And a few coats later, this was still in process, but we were about done with it.
She also found this headboard on Craigslist for about $40 and we gave it a fresh coat of Annie Sloan Old White.  This is the one in the nursery/guestroom.
After she took it all back to her house, a few days later I went over there and we finished up the painting on these 2 side tables that you already saw in place in Guestroom #1.  We wanted to add some details and using FrogTape® Shape Tape™ was a great idea.  This table is painted Annie Sloan Country Grey.  See, not grey at all, right?
Excuse these bad pics, but all I had was my iphone that day to document the paint process.  It's a light khaki shade even though it looks more like Old White in these pics.
We measured and started in them middle and added the FrogTape® Shape Tape™ stripes all the way across the table trying to keep it even as we went. 7 stripes total.  FrogTape® is treated with PaintBlock® Techology, that seals the edges of the tape preventing paint bleed. Works like a charm!
We did the same thing to the 3 drawers in the nightstand and added 2 stripes per drawer.  Once it was all in place, the painting part is really fast.  Roll it on with a foam roller, 2 coats if needed. This is Annie Sloan Duck Egg Blue.
As soon as you are finished and satisfied with the coverage, go ahead and rip off the tape immediately after you are done painting.
It comes off neat and clean, leaving a pretty chevron design behind.
Again, terrible pics, but you get the idea.
The drum table looks great and that was a fast project.  We added the hardware back on and I also sanded down the edges and waxed the top and sides of the drum table.  Waxing protects the top and gives it a nice luster.  Did the same thing to the top of the Target side table too.
Here's another look at the Target table which used to be black. Looks great now!
Close up of the chevron stripes.
And the drum table has a new lease on life as well.  I love how this turned out.
Sanding the edges and then waxing the top and apron of this piece makes it look beautiful.  To wax, you just rub on a bit of wax, rubbing it into the wood, then immediately within a minute or so, take it back off. It will leave enough on the surface to buff down to a shine.
Have you tried the FrogTape® Shape Tape™ yet? FrogTape® comes up with some great things and Shape Tape™ makes it easy to try some fun painting projects that otherwise would be really time consuming. This tape is very easy to work with. You can find it at Home Depot or Lowes or either online.
Disclosure: I received compensation for completing this project for Frogtape®.  All opinions, projects, and ideas are based on my own experience.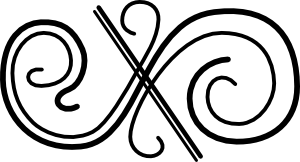 The winner has been announced for the LaZBoy design giveaway!  Her name is Leigh!
Don't Miss a Post, join my list!