This post is sponsored by Schlage. 
Hey, friends!
I've been talking about painting our doors and updating the door hardware, so wanted to share more about that.  Many of you were interested in painting your doors too, so I wanted to share the process of how I'm painting our doors and changing out the hardware at the same time.  I was very fortunate to partner with Schlage on this project, a brand that I think is the pinnacle of door hardware and we're changing out all our door hardware throughout the house, including the front door, which will be done later.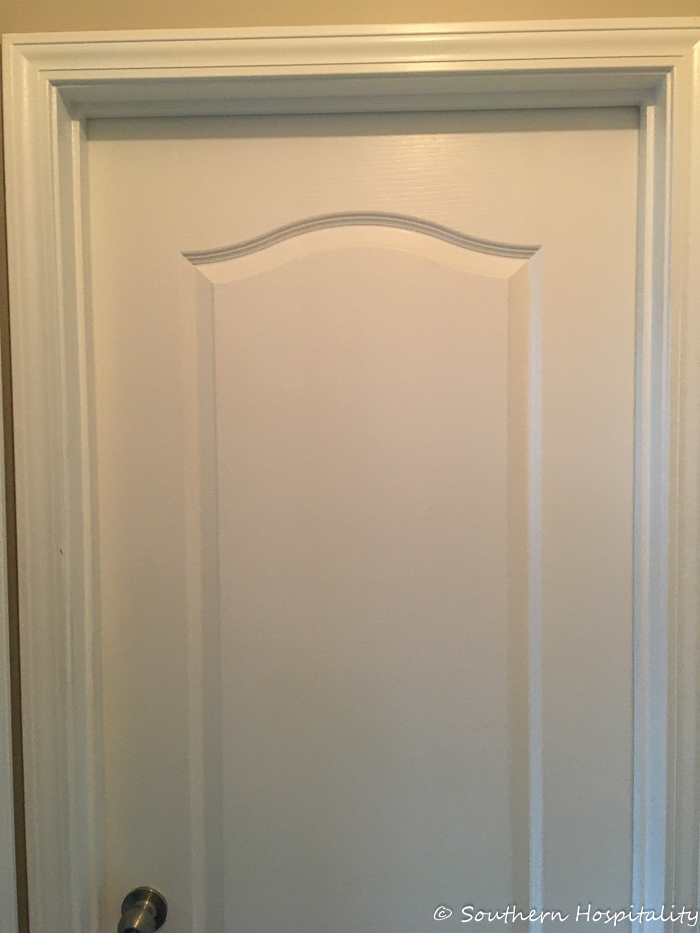 I took a couple of before shots of the doors, so you can see how dramatic they look now.  This is going into the guest room.
And this is the closet in the little alcove leading to the guest room and guest bath, so there are 3 doors in this area.
I use a small foam roller for painting doors and this works perfectly for a smooth and even finish. I did 2 coats of Satin finish and I used Pro Classic paint from Sherwin Williams, which is a good finish for trim and doors.
The color is Oyster Bay by Sherwin Williams. 
Some asked if I primed the doors and no, I didn't prime. These doors were already painted and there's no need to prime again.  Plus these type doors already come preprimed from the factory, so they are fine for painting over. If you have any oil based paint on your doors, that's when you have to prime if you are planning to use latex/water-based over that.  You can't put latex paint over oil-based, but not many people use oil based paints anymore. The latex paints now are so hard and durable, there's no need to use oil for much anymore.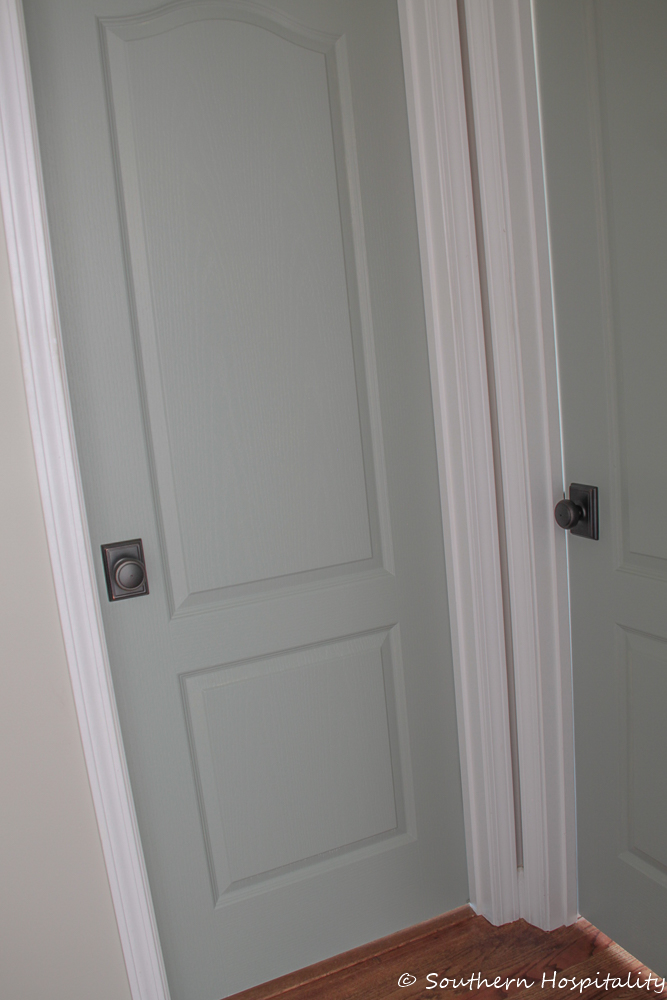 For now, I'll share how I painted the doors. I took off all the doorknobs and hardware (except the hinges) and painted two coats on both sides of the doors.  After it was dry I installed the new hardware.  Then I changed out the hinges to aged bronze as well.  I think if you're changing out doorknobs, you need to change the hinges too to make them all cohesive.
Speaking of changing out the hinges, when I did this project in my old house, I realized somewhere along the line (someone told me or I read it somewhere) that you can just change one hinge at a time to change out all 3 hinges on a door.  Just start with one and move on down the line and you're done!  No need to take that door off the hinges at all!  That was a head-slapping moment!  So easy!
This is the guest bathroom on the left and the guest room on the right.
The small closet in that hallway is done.
Here's a closer look at the hardware.  We chose the Andover Knob with Addison trim from Schlage for all our interior doors.  We loved the classic lines and the rectangle backplate adds such a great look to the doors.  New doorknobs and hardware is like adding jewelry to your home, it really elevates everything.
This is the small entry coming in from our garage and that exterior door is a metal door, but I painted it the same way and painted the outside too, coming in from the garage. The foam roller makes it so easy to cover and get a smooth finish.  I used a small paint brush for the edges where the insets are to make sure that stayed smooth, but the foam roller does most of it alone.  I put a piece of cardboard under the doors and used the foam roller to roll along the bottom edge to easily paint the very bottom of the door. Just try to catch any drips on the first coat so you don't have unsightly drips anywhere.
I'm waiting on a different type hinge for these exterior doors to come in and then I'll change those out too.  I discovered that exterior doors have 4 screws instead of 3 and area a little different size.
The aged bronze finish on the hinges make the doors really stand out and be noticed.
And here's the back door going out to the deck with the new hardware and deadbolt installed.  Again, I'll change out these exterior door hinges when they come in.
Deadbolt and new doorknobs.  I noticed after I took this pic that the backplate was a little crooked, but I fixed it.  These are easy to install once you get the hang of them. I did them all, with a little help from Mark on how to get the knobs off.  It's in the directions, but did I read those?  No, but he figured it out.
To install the doorknobs, you have to take off the knob part and that's where the screws go in.  There's a little pin included in the box that you can use to pop the doorknob off, then once it's screwed in place, the doorknob pops back on.
And here's a peek into the guest room, which I'll be sharing soon.  I got the drapes hung and this space cleaned up again.  We just love this color and how well it flows throughout the house with all of our furnishings.  We could have gone with other colors, including gray or taupe, but this soft gray/green/blue shade of Oyster Bay is so soothing and calming and a perfect backdrop to our house.
Mark painted the inside of our front door Benjamin Moore Knoxville Gray which is the same color as on our kitchen bar.  It's a great color and much deeper than Oyster Bay, but I love both of them together.  It makes the front door really pop.  The outside of our front door is black, but we will leave that since it flows with the black shutters.  It's fun to add a different color inside, since you see the back of your front door all the time.  We still have to get the front door handleset installed, but will do that soon.  For now all the doors on the lower level are painted and the hardware is done.  I'll be moving upstairs next, so stay tuned for more!
Thanks for stopping by!  Feel free to ask any questions if you have them.  I'm so grateful to be able to partner with Schlage on this project. Painting the doors would have been a great update to our home, but adding this beautiful hardware is the icing on our home decor and adds such a gorgeous look to our classic home.
SaveSave
SaveSave
SaveSave
SaveSave
SaveSave
SaveSave
Don't Miss a Post, join my list!