One of our recent Lowes challenges was to use the new Pantone color of the year in a project at our homes, so I came up with an idea to repaint some yardsale mirrors that I had in this new lush shade of green.  Lowes gave us a paint formula to use for their Valspar paint and it was a little more blue than I was expecting and not quite as emerald, but it was fun to use a pop of color like this in a space.
As a color authority group, Pantone chooses a different color each year as their color of the year and Emerald is it for 2013.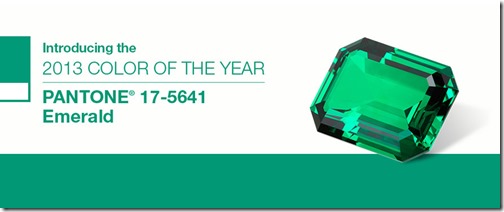 I'm not sure how they go about deciding colors each year, but it totally influences clothing fashion, as well as home decor and you will see these colors make their way into the marketplace, slowly but surely.
Now, to me a great way to add a punch of a trendy color is in pillows and accents, like the above room. This is a sophisticated palette and those green pillows and the chevron green drapes add a fun punch to this otherwise neutral room.  Do you like this one?
via Bliss at Home
This blogger found a way to bring in the Emerald pop by painting one single box in Emerald green and it's totally beautiful with her neutrals. I do like these shades of Emerald, a rich earthy green.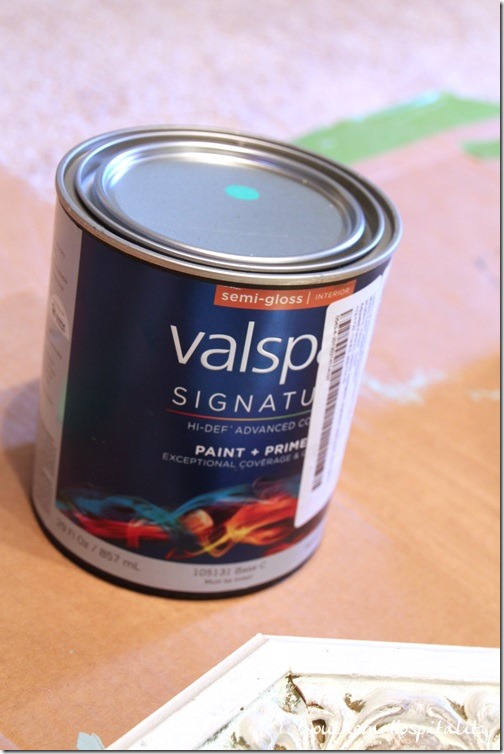 I had a quart of Emerald mixed up at Lowes in Valspar Signature paint.  Great paint, by the way!  I used the paint and primer in one in my dining room and it covered in one coat.
I taped off the mirrors with my trusty FrogTape.  That helps keep the glass clean.  This particular Emerald formula is definitely more blue than I would use in my house. It's a bright pop of color and almost comes off as a turquoise color, even though it's Emerald. It was fun to see what I could come up with for this project.
After painting the mirrors, I mixed it all up with my existing yellow patterned chair seats, along with a black and white pillow. The flowers added some yellow to the mix.
These bright green frames don't need a lot of other colors going on.
With neutrals, yellow and green is a nice pop.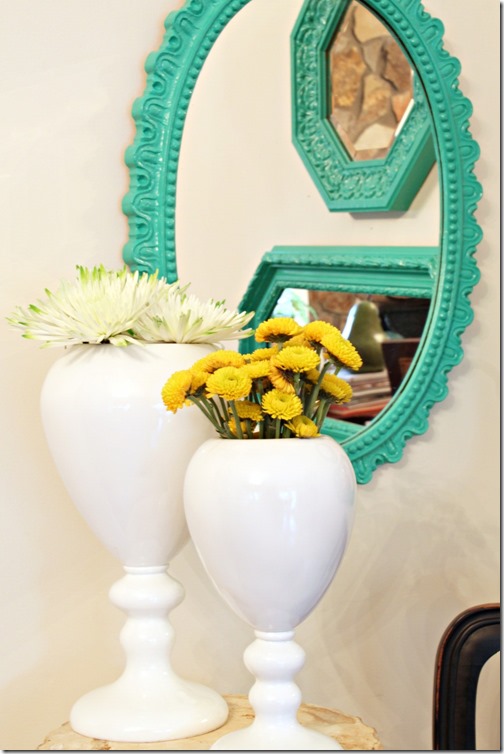 I used my Lowes urns as vases and these are versatile pieces too.  This was a fun exercise in using color around the house and how adding a pop of one color can give your space a whole different twist.  These are not staying up in my house, but it was fun for a photoshoot. I'll probably end up painting those mirrors another fun color and using them somewhere.
Are you using Emerald anywhere this year?  I do like the deeper greens a lot, but probably won't be changing out my house to accommodate Emerald.  It's a fun color though!
Check out Lowes Creative Ideas Magazine app, visit Lowes on Facebook, and Lowes on Pinterest.
Are you on Instagram? I'm on there and having so much fun since I got my iphone last year! If you want to see what I'm doing in real time, follow me on Instagram. You can see Lowes on Instagram as well. It's a fun little snapshot of what is going on every day.
Disclosure: As a Lowes Creative blogger, I am sent gift cards to spend on projects and blog about them.
Don't Miss a Post, join my list!