I took so many pics at Moss Mountain farm and still have so much to share with you, so I hope you enjoy this peek into P. Allen Smith's Moss Mountain farm outside Little Rock, AR.  We were invited there for a blogger event called Garden to Grow and met so many inspiring people and saw so much beauty all over the farm, from barnyard animals, to flowers, vegetables, roses, and the most amazing house ever.  It was truly a sensory treat for the eyes and everywhere we turned, there was beauty and nature.
Today, I'm sharing the vegetable garden, rose garden, and the farm animals which were all so delightful to see. We met some really interesting gardening vendors, so I'm sharing them with you today too in this post.  We weren't told what to write or share, but because they shared their time and passion with us, I want to pass it on to my readers.  Would I go back to Moss Mountain farm if I get invited??  Absolutely, no question about that!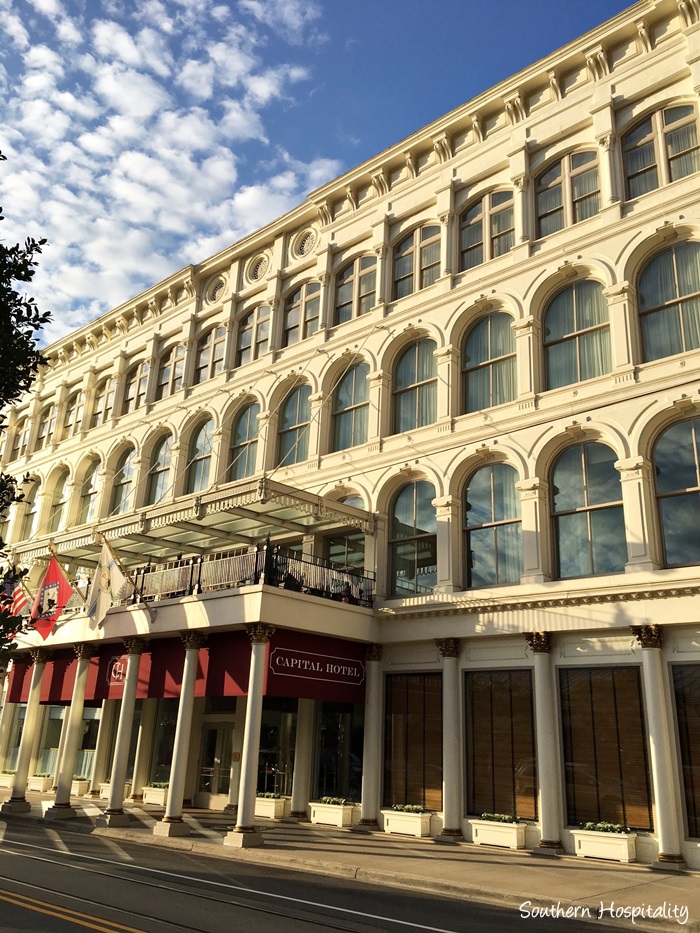 Again, this was a sponsored trip (they paid our travel) and we met up with plant vendors and other folks who are into gardening, so I'll share them with you too.  We were comfortably housed in this beautiful hotel in downtown Little Rock, the Capital Hotel.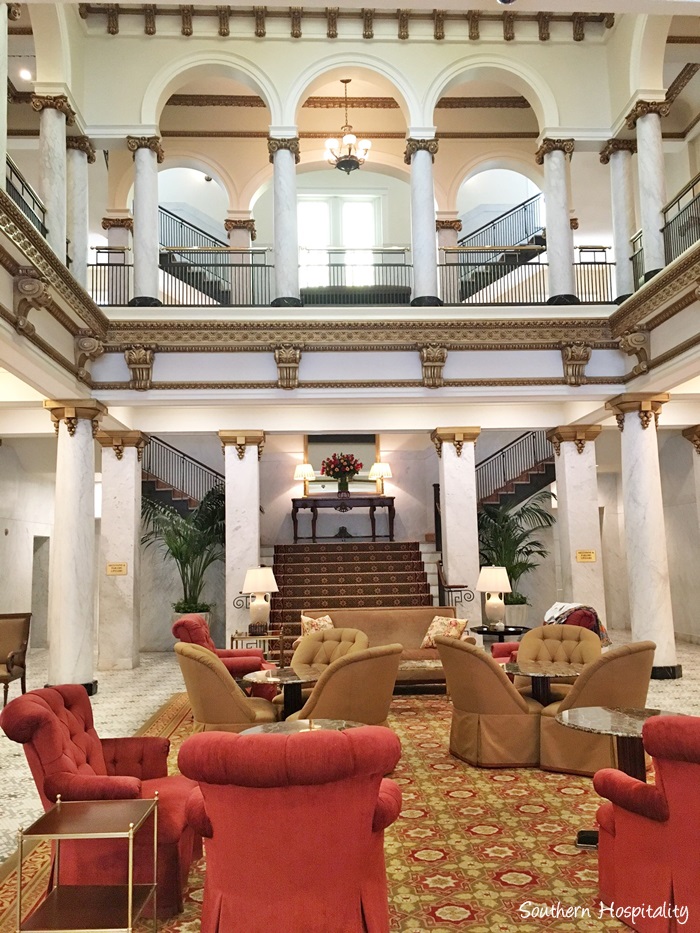 It was beautiful and charmingly elegant.  We left both mornings for the farm bright and early (it was about 45 minutes from the hotel) and spent 2 entire days at the farm, with breakfast, lunch and dinner served there. That was a real treat too, to eat out of the garden and have those wonderful meals. I'll share that with you too.
Allen greeted us all and welcomed us to his homestead.
First morning breakfast on these rustic tables set up under a tent. There are many events held at Moss Mountain so check out the website for all that info. It was all delicious!
On a tour of the vegetable garden, we looked around at what all is growing now and there was plenty of bounty.
I loved how flowers were interspersed among the veggies giving the garden lots of color.
We met the folks from Bonnie plants, who you are probably familiar with if you buy vegetable plants. They are very well known for hardy plants for at home gardeners. They hold a contest every year for 3rd graders which I thought was fun.  Any 3rd grade classroom can sign up for oversized cabbage plants to grow and nurture and one student in each state is awarded a $1,000 scholarship for the biggest and best cabbage, towards their schooling.  This reminds me of another cabbage grower I know!
Can you just smell the fresh air now?  The smells and sounds of the country take me back to childhood and playing outside all day long.
We also met Sakata Seeds, the company behind Allen's Home Grown Vegetables and Cut Flowers Collections.  They've been breeding and producing seeds of innovative vegetable and flower varieties for many years.  We saw firsthand the SunPatiens brand by Sakata and they were SO impressive. I have to get some of these for my containers. They are hardy, sun and drought tolerant and keep on blooming delivering continuous color from spring through the dreadful heat of summer.  They are sun-loving, heat-loving impatiens so if you're looking make sure you see the SunPatiens tag to try them out.  I saw New Guinea impatients similar to what I planted this year, but mine are not SunPatiens and probably won't be as hardy.  Looking for some of these this year! It's amazing the science and research that goes into flowers and vegetable varieties and we have no idea all the work behind a product.
Two potting sheds flank the entrance to the organic vegetable garden.
And we heard more from Sakata Seeds on their tomatoes.
We sampled some fresh picked carrots from the garden. I don't think my dad has ever grown carrots. I thought of my sweet daddy when I was walking through the garden, he would have gotten a kick out of seeing all this gorgeous bounty of food being grown.
They were tasty too!
An armload of fresh pulled carrots.  They look gorgeous, don't they?
We had a little potting shed decorating contest and broke up into teams, decorating these beautiful containers from Crescent Gardens. They have gorgeous lightweight containers that hold water and keep things growing during the summer months.  Allen had them all over the farm and they were beautiful.
North and South competition, it was decided that we're all winners!
A stop for lunch was delicious as well.  The presentations on the table were just gorgeous, we felt very spoiled and pampered. Isn't that a beautiful lunch?  It was equally tasty and they didn't forget dessert either, for those of us with a sweet tooth.
J. Schwanke with uBloom was there creating beautiful tablescapes that wowed us at every turn.
I mean, really have you seen a more beautiful outdoorsy green tablescape before?
It was just stunning and we were all taking lots of pics and enjoyed it both days. With the candles flickering at night during dinner, it was just magical.
More flowers added for dinner.
We met some interesting vendors and Good Dirt out of Raleigh, NC was one of them.  They make dirt, including potting mix and soil conditioner that is really, really good for your garden. And the best thing is the bags are really lightweight and aren't nearly as heavy as regular potting soil. That got my attention because sometimes I can barely pick up some of those potting soil bags at the store and get them home.  My aching back! Al and Suzy Newsome run this family owned company and are passionate gardeners.  If this product sounds like something you'd be interested in, check out their website for more info on how this good dirt is made.  It was very impressive to see it and hear about how it works so great in containers and adding to the dirt for in the ground gardens too to condition the soil making it grow better. Here's a list of retailers that carry Good Dirt and you can also order online which isn't a bad idea since the product is so light!
More delicious food!  We had breakfast on these gorgeous tables outside Allen's house the second morning. Can you imagine breakfast outdoors on round tables overlooking the Arkansas river?  Amazing, yes!
Coffee was provided by another sponsor, Westrock Coffee.  We heard their story of changing lives with coffee production.  Westrock partners with farmers in developing countries like Rwanda and Tanzania to ensure they are able to provide properly for their families by offering access to loans, agricultural training, health care and clean water and they work with a lot of single moms there.  Check them out at Kroger, BiLo, Winn-Dixie and more or buy online if you'd like to try their coffees.  It was delicious, I can attest to that! 
Another delicious meal of friend chicken, doesn't get much more Southern than that.
Next, we took a stroll down to the rose garden.  I got a sneak peek of this spot while we were in the vegetable garden, it's just through a gate and down the hill towards the river, past these beautiful Crescent Garden containers and that pretty bench.
On the other side of that bench was this beautiful deer statue, keeping an eye on the walkway.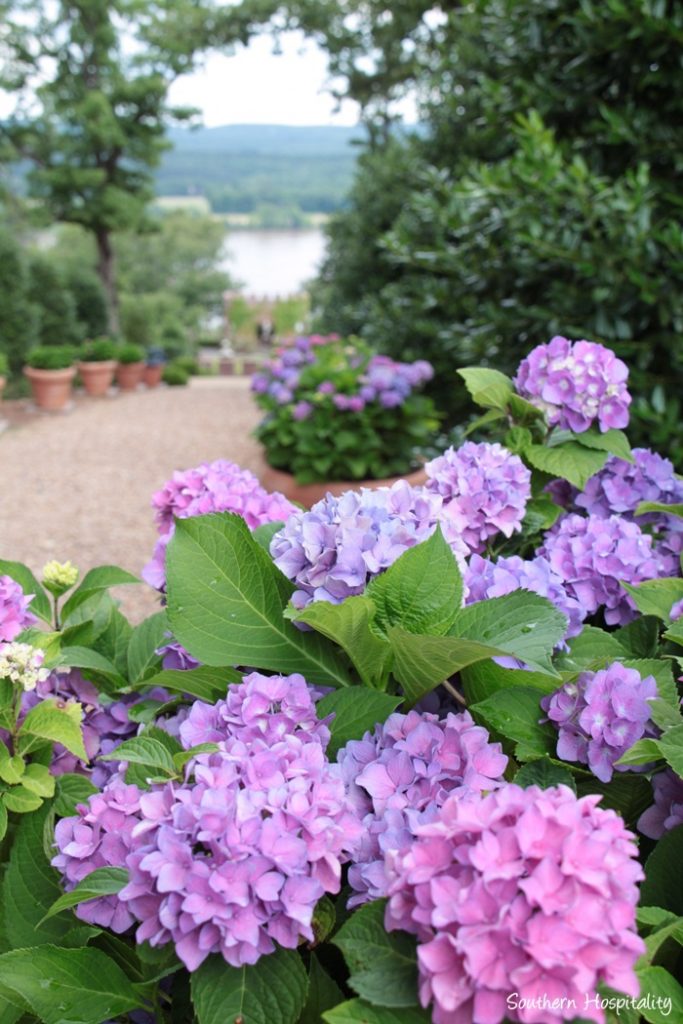 Gorgeous hydrangeas planted in more Crescent Garden containers.  Perfect for lining this beautiful walk down to the river and the rose garden.
It was such a picturesque spot with the river down below.  You can tell from the glimpse of architecture down there that we are in for a treat.
Closer and closer down this pebble gravel walkway to the rose garden. It was a stunning scene!
Admiring those beautiful hydrangeas along the way.
And the rose garden is unveiled, beautifully framed.
That structure beyond looks like the ruins of an old house to me, not sure if that was the intention but it was so pretty with the statue inside.
Lavender growing along the walkway.
Of course, the beauty of roses was the focal point of this garden.
Roses everywhere, along with under plantings of other beauties.
I can't imagine a more serene place.  I know he does weddings at the farm, so this would be a good spot, wouldn't it?  I can imagine how beautiful wedding pics are here.
Swans in the pond.
Next stop, over hill and dale past the big house with the big oak tree, we came to the barnyard with all of Allen's cherished chickens.
Welcome to the Poultry Palace!  That's not too far off the description either. These free to roam inside the fence chickens have a really good  life.
It's taken care of so well and these exotic chickens from all over the world have it made.
Allen showing off one of his Cornish chickens from England known as Indian Game Chickens.
The roosters and hens were beautiful.  It was such a peaceful time being on the farm with the sound of roosters crowing in the background. We heard them often in our 2 days there.
Coming and going from the barnyard.
They were beautiful and exotic looking chickens.
Ducks on the pond.
And some big turkeys came out of their dwellings to greet us. This male was in full glory showing off those feathers.
Allen walked around the farm answering questions and telling us more about his property. These cute goslings (I think they are called?) were so adorable, huddled together and moving as one unit around the barnyard.
They came over to where we were, but were skittish and it was so cute to watch them move in unison, staying together for protection.
Allen built a guest house on the property a few years ago and I think this was televised and shared.  It was built for a very reasonable sum and about 1600 s.f., I think he said. We didn't go in, but it's a cute place.
With an outdoor garden walkway, it was very picturesque as well.
At the end of the second day, we got a flower hat making demonstration from J. Schwanke (mentioned above).  He was responsible for all those gorgeous flower displays on the table both days.  Truly a sight to behold, all the beauty of nature that was displayed for us.  The flower rings were remade and we just sized them to our heads and all wore them for a photo opp.
Getting on my inner flower child. It was really fun.
Group flower hat shot! I won't attempt to identify everyone, we were a large group.
At the end of the day, the sun was going down and it was just a magical time on the farm with the twinkling lights under the big oak tree.
What a way to spend a couple of days, enjoyed every minute of it.  I still have more to share of the gardens around the house, so I'll be back to share that later.  There was so much beauty to see and I took so many photos to capture it all.
Note: This was a sponsored trip by Moss Mountain farms and P. Allen Smith.  There were several bloggers invited and our travel expenses were comped.  It was such a thrill to be a part of this!
Don't Miss a Post, join my list!