Last week was another somewhat slow week.  We got delayed with the finish of the kitchen cabinets since my parents and I were going out of town.  My installer will be back this Saturday to finally finish up this beautiful space.  It's really coming along and looking great, so I did take time last week to get all the drawers properly installed, as well as the doors.  The only thing I haven't conquered yet is the lazy Susan corner cabinets, upper and lower, so that's a pretty good week.  You'll see what a difference getting these in place has made.
I'll show you more of the details of my cabinets and why I love them so much.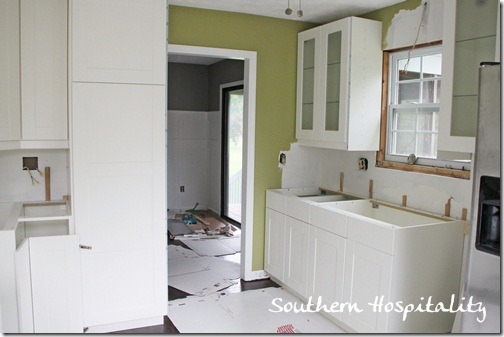 All the base cabinets are in and the only area left is the above the fridge cabinet.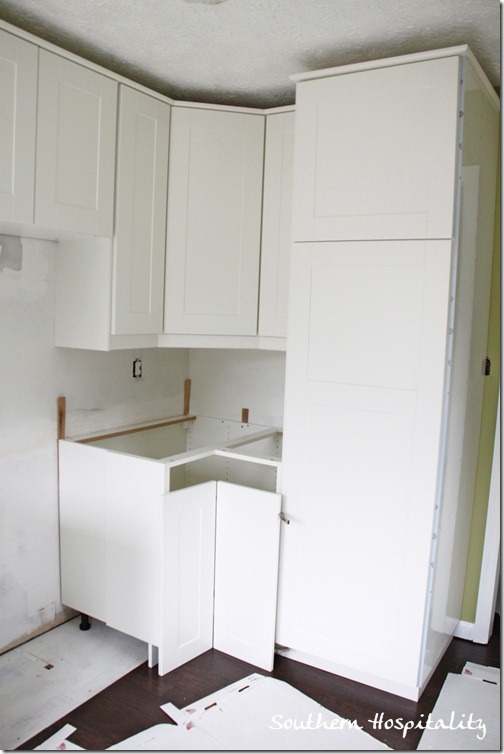 Here's a good look at the massive pantry I got.  When deciding on the layout, I really hoped to have room to fit a pantry since I don't have a dedicated closet for this and this one is going to be nice.  This area right inside the door was about the only space I could add one and I'm so glad I did. The corner cabinets above and below will hold Lazy Susans and those will come in handy too.
Here you can see the crown molding installed along the top, as well as the trim molding at the bottom of the base cabinets that will hide my under cabinet lighting.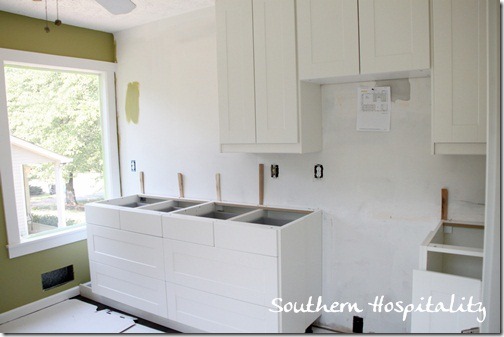 Stove with microwave above will fit in these empty spaces.  I still have to find a stainless steel stove, that will be next.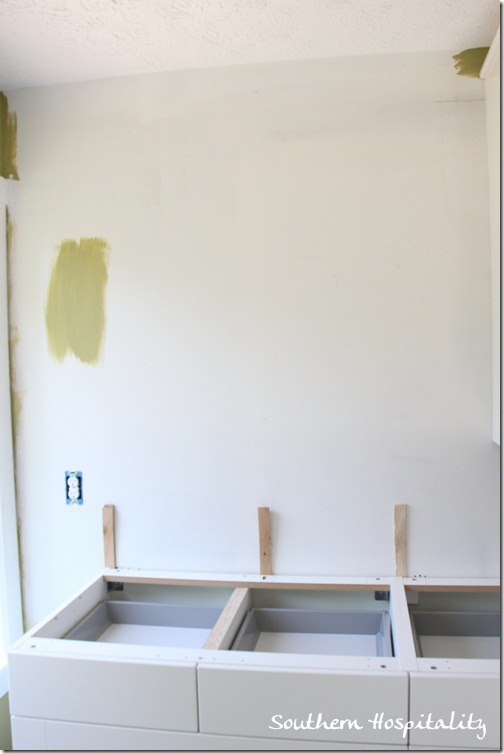 Here's the blank wall that will be one big beautiful wall of subway tile soon.  And my rustic 4' shelves will be hanging here too.  I can't wait! I've got one more little plan to the left of these base cabinets too that I'll share later.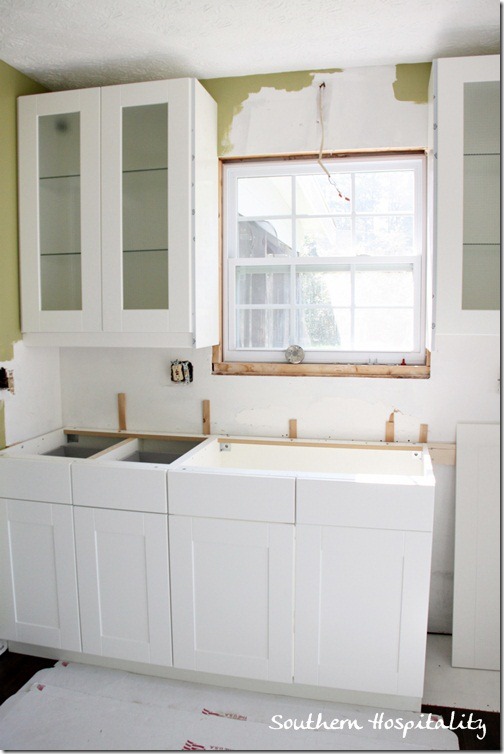 To the left and right of my window are glass front cabinets.  I really wanted some glass and glad I got them.  More than likely, my glasses and white dishes will be housed in these cabinets.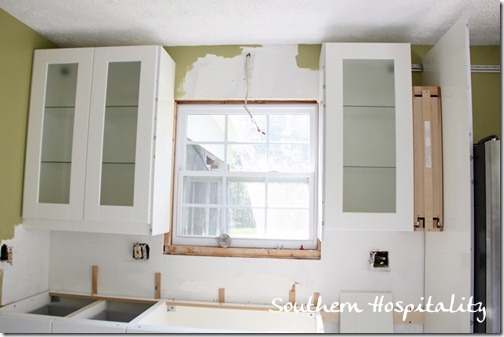 Dishwasher will be to the right of the sink and you can see we are still working on the refrigerator panel and a little surprise cabinet above.  I had a 6" filler space there and decided to add a pull out spice drawer, so you'll have to stay tuned to see how it turns out.  Cute, I hope and it will get it's own little door!  I ordered it from this online company, after seeing it used in another Ikea kitchen when I was browsing blogland.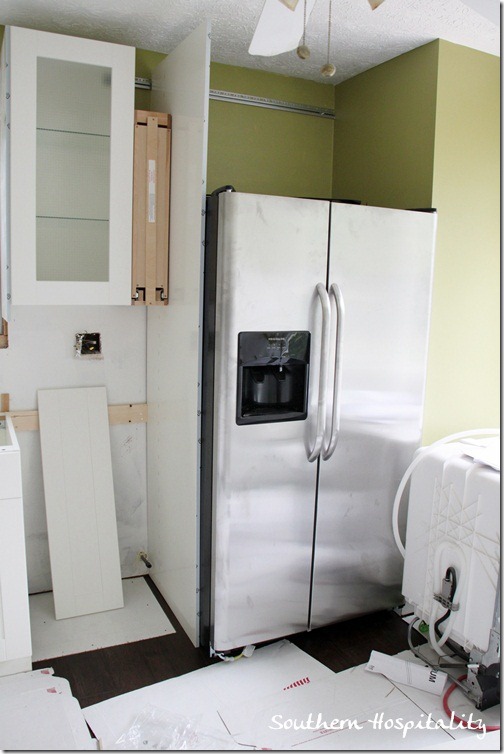 A 24" deep upper cabinet will go over the fridge and when done, will look built in.  That side cover panel will come out to the edge of the fridge to give it that built-in look.  That area has been one  that has sent me back to Ikea several times.  The details on putting together a kitchen is mind boggling and I went back 4 times to get all the missing and necessary components to get this kitchen together properly.  I think at last we are ready for the finale.  I should have a few things to return when it's all said and done.  You definitely have to have some patience when doing a kitchen from Ikea, as there are many little things to consider and have on hand, like side panels, extra hardware, and the right size fridge cabinets.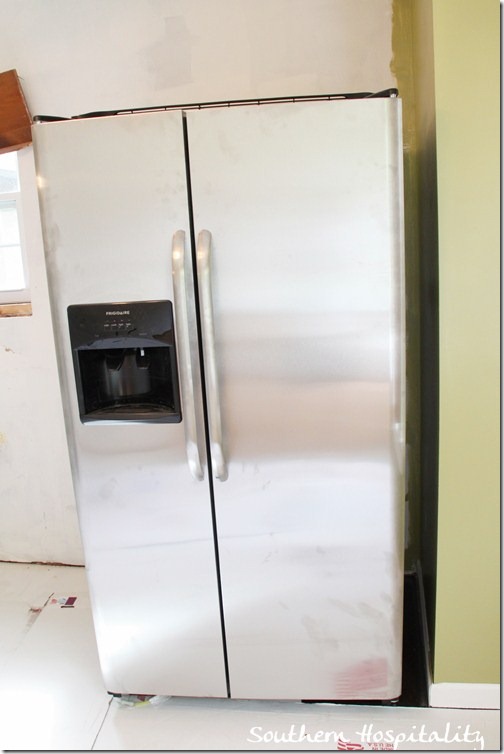 So, you might notice this beautiful new thing!  A gorgeous stainless steel side-by-side refrigerator.  I am in love with it big time.  This month's Lowe's challenge was to give an update to our kitchen with the giftcard we were all given as Lowe's Creative Ideas bloggers.  Well, how about that timing?  Coincidental again?  No way indeed!  Just in time for August, my kitchen is coming together nicely and one of the things most needed in this new kitchen is a refrigerator.  I had a side-by-side in my last house and I also like stainless, so I went shopping at Lowes to find a great deal and find one, I did.  With my giftcard I was able to get this one on sale.  It's not a top of the line model, but will serve me well.  You can spend a boat load of money on refrigerators, but I've never done that.  This one has all the bells and whistles I need and water and ice in the door is a huge plus and luxury.  With a 10% off sale and another 10% coupon, final price was just over $800 and the giftcard paid for most of it.
Talk about a blessing!  I have so enjoyed my association with Lowes this year and they have helped me so much on getting my house together.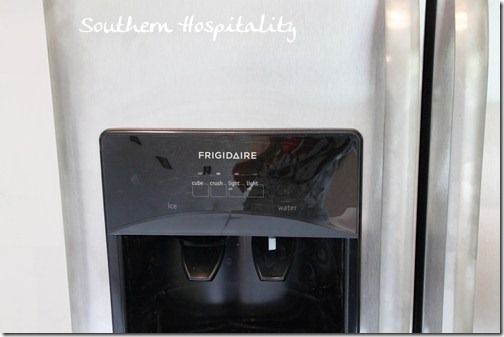 Water and ice in the door.  When you get used to that, it's hard to go back to not having it.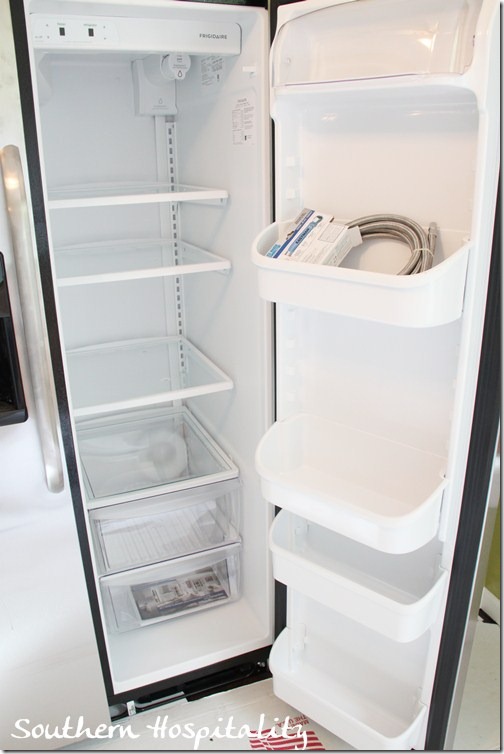 Inside there's plenty of room to hold all the groceries I will need to make this a real live working kitchen.
I took time last week to get in the slides for my pantry shelves.  This thing is going to be great.  Ikea really builds their hardware and shelves fantastic and you would have a hard time finding better door hinges and hardware overall.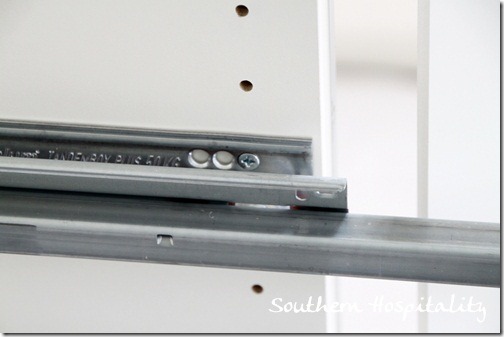 Once you know where the screws go, it's pretty easy to install.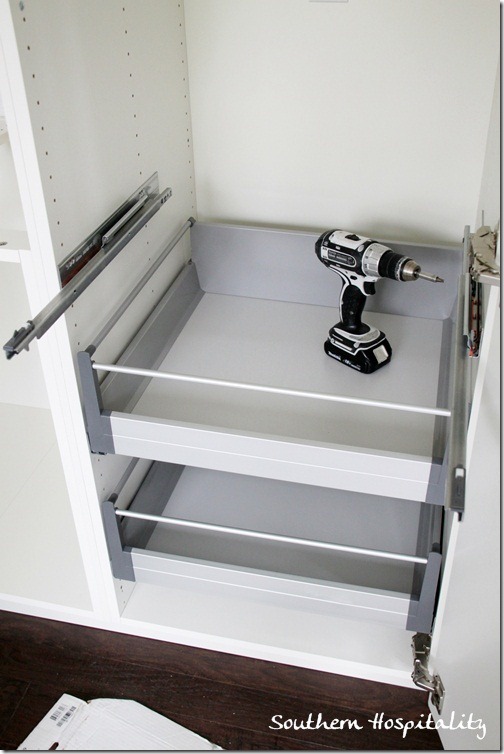 I borrowed my neighbor's screw gun which came in handy. I have one, but it's not as powerful as this one.  That's on my list to upgrade too.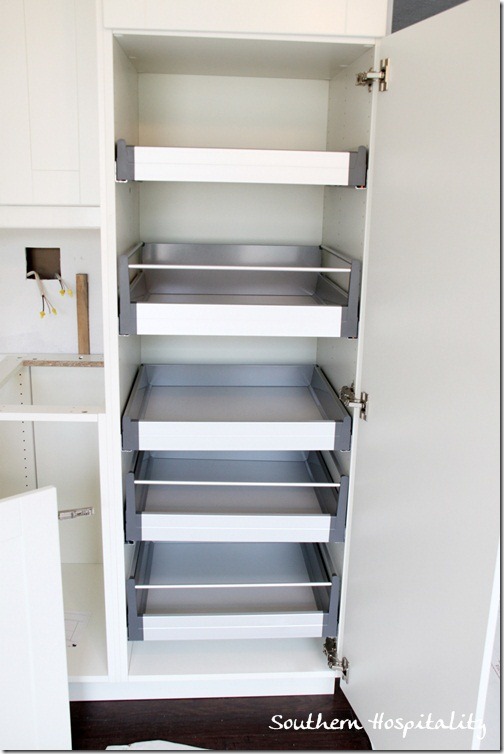 I spaced the shelves out, thinking that some would need more height than others.  I  know this pantry is really going to come in handy for me.  The shelves pull all the way out.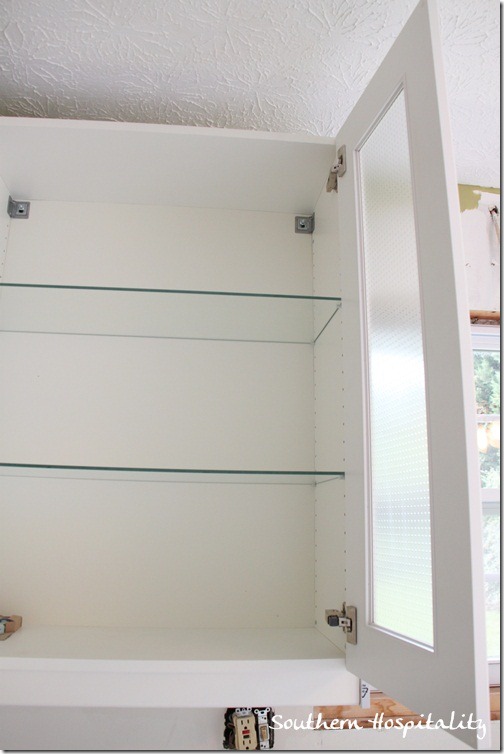 The glass front cabinets come with glass shelves and they were easy to install too.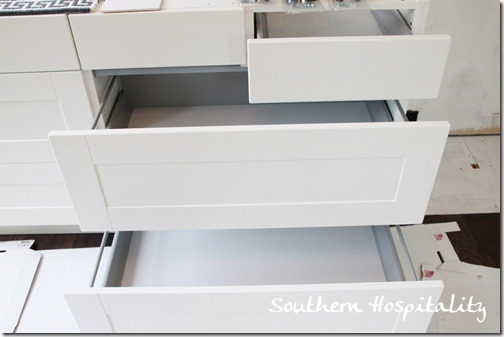 My two 36" base cabinets will also be great and they all pull completely out as well.  I'm so pleased with how Ikea puts their drawers together.  Soft close Blum hardware also comes with these cabinets and that is one fantastic feature.  Those were easy to add too.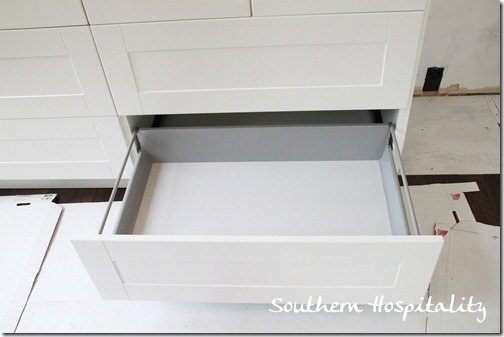 I can stack all my pots and pans in these big drawers.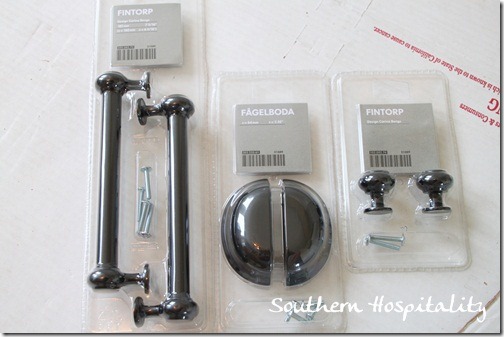 Since Ikea was having their 20% off sale, I decided to go ahead and get their hardware too and mixed it up with these 3. I love them!  I'll put the big handles on the big drawers and pantry, the pulls on the smaller drawers and the knobs on the cabinet doors.  I love the mix of black hardware on white cabinets, always have. Some go for nickel, but I like contrast.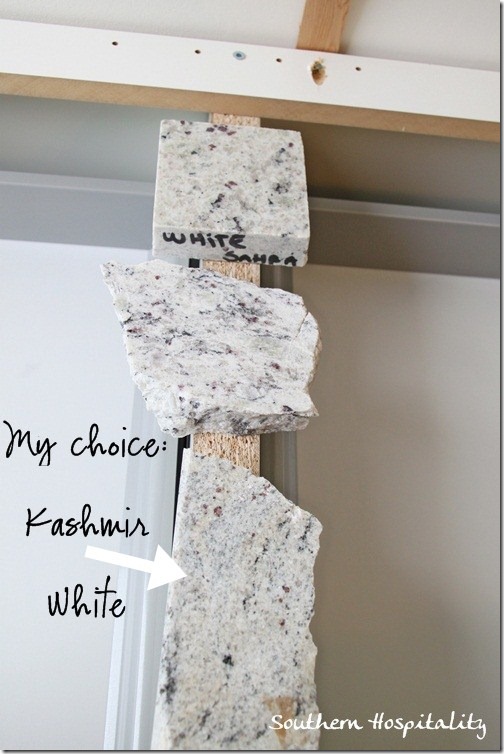 I also went granite shopping last week and found a great place in Alpharetta that I think is going to do a good job for me and they came in with the best prices for granite and installation.   Update:  The granite company I'm using is Legacy in Alpharetta. They had the best prices of anyone I found out there and I think they are going to be great. I saw them working in the warehouse on several pieces and they have a huge selection of all colors of granite too.
I found several in the lighter color palette that I was looking for and ended up choosing Kashmir White, above.  At $32 a s.f., this one is affordable.  I have about 40 s.f. in my kitchen, so it will come in at just over $1,300 and that includes a 10 year sealer.  Not bad at all!  I really think I'm going to love this granite and I've seen it in blogland more than once.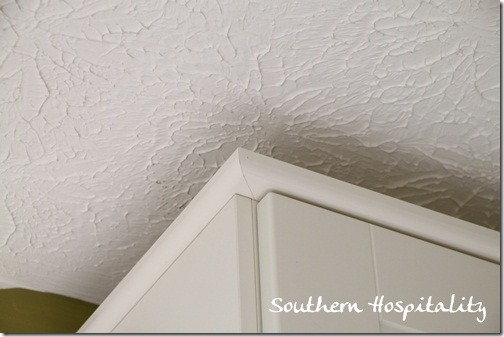 You can see how the crown molding looks here.  It's a simple crown that doesn't touch the ceiling and this is what Ikea offers in their trim pieces.  I'm fine with this look, there's about a 3 or 4 inch space above and that will be OK with me. Putting in real crown molding is a lot more labor intensive and would cost me more money, so I'm good with this one.
I think it looks very simple and classic. The panels still have their coating on the sides, so you can still see that in the pics too.  We will still have to do the backsplash subway tile too and I do believe we will tackle that one ourselves.  My dad and I have both tiled and he has a wetsaw.
I've got a few more updates to share with you too from around the house.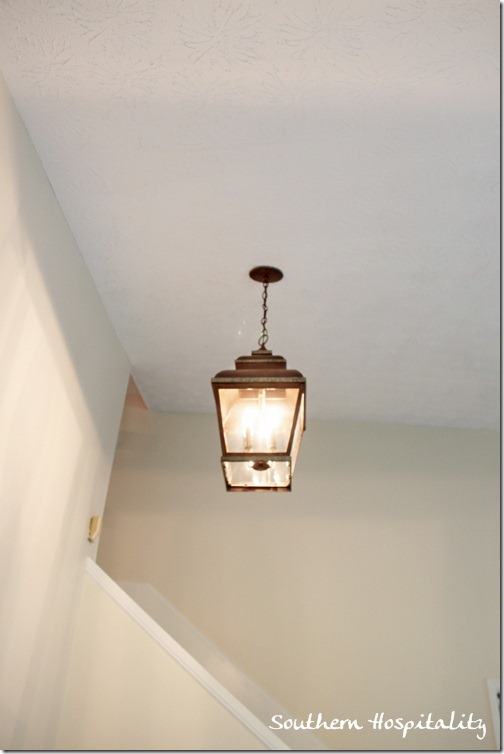 A few more updates in the house, I got my lantern from my old house installed in the foyer.  Love, love it!  So glad I brought it with me.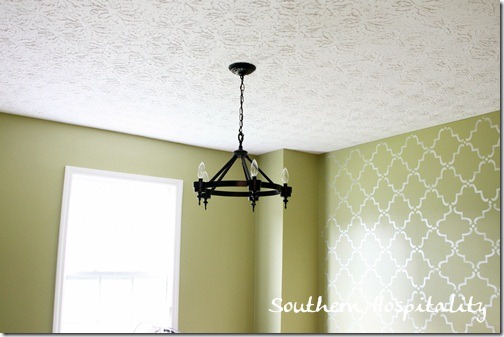 My old $5 thriftstore light find came with me too and this one works great in my office.  It has some cute linen shades that will go on there later (once I start unpacking boxes).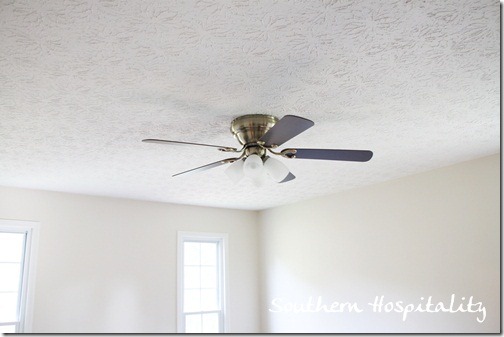 I also opted for a ceiling fan in my bedroom. The old one was falling apart.  This one is simple and classic too and it's in an antique brass finish.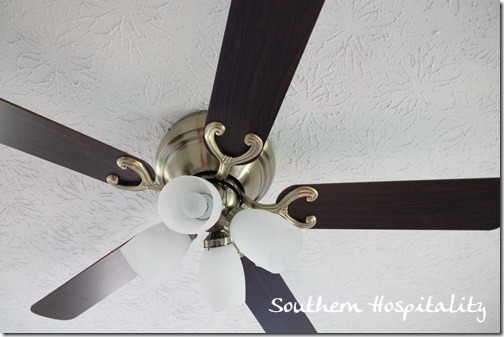 I like how it looks and it will be used a lot.  As much as I love a chandelier in the bedroom, I like staying cool better. My electrician added a really cool remote control wall switch in my bedroom too, which will be really nice.  It allows me to control the fan from the wall, with Low Medium and High settings as well as turning the light on and off.  This is great since the wiring wasn't done separately originally.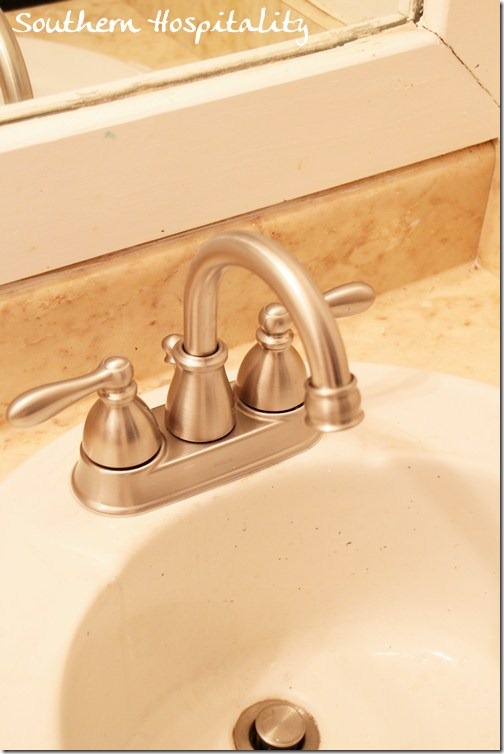 Another update that I haven't reported on yet.  All my faucets got replaced!  Moen was a sponsor at Haven and they sent me brand new bathroom faucets and that really makes a difference in updating my sinks.  Thank you, Moen!  This Satin Nickel finish will mix well with the chrome in the tubs.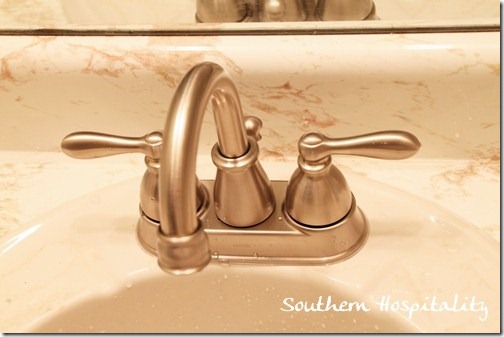 Hall bath update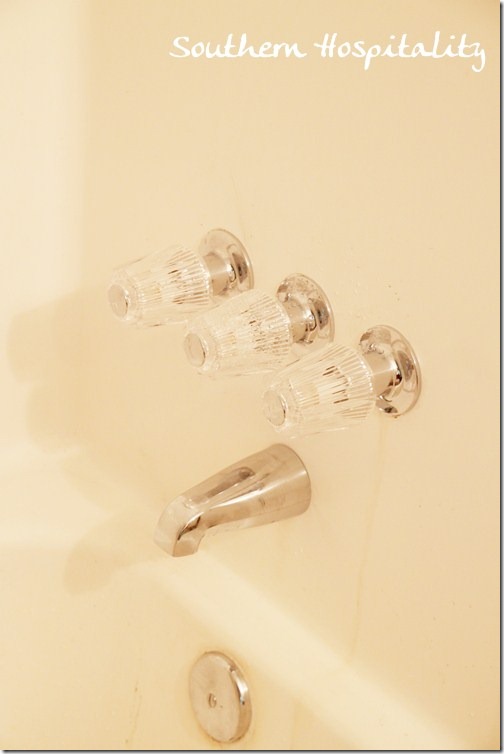 I had a plumber come out and he totally fixed both the tubs, replacing all the hardware with brand new fittings.  I was so happy to see this done!  Now the tubs need a really good scrubbing, I'll get to that soon.  So, you can see we are making some big progress now.  I can hardly wait to get this house finished and it's getting closer by the day.
I caught mom and dad outside last week, working in the garden.  My dad even grows his own potatoes.  Aren't they cute? Dad had just come in from picking veggies and mom was scrubbing the dirt off the potatoes.
Check this out!  I came outside and found this sight and had to go get my camera.  I asked my mom if she minded me taking her pic and she said no.  I said, now this needs to go on the blog.  She just laughed!  I have the hardest working folks in the world and am amazed at all they do.  I hope I'm still going half as strong at their age.  I'm so, so blessed to have these 2 as my parents and yes, I know that more every day.
So, that's the latest and greatest with the house renovation.   We are making some big progress and this week I'll be doing a little painting on the vanities.  Dad will be back next week and my granite installer will come out to do the template and get ready for that. I'll do a breakdown on the kitchen costs for you later too when the kitchen all gets put together with all the components.  Then, we'll start working on those stair treads.  After that, I'll get the final things done in the bathroom and then I'll really be getting closer.  We still have to add shoe molding too around the whole house so some of that stuff will take a little time.
I don't want to rush it and move in with things still left to do, so I'm going to try to be patient and get all those little things done before we start bringing in furniture. It will be so much easier to do projects with the house empty.

I am thrilled to be a Lowes Creative Ideas blogger and Lowes provided a giftcard for a kitchen project.  I opted to get the refrigerator. All opinions and ideas are my own.  Thanks to Lowes, my house is getting prettier!
You can find Lowes on here:
Lowes Facebook –
Lowes on Pinterest
Don't Miss a Post, join my list!