Last Saturday, I met up with local Atlanta bloggers for lunch out and some browsing in the Westside Urban market.  That area is really up and coming and so many new stores are opening up down there in the last few years.  Not far from Ikea, there are so many creative resources in the area now.
Starting with lunch at JCT Kitchen, always a treat, we had a great time catching up and doing a little shopping.
Here's part of the group at lunch.  JCT is a really good place to eat, fresh and great food.
We walked across the way to the Jonathan Adler store. I had been in here once. It's an explosion of color.
From left to right:  Sarah, Christina, me, Amy, Sally, Kelley, and Carrie.
The Jonathan Adler store is not exactly my taste, but it's fun to look at all of this. Talk about mixing patterns.  Anything goes these days.
White pottery on blue.
This chair is really cute, I do like it.
Round mirror and lots of owls.  It totally cracks me up to see all the owls back in again.  The 70's are really trying to make a comeback.
This looks 70's too, doesn't it?
Orange and white.
If a peace sign pillow isn't 70's, I don't know what is.  I personally lived through it the first time, so I don't want to relive the 70's again.
This wall screams 70's, loud and clear.
Loving the greens.
This marble topped table was pretty, but pretty pricey.
Vivid blue wall and a sectional sofa.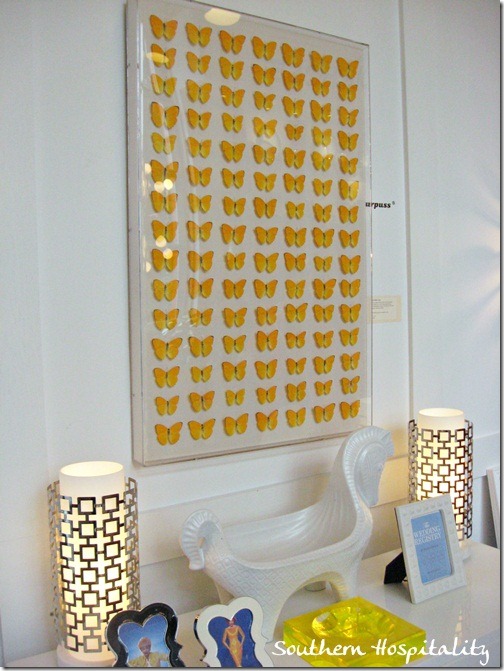 It's very eclectic in  here.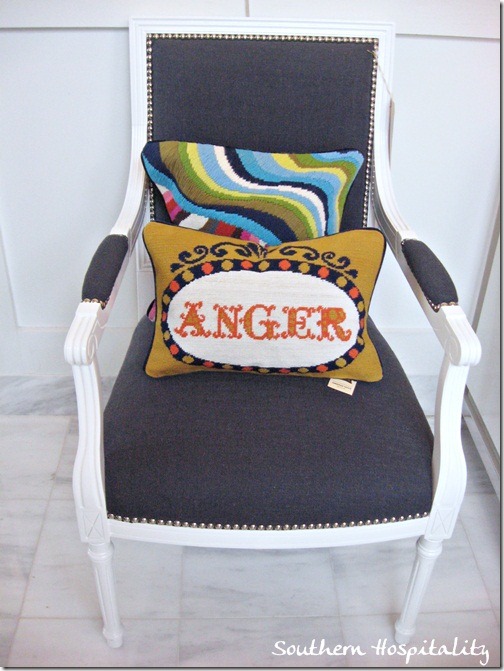 This cute traditional chair is a good one. Not so crazy about a pillow that says Anger.  No thanks to that!
Brass is resurging again, as predicted.  I like some more matte finish golds, but this is still a little screaming to me.
Not to mention, a big brass banana?  Uhmmm, no thanks!
What do you think of the modern Jonathan Adler style?  I like a few things, but for the most part it's a little too contemporary and bright for me. 
I've got more pics to share of a few other stores in the Westside Design District and I'll get those up eventually!
Don't Miss a Post, join my list!