This is a repeat from a Feature Friday from 2014, but since we can't go to the beach right , I thought you'd enjoy this virtual cottage style beach house at Tybee Island that I visited back then with some blog friends. Enjoy the tour again and let's all pretend we're at the beach right now! 
*************************************************
Last weekend was an absolutely wonderful experience, getting away to Tybee Island for 4 nights with a bunch of blog girl friends.  This all came about when several of us were at The Chapel Market last Fall and Mary Kay Andrews (aka Kathy Trocheck), you know…the famous author,  was there with us and we all started talking about Tybee and how fun it must be. I had never stayed on Tybee, so the discussion came around to "why don't we plan a big blogger event at Tybee in the off season", January or February.  Plans were made and the gears started turning for Mary Kay and her friend, Diane, who manages Mermaid Cottages on Tybee to get this trip going.  I helped them coordinate with the bloggers and a memorable event was hatched.  And what a fun event it was!
It has been at least 15 years since I stepped foot on Tybee Island and all I remember about it was a lighthouse. I totally don't remember all of these cute cottages or little downtown shopping area or the beach looking pretty darn awesome.  I don't remember any of that!  So, I have to say that Tybee has evolved and grown a lot over the last few years.  I've visited Savannah a handful of times and absolutely LOVE it. So historic, charming, and Southern.  Tybee is about 30 minutes from Savannah, so a perfect place to stay and see it all.  I will definitely be going back to Tybee Island. It reminds me of a 1960's beach town, not because it's out of date, but because it's so charming and quaint.  There are plenty of restaurants, shopping and bike riding. The perfect island to get away from it all and relax.  At only 1 mile wide by 3 miles long, it's a small island, but that's part of the charm. You can ride bikes and feel completely safe and it's flat too.  Loved that!
I took over 600 pics, so will definitely have to narrow down my posts to share with all of you, but be forewarned.  I will have a lot of posts from Savannah/Tybee Island.  I couldn't stop taking pics, there was just that much cuteness everywhere I looked.  From the cottages, to the beach, so much to look at and experience.
I stayed with 3 other girls in my cottage, called WhiteCaps.  It's in an area where there was an old army base called Fort Screven and many of the homes in this area are old.  It's just steps to the beach from here. White Caps dates back to 1897 and was a complete charmer.  I loved her so!   Three sweet blog friends stayed with me, Beth, Jen, and Lucy and we had a ball.  Talk about a girl's weekend, this was the ultimate. There were 19 of us in all, everyone spread out at 6 different cottages and we made the rounds, checking them all out.  I got lots more pics of a few of the cottages, so I'll have plenty more to share, along with Savannah and the beach. It was so much fun and really a great get away for this time of year, with the inclement weather back in Atlanta right now.
Spring, where are you?  Please come back!  Going to Tybee for the weekend gave us a little taste of spring, we lucked out with temps in the 50's and 60's and mostly sun the whole time.
My friend, Heather, who blogs with her sister, Vanessa, At the Picket Fence, now lives in Atlanta so she and I rode down together.  Her sister flew in all the way from Oregon for the weekend and they were happy to see each other again.  We had a gorgeous, little chilly, drive down on a sunshiny day.  We had to stop and take a pic of the Tybee Island sign once we drove through Savannah. Tybee Island is on the other side of Savannah from Atlanta and on a little island all alone.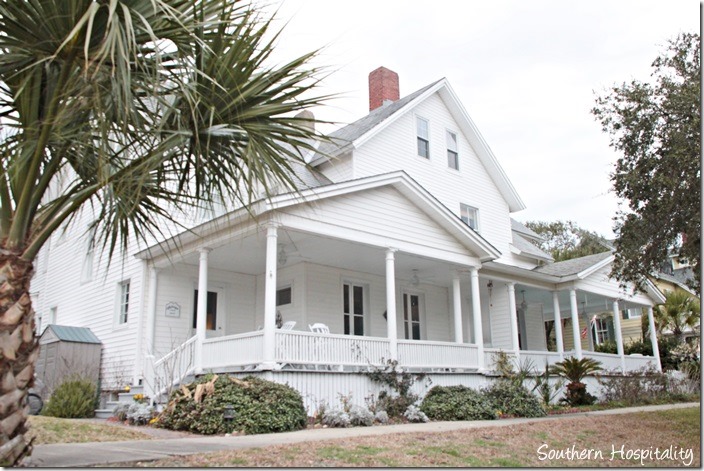 This area has older cottages like this one, mixed with newer construction and the whole Fort Screven area is charming.  White Caps sits on a little hill with lots of other houses around.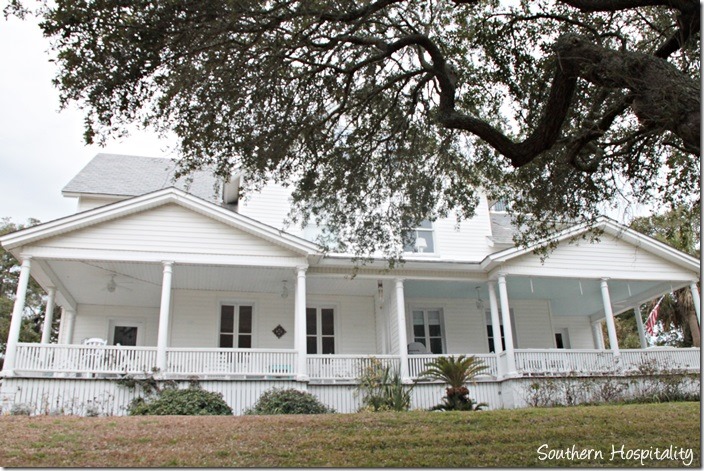 It's actually a duplex and we stayed on the left side.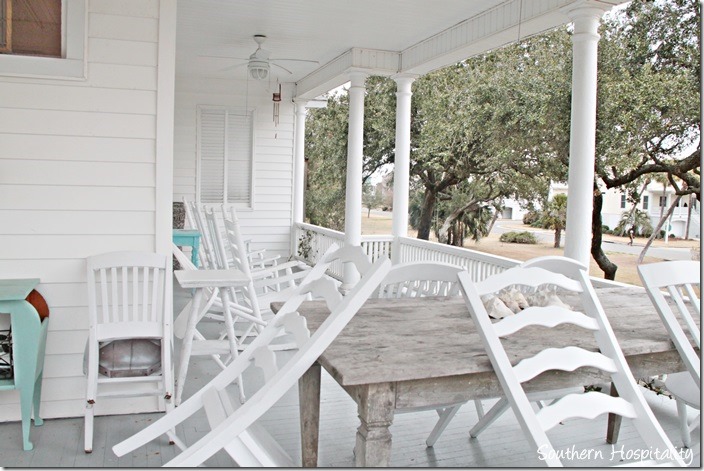 This charming front porch was so adorable.  We did take the chairs off the table after we got here, but I was too busy snapping pics.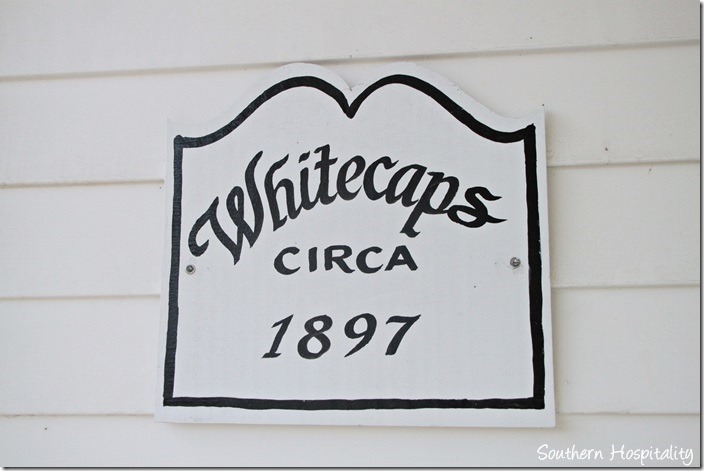 Whitecaps Circa 1897.
Shells on the rustic table.  I can imagine this place in the summer will be bustling.
I used my zoom lens to get a view of the water just across the way from Whitecaps, so the beach is just a short walk from here.
Whitecaps awaits our visit!
Coming in the foyer we were oohing and ahhing over all the beauty.  She's a beauty, Whitecaps!  Mermaid Cottages is a rental agency that handles cottages all over the island, so you can choose any number and size of houses offered for rental.  Whitecaps is a large one that sleeps 9, so even though rentals aren't cheap it's great for large groups and cost effective with a lot of people.
Beautiful iron foyer table covered in burlap and nailheads.
The large living room is light filled and spacious.
White slipcovers and beautiful pine floors.
The fireplace looks to be original.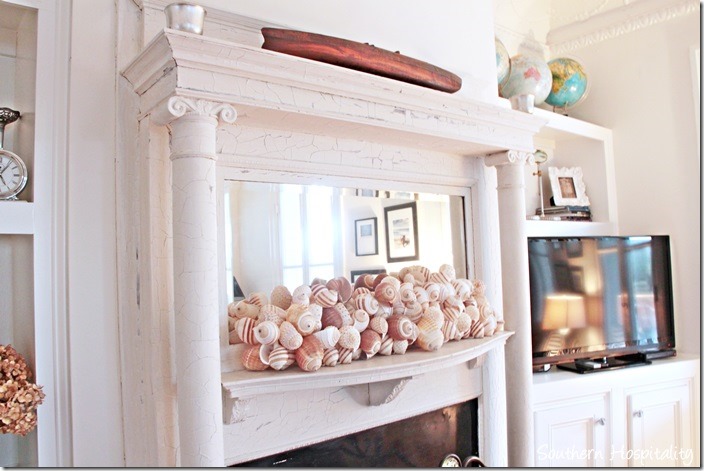 Fireplace with overmantel, so pretty with the built-ins on the side.
Check out these gorgeous ceilings!
These seashells are stacked and tied with twine to keep them all in place.
Built in bookshelves on either side.

Those 2 big doors go out to the porch and still have original wavy glass.
I love this room!
The dining room is spacious and light filled too. Check out the curtains which are held up by rustic sticks.
I love the exposed brick on this side of the dining room.
Another full shot of the dining room.  I know these all white rooms won't appeal to everyone, but at the beach, this is a really nice feel.
Looking back towards the foyer from the dining room.
A large antique mirror sits at the end of the hall coming from the kitchen. I loved how this opened up the space and it's such a pretty mirror.
Down that hallway is the kitchen, also light filled with modern white beadboard cabinets.
Such a cute kitchen, with all the modern conveniences needed.
Rustic pine floors go well with all the white and I loved these glass front cabinets
Mermaid morning bliss coffee awaited us the  next morning and we put that coffee maker to good use.
Welcome to Tybee!
Right off the kitchen is this cute bedroom in pink checks.  Beth stayed in this one.
She had her own little bathroom to match.
Upstairs looking down to the foyer.
The staircase was a double one, with one set of stairs coming up from the foyer and another to the right that went down to the back hallway leading to the kitchen.
At the top of the stairs was this quaint bedroom and this is where I stayed.
Comfy bed all ready for guests.
Plenty spacious with a large closet and fireplace.
We shared bathrooms and this one had the shower and large sink.
Lucy stayed in this pretty khaki striped walls bedroom with the iron bed.  So cute and charming!
This daybed was in there which could sleep another person.
At the end of the hall was the blue and white bedroom, which Jen stayed in.  I loved how nautical this room felt.  Check out the striped dresser on the right.
I love the mix of blues in here with crisp white woodwork.
Couldn't you just make yourself at home in a cottage like this.  Yes, we did too!
Upstairs hall bath had a clawfoot tub.
With a cute pedestal sink and retro black and white tile.
Downstairs in the basement was a cute red, white and blue bunkroom, perfect for kids.
So cute down here.
You can see Whitecaps is a very spacious house and would hold a lot of people. I can see hosting a family reunion on Tybee Island, or a girl's weekend like we did.  So many cottages available in every price point.  We thoroughly enjoyed our visit of 4 nights on Tybee and I would highly recommend going to Tybee and staying.  It truly is a great place to relax, without a lot of traffic or busyness.  If you're looking for rest and relaxation at the beach, Tybee is a good place to start!
I'll be back later to share Ebbtide, Mary Kay Andrews cottage that she bought a little over a year ago.  Ebbtide is big, so it's where we met up every night to congregate. It's so quaint and cute and very large too and has a completely different feel than Whitecaps, but equally charming. Mary Kay did her usual junking to fix up Ebbtide and it's so adorable. The charm factor in these cottages?  Over the top!  I can't wait to show you more.
Don't Miss a Post, join my list!