I've been playing around with my camera more, working on the settings and getting those beautiful shots that we all love and I'm pretty pleased with how these came out, so I'm showing you my white dishes.   Again.

Remember that green flatware that I got for $1 at the yardsale?  I love how they look mixed in with the white dishes.  I've managed to get so many pieces added to my collection, that I'm really running out of room in here for more.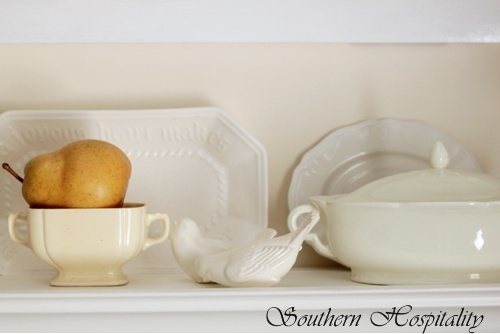 But, I've got some ideas on how to make it work a bit better for me.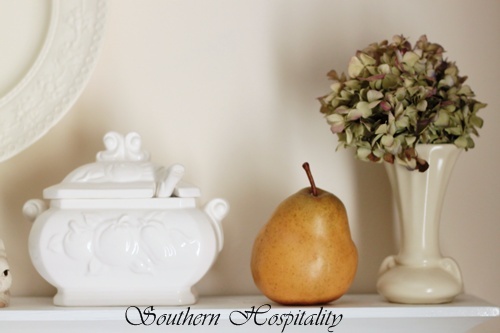 Still loving the Antique White walls in here.  It's just so peaceful and calm.
These faux pears look so real, don't they?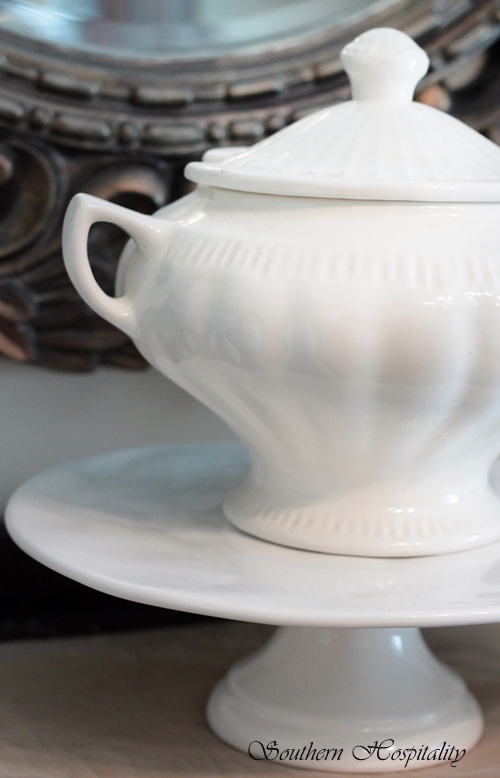 So fun to mix them all up.
Birds and bunnies really do work together.
Urns up high on my columns came from Southern Living at Home, now Willow House.
So, you can see I don't have much room left for more.  But, I have a plan that I hope will give me a little more organization in here.  I brainstormed with Layla while she was here, after thinking this over and told her my idea of taking down the 4 smaller shelves on each side and adding 2 chunkier shelves in the middle where the mirror is now.  I think I'll add mirrors on either side flanking the sideboard and I'm going to build 2 shelves for the middle.  I had considered selling my sideboard for a larger piece with an open hutch on top, but it would be hard to find just the right piece at the right price for that plan.  I think this one will be fun to do!
They will be larger and deeper than the ones I have now, so I should be able to group all my white dishes a little better.  I considered 2 large chunky shelves from Ballards in White, but I think after seeing this pic, I've changed my mind…
Love these rustic shelves that I spotted in this month's House Beautiful, so I think I'll try to come up with something like this.  I could stain the boards dark to go with my dark wood furniture and either do old rustic corbels OR some iron ones like this pic.  If I can find the right corbels to work together, I think it will be stunning.
Oh, and I've also got some ideas on adding some picture molding to the walls above and using one of those cool new lattice stencils.  I am picturing it now, so hope it turns out the way I'm envisioning. Of course, you'll be the first to see it all once I get it finished.  That might be awhile!
So, wish me luck on this one!  I can't wait to see what I find out there to make all of this work.  I'll be on the hunt for some old corbels or iron brackets for this project.
For some extra white dish inspiration, I spotted this beautifully stocked china cabinet filled with my favorite dish hue in the October issue of Living.  Ahhh….doesn't this just make you smile?!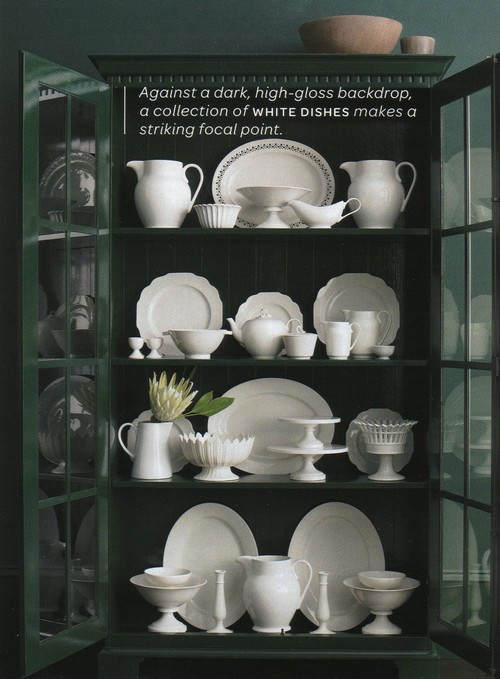 Shelves are a great way to display collectibles, don't you agree?!
*************************************

Sometimes I have to pinch myself.  I'm truly awed, amazed and humbled at the opportunities and open doors that have come my way because of blogging. Truly amazing!
I have huge and exciting bit of news to share with you!! A few short months ago on Twitter, some girls started a campaign with Nate Berkus and the new show that he is doing, which by the way, just aired for the first time on Monday.  They started a blogger's Nate Day and asked everyone to blog about Nate's new show, which I did here, in June.  I love Nate and have followed him for years after his debut as a designer.  He does fantastic work!
Anyway, they put an idea out to Nate's producers to have a blogger day, inviting the bloggers who had blogged about Nate's new show.  Well, they came through and we all got invitations to come to NYC next Tuesday, the 21st, for a blogger's show!! Can you imagine how much fun that is going to be??  I got 2 tickets, so got to invite a guest and I'm taking Sarah with Thrifty Decor Chick with me to the show and we are meeting up with our friend, Kate and Emily and several other girls that we have met through blogging.  I'll be going up on Monday and returning home on Wednesday.
I've only been to NYC one time about 15 years ago on a quick business trip up to NJ and it was WAY too fast.  I've always wanted to go back, so I am just beyond thrilled for this fun adventure.  I think the show will be taped and shown later, so I'll try to get the scoop on that.  A whole show full of decor bloggers, how fun is that going to be?!
Before you get too jealous, they are not paying our way up there, we are all on our own for that, but it's a wonderful opportunity that I wouldn't miss for the world!  And of course, I'll be taking about a zillion pics to share with all of you!
I have watched 2 days of Nate's show and am absolutely loving it! If you love decor shows, I think you will too.  You can click on the link to Nate's website for all the details and to find a station near you.  The best part?!  He's on every single day with lots of great ideas, celebrity guests, and inspiration. I predict The Nate Show will be a HUGE success.
Don't Miss a Post, join my list!