Come along with me and we'll explore the best 10 things to do on St. Simons Island, GA. 
One of 11 barrier islands hugging the coast of Georgia, St. Simons is around 18 miles long, with live oak trees dripping with Spanish moss and palm trees dotting the island.  It definitely has a tropical feel and is a very appealing spot to visit. I've only been a few times, but I'm taking Mark back there in September and can't wait to enjoy a romantic beach getaway with him. There's plenty to do and see on the island, so let me take you along on the recent media trip I took down there in May.
If you've never been, I hope this will give you the travel bug to visit the coast of Georgia, a scenic and serene place to get away from it all. And for those of us in Atlanta, it can't come soon enough!
1. Take a Trolley Tour
I met Cap Fendig, whose family has been on the island for generations the first time I visited almost 5 years ago. Cap is very knowledgeable, knows everything about the island, and runs a lot of sight seeing tours on St. Simons, from dolphin tours, trolley tours, sunset cruises, to ghost tours and more. Check out Lighthouse Trolleys for all the information on these excursions. Cap's company trolleyed us around the whole time we were there. From air conditioned trolleys to open air ones, it's a fun way to travel around the island.
I'm going to sign us up for the Ghost tour and Sunset cruise when Mark and I go back in September.
2. Visit Christ Church
Our first stop this trip was historic Christ Church on St. Simons Island. It has a notable history as one of the oldest churches in Georgia and was founded nearly 70 years after the island was first settled by English colonists. The first church building, however was not built until 1820. The Wesley brothers preached under the live oaks, so the grounds feel very hallowed and sacred when you walk around here. It's such a peaceful place to visit, inside and outside.
Note that the church is open for tours Tuesday through Sunday from 2 to 5 pm, so plan your visit accordingly.
It's hard to capture the magnificent live oaks on the grounds and all around St. Simons. That's part of the charm of the island!
Presidents Calvin Coolidge, Jimmy Carter, and George Bush have worshipped in Christ Church.
The stain glass windows are stunning and so colorful.
3. Visit Fort Frederica
Another stop on our trolley tour was Ft. Frederica, a first visit for me. I didn't know much about the history of St. Simons and the wars, but there is much to be learned about our Georgia history on this  island.
From the website:
Three years after founding Georgia in 1733, Gen. James Edward Oglethorpe established Fort Frederica to defend the fledgling colony against Spanish attack from Florida. It was maintained as a military fort and a settlement.
There's a lot of history to this area, so if you want to know more, check out the link above to Ft. Frederica.
4. Take a Dolphin Cruise
Departing from Morningstar Marina, we headed out on a boat excursion to see St. Simons sound and hopefully see some dolphins.
I don't recall the names, but the boat crew guys were very informative, St. Simons natives as well and we had a wonderful day on the water.
We enjoyed seeing this bird sanctuary island with more pelicans than I've ever seen in one place.
They are protected on the island and have it made with all the sea life around them.
We did indeed see dolphin on our boat tour and it's always fun to see them swimming and frolicking in the water.
We got a good view of St Simons lighthouse from the boat too and we'll visit there next.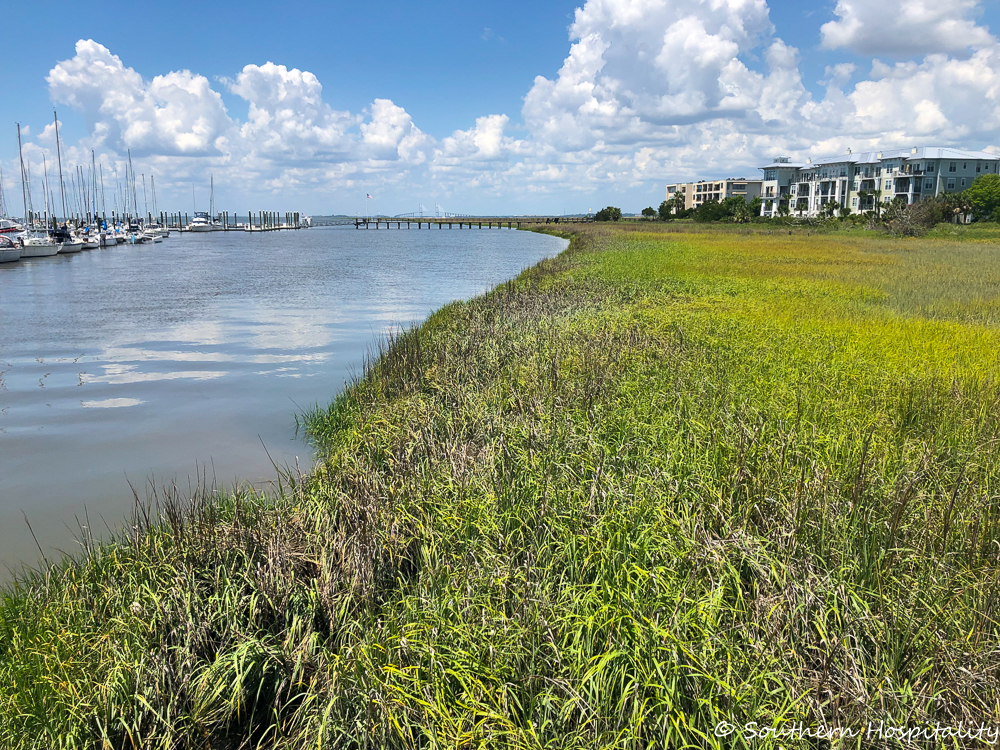 5. Visit the St. Simons Lighthouse
I got to climb St. Simons Lighthouse last time I was there and it was just as enthralling again this time. St. Simons lighthouse is one of the highlights of the island, so definitely do not miss visiting this historic site.
There's a brand new WWII museum there too that we didn't visit this trip, but I'm sure Mark will want to see it when we are there next trip. The current lighthouse and keeper's dwelling were completed in 1872.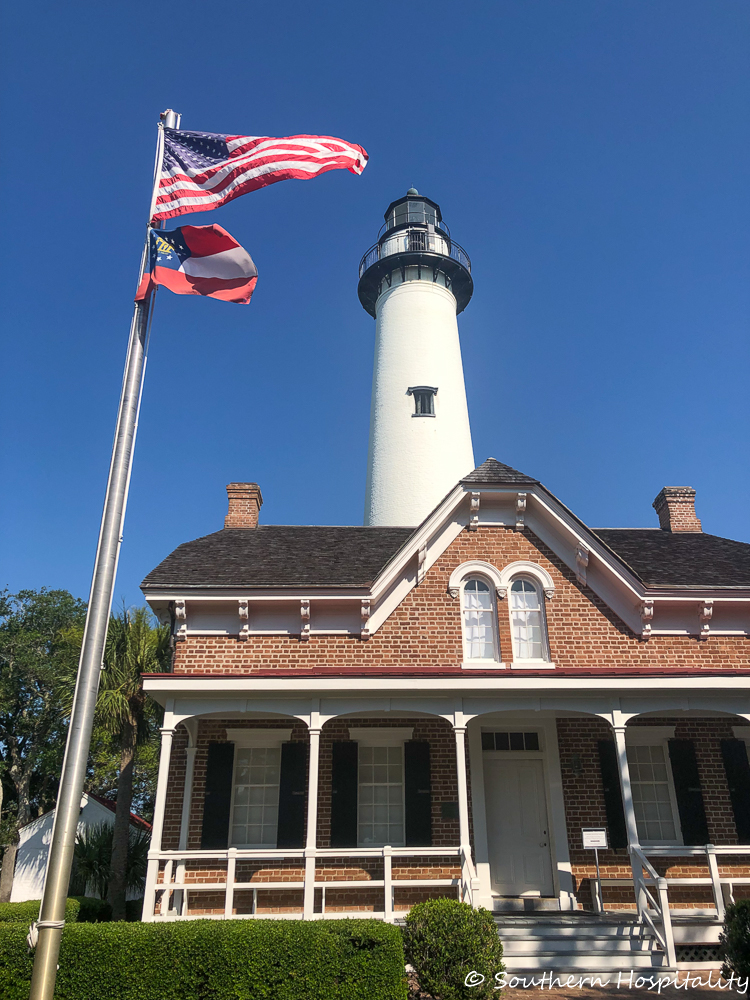 Be sure and climb the 129 stairs to the top of the lighthouse for some amazing views of St. Simons.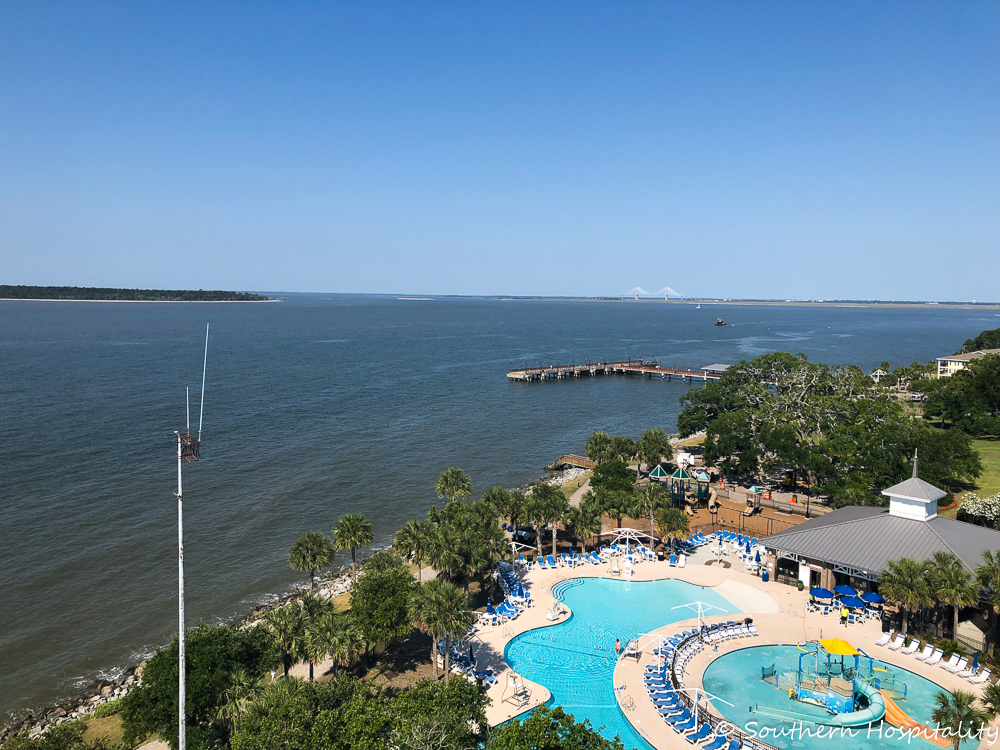 Views from the top. I love this community pool below! Looks like a great place to hang out for the day.
6. Dine Out & Eat Great Food
In addition to delicious meals at The King and Prince while we were there, we also enjoyed feasting at other nearby restaurants for lunch and dinner. We certainly had some great food while on St. Simons!
One of our lunch stops was Gnat's Landing, a casual beach spot with tasty fare. One of their specialties is a slaw salad topped with seafood of your choice. I had the grilled shrimp on top and it was so good! Perfect for a lunch bite!
A dinner treat that I absolutely loved was The Georgia Seagrill, located in Pier Village. I definitely want to go back here again with Mark. Our meal was amazing!
We had several small plates to enjoy, including this Georgia Bison Carpaccio.
I had to try the Low Country Crab soup and it was outstanding!
My entree was a fresh fish catch and out of this world! Now I can't remember which fish it was, but it was such a fabulous dinner. I can't wait to go back.
Dessert for me was Creme Brulee, my fave dessert and even though I was so full, I had to try it. I didn't make it all the way so took the rest back to my room and ate it later.
Another lunch stop was the Golden Isles Olive Oil, another delicious treat. It was really amazing to see all they did with olive oils. I love olive oils and really want to learn how to use them better. The shop has a huge collection of olive oils and vinegars, with so many combinations to taste.
It's amazing to me how many benefits are found in olive oil.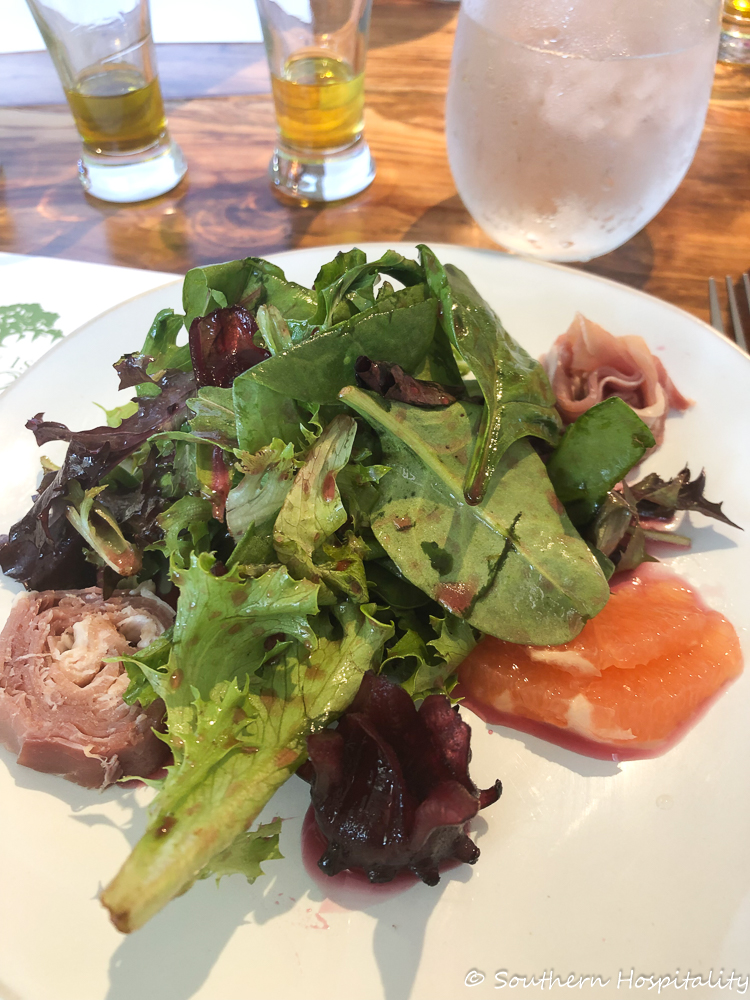 This Spring inspired hibiscus salad with watermelon was so refreshing and tasty, the perfect summer treat.
Their crustless crab and mushroom quiche was some of the best I've ever had.
To top it off we had Blueberry Ricotta ice cream with lemon olive oil which had an amazing taste! Loved it!
Our last dinner on the island took us to Southern Soul BBQ, voted Southern Living Magazine "The South's Best BBQ 2018". I had been here last trip and it is a wonderful BBQ joint.
Several BBQ sauces to try out on the table.
We were treated to a sampling of their homemade pimento cheese and chicken salad. Both were delicious! By this time, I was wishing I had more room in my stomach to fill up. We ate so well on this visit!
The fried green beans dipped in ranch dressing were amazing!
As was the sampling of ribs, pulled pork, BBQ beans, and Brunswick stew. It was ALL delicious! I couldn't eat another bite!  We watched the sun go down sitting outside at Southern Soul.
7. Hit the Beach
St. Simons is one of the only beach towns in Georgia, so here you can enjoy a few miles of sea and sand, watching the tide roll in and out each day.
The tides on the Georgia coast are very high and very low as we witnessed while we were there. You can see the difference in this high tide at sunset and low tide from the previous picture.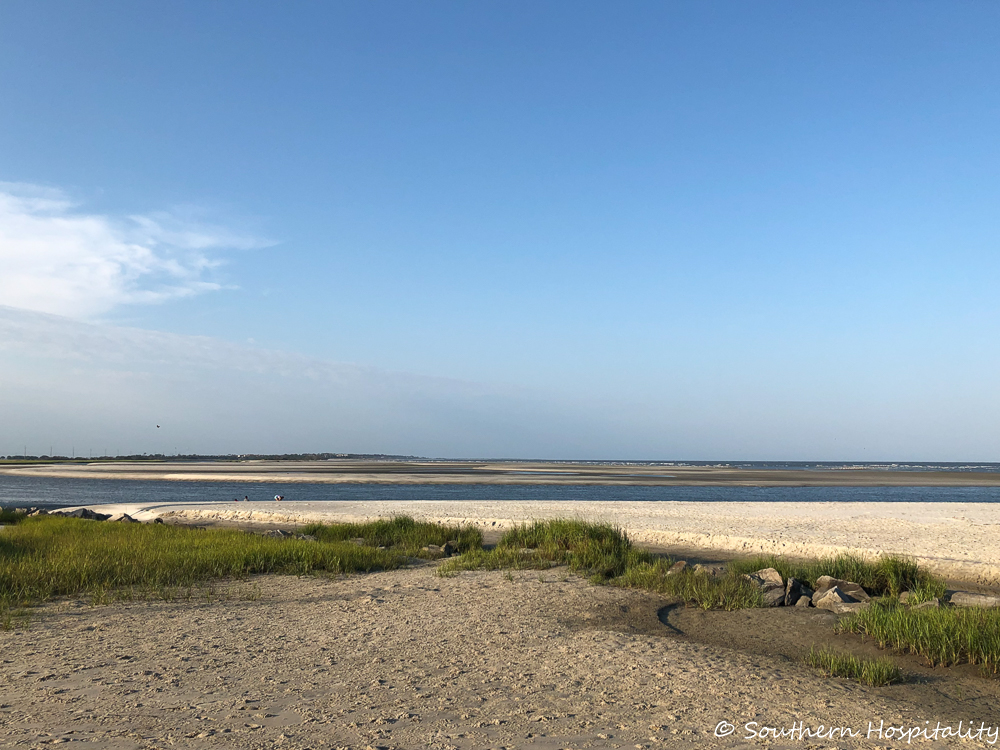 We drove down to East Beach and saw how pretty this area was too. It's the public beach on St. Simons Island.
Late afternoon and hardly anyone was out.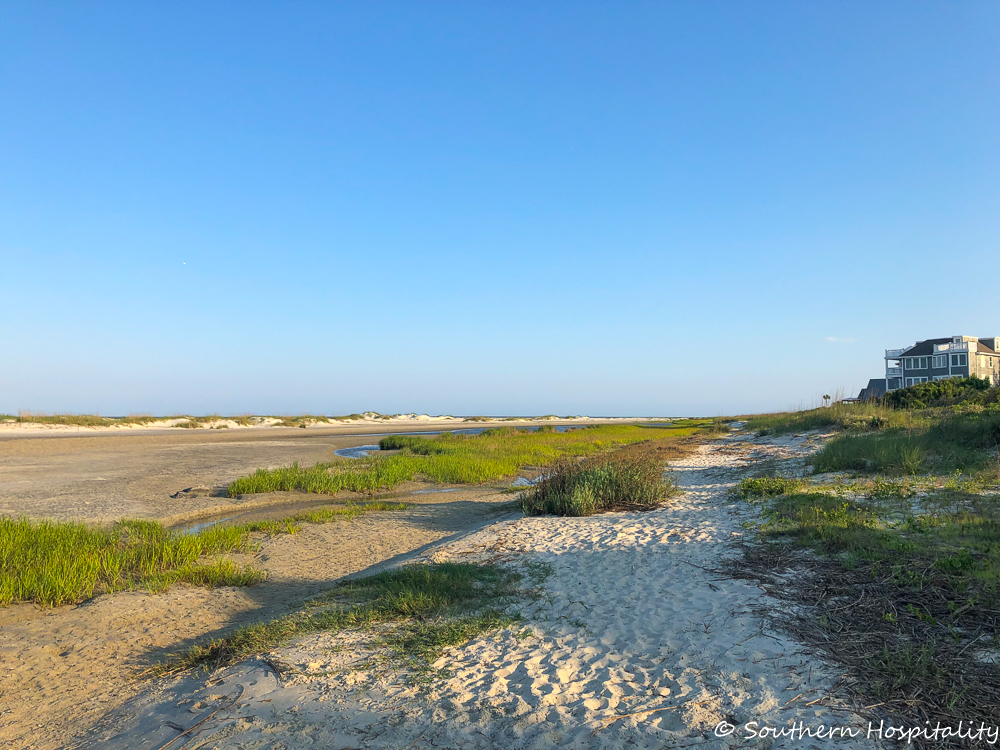 8. See the Charming Beach Houses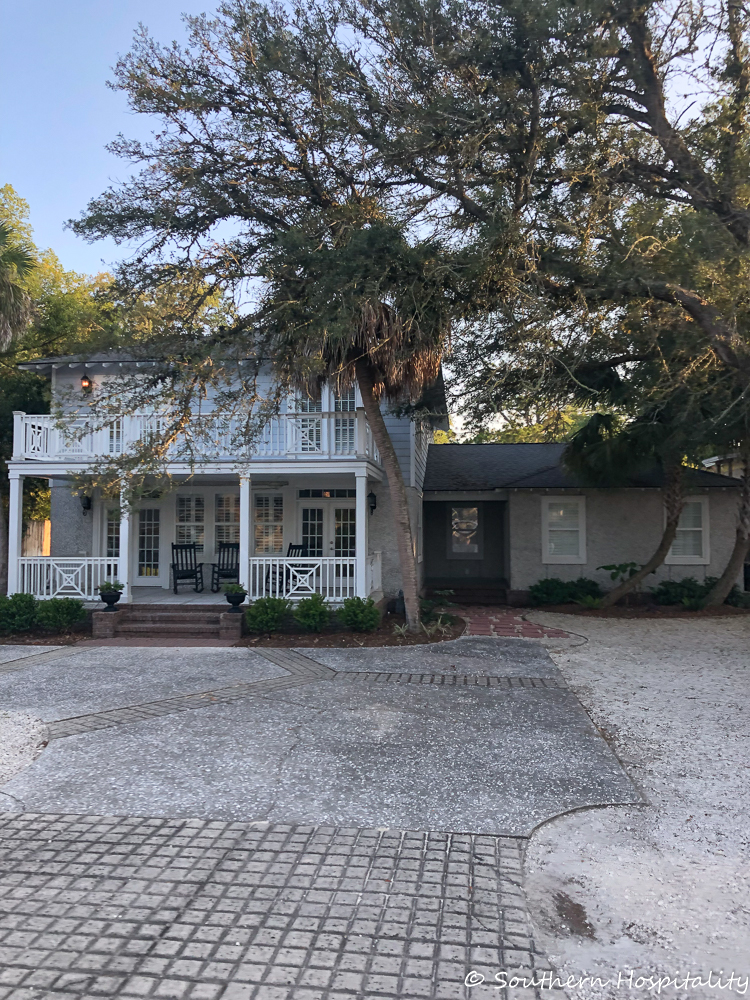 No matter where I visit the beach, I love looking at the beach houses dotting the area. St. Simons has its share of charming beach cottages, so drive around or rent a bike and take a leisurely tour of the homes of St. Simons.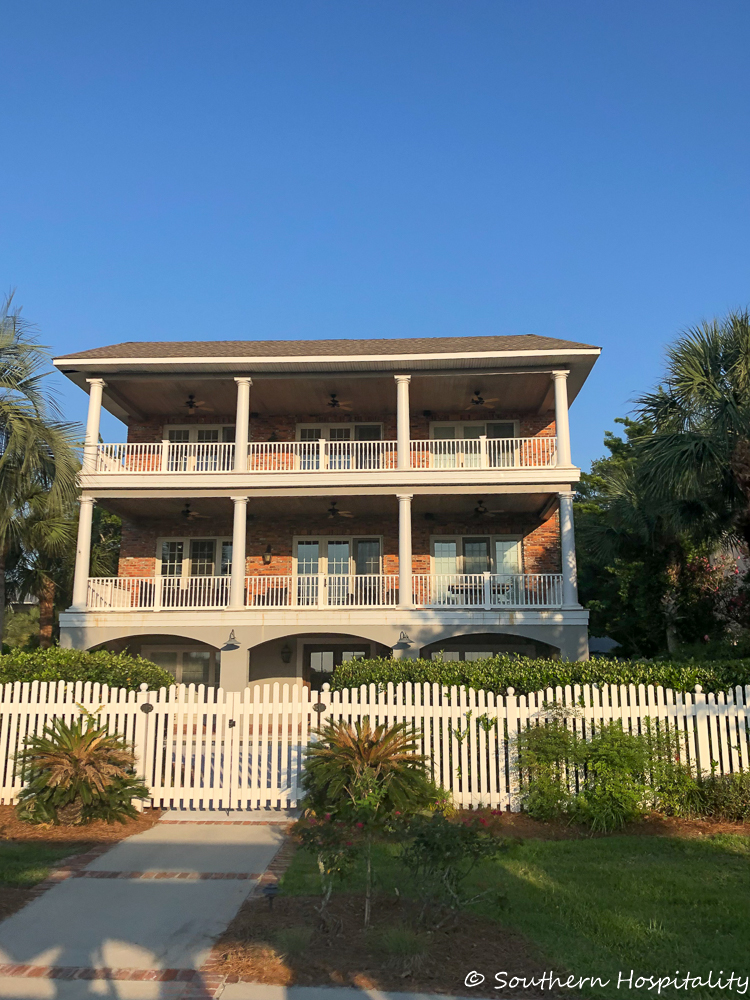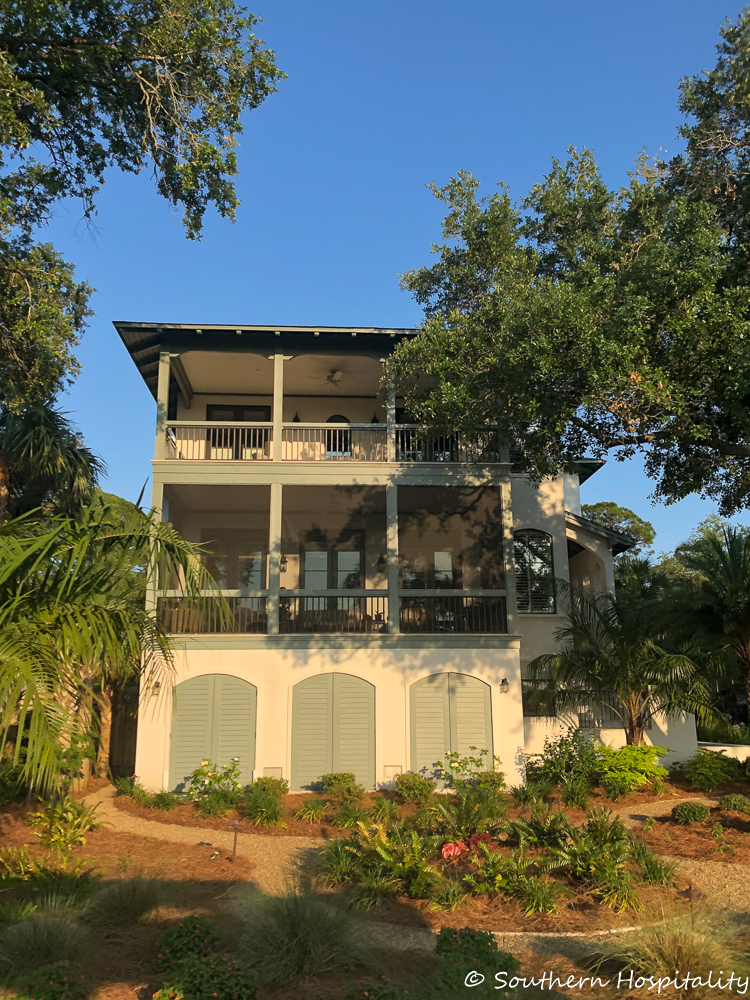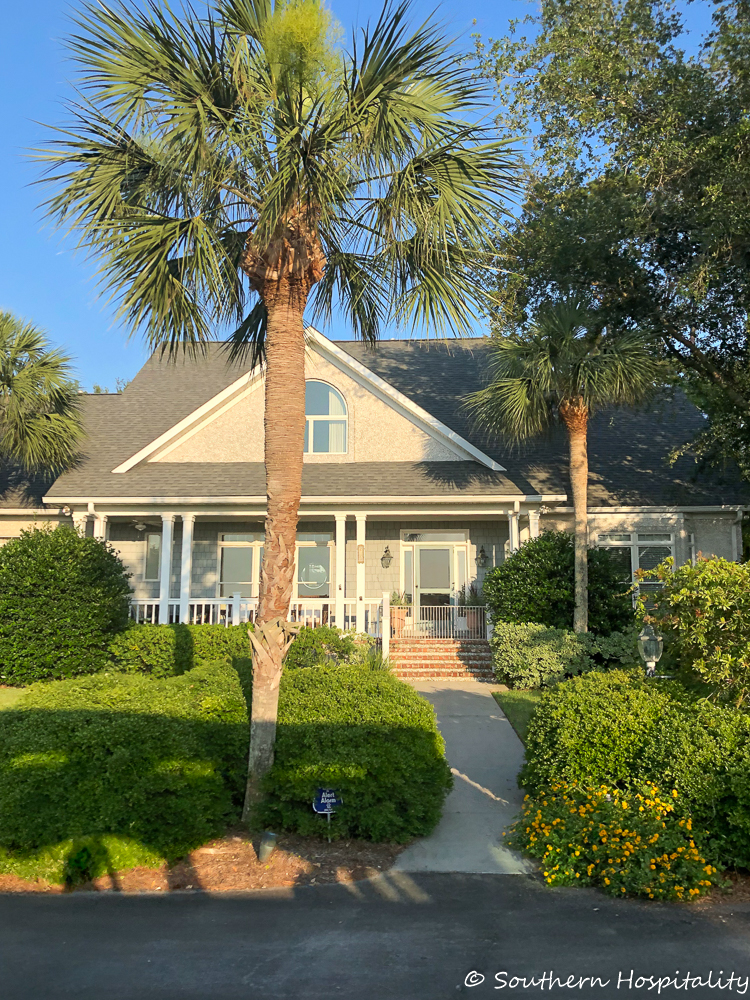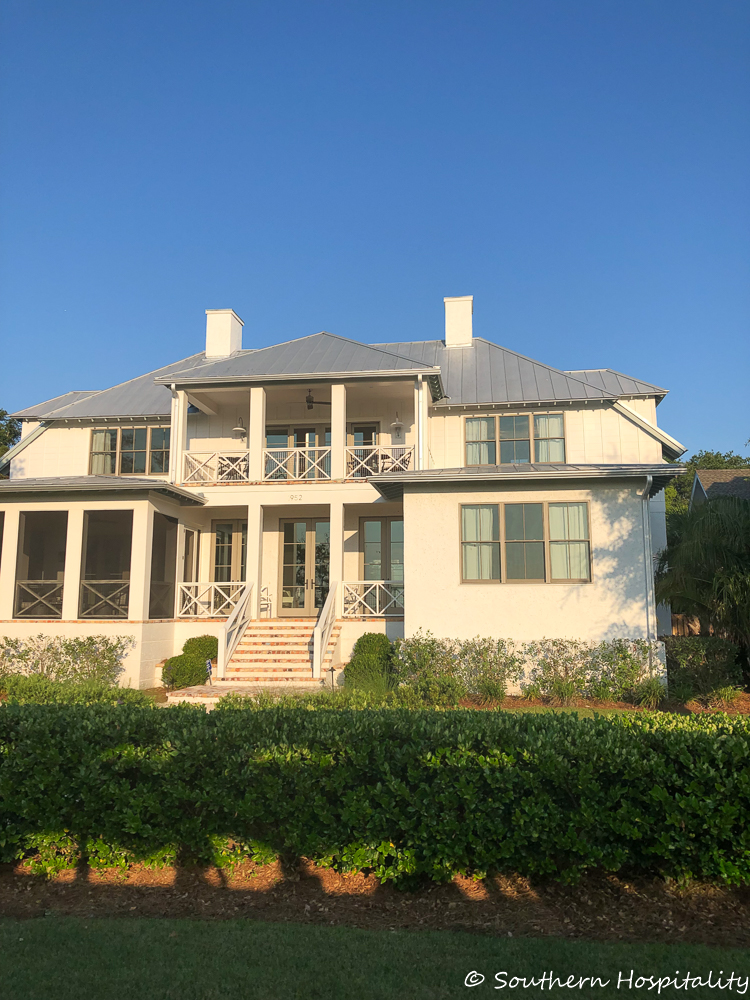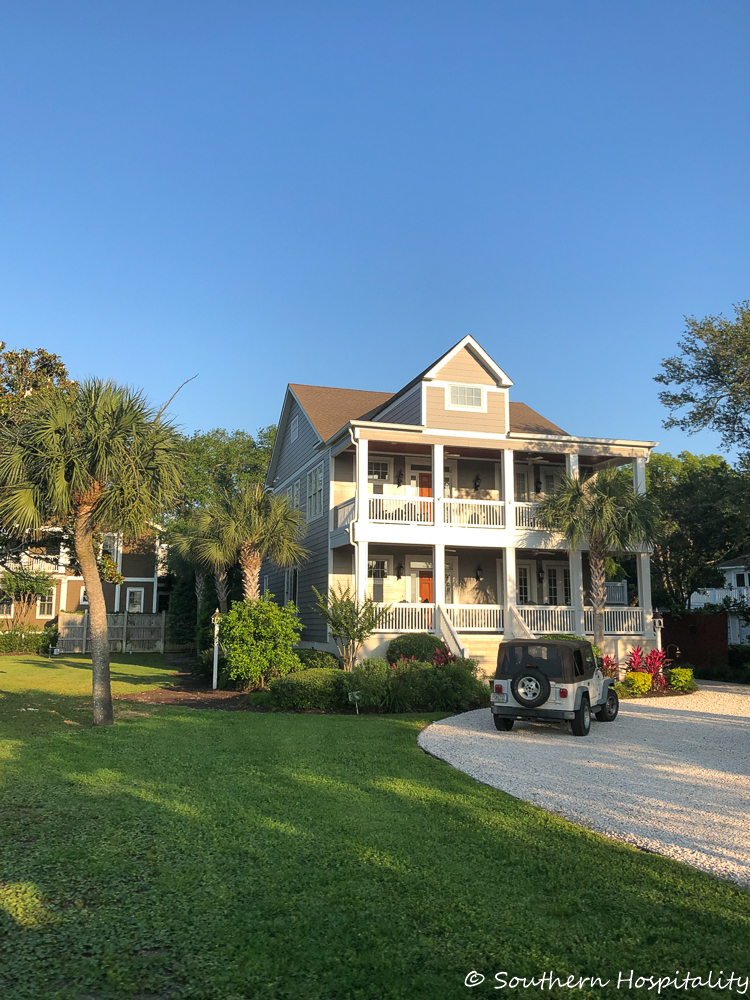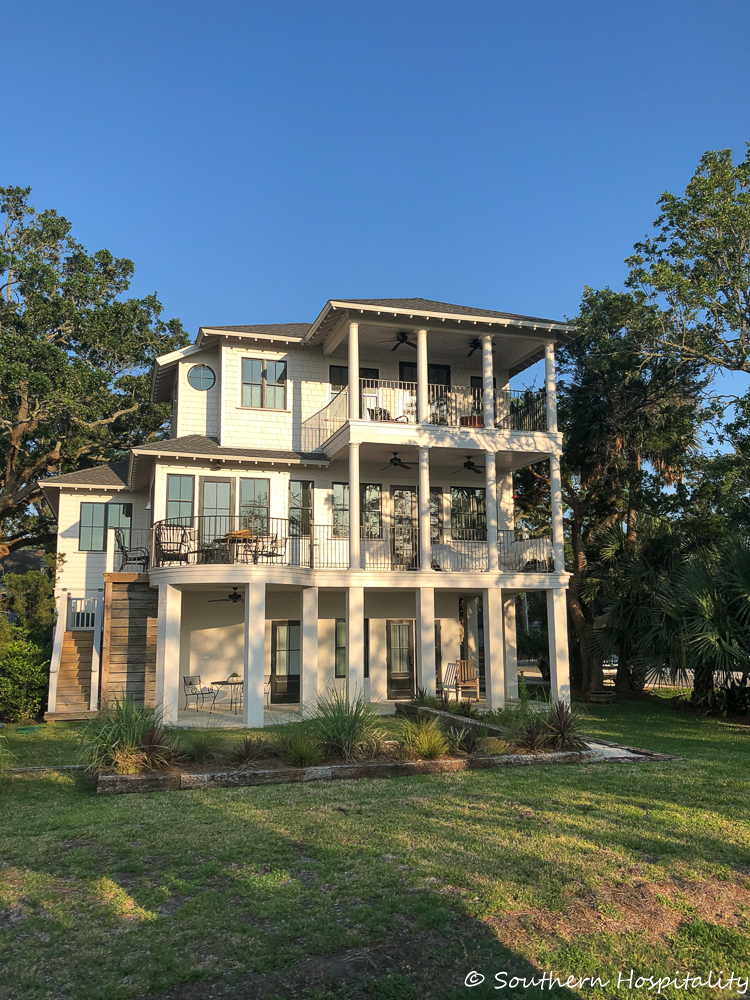 9. Visit Avenue of the Oaks at Sea Island Golf Club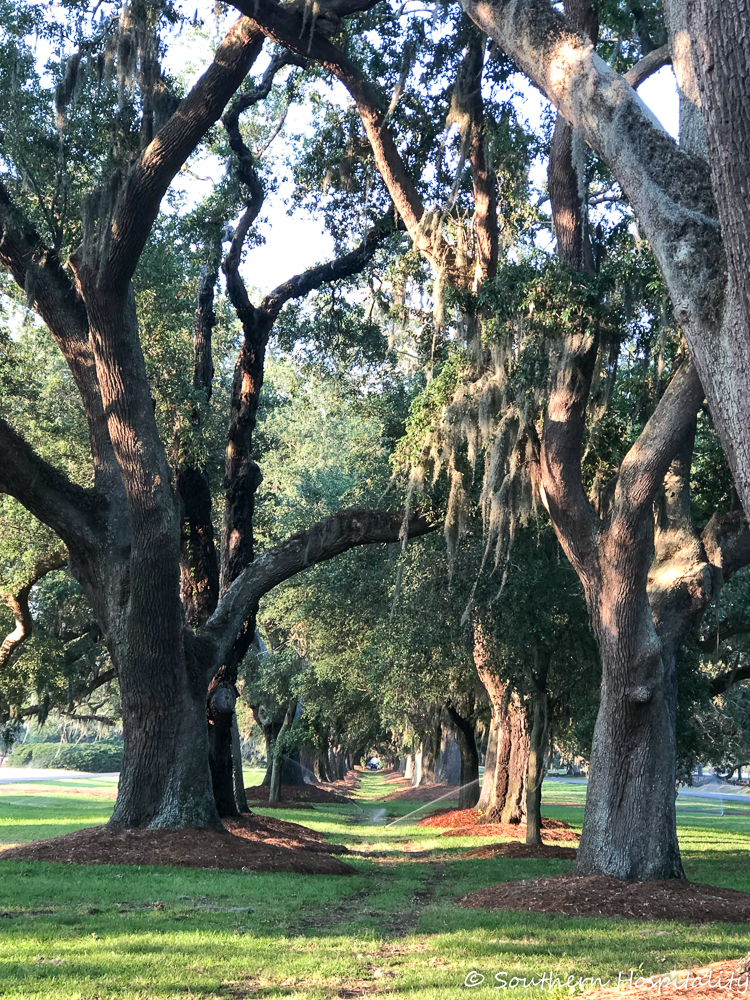 Now the entrance to the Sea Island Golf Club on St. Simons, the Avenue of the Oaks is a sight to see. The live oaks are what is left of Retreat Plantation, one of the many cotton and rice plantations in the area. This alley of oaks was planted by Anna Page King who inherited the land in 1826 and planted the oaks, which are now 160 years old.
10. Savor Sunset 
There's nothing like a beautiful sunset going down over the ocean and St. Simons has plenty of gorgeous sunsets to see.
Savor them and enjoy every single one! That's one of the beautiful things about summer, sunsets at the beach. I hope you enjoyed this recap of St. Simons Island and all the things there are to do on the Golden Isles of Georgia. I am excited to take Mark back in September and we'll enjoy some of these things again, as well as make memories of our own!
Don't miss these articles I've written previously about The King and Prince and St. Simons Island. And my most recent King and Prince post.
Note: I was invited on a Media trip to St. Simons and The King and Prince Resort and all expenses were paid. 
Don't Miss a Post, join my list!