Decorating our homes should be very personal and creating a home that not only is functional but beautiful is what we all aspire to. Today I'm sharing my 10 tips for creating a classic style home in decorating. This post has been updated with new pictures and thoughts.
How do we get a personalized home that's classic and refined, yet does not succumb to expensive decorating trends along the way? It's sometimes a hard path to figure out along the way and it's taken me years and years to decorate my home in a way that feels like "us" and yet seems timeless and classic too. Honing in on my style has been a lifelong journey and one that I'm still learning.
I've come a long way just since starting this blog. When I look back at my decorating style over 10 years ago, it's not nearly as classic, I don't think. I've gotten better about seeing past trends and focusing on what is going to be long lasting and timeless. That's the look I aspire to all the time. But it's OK to use some trends along the way, just do the trends on a budget and don't spend too much for those items that won't stand the test of time.
Here are my top 10 ideas for a classic designed home. These are my opinions and things that I have figured out along my decorating journey. Of course, the architecture sets the one for a timeless home and the more millwork and gorgeous molding, the better in my book. I'm also a color lover, so if you love color too, you'll probably like my house.
Affiliate links used below for items I found to share.
1. White Walls (or light neutral paint) with white painted trim
Our main paint color throughout the house is Magnolia Home Gatherings, a soft greige. We love it! I often get asked what color it is.
One of the trends today in decorating for the last 10 years or so has been to paint walls white. I love this look so much, but we chose a very light neutral for our main wall color (see above). Neutral walls allow your furnishings and accessories to shine. Neutral decorating has been a trend for a few years too and a neutral backdrop is part of that.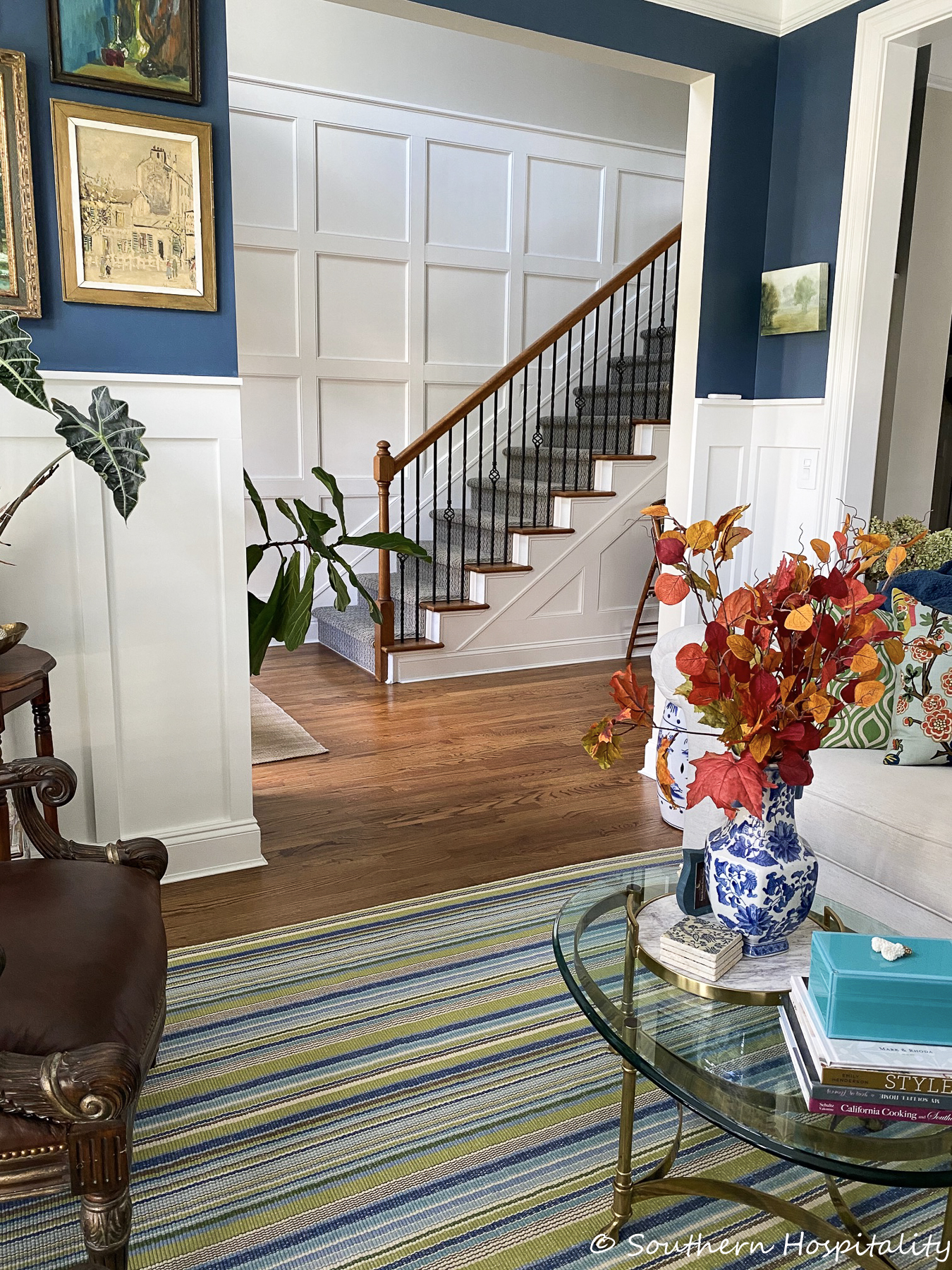 I use plenty of color and don't just stick to neutrals in all of my decorating, but do what makes you happy. I do love a neutral and lightish wall color though, that really does provide a perfect background for furniture. I save the colored walls for smaller spaces and use light and neutral in all the main spaces.
Mark added this additional box molding in our foyer a few years ago and it really enhanced our foyer even more. Even if you can't DIY this yourself, it might be worth it to hire it out to get an elevated look.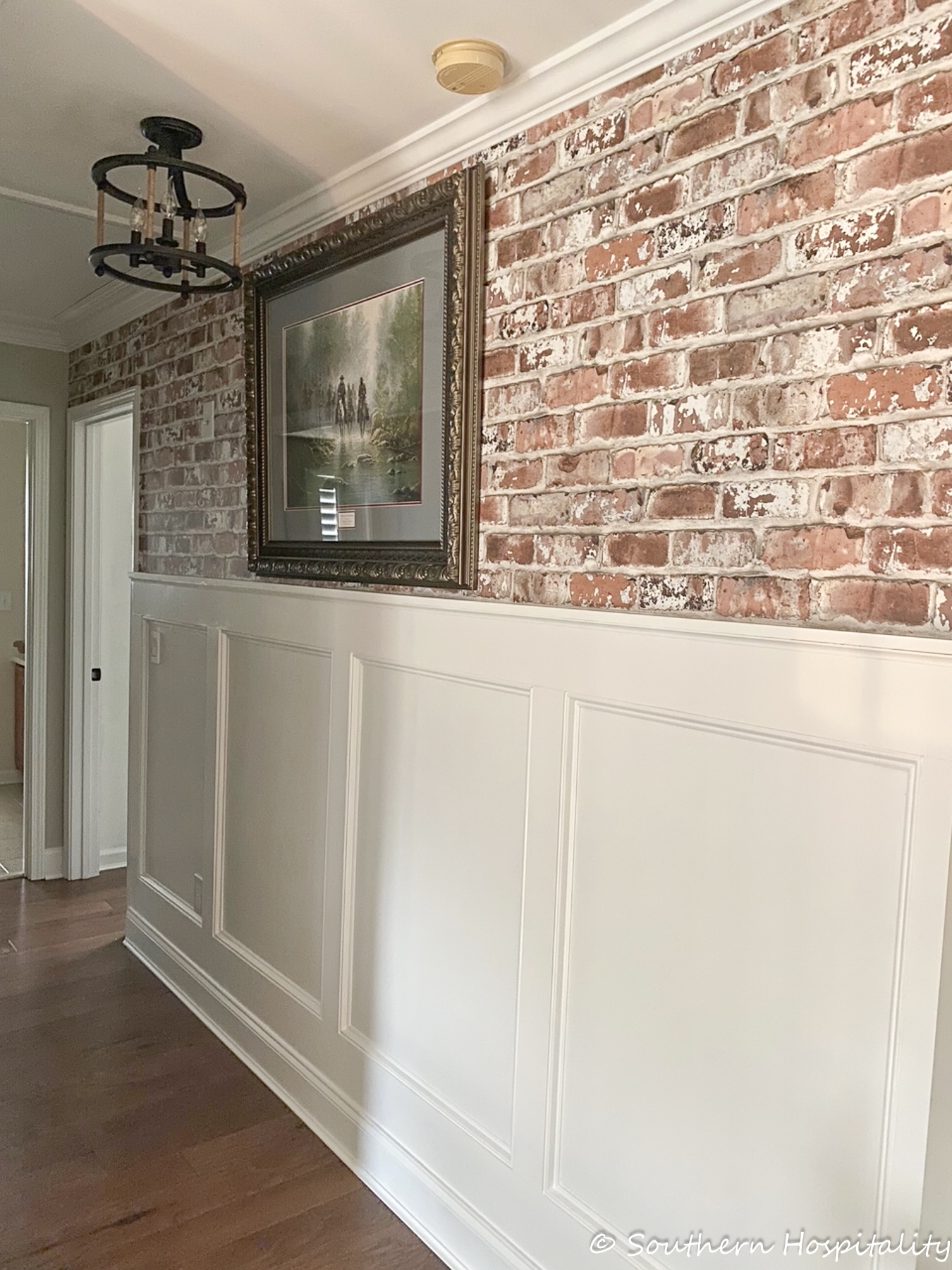 We also added board and batten molding upstairs in our hallway, which took our hallway in a totally different direction. Adding brick wallpaper also added architectural interest to the area. These were all DIY projects we did ourselves and they all really changed our house so much.
2. Wood floors and Classic wood patina furniture
We love our wood floors and wood cannot be beat for adding a classic look to your home. Wood will always be my first choice in flooring. It's been around for centuries and even through the covering up of wood floors that was popular in the 60's when carpet made a big debut nationwide, those wood floors always get discovered and uncovered again in today's renovations.
That French buffet I bought 20 years ago is a great example of a vintage patina furniture and how it adds such a classic feel to a home.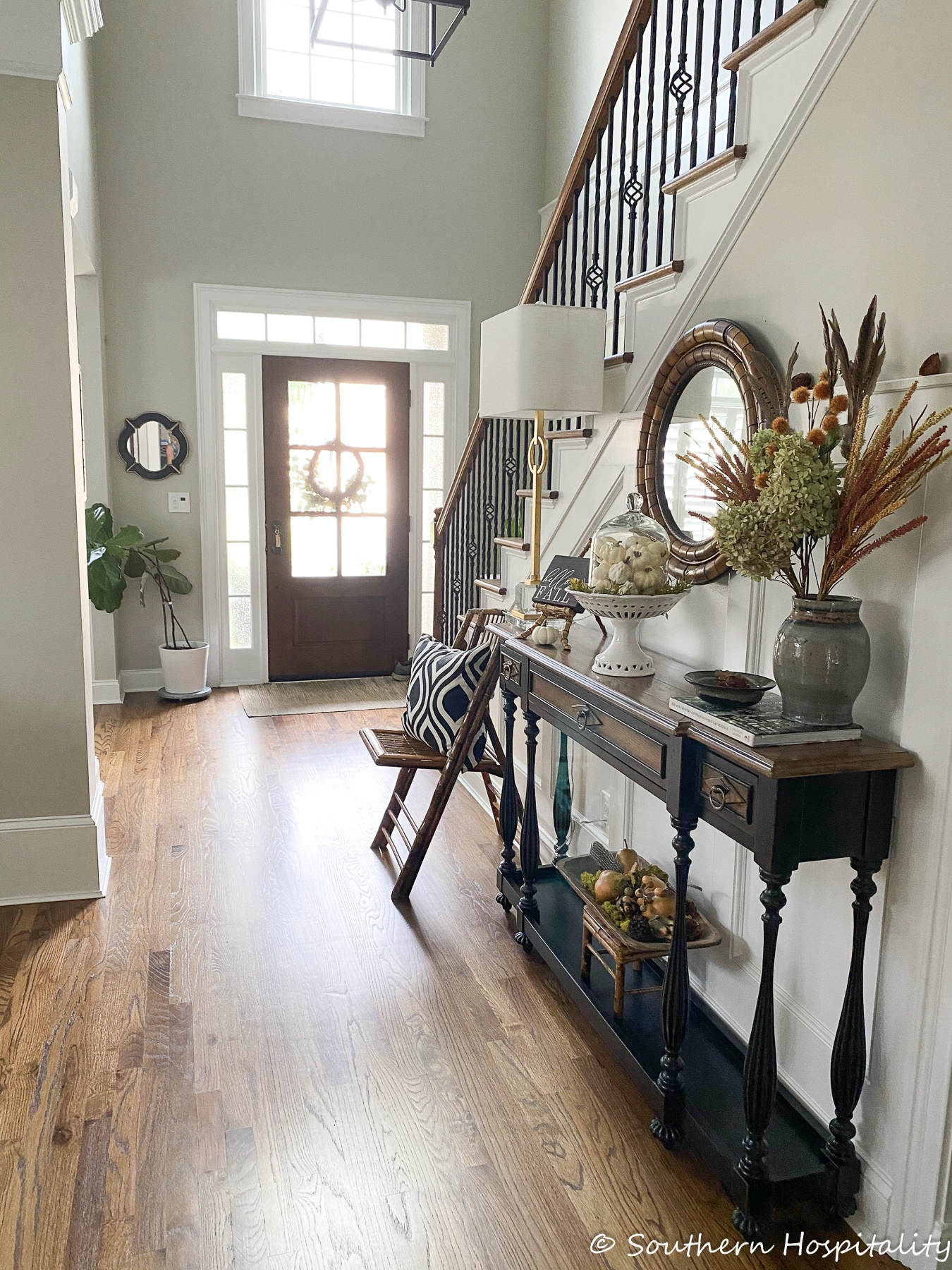 Wood floors in a medium brown stain will always be a classic. Trends have seen wood floors go really dark (like I did in my previous house and loved too) and then lighter as was the trend years ago (remember honey blond floors?). Lighter French oak floors seem to be the going thing now and they are beautiful too, but I'm perfectly happy with my brown floors.
My previous house had darker wood floors and even though I loved them, I would not choose this dark again. Darker floors suck a lot of light out of the room too.
(From Plank and Pillow)
Today's trend seems to be more in the gray tones with weathered oak flooring being a popular choice these days, like this newish home from Plank and Pillow. I'm not sure what I'd choose for new flooring if I was building a house now, but these are really gorgeous and I would probably choose something similar. You can't go wrong with a medium brown tone.
My sister chose a lighter oak flooring for their new lake house and it's beautiful too. I'm sure if I was choosing new flooring now, I might choose something similar. We already had our site finished floors in our new house so it was easy to stick with what we already had when we took out our carpet and added more hardwoods.
3. Lanterns
Lantern style lighting is always at the top of my list for a classic look. Lighting styles come and go, but I think a good lantern design will always be a great choice. We chose this large lantern fixture from Lamps Plus when we moved in our house to update the fixture that was there. This was a bold choice, it's about 4′ high, but the open cage gives it a nice bold airy look in our foyer.
I love a good looking lantern fixture!
I also love decorating with lanterns too, like these pretty black ones from Pottery Barn I picked up around Christmas last year. They are fun to move around and use for different seasons.
Lanterns are great to decorate with!
These pagoda lanterns are a favorite find too, in a pretty gold finish.
4. Collected Art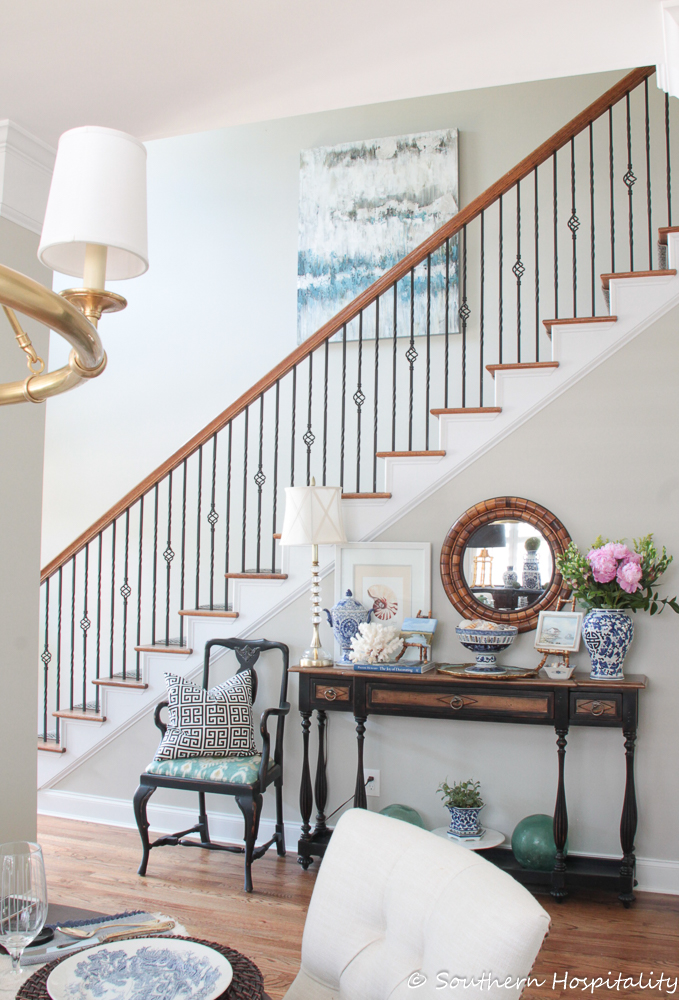 Art is so subjective and something that takes awhile to collect and hone in on. I've always loved vintage art as well as abstract modern art, so we have a mix of that around our house. I love them both! This large piece of original abstract art was a Homegoods find. I love original art, but most of the art galleries I visit are too pricey for my budget. I love finding affordable art that looks good too.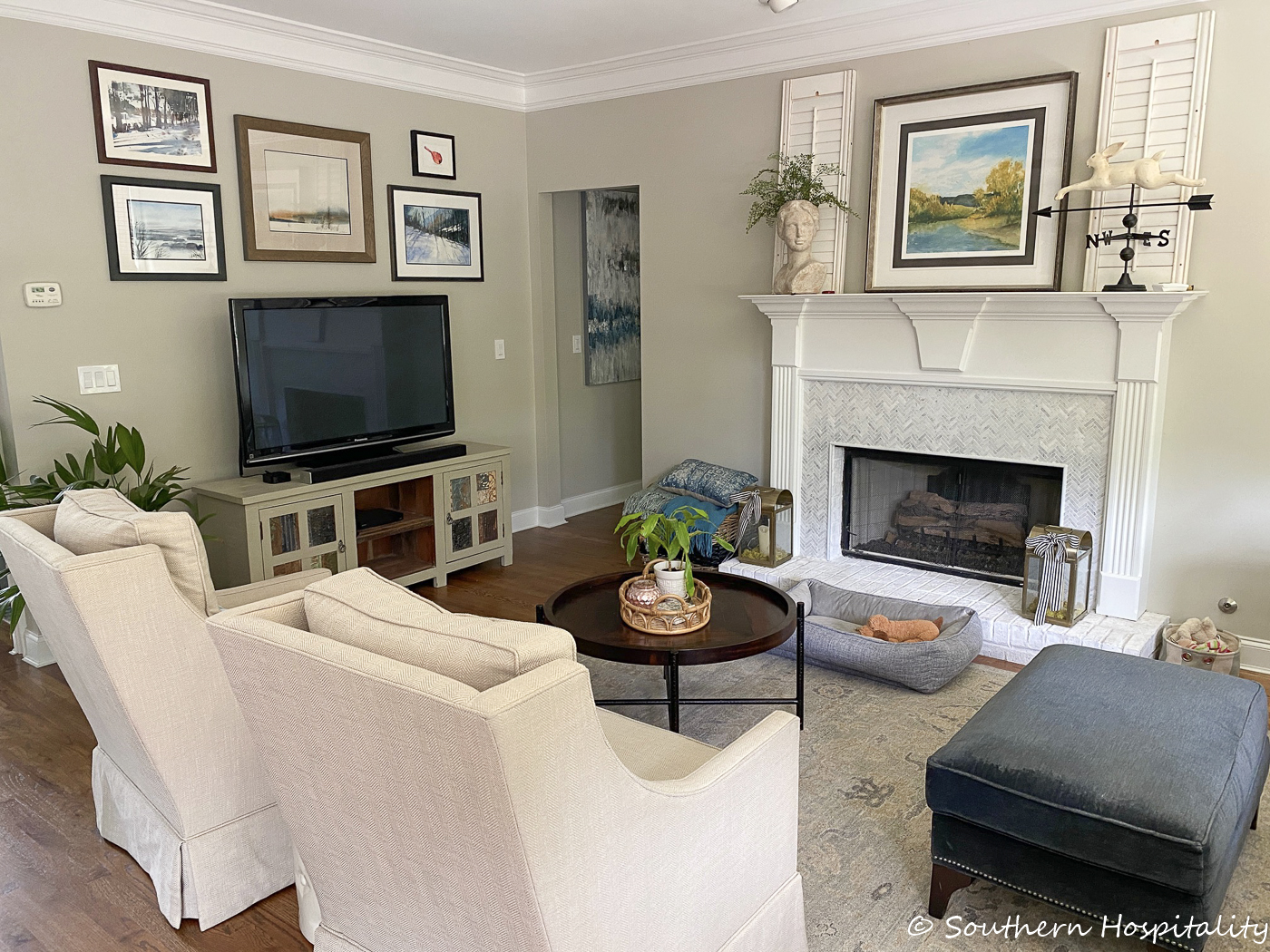 I have moved that large piece to the small alcove off our guest room for now and like it there too. You can see it peeking out. After we got the molding installed in the foyer, we decided not to add the artwork back and let the molding shine. Mark has a collection of original winter watercolors and those are over the TV.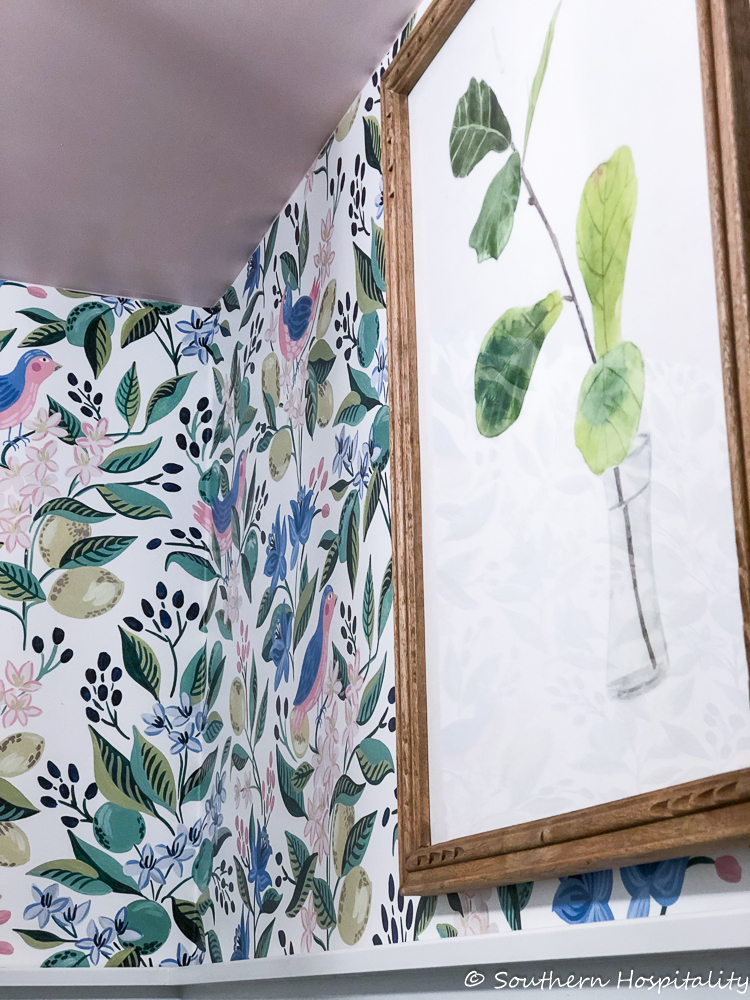 Places like Minted online are a good place to look for prints that add a lot to your home. I have one of those in my laundry room and my office.
Also Etsy has nice prints too for affordable prices. I got the ones in my living room there.
A good collected gallery wall is fun too. I collected all of these vintage prints from various places like yardsales, estate sales, antiques stores and thrift type stores. These are so fun to find!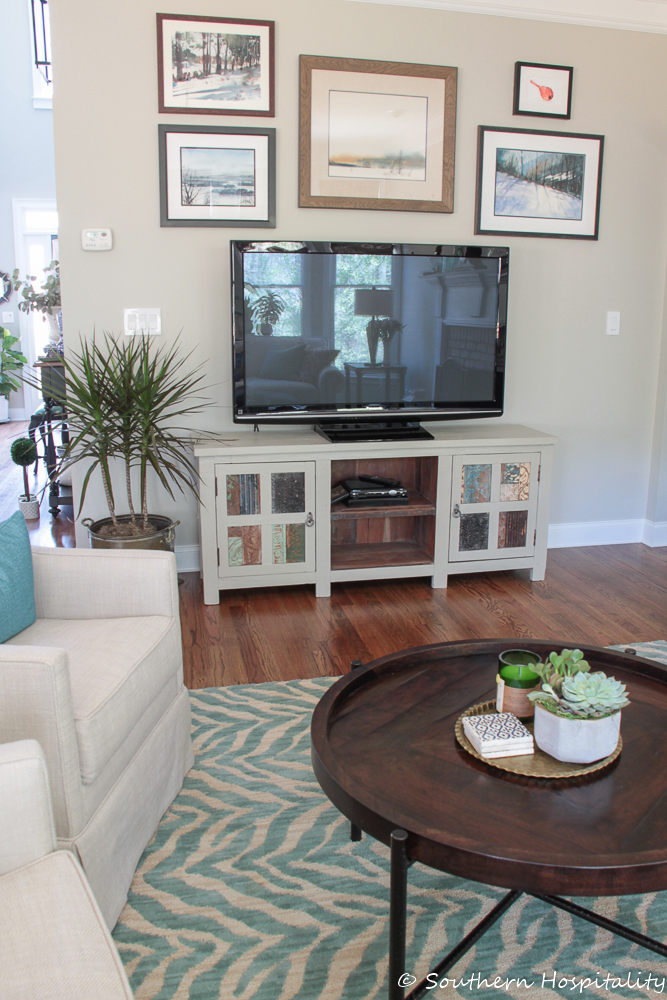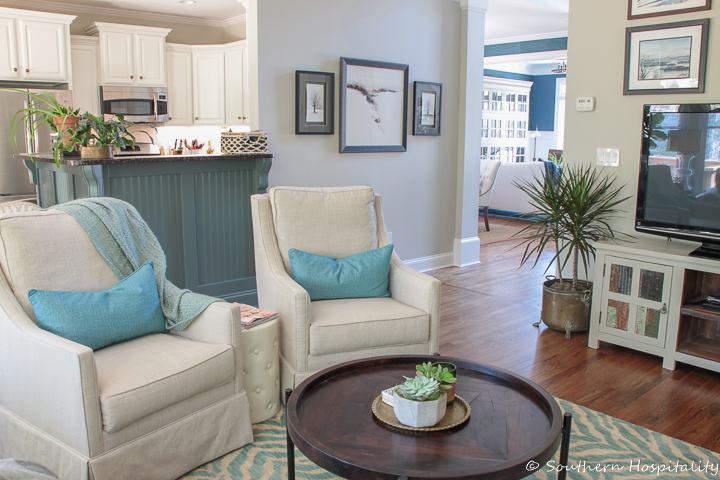 Mark loves original watercolors and has a big collection of his own. We hung these in our family room and he has lots more in his man cave. Most of these came from Ebay and Etsy and were very inexpensive.
5. Patterned rugs or neutral textured rugs (these are fun to mix      up)
With the pattern on our stair runner, I went with a neutral blue gray rug by our front door. It sort of blends right in, but I like the texture of it. Mark had bought this for his man cave space, but ended up not using it and it works great in this spot.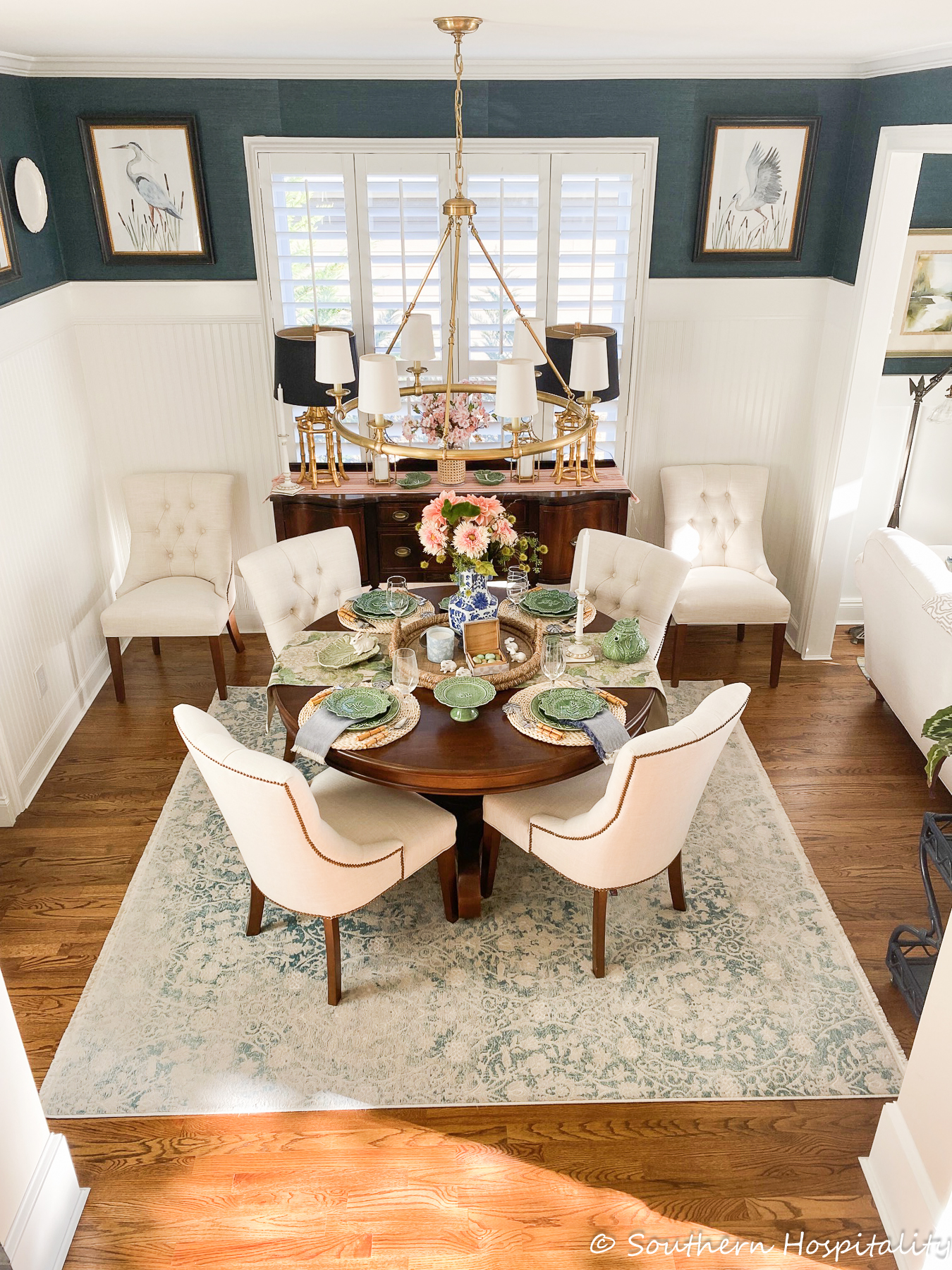 In our dining room, I've added a beautiful patterned blue and white rug that I still love. It's fun to mix up rugs around the house.
I've recently changed out the zebra patterned rug you see above to a more neutral and textured wool rug that I got from Jaipur Living I'm loving the elegance it brings to our family room. I try to move rugs around the house if I can and use them in different rooms. You can do that if you have a pretty tight color palette like I do.
I went with a patterned rug for the master using it as a starting point for colors in here. It's very restful and peaceful.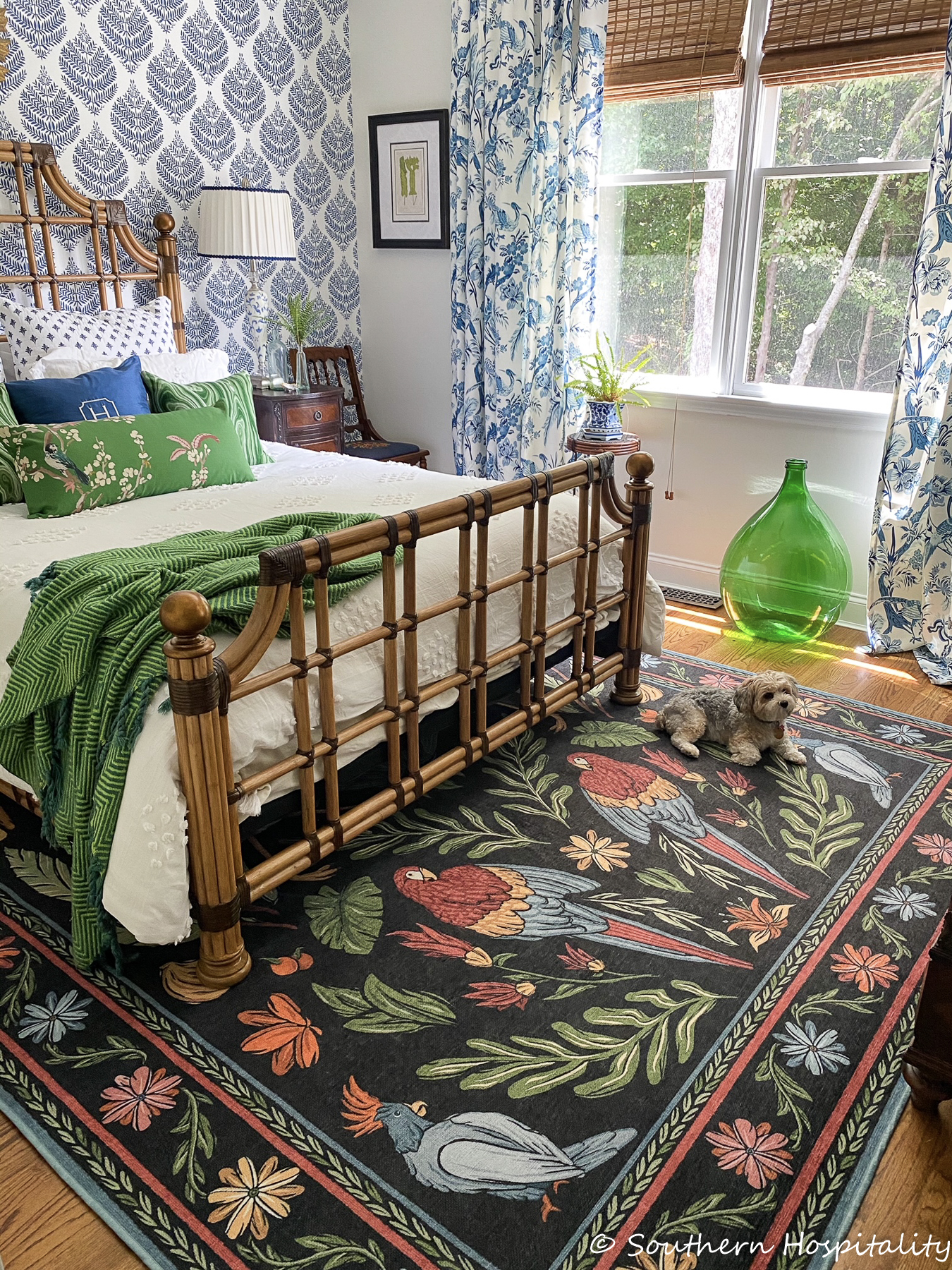 Our guest room has a very colorful rug from Ruggable that I love. Everyone who comes in remarks on how pretty it is in the room with the rattan bed.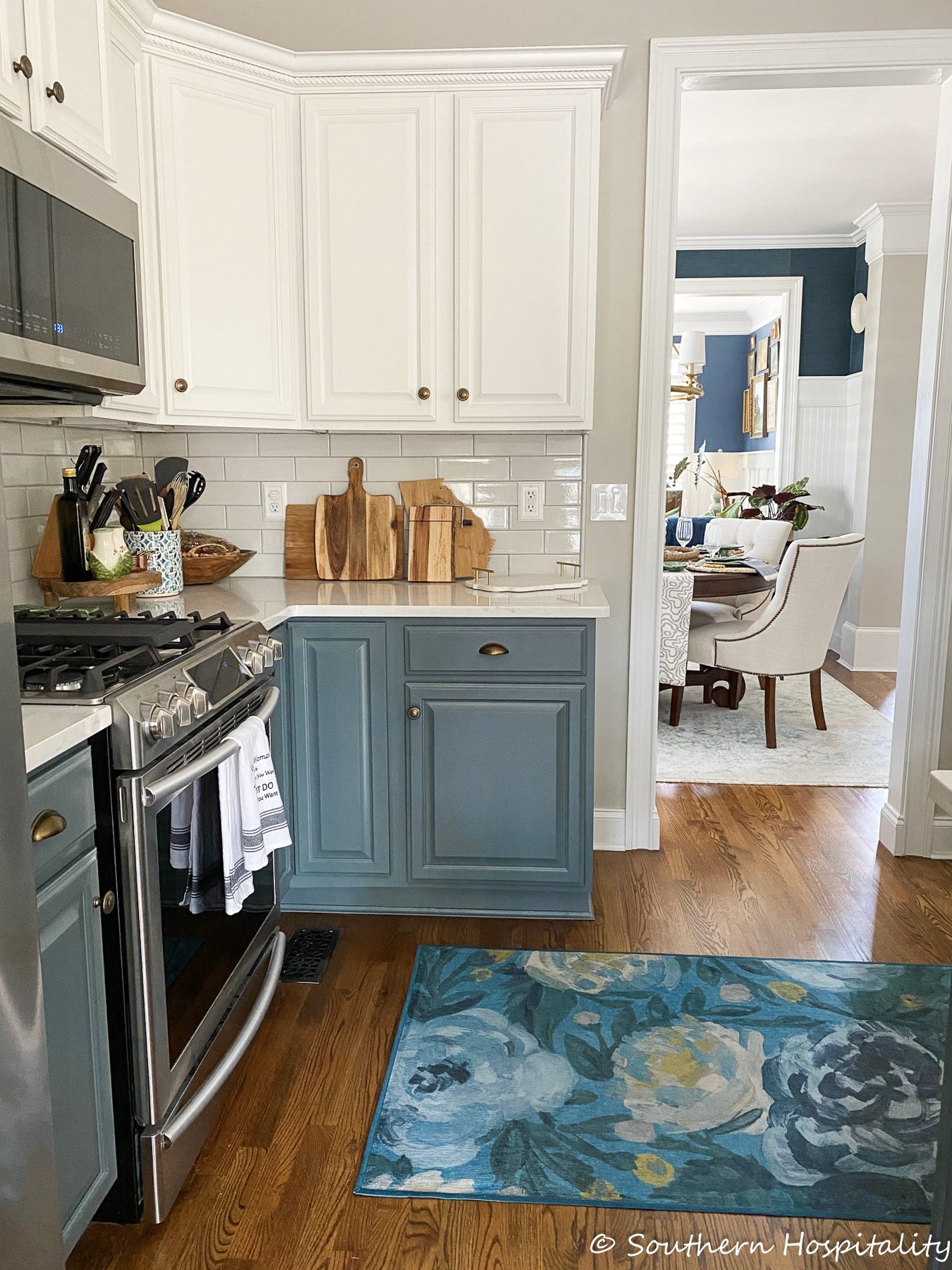 I've added another colorful Ruggable rug in the kitchen and it adds such a punch in there.
Here are some rugs that I have in our home as well as some that I think are so pretty. Rugs are a great statement maker and a way to add color and texture.

6. Glass and Pottery Pieces
Accessories are a great way to personalize and add classic touches to your decor too. I have lots of glassware, table settings, and they all are fun to decorate with. I love a mix of vintage and new, they all have a place in decor, but adding those vintage things in a home really give it a history and storied feel.
I love collecting these cute vintage pottery planters and they add such a fun and colorful touch around the house.
Glass aqua bottles are also one of my favorite things to collect. Some of these are vintage, some are new and they all came from different sources.

Blue and white pottery is considered a classic as well. My collection of blue and white also came from all different sources and collected over time.

7. Plants and flowers
Plants and flowers in a home really bring the personality and texture to a space. Most of my plants are real and those are my favorite, but a good faux here and there is great too. The faux plants out there now are a lot more realistic than ever! So don't let a lack of a green thumb hold you back. Go for a good faux!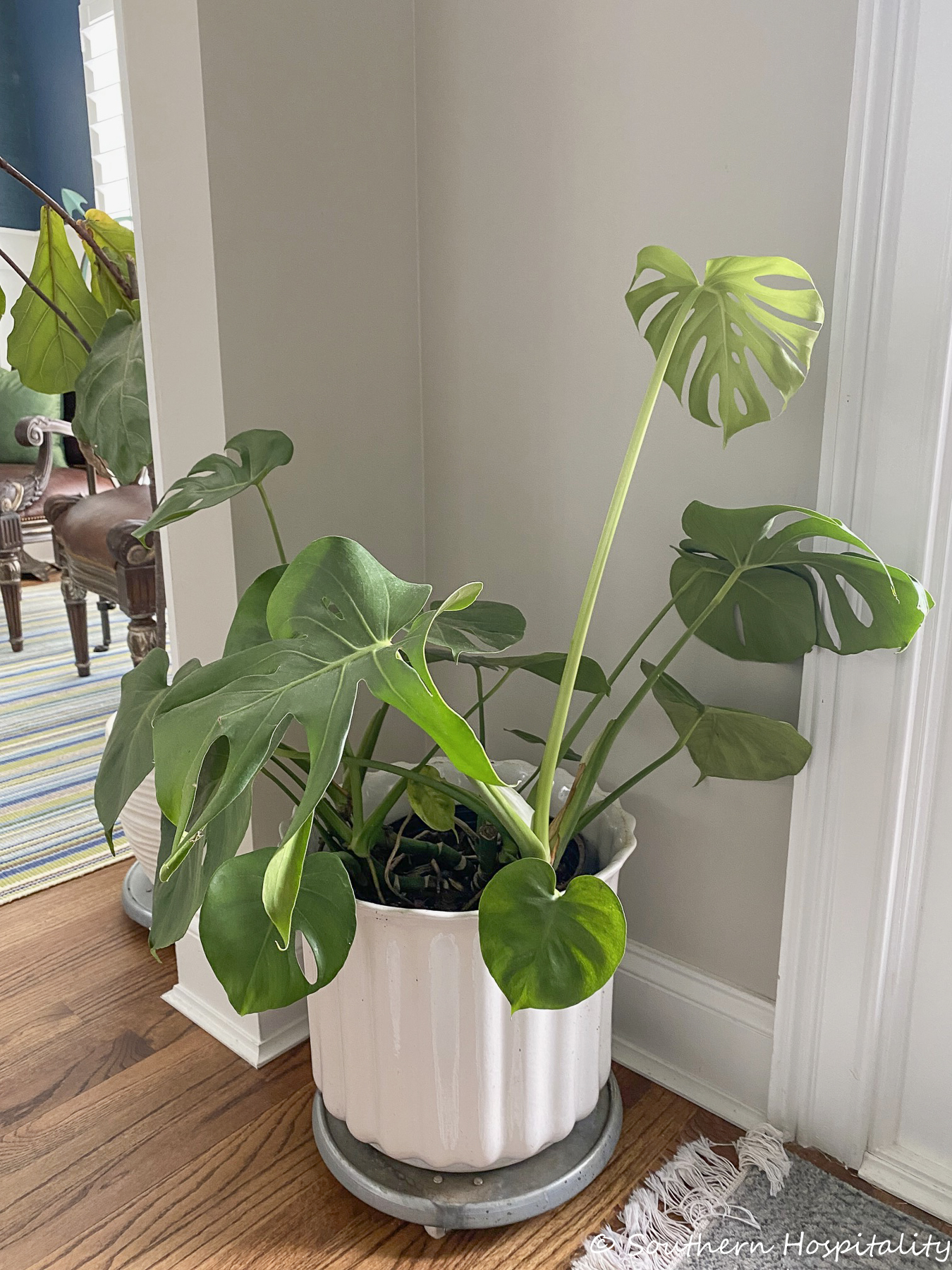 Real plant
Real plant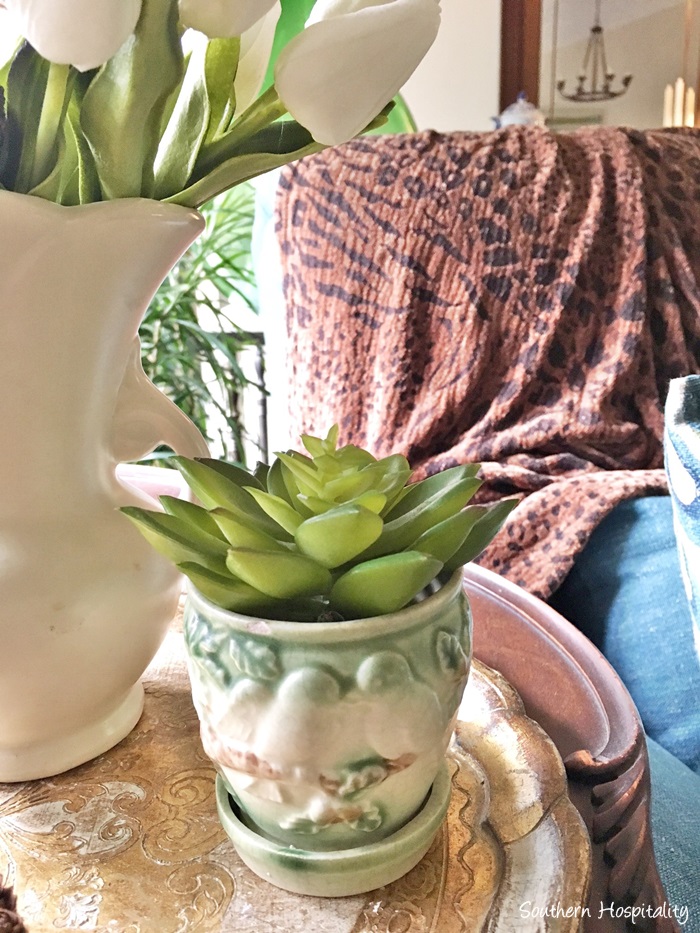 Faux Succulent
Faux Bonsai

8. Mix of Modern and Vintage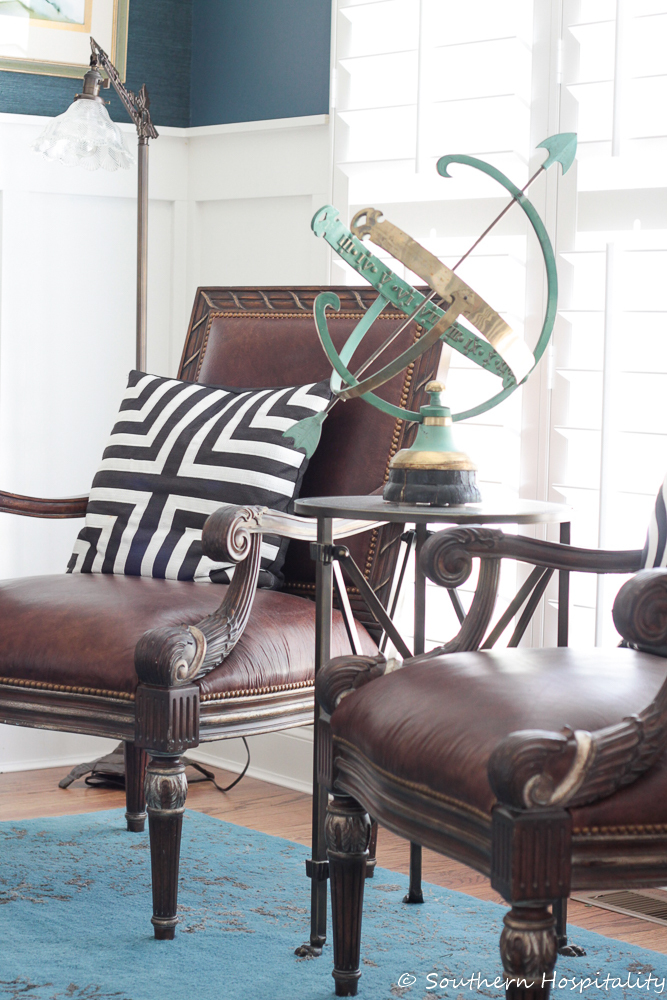 In our living room, there's a mix of modern and vintage. Mark's vintage lamp in the corner, the chairs are not new but classic design style. The brass armillary on the glass and iron table is a vintage yard sale find that I still love. Definitely a classic.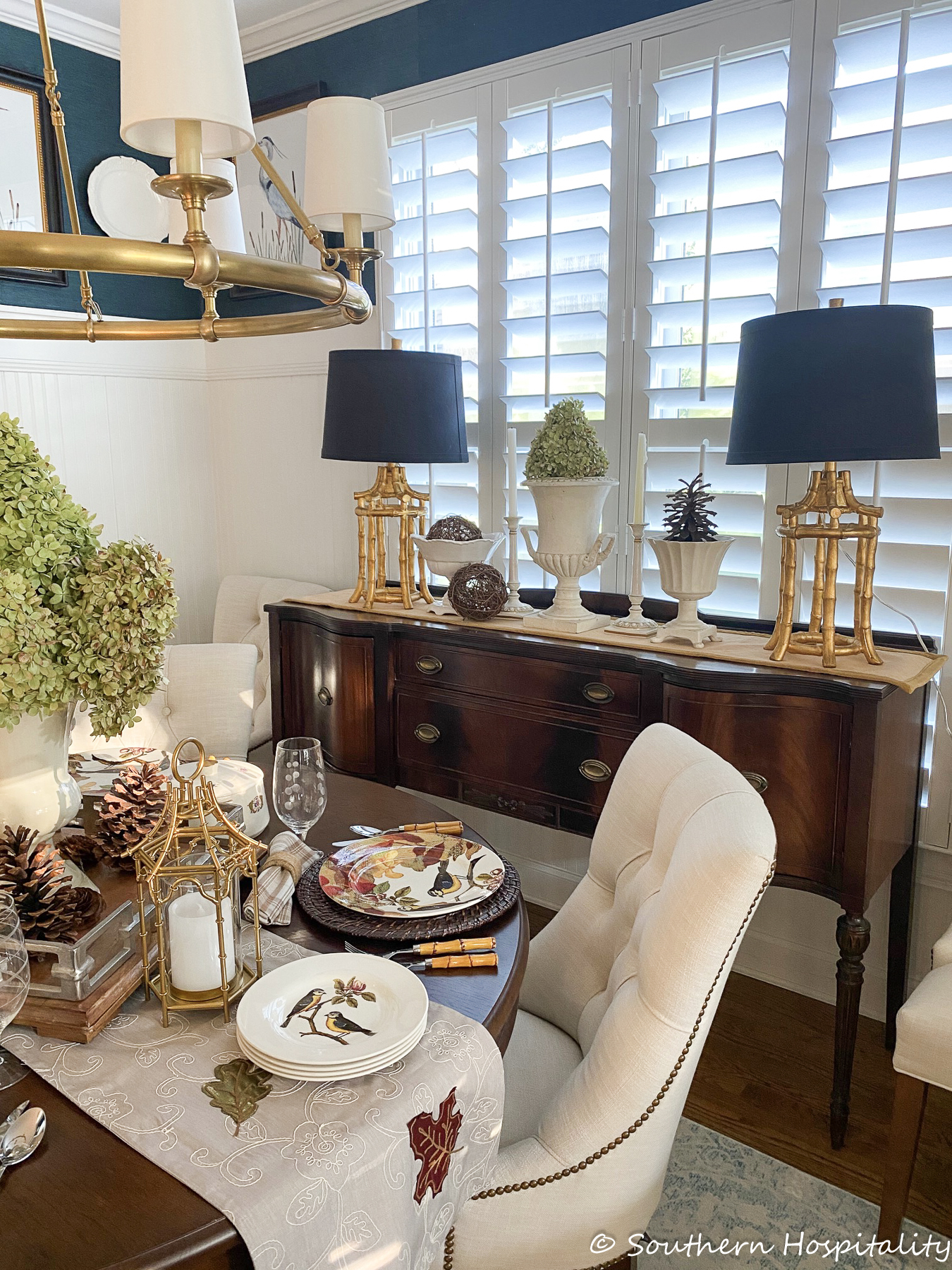 Mixing up modern and vintage is the best way to personalize and really make your house special for your family. I wouldn't recommend living in a cookie cutter home that looks like a furniture store. That's where the fun comes in when we are accessorizing our homes. Find things that speak to you and work with them. If you love it, find a place for it.
My dining room is a mix of new and old. The vintage buffet from probably the 50's is a good mix with this newish Empire style dining table and new upholstered white linen chairs. I love a good mix, which is much more interesting than matchy-matchy collections from the furniture store. There's a place for collections of furniture, but most of the time they're better broken up and used separately.
9. Mix of Pillows
All of these pillow covers are from Etsy.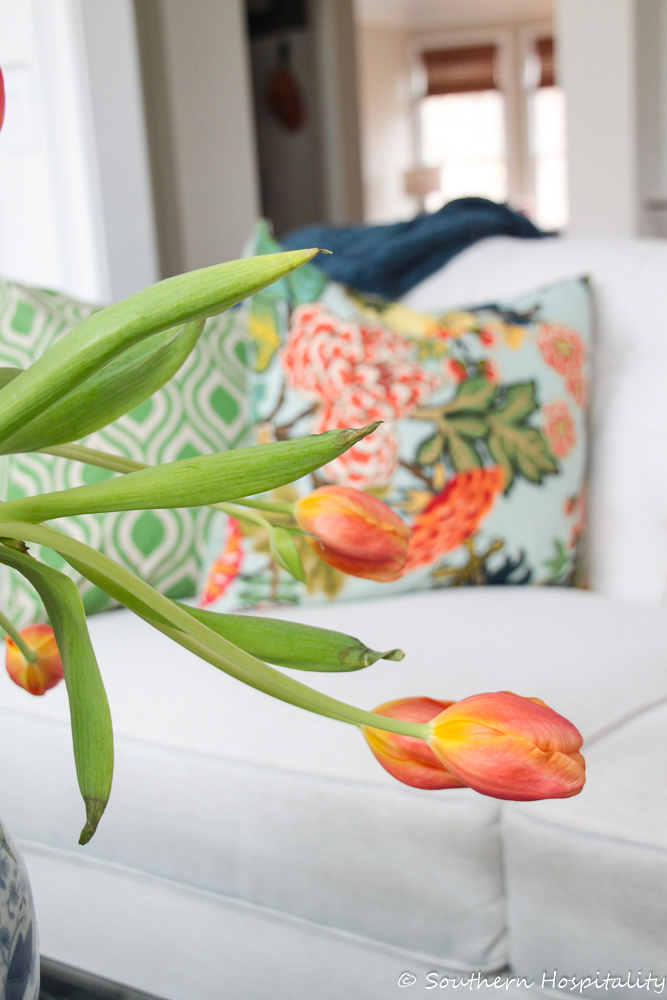 I love the color and pattern it brings to the living room.
This is the pop of color along with the rug in the space.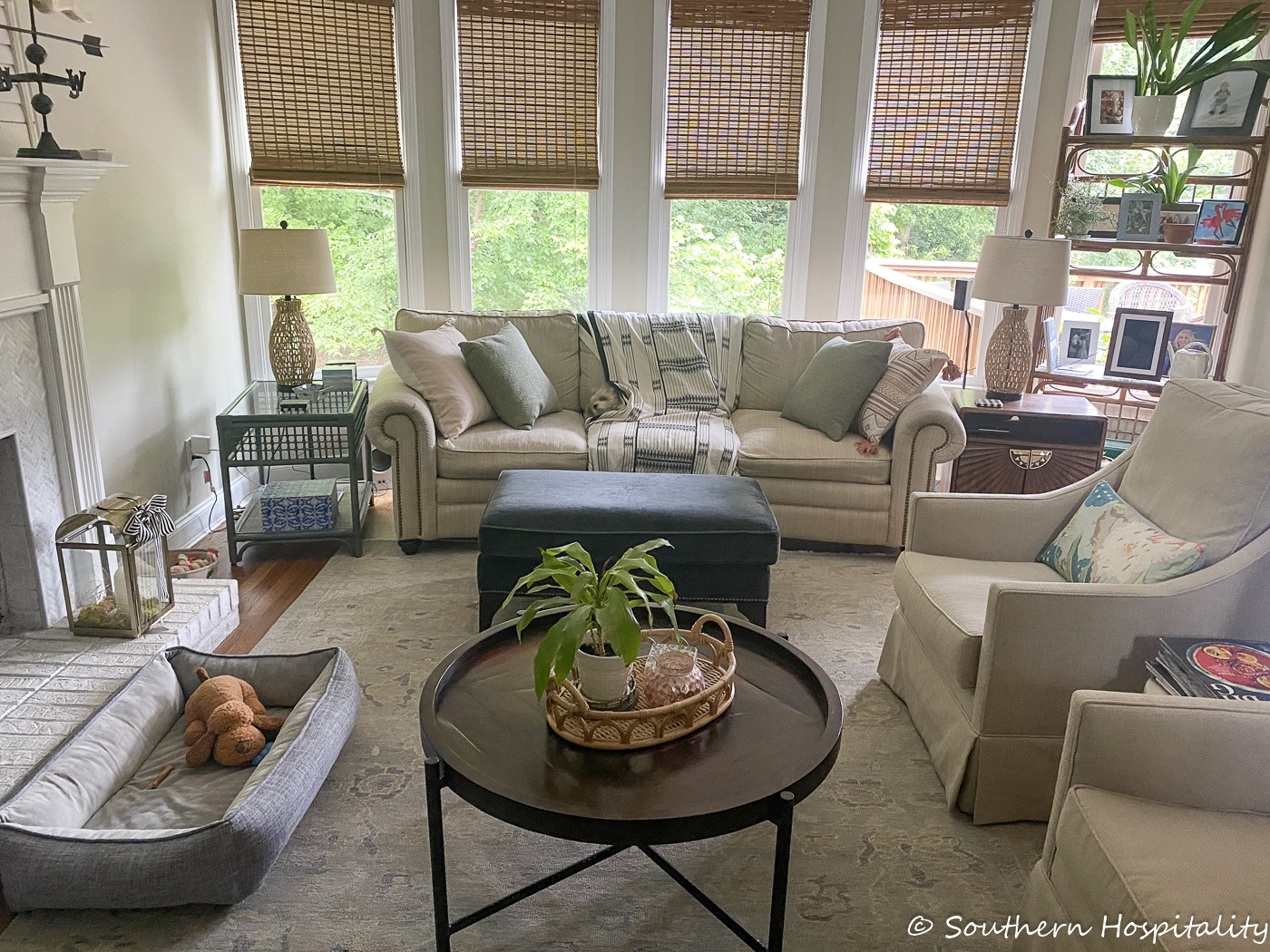 Pillows are one of the easiest things to change up and I love Etsy for pillow covers. That's where several of my pillows came from. With down inserts, all you have to do is order several pillow covers and change them out seasonly if you wish. Pillows are a wonderful way to personalize your space, so have fun with them! Most of these in the family room are from Homegoods and a local shop, Jaipur Living. The lumbar pillows in the chairs are from Etsy.

10. Classic Lamps
Lamps have changed over the years, but I love a mix of modern shaped lamps in my home now. Ten years ago I had all traditional shapes in lamps, but over the years I've changed them all out to a more modern design. I love the mix with my Traditional furnishings. A good mix of Modern, Vintage and Traditional furnishings and accessories is what makes a pretty home to me.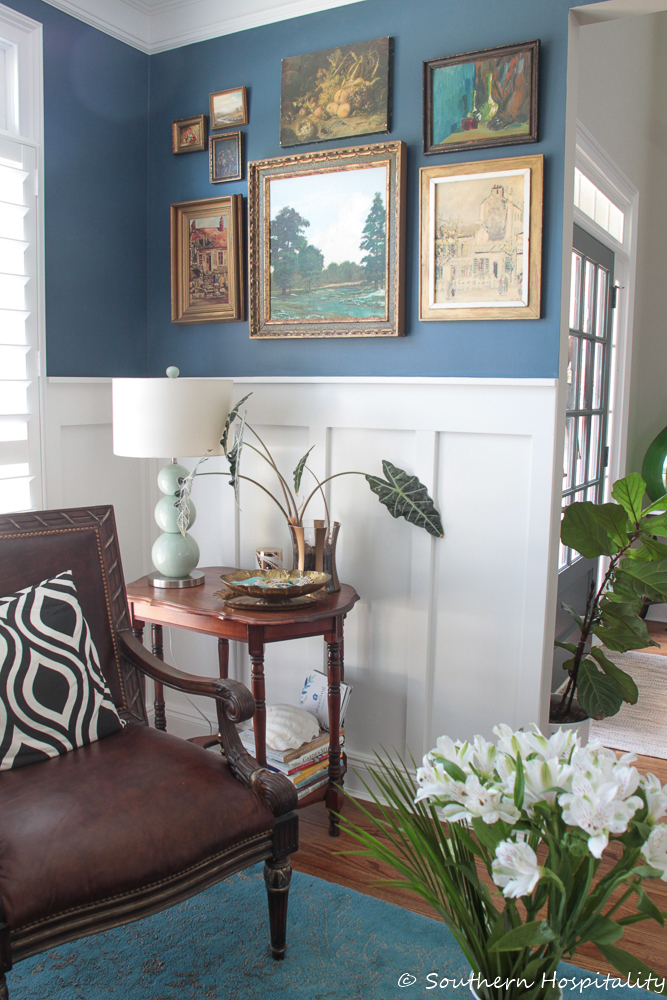 This modern gourd shaped lamp adds a modern touch to our Traditional space. That's my grandmothers side table that I just can't get rid of. It's from the 40's or 50's.
I've just added 2 rattan lamps in the family room and love what they add to the space. You know I love some rattan!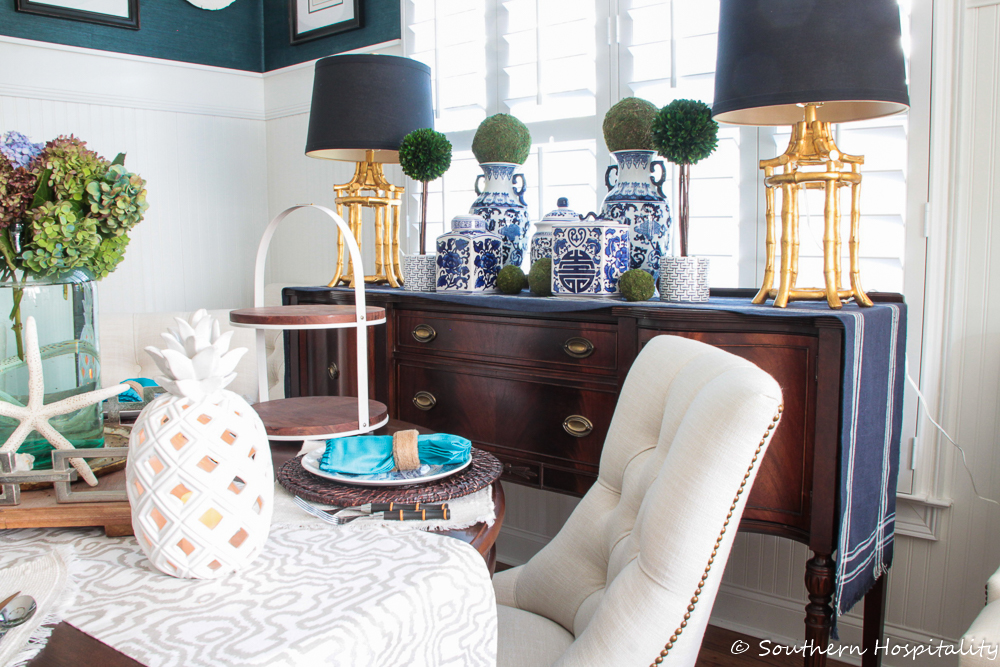 This classical pair of lamps (Hollywood Regency) were a Homegoods find a couple years ago and I love them in our dining room. They add just the right touch and the gold color adds a little bling.
In our guest room, I have a pair of pretty blue and white lamps that I found years ago too. I haven't found a need to change them yet and still love them.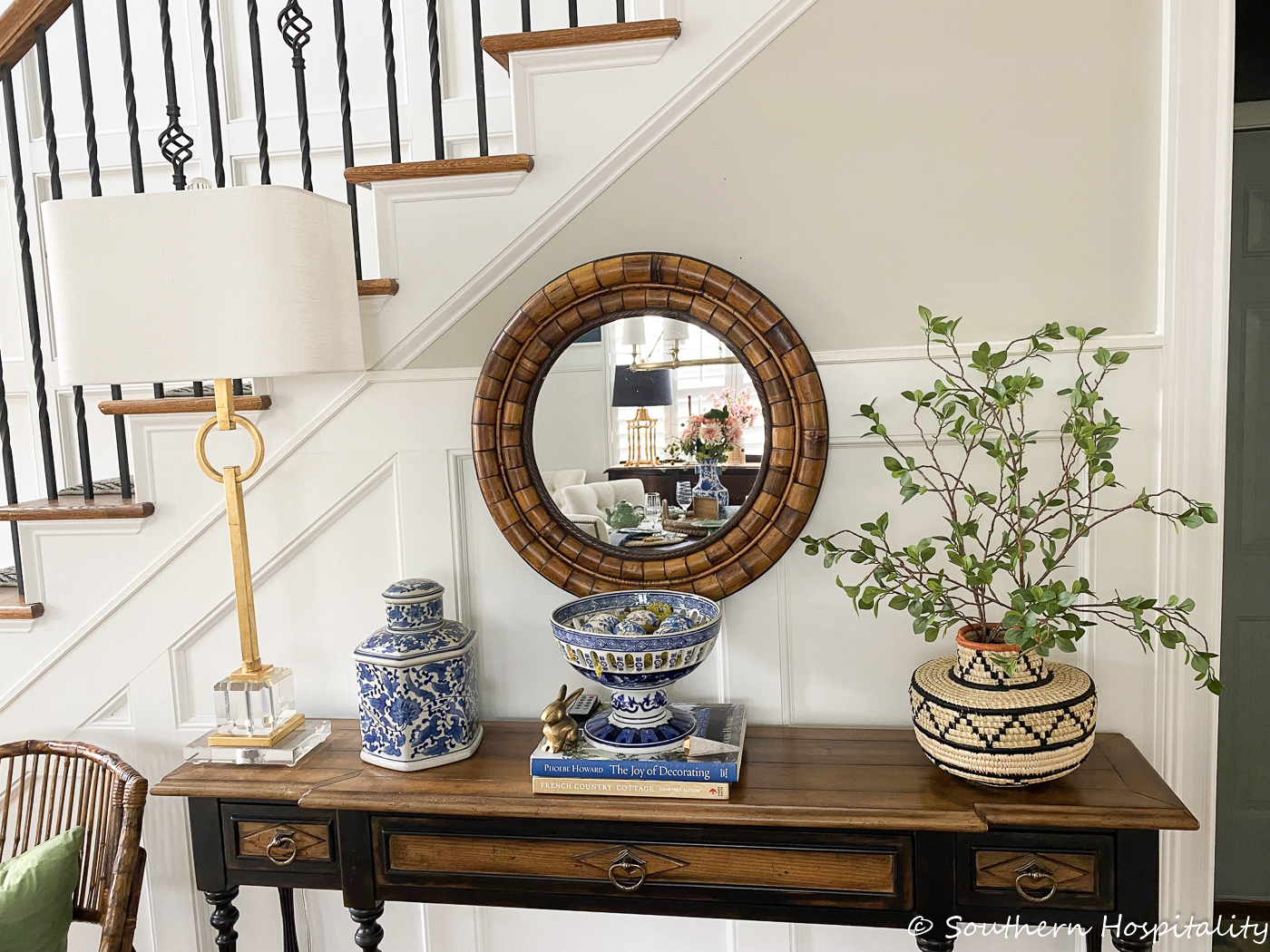 On the foyer table, this gold and lucite traditional yet modern lamp is tall and narrow, perfect for this table.
More modern shaped lamps do a lot to bring in a fresh look to your home. Ten years ago I had mostly Traditional Tuscan style lamps, but I've changed all of mine out to a more modern shape and it makes a big difference. These modern shapes are very classic too.

So I hope you enjoyed this recap of 10 tips from me and my experience in decorating over the years. Decorating in general is very subjective and we don't all like the same things, but I think these 10 items are a great way to hone in on a beautifully decorated home.
We all want to have a pretty home and it takes time to get there. Have fun with it!
I would love for you to pin this post for others to find and enjoy! Thanks so much! 
Don't Miss a Post, join my list!