Happy Labor Day weekend!  Hope y'all are having some fun this weekend.  We are enjoying some family time with Lauren and her crew, home for the weekend.  Lauren's birthday is today and we are having a family dinner to celebrate. I'll share some of our festivities with you later and of course, some update pics of that Parker baby.
A couple weeks ago, I met up with some blogger friends in Nashville, TN, one of my favorite weekend destinations.  Nashville is a beautiful city with lots going on, from country music to antiquing.  The surrounding areas of Brentwood and Franklin have some of the most amazing scenery in the South.  It's just a beautiful place and I can see why so many celebrities settle in the Nashville area.  I could totally live there myself.
My friend, Heidi Rew (who was the traffic girl at The Fish radio station here in Atlanta for many years, for those of you who have been here awhile), drove up with me.
It was such a fun weekend, getting away with girlfriends and enjoying some great food, scenery, antiquing and overall FUN.  I love weekends like this.  I'm breaking this into 2 posts, since as usual I took a zillion pics to share.  I'll be sharing some antique/décor shops today, including PD's (furniture store), The Barn Door (antiques and collectibles), and Scarlett Scales Antiques, all great places to shop in Franklin.  I was excited to see these new places, since last time I was in Franklin, we didn't have time to hit them all.  Franklin is a wonderful place to hang out and shop for a couple of days, if you've never been.
We were all invited to come spend the weekend in Nashville by Dana and Nancy, the powerhouse duo PR/media team from Forest Home Media, who specializes in the home/lifestyle industry and they have put together media events for Southern Living and HGTV, which I've been a part of in the past.  They are super fun ladies who are now friends and we all stayed at their houses.
This is a LONG post with LOTS of pics.  Brevity in blog posts is not my strong suit.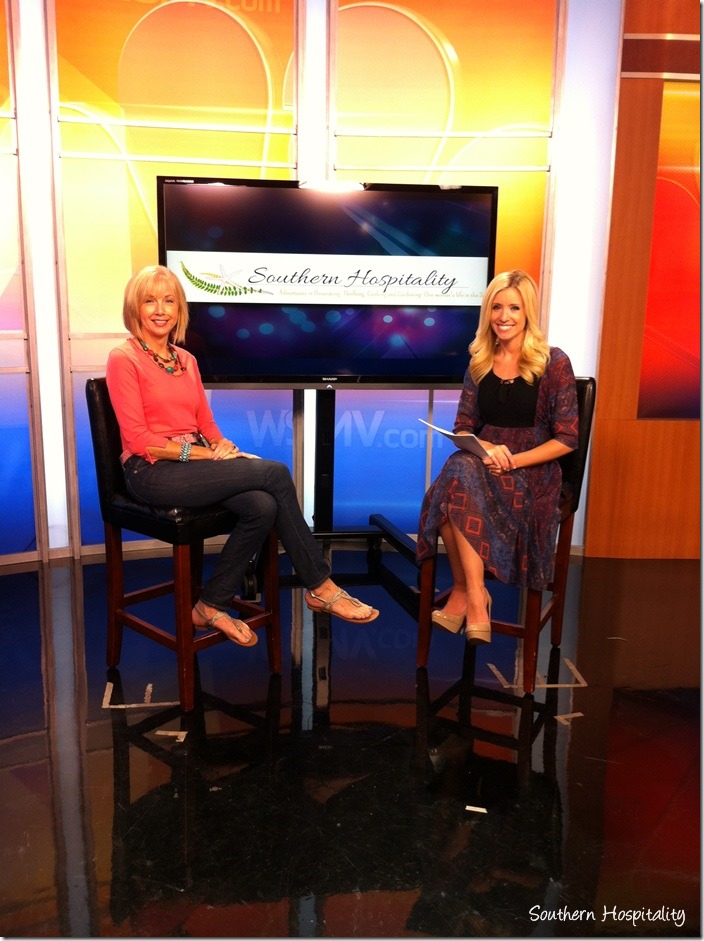 Our first stop was the NBC TV affiliate WSMV, Channel 4 in Nashville, where I got a segment with Kacy Hagerty.  I did a short interview about blogging as a business and tips on how to get started, 3 1/2 minutes in all, but totally fun to do.  This was my first time on a TV set like this and it was so interesting.  If I can figure out how to share the DVD later, I'll share it with y'all.
Nancy knows everyone in town it seems and she got us on the set of Talk of the Town, with host Meryll Rose (WTVF CBS), who we also met on our trip to Birmingham. She is a complete professional and has been in the industry for many years and it definitely shows.  We were also treated to a wonderful dinner the first night at her beautiful home.
After the TV stops, we started the day off with lunch at Pinewood Social, one of the favorite lunch stops we for locals, we heard.  It's a really cool place with some mighty tasty food.  And they have a bowling alley inside, something I have never seen before.  Fun place to grab some lunch!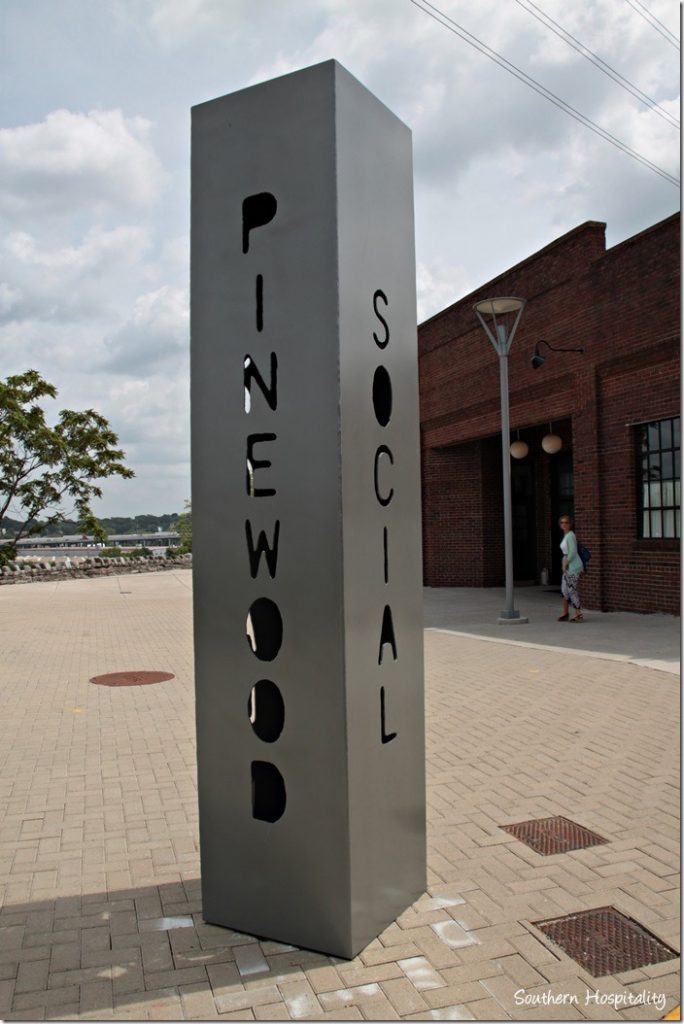 Sitting right by the river, Pinewood Social is a really cool eatery.
The river right outside the door of Pinewood.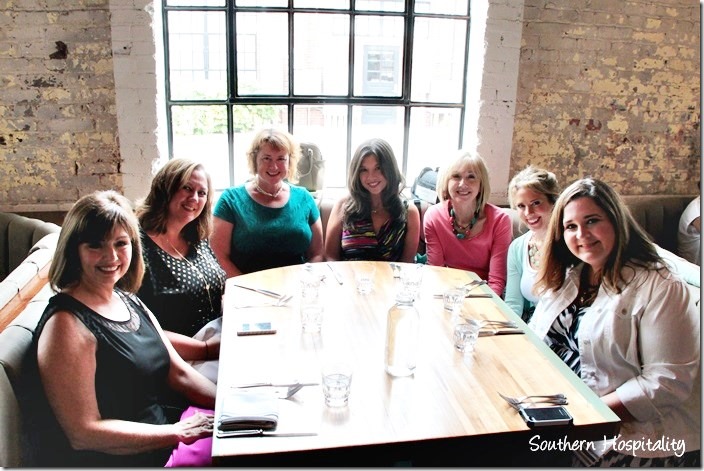 (l to r:  Meryll Rose, TV hostess in Nashville, Dana, Nancy, Angela, a newspaper journalist in TN,  me, Heidi and Beth.
Our crew that arrived early all enjoyed a delicious lunch at Pinewood Social.  And just to be clear, this was a friends trip and we all paid for our own food.
I had a turkey club which was yummy.
Heidi got this fantastic fried broccoli, which was SO tasty, with that dipping sauce.  Wish I knew how they made it.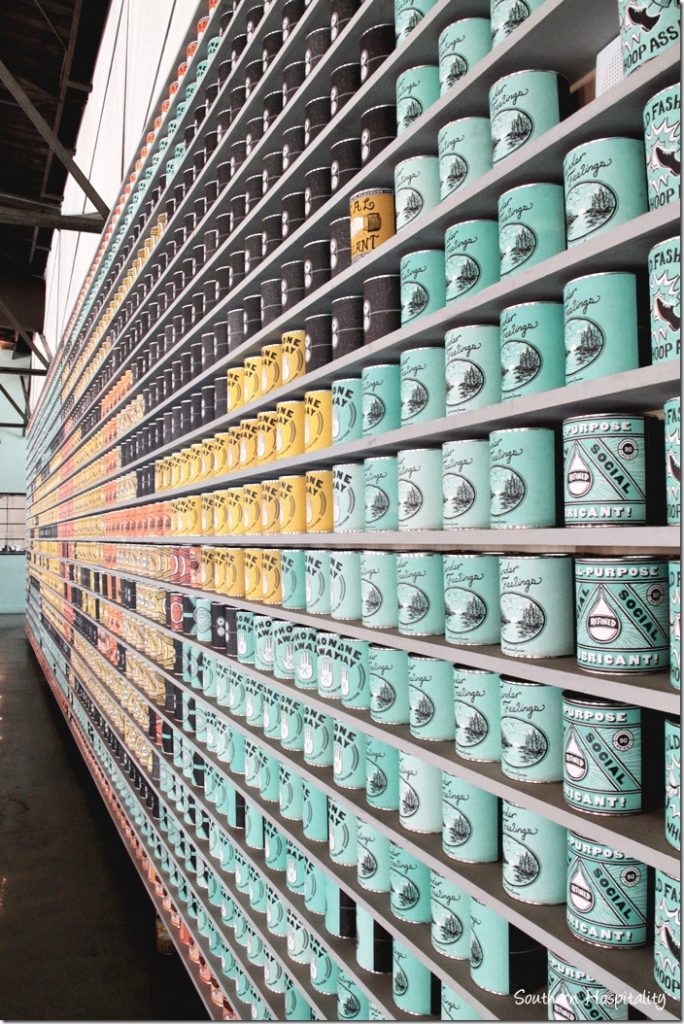 The bowling alley with lines of cans on the wall, made for a fun presentation.
Pinewood Social bowling, anyone?
Our next stop was PD's, which I had heard about from my last trip to Franklin when I missed it. It's right by the railroad tracks so you have to know where you are going to find it and there is no sign that I saw outside to identify the building.
But, wow, at all the beautiful things inside.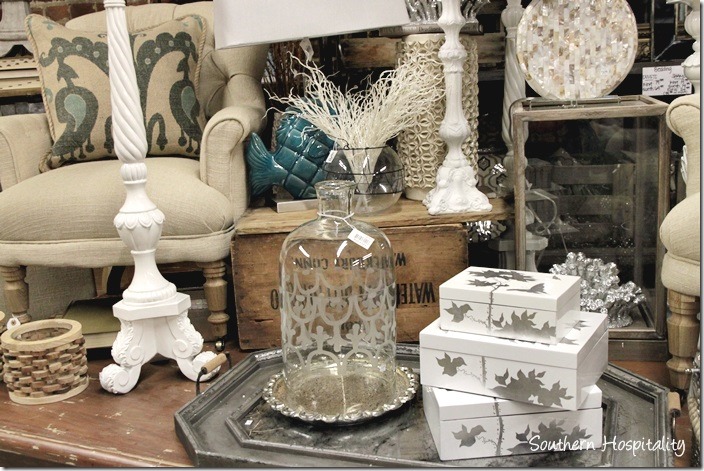 Next door to PD's is Barn Door, which is full of antiques and vintage collectibles.  Fun place to browse as well. I'd highly recommend all of these places for fun shopping in Franklin, TN.
This sign is not completely true. I don't know a lot of Southerners who really say All Y'all.  It's just "y'all" for most of us when there are 2 or more people involved.
Last stop of the day was Scarlett Scales Antiques, another beautiful shop full of treasures.
The only thing I bought that day was these shell earrings.  I love shell jewelry and have a few pieces so these will fit right in.
At the end of the day, we went back to the HGTV Smart home that we visited earlier this year to view the HGTV giveaway show, which told who the winner of the house is and her reaction to winning this gorgeous house. Can you even imagine being the winner of something like that?
We all sat and watched and enjoyed the reactions.  (Angela, Heather, and Heidi)
The winner ended up being a 24 year old from Chicago.
Denise & Lesley from Chaotically Creative on the left, Dana Tucker from Forest Home Media, and some folks from the builders, Carbine were there.
TV viewing and tweeting was going on.
(Nancy, on the steps, Beth, and Carmen).
We were all enraptured with the TV show.  And then at the end we found out from Nancy, that the 24 year old winner took the buyout (cash prize!) and so now the home is going up for sale by the builders.  Someone will get to buy this beauty!
I hope you enjoyed the first part of the Nashville weekend. It's always fun to visit Nashville and see new sights that I haven't seen before.  Thanks for stopping by!
Don't Miss a Post, join my list!