Back with Part 2 of my Nashville weekend a couple of weeks ago!   When I travel anywhere, I just seem to take tons of pics to remember places by and shopping is no exception.  I love having all my shopping trips documented and sometimes go back and look at something I've photographed.  So, I'm back today with Part 2 of the Nashville trip I took recently with some blog pals.  We hit lots of great places and one of the highlights on Saturday was the Nashville Flea market, which I've been to once before years ago with my friend, Layla.  If you missed Part 1, go back and catch up!
We started the day Saturday at Leipers Fork, a small little stop in the road with cute shops and restaurants.  Don't blink or you might miss it, but it does take you back to an old timey feel. I don't know the exact name of this antique store, but you can't miss the cute yellow cottage.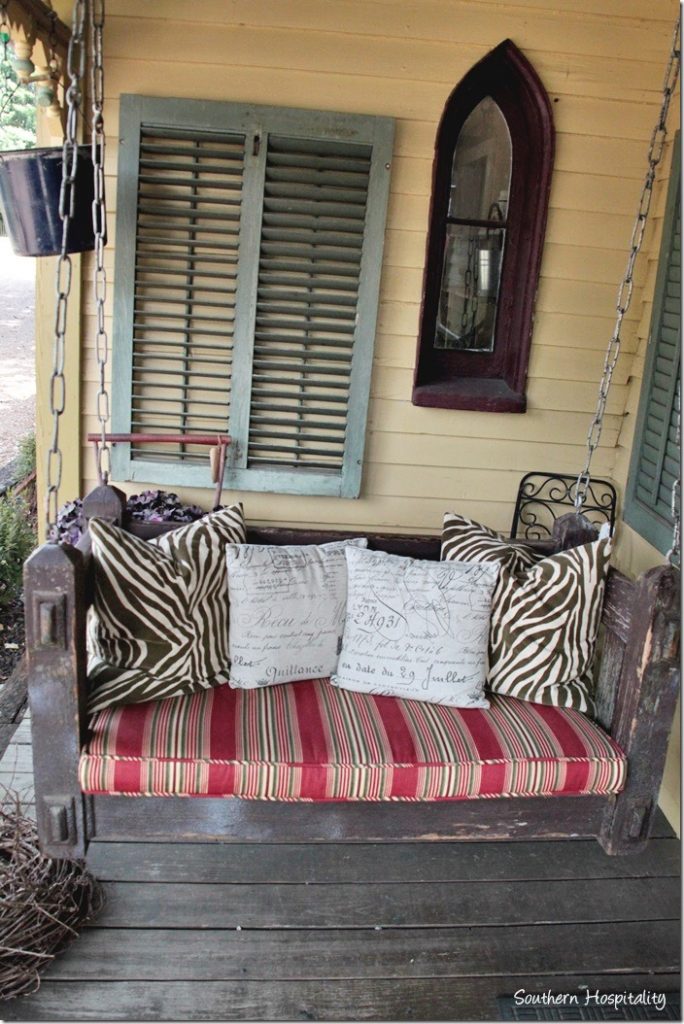 With the hanging swing on the porch.
Vintage and rustic things inside.
Across the street is Serenite Maison, a really pretty shop with lots to look at.
Down the street is  West and Company.  As soon as I walked in there, it smelled like leather.  I like the smell of leather!  I didn't get pics inside, but it's a cute shop too.
The whole gang:  Beth, Heidi, Meryll, Denise, Lesley, Dana, Heather, KariAnne, Carmen, and me.  It was definitely a fun group to hang out with for the day!
We ate lunch at Joe Natural's, which was really, really good.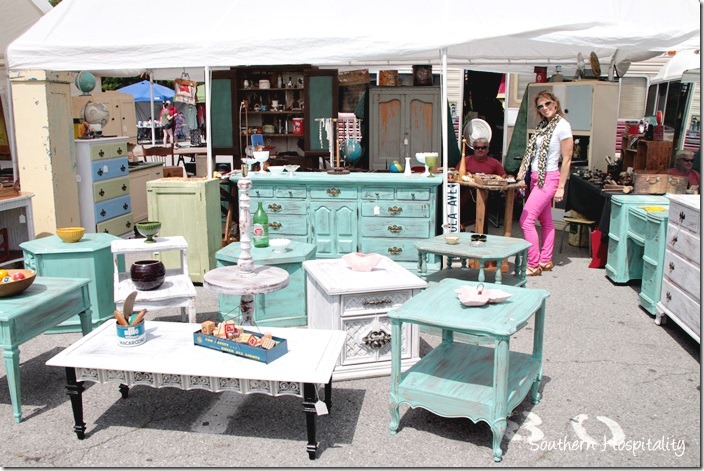 Next stop after lunch, the Nashville Flea market.  And let me just say, it was SO DANG HOT!  We though we were going to perish after about an hour of walking around in the heat and humidity.   That's Heidi looking at furniture in her cute hot pink pants.
Halloween anyone?
It's definitely a fun place to browse and you can find some good buys on furniture.
Metal barnyard animals.
Shopping, shopping, shopping.  I didn't buy anything.  Again, I don't have room for more, so it does sort of take the fun out of shopping when I can't bring anything  home.
Cowhide is still hot.
More metal words and letters.  These are super popular now.
Old corbels and architectural pieces.
Jadite.
After a couple of hours at the flea market, here's everyone's haul, trying to get it all in the SUV.
One thing I always chuckle about at these flea markets are the funeral arrangements that seem to be so popular. I saw them first in AL and now in TN.  I had never seen them at flea markets in GA, but they are probably there, since I do notice these bright arrangements all over the cemeteries here too.  Apparently, people DO buy these things.  Not sure what that flamingo is doing there.
Our final outing on Sunday morning was breakfast at the Loveless Café.  I had heard about this place and it was fun to experience it.  We were hoping for a celebrity country sighting and we were not disappointed.
After hanging out and browsing the gift shop at the Loveless Café, who in the world did we run into?
None other than Larry Gatlin, the famous country singer!  I have always loved his music (All the Gold in CA) and have listened to him for years.  We had to say hello to him and get our picture taken.  He was very nice and obliged us.  He's the one who grabbed the chair and sat it on the sidewalk for us to gather round.  When he patted his knee and said sit here, well….I jumped on that too.  Why not, right?  He's still a handsome guy.
What a fun and memorable weekend that was! I hope you enjoyed our excursions and all the shopping we did.  Thanks for tagging along with me on my trips, I sure do enjoy my adventures!
I've added a new style guide over at Ebay (click picture below),  and a new collection all about Gallery walls and would love for you to take a peek!

Don't Miss a Post, join my list!