Haven was wonderful, just beyond words!
We thought last year was great, well but this one was over the top fantastic. Everyone was happy and smiling the whole time and I can't wait to share it with you.  Right now, I'm crashed on my bed trying to recover from it all.  Maybe I'll be back to normal in a couple of days.  Sleep, I need sleep!
In the meantime, our family doesn't need a big occasion to get together for a meal.  We eat together every chance we get.  My niece, Lauren, and her hubby, Philip were home last weekend for a whirlwind trip from New Orleans.  They just bought their first house down there and have already closed, but haven't moved in.  Lauren takes after her mom and does a lot of Craigslist wheeling and dealing, so they found some great things to fill their house with and came up to rent a truck to get their treasures back home.  I didn't take pics of all of that (forgot!), but I did take a pic of the family meal we had at my parents house.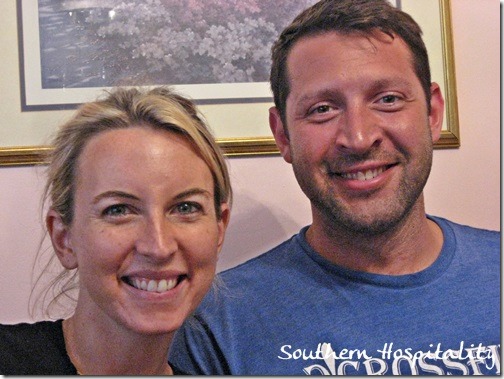 We ate a big meal, then we all helped Lauren and Philip load the truck for the trip back to New Orleans.  I'll be going down there Labor Day with my sister, mom, and brother-in-law and we are going to help Lauren get some things done at their house, like painting and a few projects.  So, of course I'll be sharing all of that with you. They bought a really pretty house with a backyard pool, ready to grow into it for the future.  She'll have fun decorating her first house too and I can't wait to help her!
So, let's see how my mom puts together one of those famous Southern meals of hers.  She's a pro at it, even at 85.  I did a video too of frying all of that stuff, so you will not want to miss that.  We had a family friend here too, helping mom and I want you to hear Miss Sue's Southern accent.

Mom is right at home in her kitchen and even though it's small, she can turn out some fabulous meals in this kitchen.  I wish she had a bigger kitchen, with all the cooking she does. It definitely is not big enough.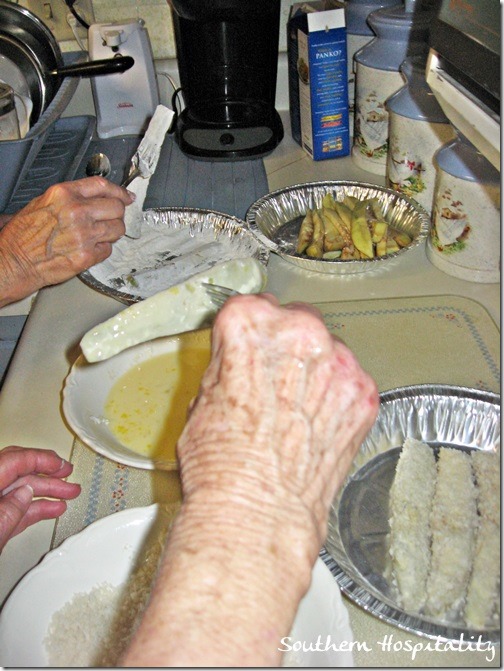 Mom and Miss Sue getting the eggplant and okra ready to fry.
Fried Eggplant is cut in strips (after peeling and salting), then dredged in flour, egg, and panko breadcrumbs, which I've shared before (see link). Then, deep fried in a big pan with Canola oil.
After flour and egg, then Panko breadcrumbs are added.
Frying in the pan.
Golden brown and ready to take out.
Don't those look yummy?  They are, believe me!

Fresh okra from the garden.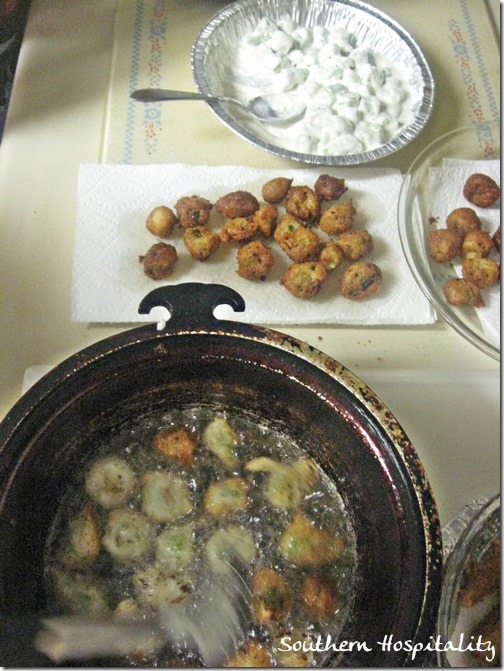 She mixes equal parts flour and corn meal, then adds buttermilk for a batter for the okra.  Then it is dropped in one at a time.
Potatoes cooking for mashed potatoes.
Aunt Fannie's Squash casserole, which you can find the recipe in that link.
Mom scurrying around the kitchen.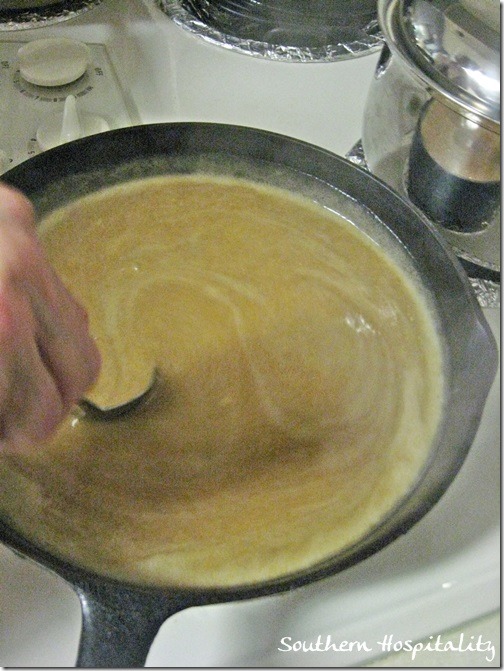 Making gravy from the roast beef drippings.  She cooked the roast in the crock pot, then added juice to her black iron skillet.  Then she mixes water and flour in a glass shaker and slowly adds that to the juice, thickening it up and adding a little salt and pepper. Yummy over mashed potatoes!
Does every Southern family have Tervis tumblers?  Ours does!
Roast beef from the crockpot.
I set the table, getting us ready to eat.  And I helped make the tomato, onion, cucumber, and avocado salad, while they were frying.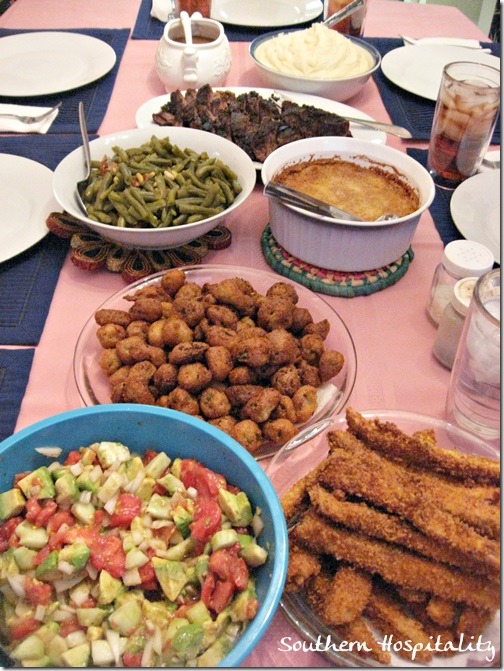 Here's the spread of food, doesn't that look fabulous?   I know, we are totally spoiled with this food my mom makes.
Everyone has always loved sitting down at her table.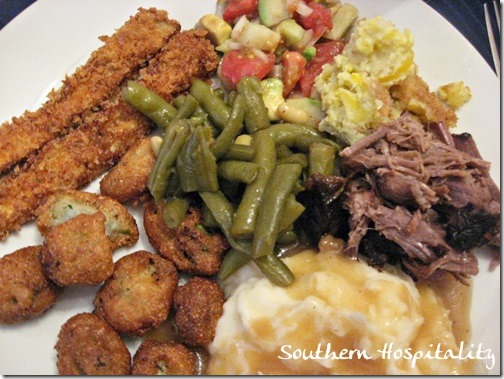 My plate of yumminess.  I have grown up on this food and never tire of it.
Peach cobbler for dessert, of course!  It's that time of year.  Lauren was loving being home and eating at her Nana's table.  She misses real Southern food in Louisiana, ain't nothing like your family's home cooking!
Don't Miss a Post, join my list!