Join me for a walking tour through Cotton Mill Exchange, an antiques emporium in Canton, GA. Filled with antiques, collectibles, and gift ideas, there is something for everyone. Plus visit the surrounding stores and restaurants for a fun day out! 
I've shared the Cotton Mill Exchange with you before, when I first visited this pretty antiques emporium back in 2020 for their open house, but recently I took Mark there for an outing with just the two of us and we had a great time. We are going to try to do more day trips, hitting places around the area to see and do things we haven't done before since we have the time to do these things during the week when everyone else is working. That's a nice perk of retirement!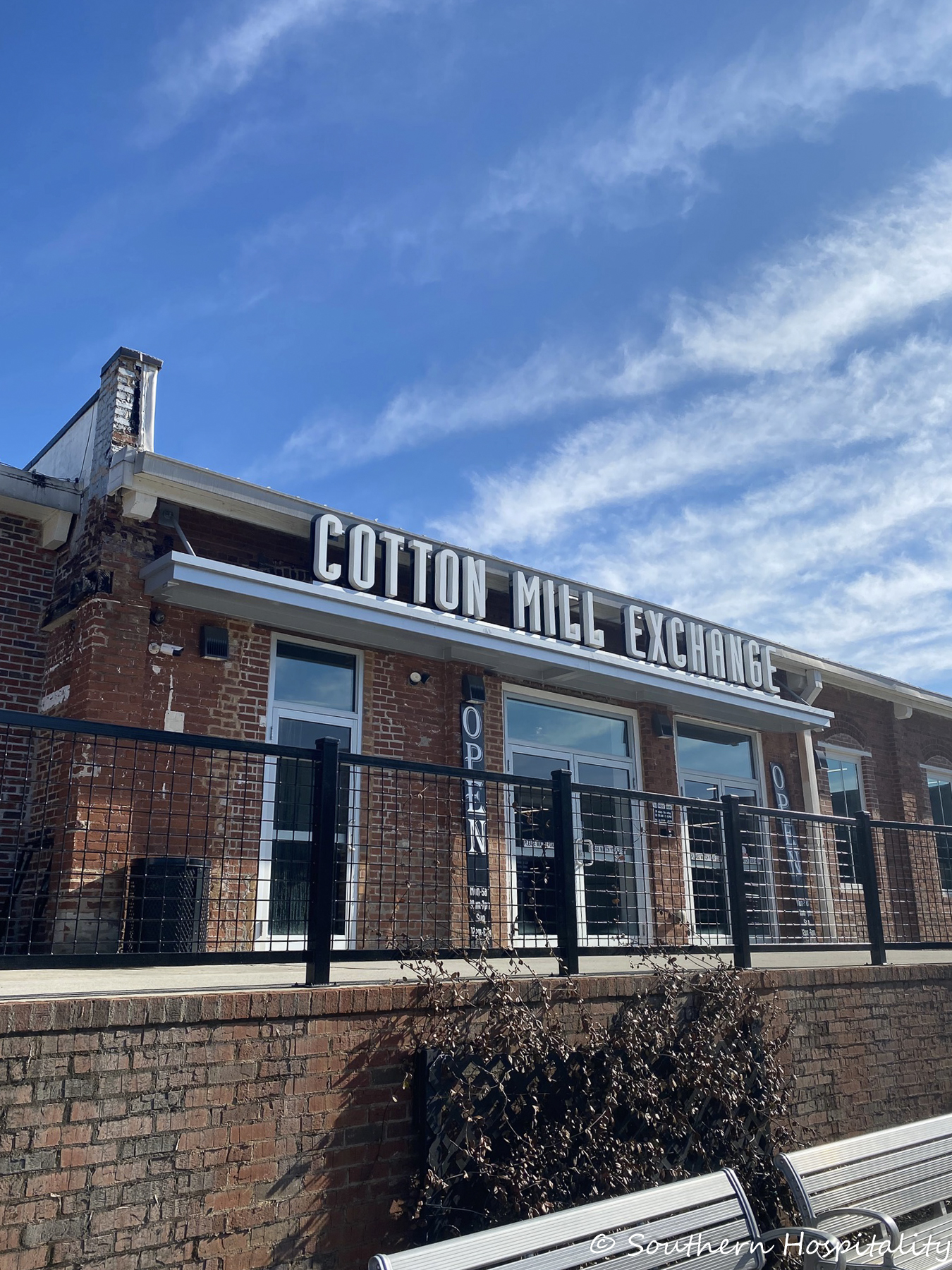 It was a beautiful sunny day with blue skies and we headed out for lunch and shopping. This is a perfect place to go with girlfriends as you will really enjoy the gift ideas and home decor finds at the Cotton Mill Exchange. Mark enjoyed it, but said it was definitely a girl kind of place.
I didn't get the names of all the booths I'm sharing, but if you go, you can look them up and see these in person. We loved this tea towel as it really is true of our Daisy girl.
The Big Room has most of the booth space and this vintage truck greets visitors. Cotton Mill Exchange is well put together in a beautiful backdrop of a cotton mill, so it's the perfect place for vintage goods with rustic brick walls and old wood floors.
The Apple Seed booth
I picked up these realistic pink tulips in one booth and can't wait to use them in spring.
Of course, being in Georgia there are plenty of Georgia's own sports memorabilia. The Dawgs reign!
Loved those black bunnies.
Since Christmas is over, you can find some spring inspired decor coming out now.
I loved this set of green wicker nesting tables. So cute.
I just took pics of things that caught my eye.
I really liked this vintage painting.
You can find some new furniture there as well as vintage goods and architectural finds.
A collection of brass candlesticks on a mantel caught my eye. Grouping things together is always a good idea.
These handmade pottery pieces were really special as well.
Of course, old bamboo always catches my eye and this pair of bamboo shelves were really pretty, but each one was over $500. They were unique though.
I had topiaries on my mind that day since I had just bought some for my front porch urns.
Mercury glass is always pretty to look at.
This booth had handmade quilts and homemade preserves and honey.
Lots of rustic architecture to be found in this booth.
This display was very artfully arranged.
I thought these framed vintage watch faces were a unique idea, housed in an old frame. And there I am!
This booth has really coastal vibes with lots of blues, which I love.
So much to see and discover at Cotton Mill Exchange. They don't know I am writing this post, but if you get the chance, definitely go and visit. You won't be disappointed!
I had an email recently from a lady who follows me and she said she and her daughter flew to Atlanta to visit her elderly mother in Ellijay, GA and convinced her to do an outing for the day and took her to Cotton Mill Exchange. She said her mother couldn't stop talking about it and they had a great day. She said they even had wheelchairs to use since her mother didn't want to bring hers and thought she could walk around, but it was too much for her. Their 4 day visit was quick, but she said this outing was the highlight of their trip.
Those kinds of emails just warms my heart!
The Cotton Mill Exchange has expanded since I was there in 2020 and much of the building houses other shops too, like Giggle Monsters Craft Donuts. Mark and I love good donuts and this place was a wonderful discovery.
We brought home 6 donuts and they were delicious. They had one of my faves, a maple glazed sprinkled with bacon donut. If you haven't had one, they are so good. Like waffles with bacon and maple syrup flavor. Yum!
We also tried Community Burger for fresh burgers and they were really good too. They have several varieties to try, but we got cheese burgers. I tried the hash browns, which the donut guy told us about. He said they were very unique and they were. They tasted crisp on the outside with creamy potatoes on the inside. Very good!
It was a fun outing for us and we will be looking for other places to go on day trips soon! I've got one in mind for Cartersville and of course, I'll share that with you too.
Don't Miss a Post, join my list!