A few weeks ago, I did a post all about the beauty of wallpaper and how it seems to be coming back around again.  Some of you agreed with me and thought it might be a fun idea to use again and some of you definitely were not ready to break out the wallpaper one more time.  The scars  of removing it were too fresh and raw for some of you and I totally understand that.  I've been there too.
So, how about an accent wall of wallpaper?  Could you go for that?
When I see images like these, with one wall used as an accent with a beautiful wallpaper, it makes my heart skip a little beat. 
Look at how rich this damask looks behind that classic sofa.  Gorgeous, it is!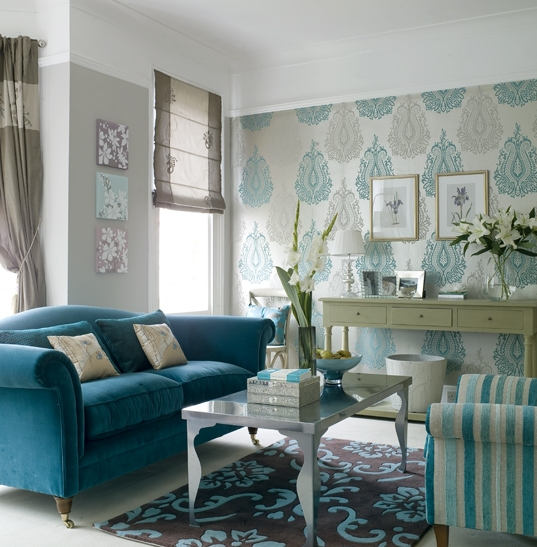 And this graphic gray and aqua just makes you smile.  It's not so over-powering on one wall.
(from Country Homes)
And this fresh and green classic beauty really grabs my attention.  I love everything about this pic.
And check out what blog buddy, Amanda, did with a $1 roll of yardsale wallpaper in her laundry room.  How cute is this?
So, what on earth do I have in mind? Well, I just happen to have an accent wall in my office nook that I do believe could use a dose of fun wallpaper and I'm about to give it a whirl myself.  You saw it a couple of years ago when I painted the wall green (Behr's Grasscloth)  and added some rope trim.
And as of now, the other walls will get a green paint treatment to further complement the new splash of wallpaper, maybe a little lighter shade than Grasscloth, that is to be determined.  I think it's going to be very fun!
Here's the beautiful green Cotswold Graham Brown paper, which happens to come from my Open Sky shop right here.  Just in case any of you would like to join me on this wallpaper accent wall journey.  Come on, you know you want to!  At $60 per roll, it's not cheap, but I look at it as wall art.  One that will make a big impact. The paper looked different in person than I thought it looks online.  What I thought was white background is actually a pearly/silvery tone, which is still quite pretty.  It's going to be dramatic.
Edited to Add:  I've just found out that I can offer a 20% discount on this pattern from my shop, if you decide you want it, click over and put in ACCENT20 for the code.  This is only good for 10 people!

You'll be the first to see how it turns out. I haven't started yet, but I'm gearing up for it.  This paper is not prepasted, but I've already bought the tub of wallpaper paste to get this done.
Another project I've got in mind is copying those Ballard shelves you see in the above pic of my office space. I've seen a few other bloggers making those and since I have the real ones to look at, I'm going to tackle that too and replace the smaller shelves I have in the dining room with some big monsters like these.   Just think of how many more white dishes I can put on wider shelves?
I will paint them white and get the brackets from Home Depot. I've already scouted out the wood I will need and it will be a very cost effective project to make 4 of them myself and I'll let the guys at the store do the cutting for me.  So, that's another project to add to the list! Ha! Just when I think I'm running out of things to do, my whirling brain comes up with another one.
So, who's on board for an accent wallpaper wall?  Anyone?? Tell me how you feel about it.
*****************************************************
If you have a chance, please go over and read Laura's so very inspiring story of a dream come true for her, you'll be so glad you did!
Don't Miss a Post, join my list!