Good morning and welcome to a new week! It's officially summer around here, it's been hot and sweltering and trying to stay cool is the name of the game, although we finally got some much needed rain last week. I don't do a lot of redecorating for summer, but today I'm joining a big group of talented ladies and we are all sharing our summer homes.
Marty, from A Stroll Thru Life is our hostess and she always gathers a great group of ladies for this tour. Be sure and check back every day and follow the links to see all the homes this week. If you're coming from Marty's, welcome! She's our first stop on the tour and I'm happy to be joining her again this year.
If you're new here, welcome! I'm Rhoda and I've been blogging for 12 years now, definitely an old school blogger who's been around since the beginning of blogging. You'd think I would run out of things to talk about, but I haven't yet. My husband, Mark and I have been married almost 2 years now and also bought our house 2 years ago and have been busy making it our own. We've done a lot of projects that you can see under House Renovation.
My foyer table is the spot that gets the most change around our house for the seasons and I enjoy bringing in a summer vibe to welcome our guests. It's the first spot you see when you walk in our house.
Note: Our main paint color throughout the house is Magnolia Home Gatherings, a light gray/beige that we love! 
Interior Door color: Sherwin Williams Oyster Bay
I tend to bring in fresh flowers for spring and summer and that gives me the opportunity to take new pictures and style the foyer table and a few other areas, but I don't really change a lot of things.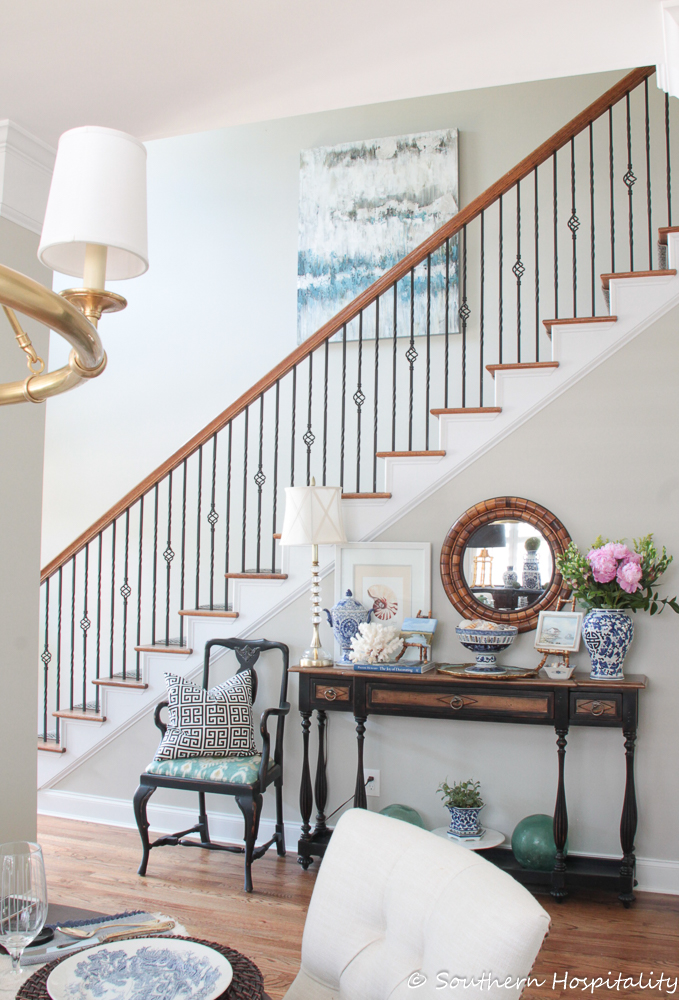 One new addition to our home is that big abstract painting on the stairwell. I love it! Found that piece recently at Homegoods for $150 and brought it home. It's original art and a piece that size usually is way out of my price range, but I loved this piece and it fits our home so well. I love a mix of modern and classic. You'll notice that I use a lot of blues in our home, all shades and they are so easy to live with.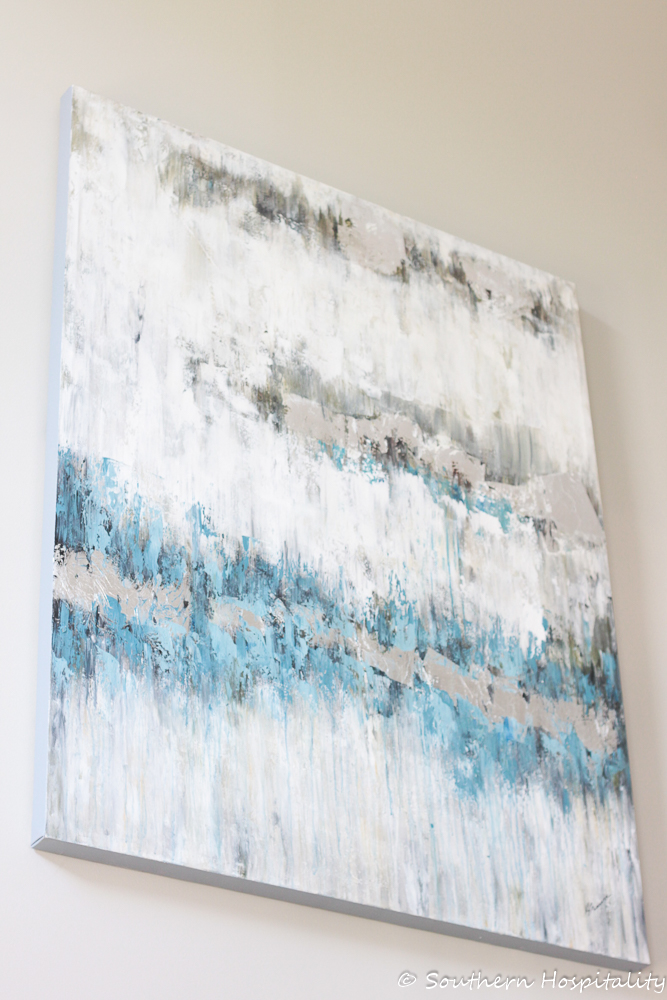 Closer look at the new painting.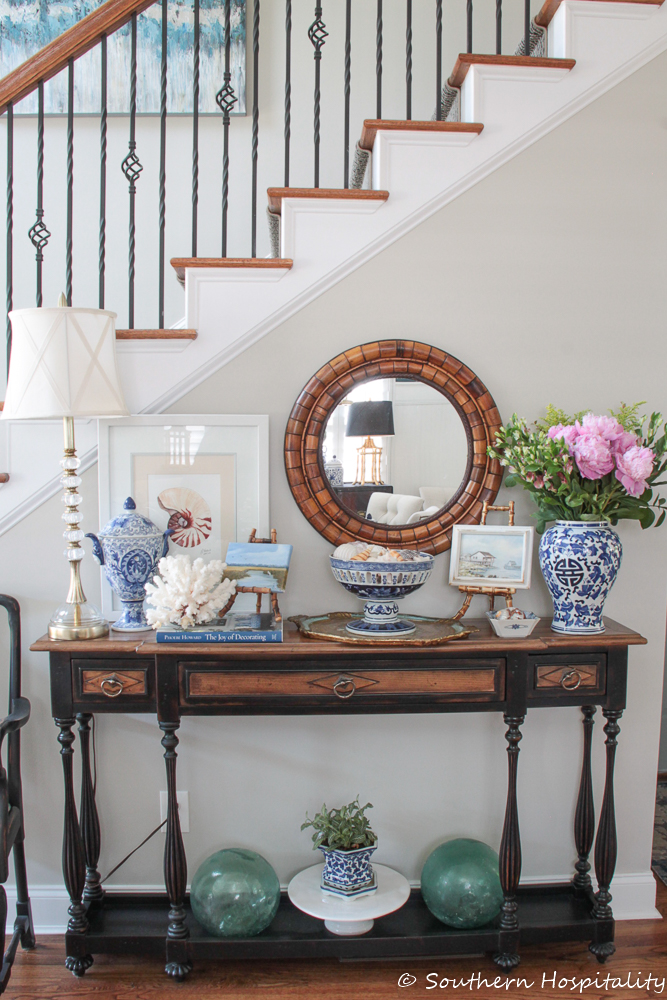 This traditional style foyer table reminds me of an English antique but it's from Hooker furniture and I loved it when I saw it. That bamboo mirror was a thrift store find in Florida awhile back and I had to have it.
I brought out these glass fishing floats I found at Scott Antiques market a few years ago and they are a great summer accessory.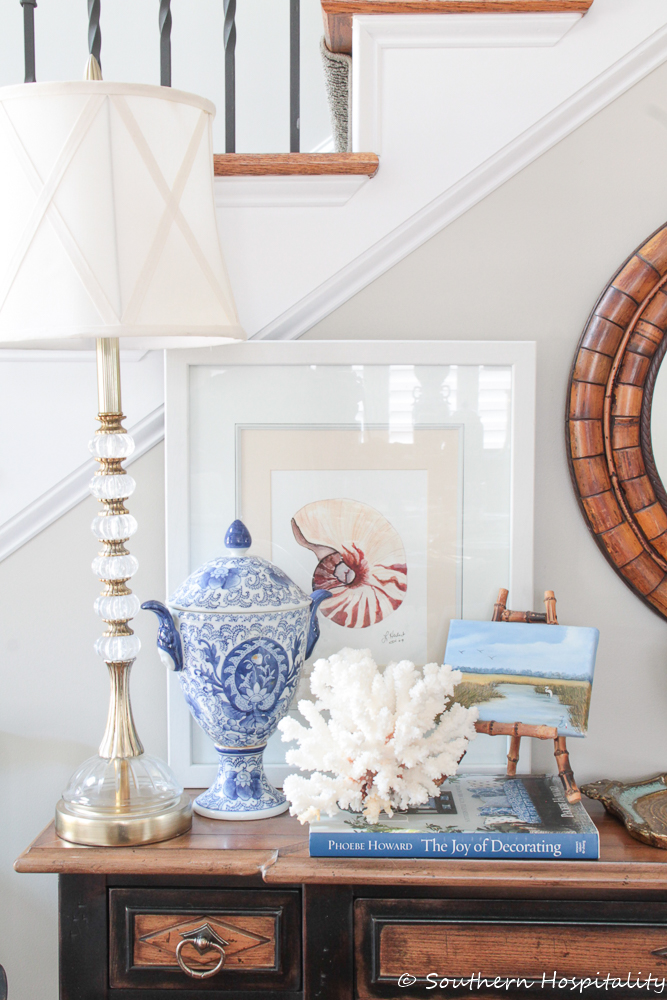 You can see I have a love of blue and white pottery too and have collected pieces from all over, from Bombay Company, to Homegoods, Ross, estate sales and thrift stores. I love a good thrift store find as well as yardsales! That lamp was a $5 bargain from a local decor firm that was going out of business. That piece of white coral was a yardsale find.
I have a little bit of an obsession with bamboo too, as you'll see in this table vignette. That little bamboo easel was also a yardsale find and I love adding little paintings on it.
There are lots of blue and white pieces displayed here and they came from all sources. That little blue and white bowl was a thrift store find too and the other antique easel came from an antiques store. This little painting was a thrifting find too.
Peonies make the best flowers for summer, don't they? I found these at my local Kroger.
That little painting reminds me of New England when my husband and I visited last Fall.
The blue and white bowl holds a big part of my large seashell collection I've had for many years. They just say summer to me, since a big love of mine is the beach.
And that's a look at the whole foyer table and how I add a summer touch to it.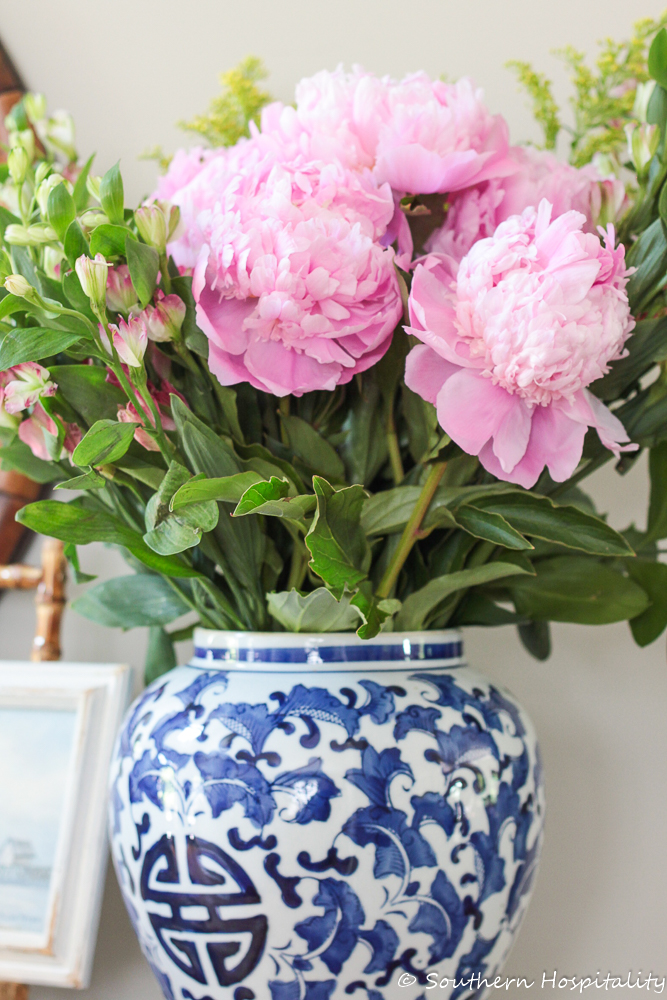 Can't get enough of those peonies! I want to grow my own one day.
One more peek at the coral and the paintings behind.
To the right of our front door is our living room, which I really love.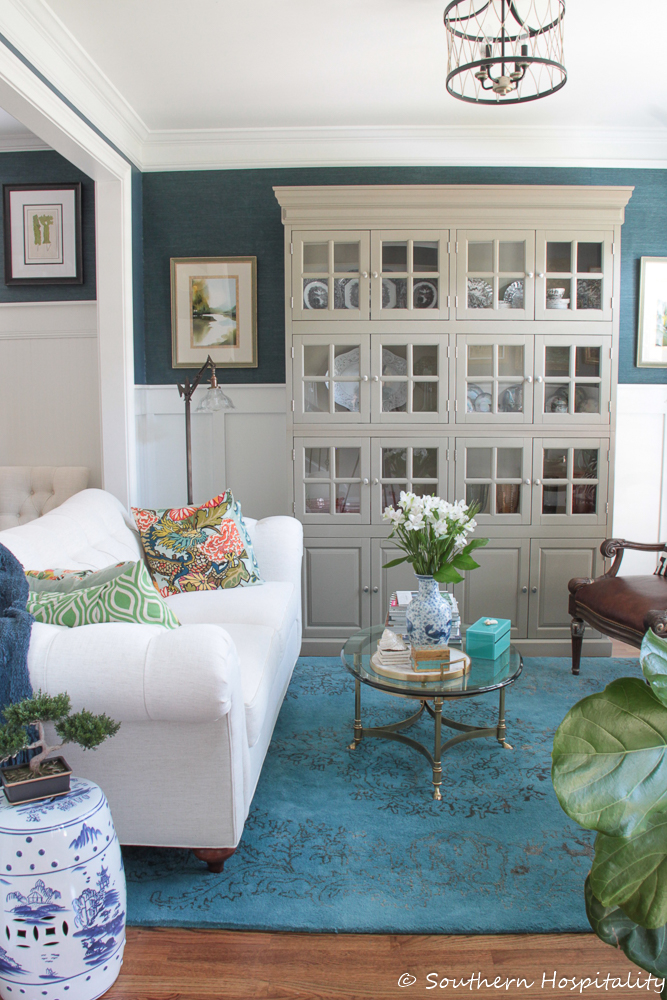 It's a smallish space but packed with lots of interesting things. Everyone loves that gray green cabinet that was my husband's, he found it at Haverty's years ago. It's a great anchor piece for our living room and I love it.
I added a blue and white garden stool to this room and it's so cute by the white sofa.That's a fake plant, but most of my plants are real.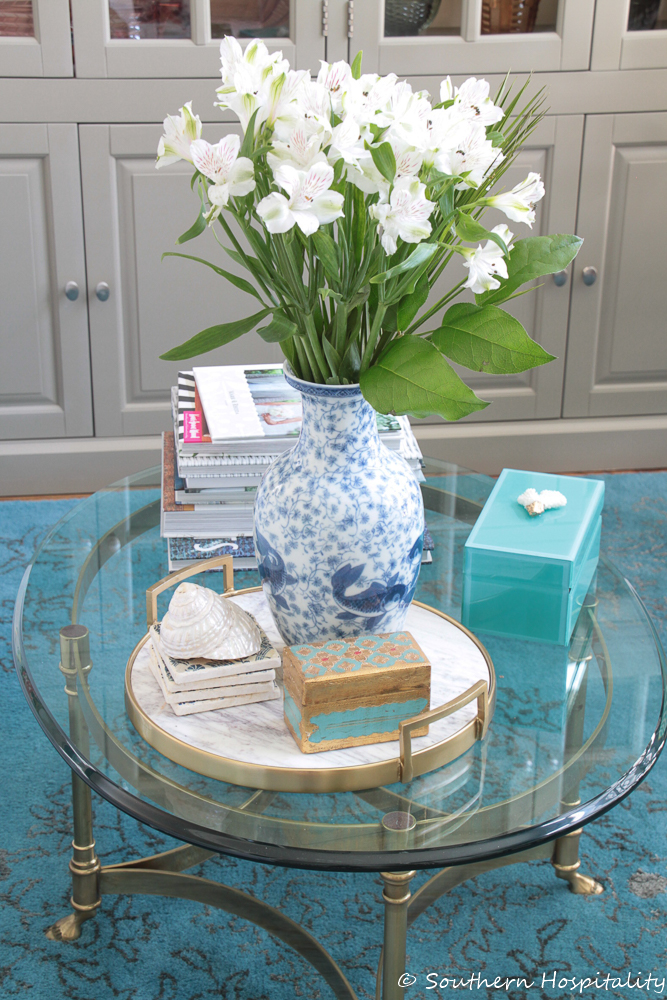 This is a recent thrift store find that I'm SO proud of! I got it for $20 and it is worth well over $600 on the online sites that sell vintage goods. I had no idea what I had found until I got it home. I just knew it looked expensive and I had to have it at that price!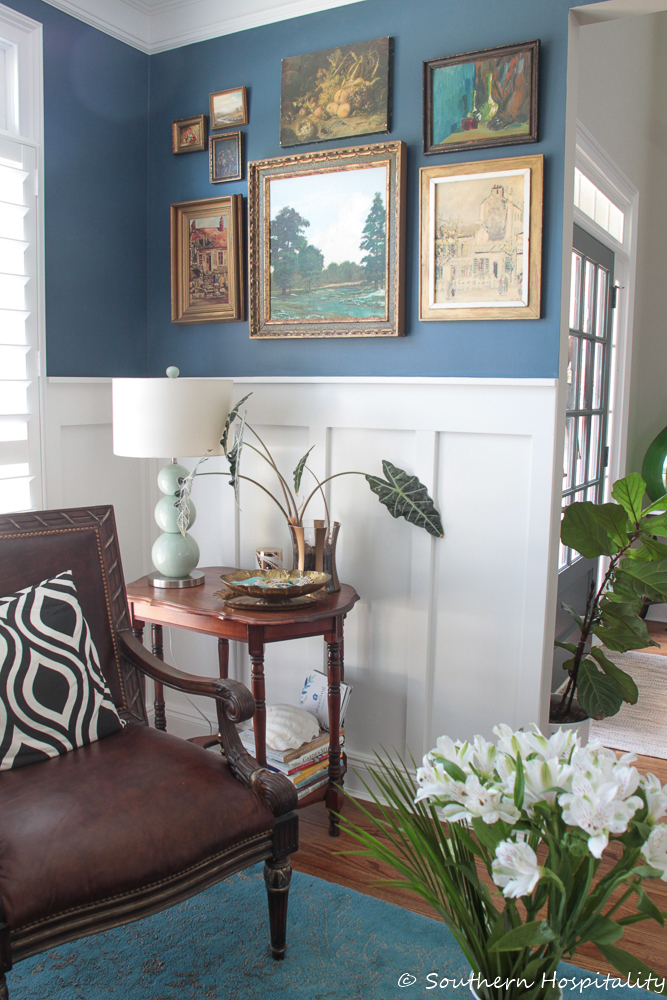 My collection of vintage paintings are hanging in here and I love them on the navy blue walls. My husband, Mark, added all the board and batten in this room after we moved in.
I've got more seashells in this brass bowl on a side table. The aqua ones came from a store in Cape Cod.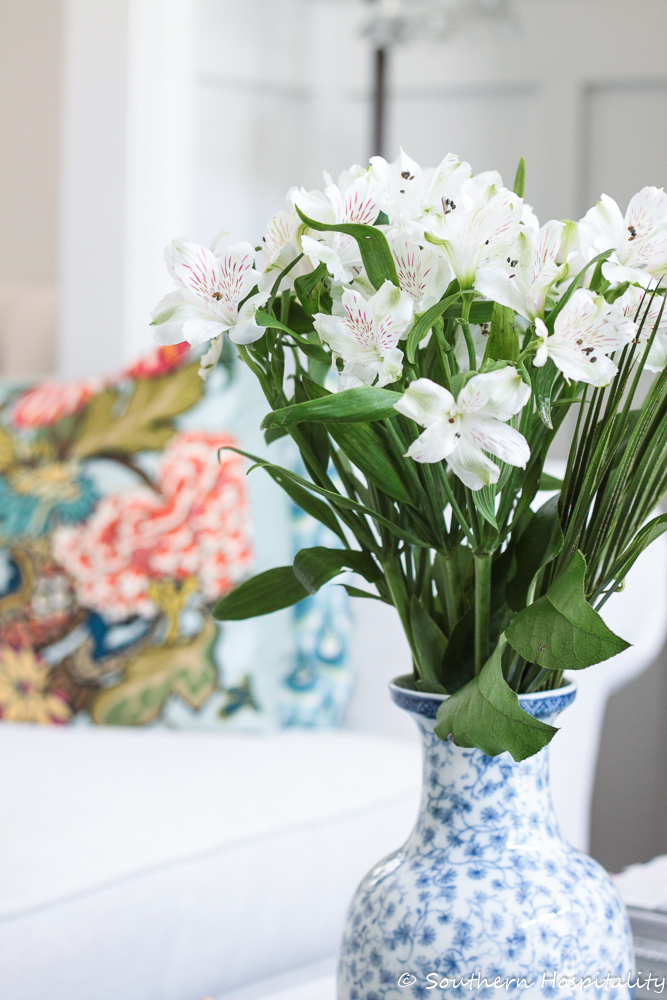 Fresh flowers in a blue and white vase are great for summer!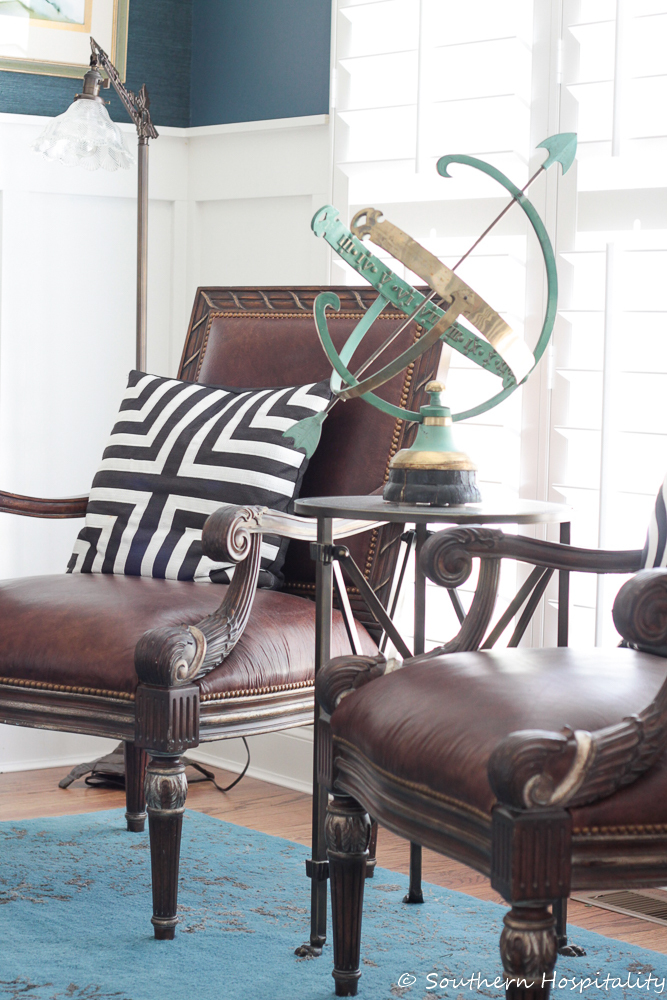 These are leather chairs that I dyed dark brown, one of my favorite DIY projects! They were a caramel color, but I think the dark brown works better in our house.
One other area that I've freshened up recently is our guest room. When Mark and I got married, my old furniture went in the guest room and it works fine in here. It's all mahogany and dark wood, but I've kept it light an airy with linens and things I already had. This artwork is from Ballard Designs, a great bargain I found there a few years ago and I think it looks great in here. I had some botanicals over the bed and I moved them to the other wall.
I love the combo colors of blues and greens and it feels very calming in here, sort of a beach retreat.
I love the painting above the bed and I also picked up a blue silk pillow from Ballard Designs recently with our initial on it and it was a good bargain too.
I only had room for 2 of the botanicals over the chest, but it works.
I try to keep things pretty simple in here. That's Mark's nanny's chair that he can't part with. Those drapes are ones I painted stripes on and are Ikea, you can see that tutorial if interested.
Here's a peek at our outdoor deck all spruced up for Summer. I'll be back tomorrow to share more of that space!
Affiliate links below for items in my living room and foyer:
Next on the tour is Anita with Far Above Rubies. She's a Carolina neighbor and has a very colorful eclectic home that I think you will really enjoy, so stop there next and then visit all the links below as the week unfolds so you can see all the summer inspiration!


A Stroll Thru Life , Southern Hospitality, Far Above Rubies, Cuckoo4Design
Setting For Four, Pink Peppermint Design

Remodelando La Casa, Inspiration For Moms, ZDesign At Home, House By Hoff ,
Duke Manor Farm, Decor To Adore

Haneens Haven, Monica Wants It, The Chronicles Of Home, Follow The Yellow Brick Home
Thrifty & Chic Hymns & Verses

Clean &Scentsible , Sincerely Marie Designs , 11 Magnolia Lane , Thrifty Decor Chic
Seeking Lavender Lane, Our Southern Home

White Arrow Homes, Our Fifth House, Modern Glam, Designing Vibes
Decorating Delirium, Life On Cedar Lane
Don't Miss a Post, join my list!