This year, Thanksgiving is extra special to me.  I like to think I have a thankful heart every day of the year, but this year, oh this year, I've really got some celebrating to do this Thanksgiving Day.  As you can imagine, I'm SO thankful to have a house again.  A year ago, I had no clue that I would be in my own house this year and it's been a long and steady journey to get here.
Thankful, oh yes I am definitely extra thankful this year.  The gratitude in my heart is full for my family and for God, who brought me where I am today.
I've already showed you my pretty Thanksgiving table, but we won't be eating Thanksgiving dinner here at my house.  All of my family will be gathering at my cousin's house over in Duluth, but I've kept my table all set up just so I can enjoy it for awhile.
Just in case you forgot the horrors I started with, I want to remind you where we began back in April, when we closed on this house.
Oh my word, has it ever come a long way!
I'm going to document every room in the house eventually, because each one deserves its own Before and After feature, don't you think?
Let me take you back to the Before shots.  Hospital green walls, with a shiny brass light fixture and those oh-so-lovely vertical blinds that were once so popular.  The floors look halfway decent in this pic, but the wood was damaged and couldn't be saved.  Not to mention the filth everywhere, even the baseboards. Gag me!
I know!  It's shocking when you see this now, right?  This entire house has come SO far in the last 6 months.  I'm really done with the dining room, except for the drapery panels. I'm going to get those up soon.
This is one fairly small space at about 10 x 10′, but I'm enjoying every inch of it.  So happy my round table fit in here so well.
The corner cabinet is a nice cozy fit as well.
I can comfortably fit 4 to 6 and I'm glad I have 2 extra chairs to spare to make it 6 total. That Ballard Designs lantern is the star of my dining room. You can see the entire tablescape up close on this post.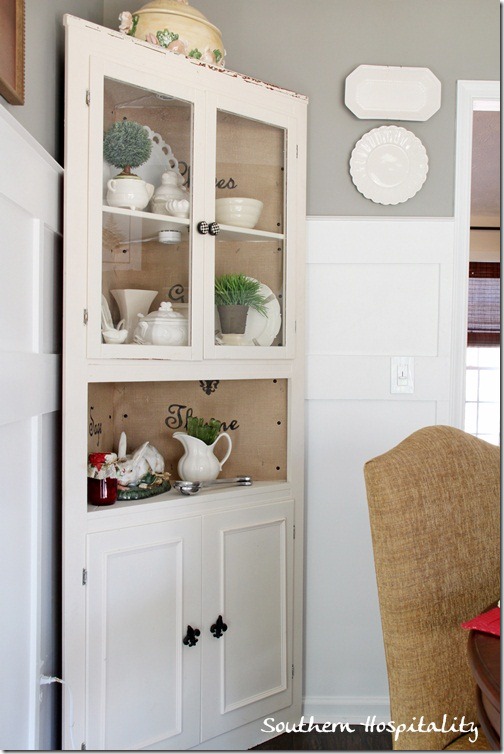 Another peek at the corner cabinet with burlap backing that I painted and rehabbed about 3 years ago. Here is the link on the how-to post for that cabinet.
I've enjoyed having the table set and just looking pretty.  After looking at a construction zone all these months, I'm over dosing on pretty now!
I settled on my 3 botanical prints above the board and batten for now and added 3 of my soup tureen collection here on the sideboard.  Those gray lamps from Kirklands are perfect in here too.
It's small and cozy, but packs a lot of punch in my new house.
I'm so happy and content right now, I'm just beaming with pride and joy.
I hope you and yours enjoy the week to the fullest.  My family and I will be, I can guarantee that.  My niece, Lauren and her hubby will be joining us for a few days, so that's always a treat.
What are you up to for Thanksgiving this year?
Don't Miss a Post, join my list!