It's always so fun to get the invitation to preview the Atlanta Symphony Showhouse. This year's house is in West Atlanta. In partnership with Atlanta Magazine and Atlanta Magazine Home, the house is a masterpiece of modern architecture. The official architect is Robert Tretsch of Harrison Design and to say this house is unlike anything I've ever seen before is an understatement. When I saw the exterior, I have to admit I was a little skeptical to see the inside, but the inside is truly a contemporary delight if you like modern. I like to feature all house types here on the blog, so even though I predict you, my dear readers, will not embrace this type house, I hope you enjoy the tour of a truly different architecture of a house.
The house is open to the public for tours through March 8th. Tickets can be found that the link above. If you love house tours, you'll love this one as well.
Different, no? I was underwhelmed by the exterior, but wish I could have gotten a shot from the backside. The interior of the home is filled with light from all angles, so wait until you see that. Modern lovers will be in heaven with this house, which is a mix of brick, stucco, stone and steel
Let's go inside for the full tour. I tried to take pics of all the rooms and show the soaring spaces as I saw them. We'll start in the study.
Designed by Cloth and Kind: Tami Ramsay and Krista Nicholas
Master Bedroom & Bath: William Peace/Peace Designs
Here's where you realize this house is unlike anything you've seen before. Staircases intersect and go up and down from this level. It's amazingly light filled, soaring and spacious. What a house!
Here's a good shot of how the staircases are laid out. You enter the house here on the middle level and then go up or down.
A look down the stairs to the Terrace level, with the pool to the left.
Terrace Room: Michelle Workman/Michelle Workman Interiors
Loved this vignette of Michelle's!
Downstairs Lounge & Powder Room: Michael Habachy/Habachy Designs
Downstairs Bedroom & Bath: Ili Hidalgo-Nilsson/Terracotta Design Build
Pool Deck: Willem Stear/Tonic Design Studio
Game Room & Pool Bath: Jill Mansfield & Bryan Kirkland/Fiftyeight Interiors
Kitchen Design: Matthew Quinn & Team
That's my friend, Sherry Hart at the island. We had a nice chat catching up.
Laundry Rooms & Mud Room: Dana Lynch/Dana Lynch Interiors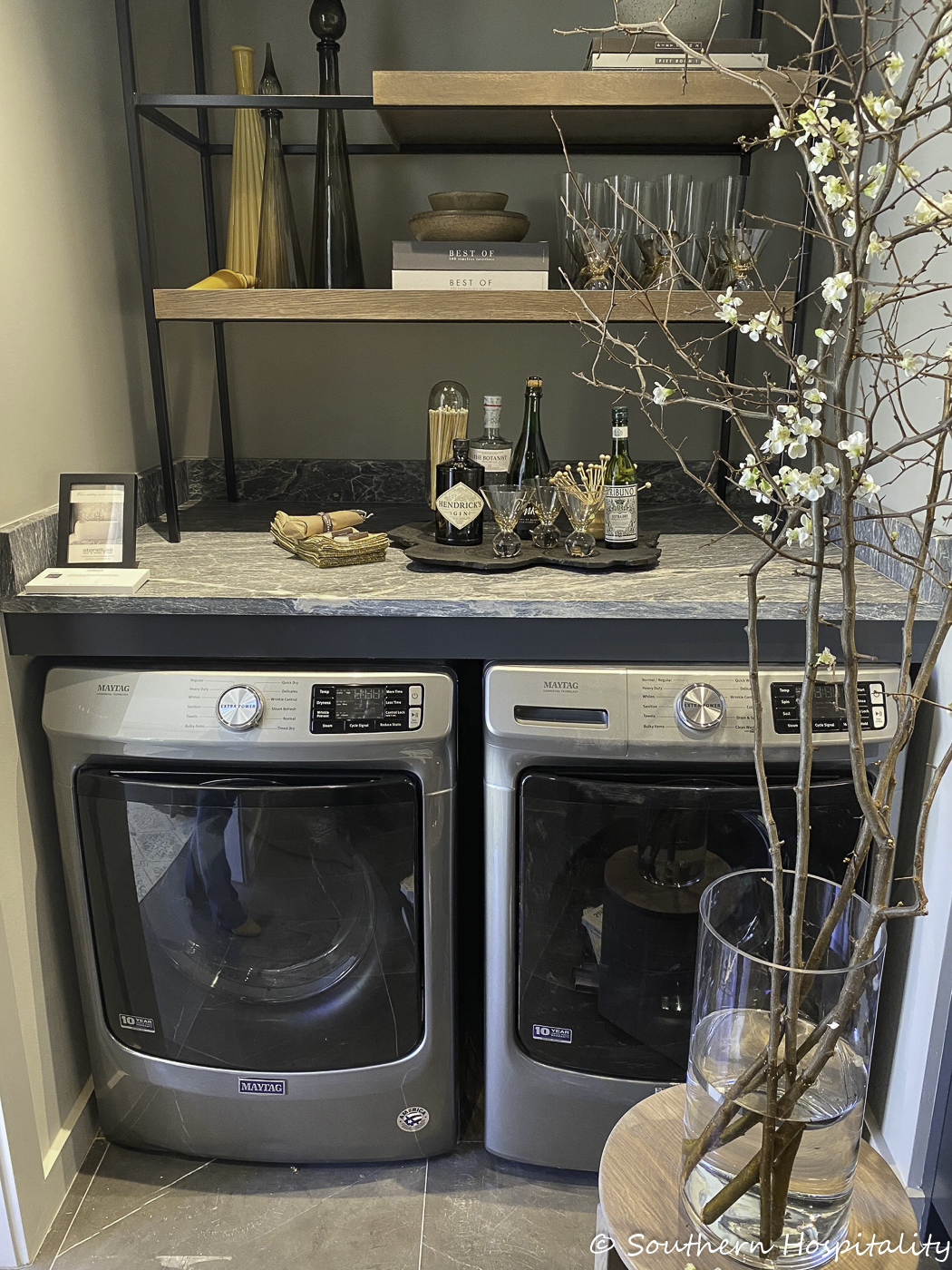 Family Room & Dining Room: Barbara Westbrook/Westbrook Interiors
Covered Porch: Vivian Bencich & Carolyn Balfour/Square Feet Studio
Upstairs Hallway: Angela Chrusciaki Blehm (my friend, Angela, so fun to see her soaring!)
Upstairs Bedroom & Bath: Bradley Odom/Dixon Rye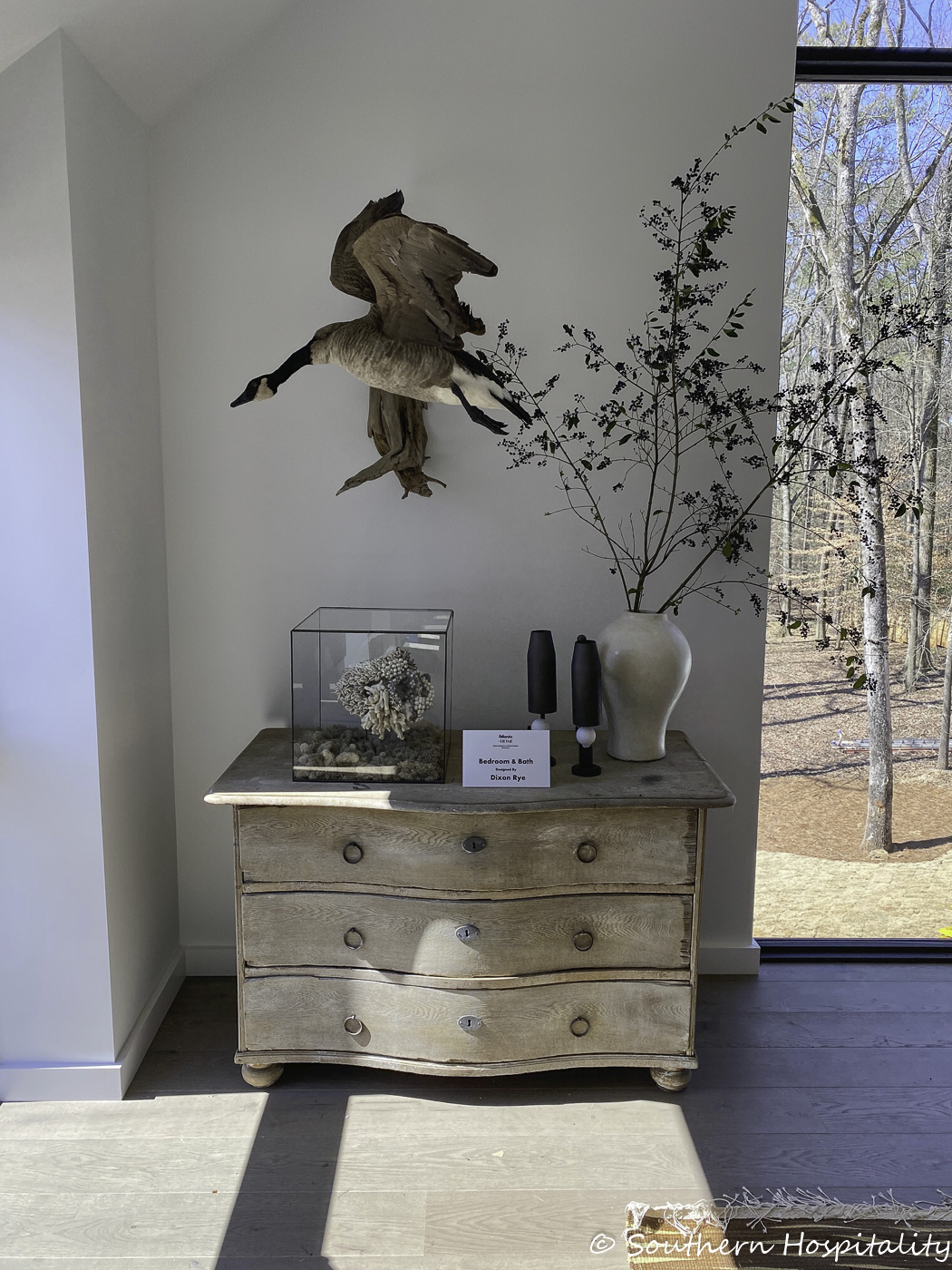 Upstairs Bedroom 2: Loren Audrey Taylor & Carolyn Abrams Taylor/Loren Taylor Interior Design
I think I missed a few spaces in my photographs, but this covers most of the house. I hope you enjoyed this, whether or not you love modern design or not, there's no denying that this is one magnificent house.
Don't Miss a Post, join my list!