This post is sponsored by Phantom Screens. I'm so thrilled to be working with them on our backyard project!
Summer is in full force in Georgia and the heat has been intense already. We are always looking for ways to cool off and spend time outdoors too. Our backyard is very private and it also has a lot of shade except for just a few hours in the middle of the afternoon.
Ever since I went on the Southern Romance tour with Phantom Screens, I have been dreaming of having a porch like this.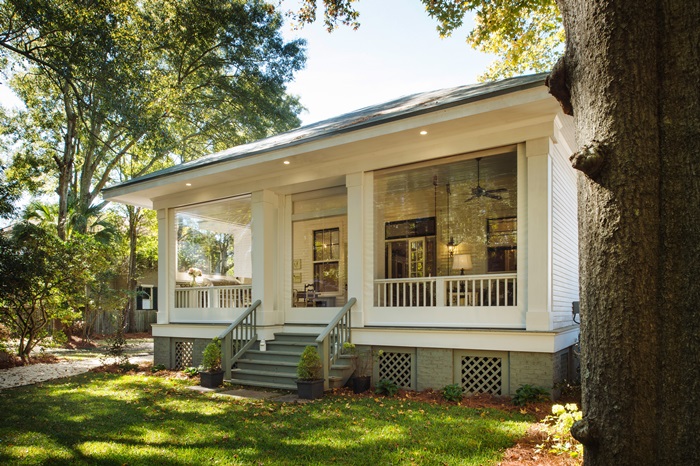 Ours won't be this fancy, but I think we can make it nice under our deck. I was so enthralled by the motorized wall screens on the Southern Romance house.
This house was equipped with vinyl panels as well as screen panels that slid into place. We will only do the screen panels on our porch.
Watching the screens in action really got my attention back then and I filed it away for future.
I think our under deck porch will be perfect for a screen system like this. We will have the best of both worlds.
I'm so excited to share with you that I'm going to be partnering with Phantom Screens and we'll be getting remote control screens on two sides of the under deck porch. It's really going to change everything for us in using this backyard. It's not a huge space, around 14'x14′, but I know we will really enjoy and use it as a screened porch.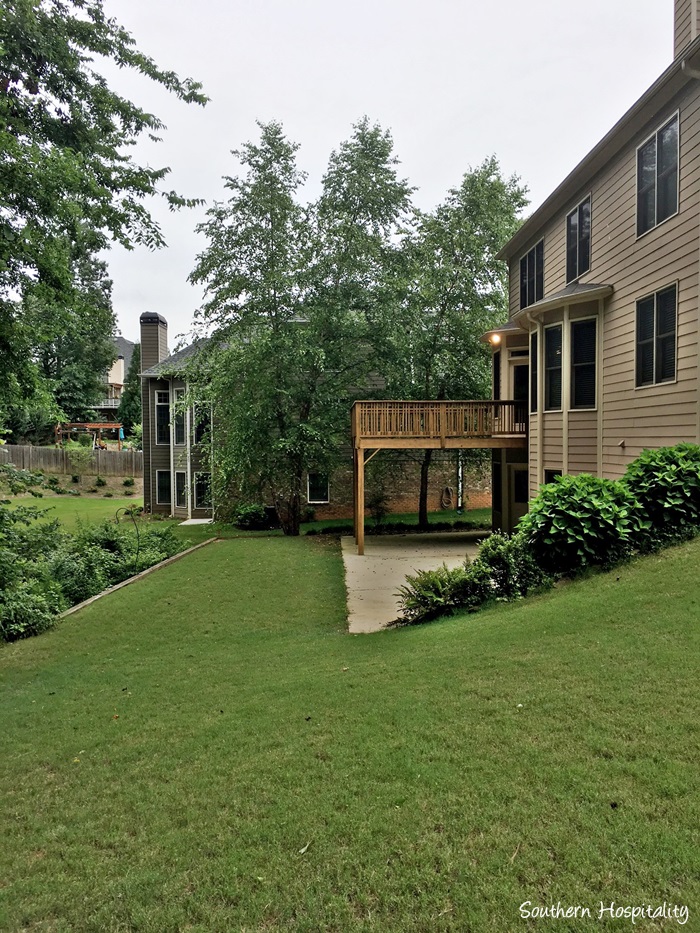 Here's our backyard when we first moved in. It's a nice size and that patio is huge. We started talking about what all we would do to this backyard when we moved in and added furniture to the open patio and also up on the deck, so those spaces are great for entertaining. Notice there were no stairs from the deck down to the yard and we added those right away. The fence went in too, giving us more privacy and a protected yard for Holly.
Here's how it looks now. Our grass doesn't look quite as good probably from having a dog in the backyard, but we'd like to take some of the grass out anyway right there by the deck and make that space prettier and more usable.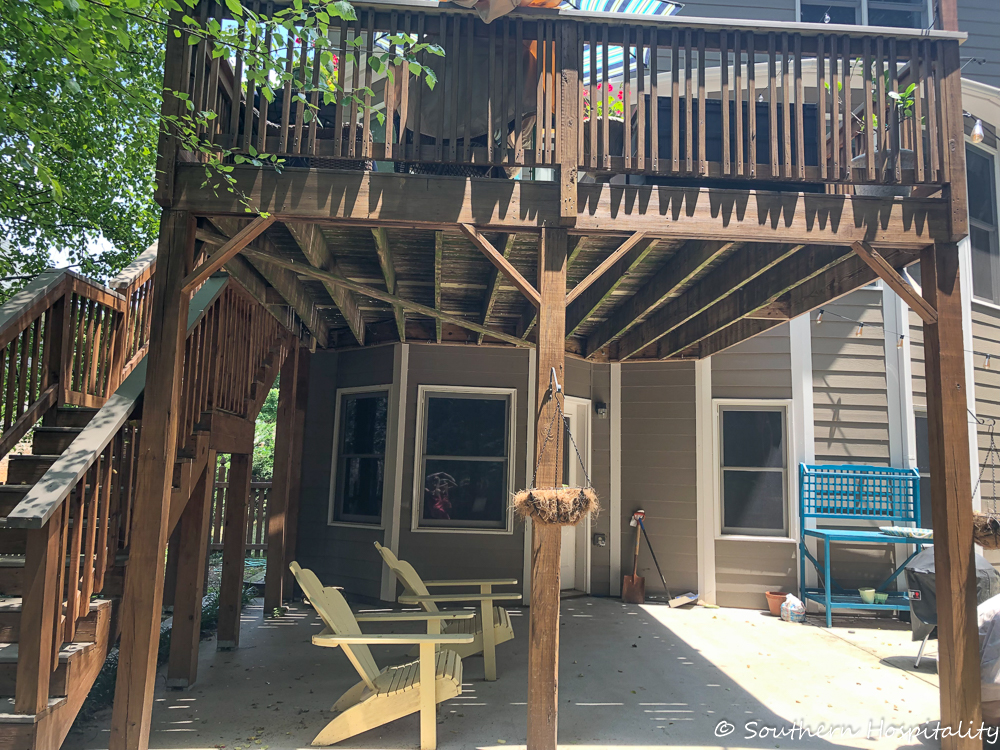 We have just had a ceiling installed on the under deck and that was something that was on the list for awhile now. If you are following me on Instagram, you saw me share the finished project already. I'll do a blog post about that too. We hired a local company to do it, but it was well worth the money.
It's so exciting to see this area get dried in which means we can then make it a screened porch. We had considered a screened porch up on the deck but with our roof line it would have cost a lot of money and we have way too many other projects to devote that much to one project.
Adding stairs was the first step to really enjoying our backyard. Now with the under deck ceiling, it's going to look so good out there.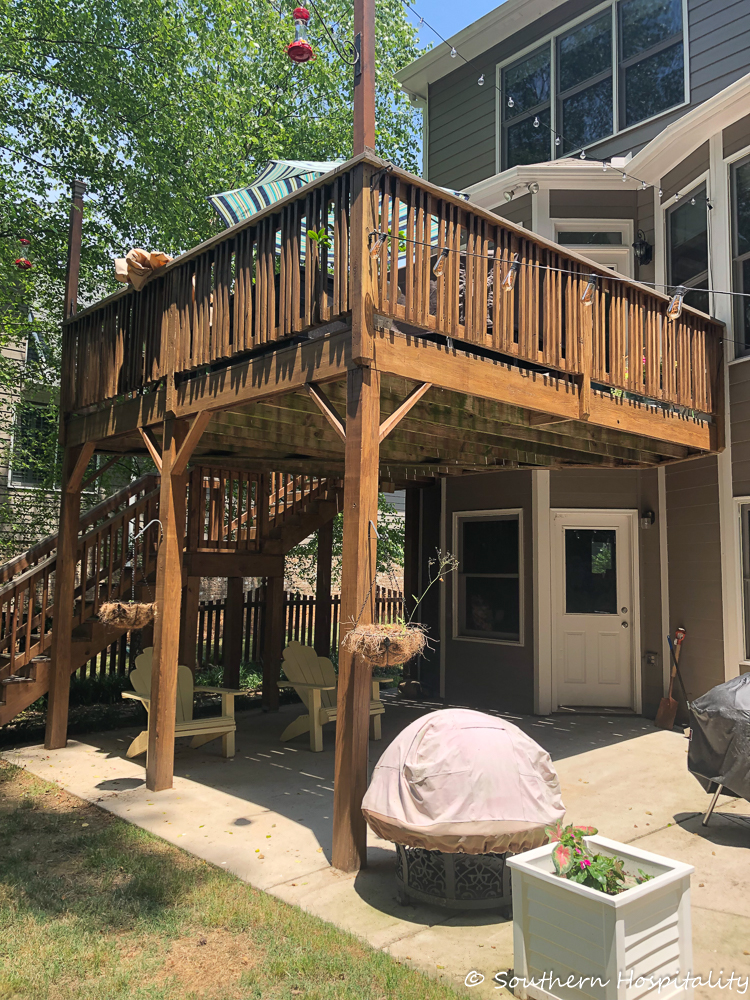 I'll be working with a local Phantom Screens distributor and they will build the remote control screens to perfectly fit our deck space. They will go up and down on two sides, the grass side and the patio side.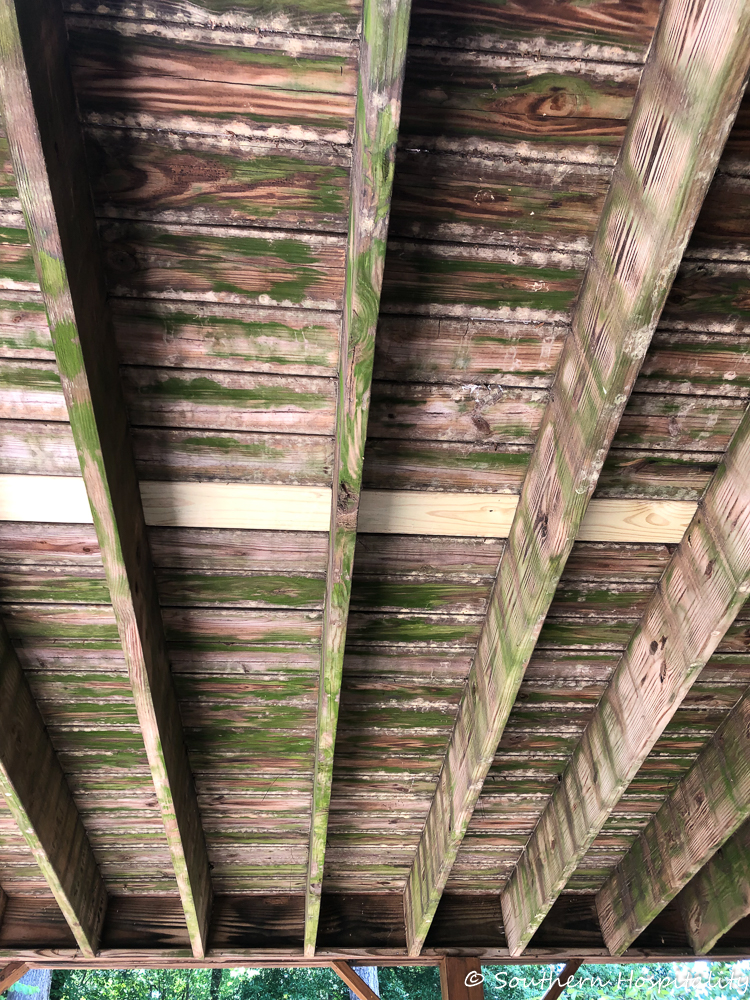 Covering this ceiling and having the water drain from above is going to be a game changer too. I can't wait to use this space which will now be dry and really make it pretty too.
This wall will be framed in and permanent screening will be added to keep out any mosquitoes and bugs. We have some Plantation shutters that are going to go on this wall too and eventually a hanging bed swing will go on this wall. We had screws installed by the ceiling company to hang a bed in the future. So this wall will be mostly shutters and like a regular wall with screening behind it all.
The former owners of our house left a pretty large stash of old Plantation shutters in our basement and we plan to make good use of them for this project.
You can see them hanging on the wall to the left and on the ceiling before we moved in. I'm definitely going to use those babies now!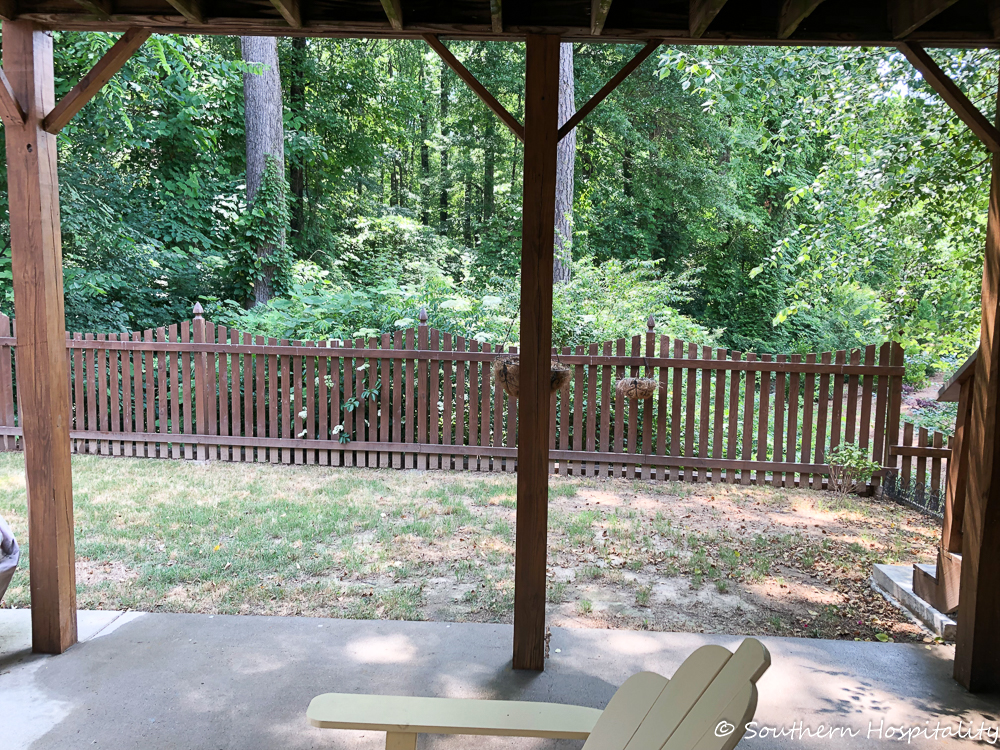 A screened panel from Phantom Screens will go here on this side. I think Mark is going to beef up those columns too and make them bigger if he can after all this goes in. Again, we have a lot to figure out on this project!
On this area looking out to the patio, Mark and I (mostly Mark, he loves when I say "we"!) will have to build a door for the screened porch. We don't have that all figured out yet, but a permanent wall with door will have to come off the house there to the left. The screen door and permanent wall to go outside will be near the basement door. It will stay in place and then the Phantom Screens panel will come down beside it. Again, we don't have that part completely figured out yet, but I'm hoping we'll get some input from the Phantom Screens guy when he comes out to look at and measure our space.
I'm so excited to see this all come to life! We've talked about what we wanted to do out there to really enhance our backyard and an under deck screened porch just made sense. It's cost effective to build under the deck, since that structure is already there and the ceiling is plenty high too.
Here's what I have in mind for the shutter wall. Not sure what color they will be but probably some shade of white.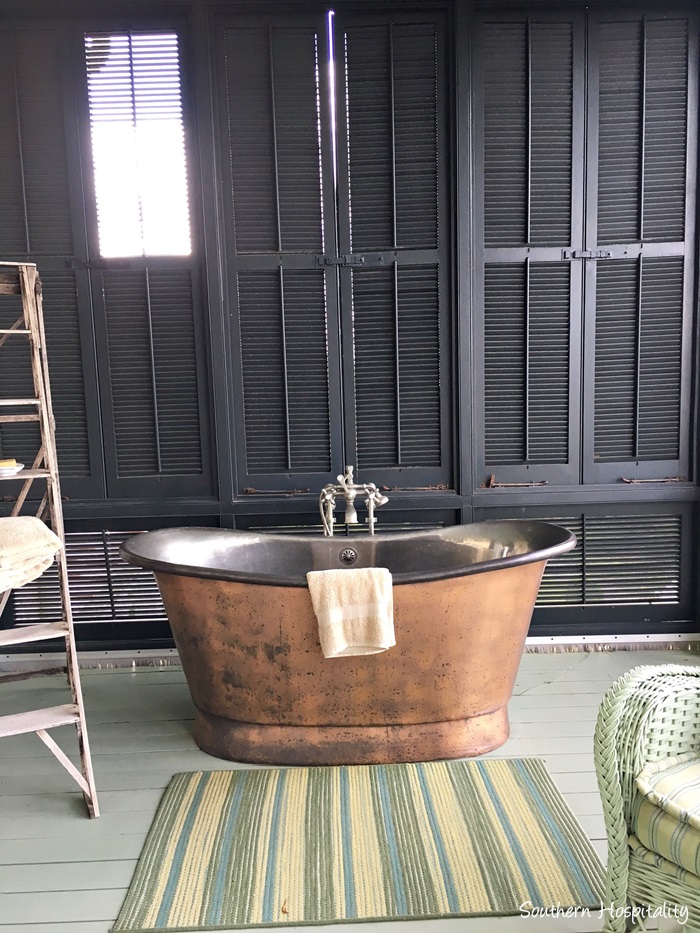 And here are a couple pics I took at Moss Mountain Farm when I visited there 2 years ago. I am in love with these porches and those shutters!
Mark and I have some figuring out to do on the whole space, but getting the aluminum ceiling installed was the first step, then it will be on to the Phantom Screens installation. After that we will get the rest of it finished and ready for outdoor living! Having these Phantom Screens is really going to change the way we live out on the patio. I can see having the screens down for Mark and I to enjoy under the deck and when we have friends and family over and want to use the entire patio, we will raise the screens.
I'm still mulling over ideas on doing something to the patio concrete floor. I was going to tape it off and stain it myself, but I'm not sure I'm up for that, so I'm checking out some other ideas as well as hiring it out, so we'll see what the budget will hold. We would love to do outdoor tile out on the entire patio, but I am not sure that is in the budget. We'll see!
I'm very grateful to be working with Phantom Screens on this project and will definitely keep you posted when we start it! It's going to be an exciting project that will really change our backyard for the better.
Don't Miss a Post, join my list!