Since I shared Moss Mountain farmhouse tour last Friday, I wanted to share Part 2 of the house today. It's definitely worth visiting again. This is a post from 2017.
****************************************************
I'm back today with Part 2 of P. Allen Smith's beautiful Moss Mountain farmhouse.  I don't even have to ask you all if you loved last week's tour, Part 1, do I?  Wasn't it beautiful?  I know you'll love seeing the upper floors today including both porches. Those porches are a sight to behold and I could have just camped out there the whole time.  Those views, oh my!  I hope you're not tired of seeing Moss Mountain farm yet, because I still have one more post to share of the gardens around the house.
Just a reminder, this is a sponsored posts as they provided our travel costs to attend and be part of this very fun event.  We sure enjoyed some delicious meals too, as you saw in the last post about the vegetable garden.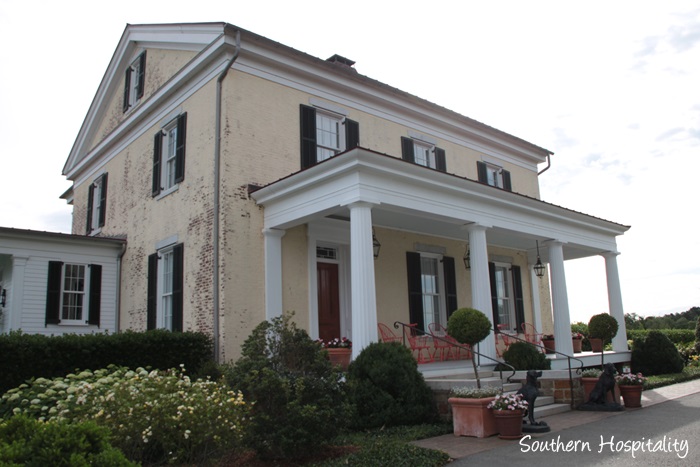 Just a reminder of how gorgeous this 10 year old farmhouse is.  It looks way older than it is and that's a compliment.
The front porch has such a welcome and come on in kind of feel.  Love those doggie statues at the steps.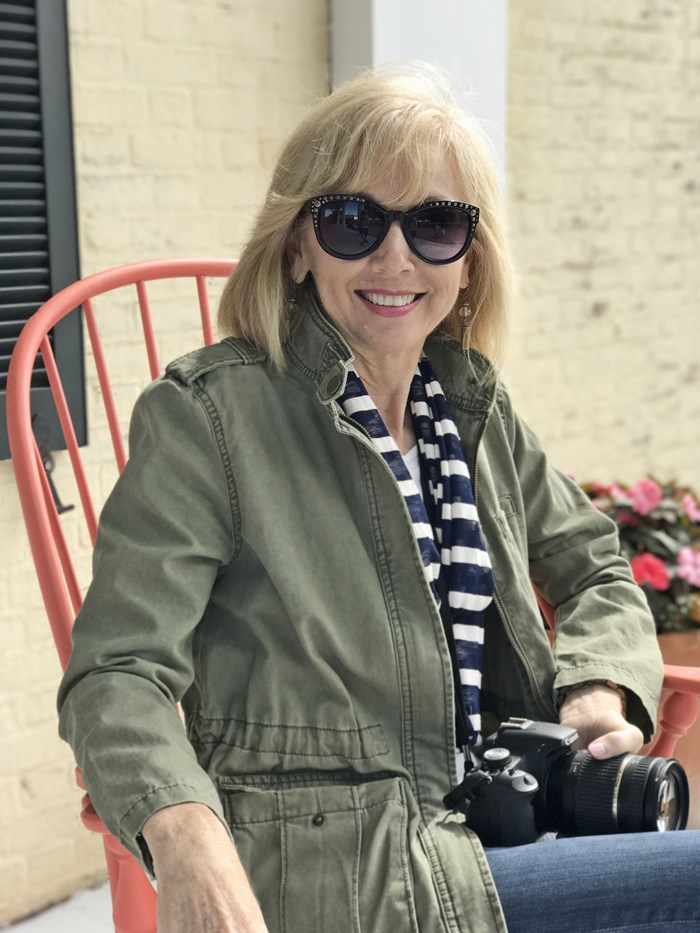 Their photographer captured this shot of me enjoying one of the rocking chairs on the porch.
And I got a shot with Allen before we ended our visit. He is such a nice man and I loved his Southern accent, a gentle drawl that sounded so good to my ears.  Atlanta has become such a melting pot of people that I don't always hear those accents here in my own hometown.
Since I shared the lower floor with you in Part 1, today we're going upstairs to see the rest of the house.  The lower floor also has a huge screened porch off the back so I'll show you that today too, as well as the sleeping porch above it with the copper tub that several of you mentioned before I left.  I was on the lookout for that copper tub and it was adorable!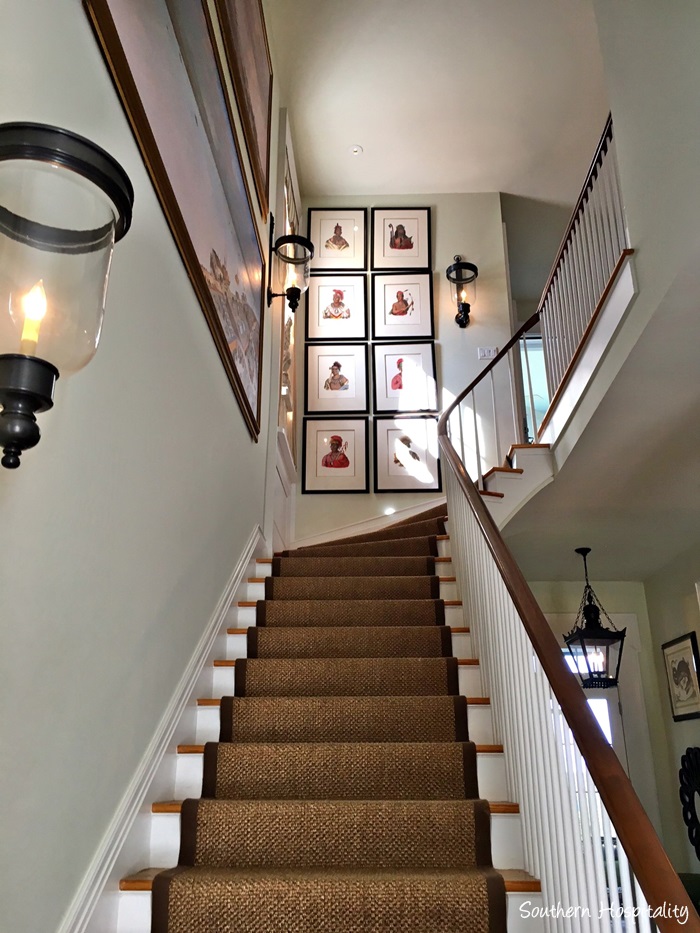 Loved the classic runner on the stairs. And the gallery wall at the top.
A gentle curve of the stairs at the top floor.
Allen was telling us about these huge paintings that he got from an auction. They were a pair and he was happy to get both of them. He mentioned that they are 10′ wide (if I remember right). Now that's some big artwork!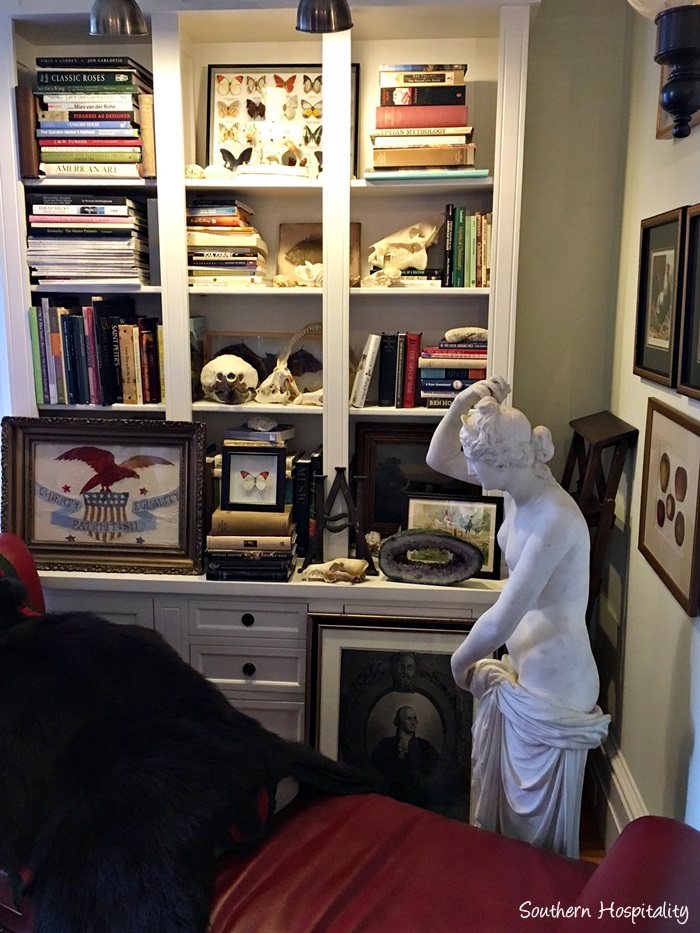 At the top of the stairs is this cute library set up with so many of his books and collectibles.
Round table held so many of his books.
So many interesting collectibles and artifacts.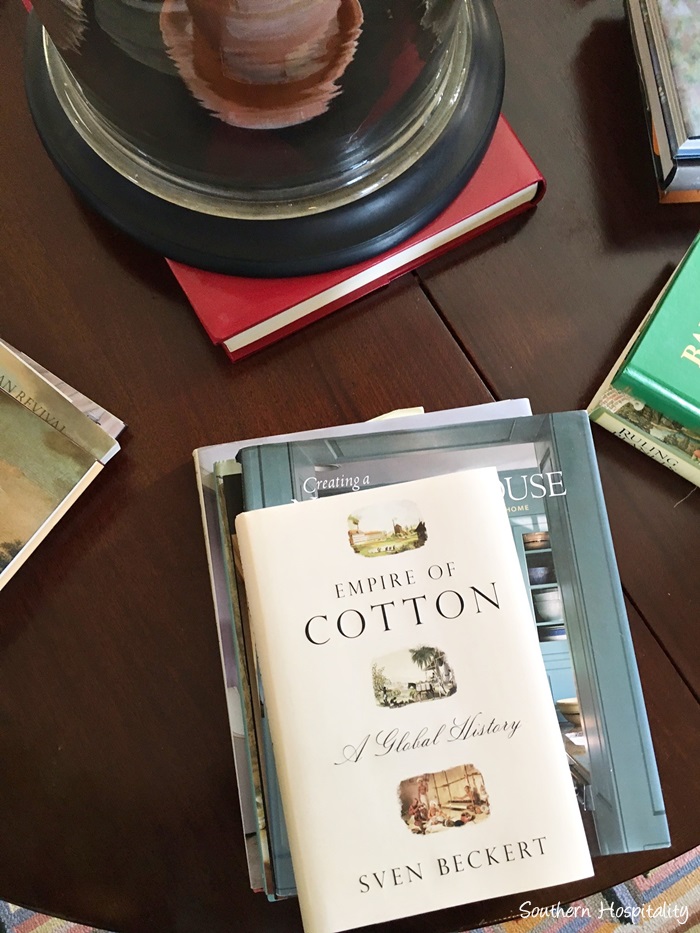 Perfect book for a farm.
Loved this armillary light fixture.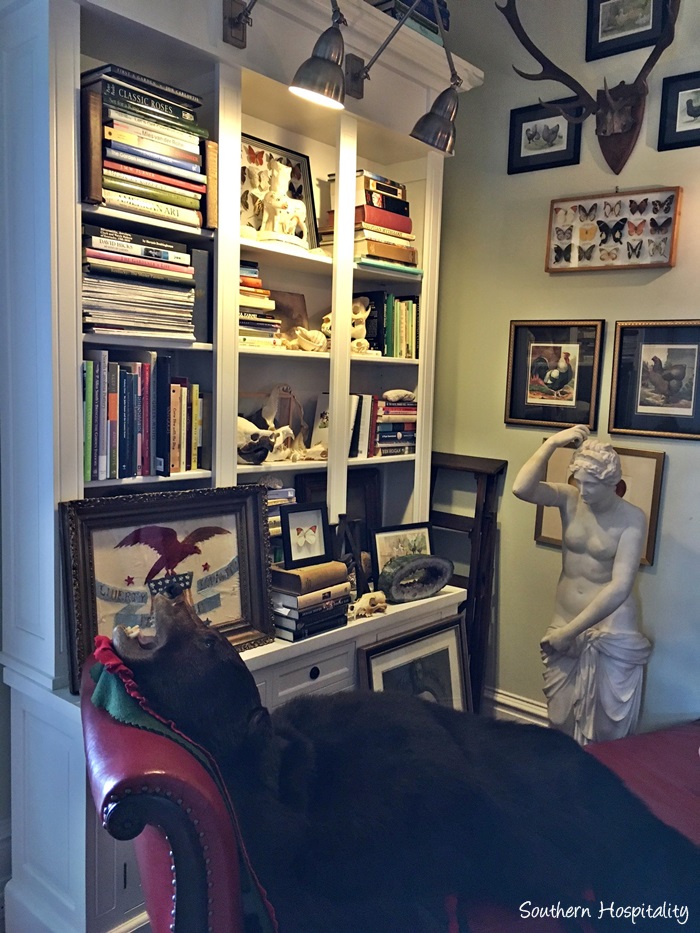 That's a bear skin on the chaise.
Half bath.
Allen's master bedroom, such a pretty room.
We didn't get to see the bathroom, but it's back there.  What a lovely spot by the fireplace.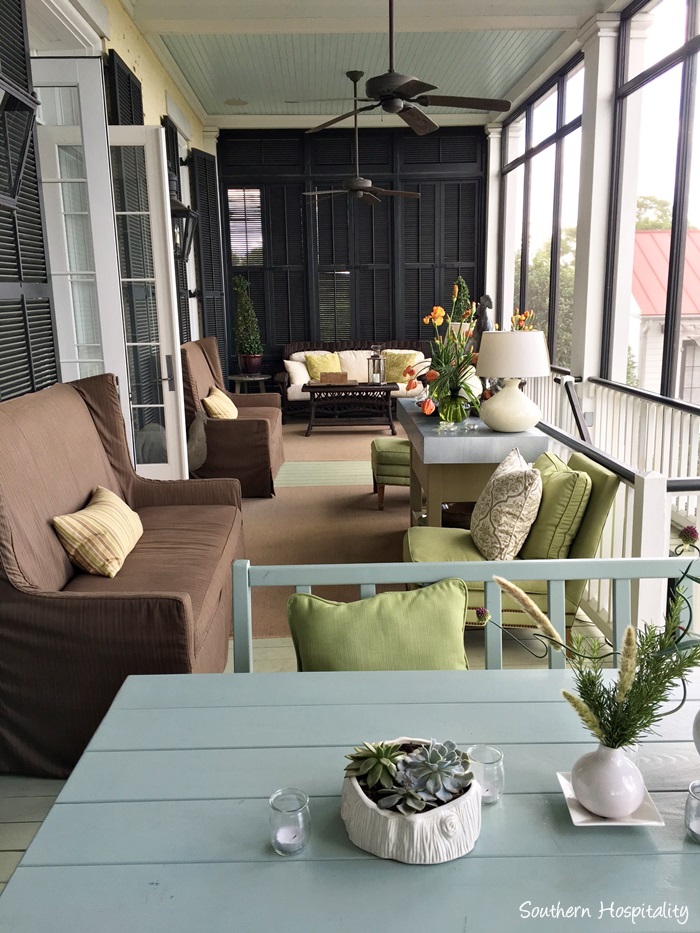 So, now for those screened porches!  I told you they were something else and they are.  I could totally live on these porches, since that's such a favorite spot at my own house.
These are both very spacious.  This one has stairs down to the lower level and lawn.
Loved the shutter touches on either end to block the sun and add such charm.  This table was a neat spot too and of course, lots of plants, one of my touches too!  Got to have plants on a porch.
A view of the river from here.
Vistas beyond the house, those views are amazing. That's one of two outbuildings on the property which I'll share more later too. This one is the summer kitchen.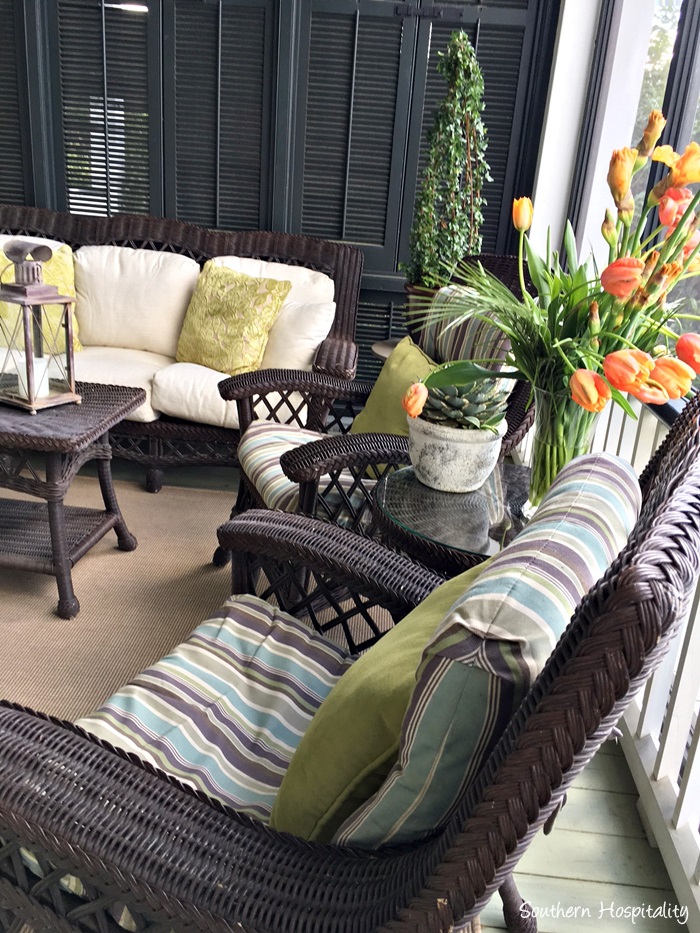 Beautiful wicker seating.
And another shutter wall, which I just adore.
Neat space, isn't it?
Plenty of seating on this spacious lower porch.  Wait til you see the other one!
Of course, it has a haint blue ceiling, it's a Southern porch!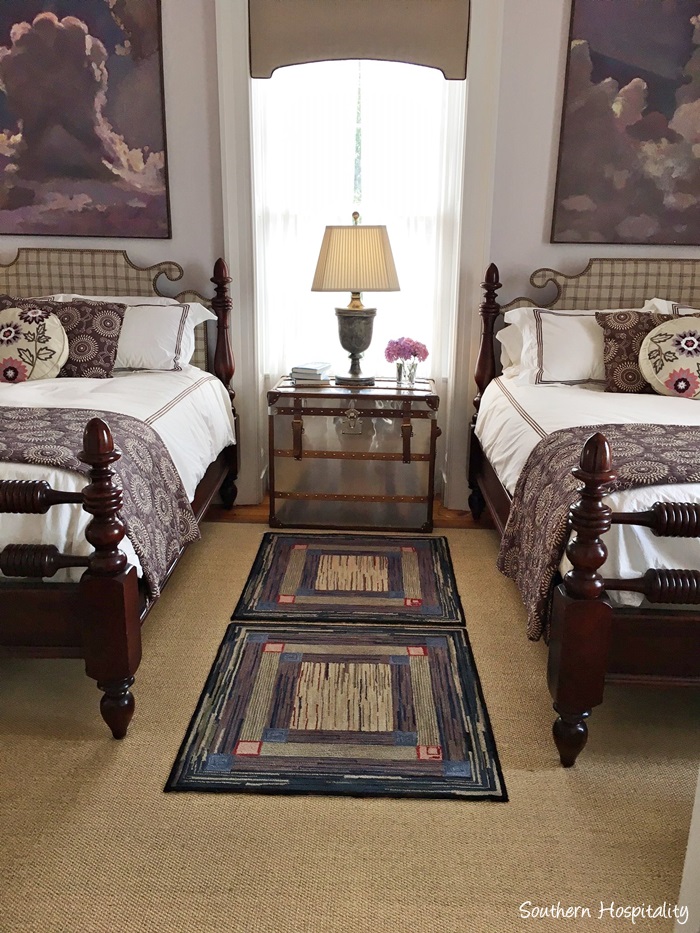 Next, heading to the guest room with these beautiful custom beds with a historical feel.
They aren't old, but I asked Allen about this fabric addition and he had it done, with batting and nailheads. Loved this touch and that plaid fabric.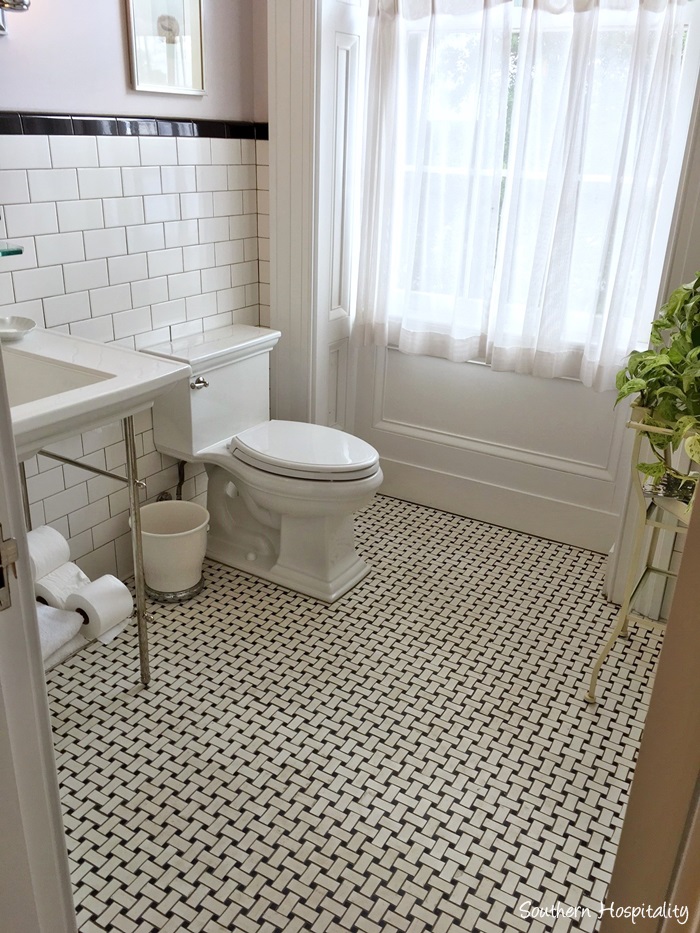 Guest bath with basketweave tile, which of course I love.
Along with an old fashioned sink.
Cute desk inside the door.
Now, let's go up to the top attic floor, where the kids hang out. Apparently Allen's 6 (I think) nieces and nephews love to hang out in this space and I can totally see why.  It's a kid's paradise with its nooks and crannies.
Main seating area with bead board walls.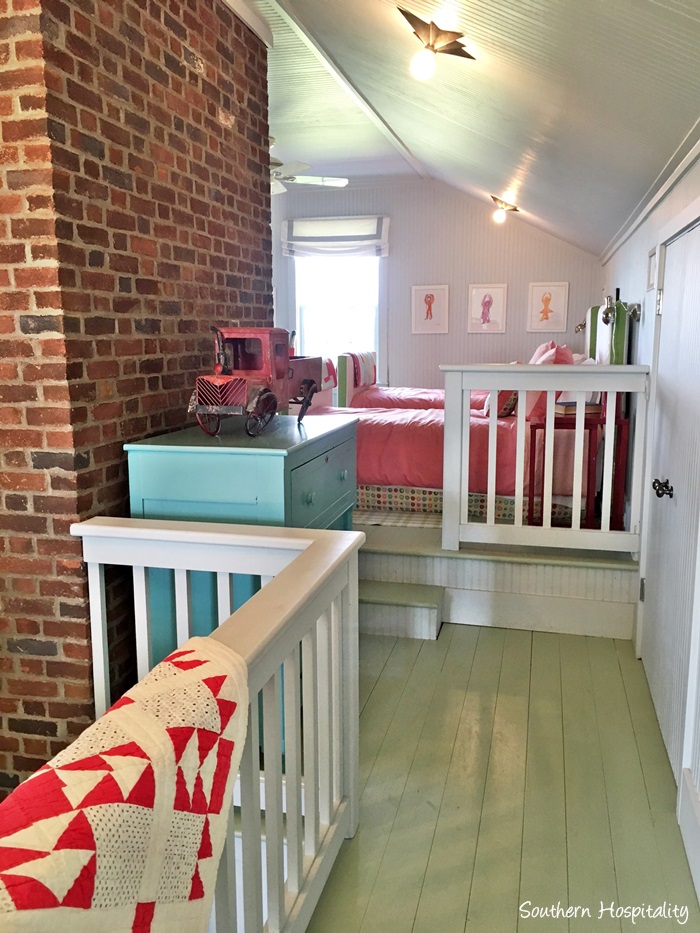 Leads over to 2 twin beds tucked under the eaves.
Twin beds tucked everywhere! Plenty of sleeping room for those kids.
Aren't they so cute?  What kid wouldn't love sleeping up here?
That's one big bear!
Kids bathroom shower tucked away.  All those slanted walls are so charming.
Great idea to put the toilet in the dormer window.
What a fabulous space for kids this is!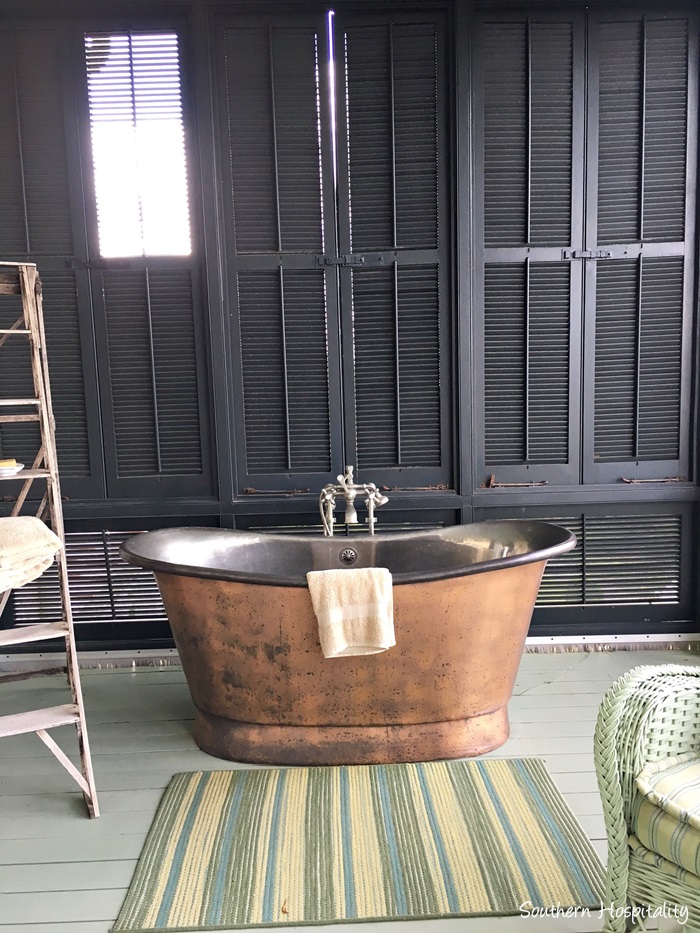 Ahhhh, and here you have the sleeping porch with that famous copper tub.  Isn't it adorable? Looks like it's made just for kids.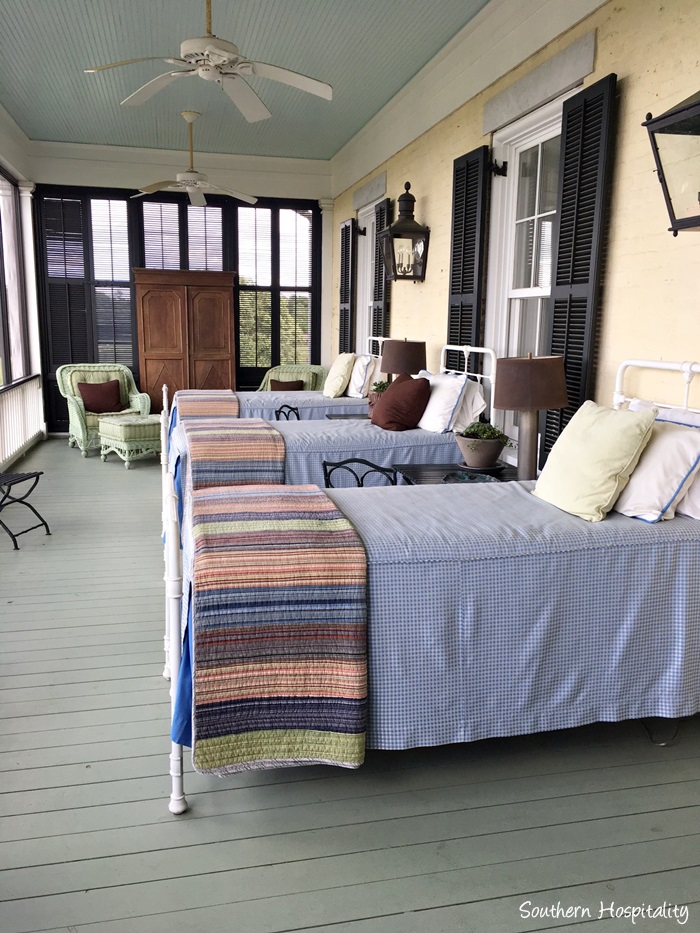 This top sleeping porch houses the 3 twin beds, perfect for a nap for sleepover.  I just love this! Such a Southern thing, those sleeping porches.
Again, with the shutters, love them all.
I can just imagine sleeping up here, the view of the river and vistas.
Loved that haint blue ceiling too.
And that's another end to the day at Moss Mountain farmhouse tour.  I so enjoyed seeing all of this in person and getting to experience Allen's personal house.  It is such a great house and all of us were walking around in awe, especially the 3 of us who are design/decor bloggers.  We were in our element in this house!  I hope you enjoyed it all and again, I have one more post to share from my time at Moss Mountain farm in Little Rock, AR.
Note: This was a sponsored trip by Moss Mountain farms and P. Allen Smith.  There were several bloggers invited and our travel expenses were comped.  It was such a thrill to be a part of this and I'll be sharing much more about the plant and gardening sponsors we met at the farm. They were inspiring as well! 
Don't Miss a Post, join my list!