This week, I'm joining my fellow bHome app blog friends for a Summer Home Tour. We are all sharing our homes for this summer season of enjoyment. Summer is the time we all slow down a bit, get used to the heat all over again, and generally savor these beautiful sunny moments in life.
Entertaining outdoors, going on beach vacations, and spending extra special time with family and friends is part of the summer season.  Hope you'll enjoy touring these pretty homes of my fellow bHome bloggers.  I know you'll be inspired!
Don't miss the giveaway below.  There's a $200 gift certificate to The Painted Fox , which is a great online shop of beautiful decor, that some lucky someone will win!  
I don't do a lot of different things for the seasons inside my home in decorating, but outdoors is where I let summer shine, with the addition of planters and lots of blooming flowers.
If you are new to my blog, welcome!  I hope you'll enjoy the tour and come back again.  I bought my fixer-upper house 3 years ago and you wouldn't believe what it looked like before. This post has all the Before and After pics and it's quite amazing to see the transformation. I'm pretty proud of the progress on this place!
I love a welcoming front door and used a pretty turquoise color to contrast with my gray painted siding.
Summer planters greet my guests and make it feel more festive around here.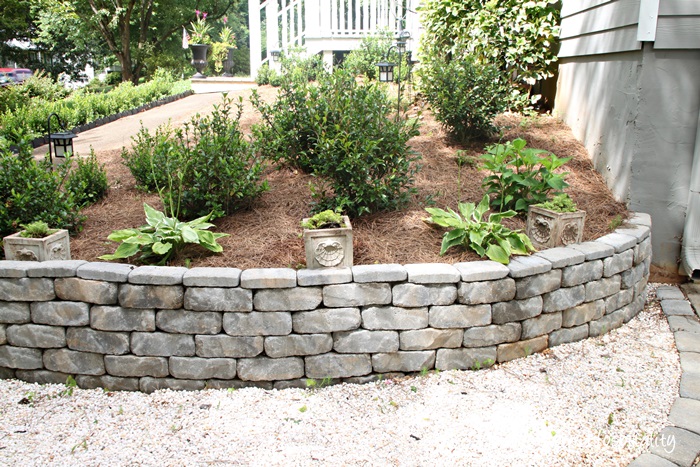 I've got lots of plants planted, from shade loving hosta and hydrangeas to other more heat tolerant plants.  This retaining wall was a DIY project my dad and I did together last fall.
I love bunnies inside and out and gardening objects in general.
Inside, I love to decorate in shades of blues and greens and you'll see lots of that around my house.
I recently did a few updates in my living room and added more green, as well as moved some furniture around. It's a cozy space and much of this furniture I have had for many years.  I love antiques and mixing in modern with traditional style.
The planked mantel was also a DIY project that my dad and I tackled together and I love how it turned out.
It's a collected over time room and I really enjoy it.
I get a lot of emails about my stairs and the runner on them and how they are holding up. After 2 years, they still look just as good as new.  I would do this all over again.
I love repurposing furniture and recently painted this desk, a yardsale find, a vivid grassy green.
Looking into the dining room and kitchen, come on in.
My dining room isn't large, but it holds my table and chairs as well as a sideboard and corner cabinet.  Just big enough for me.
I enjoy collecting white pottery pieces, but don't really have room for more.  These are fun to hunt down at antiques and vintage stores, as well as yardsales.
My kitchen is right next door.
It got a completely overhaul when I bought the house with new Ikea cabinets and new appliances.  Now I love my kitchen!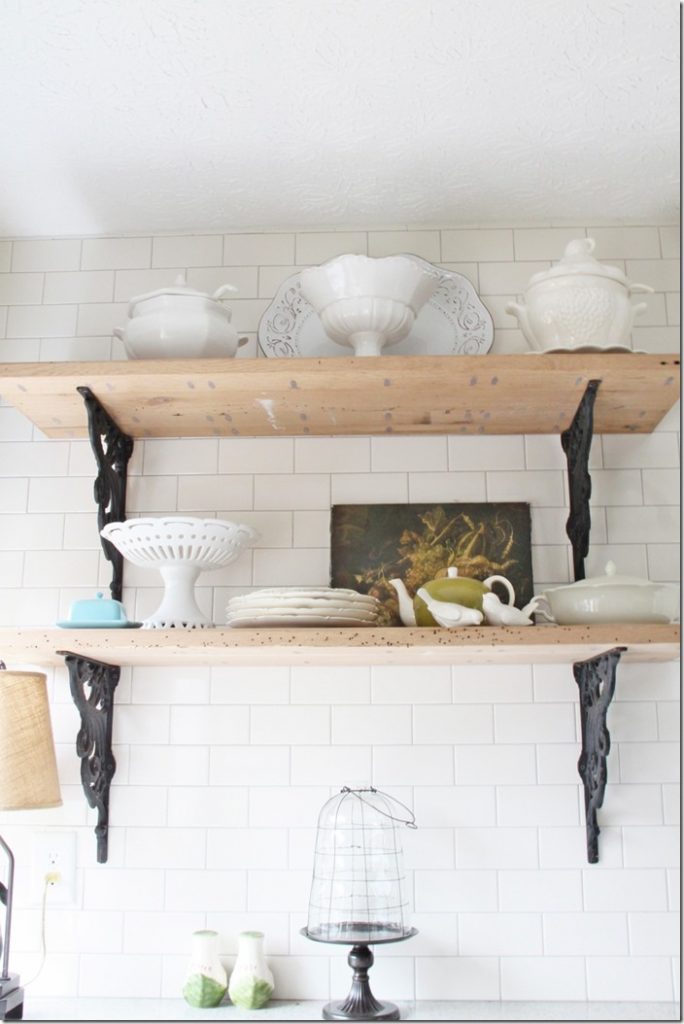 These reclaimed wood shelves are one of my favorite things about the kitchen and that white subway tile makes me happy too.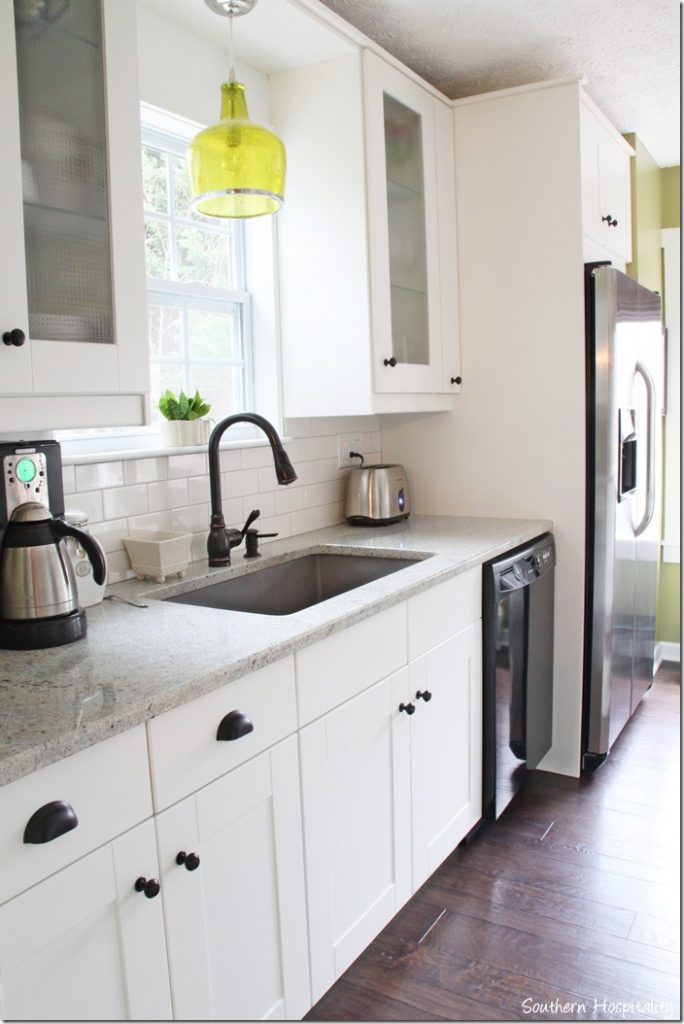 My kitchen isn't that big either, but it's big enough and has some nice work space.
My office space got a few updates this year too, when I lightened up the shelves and bookcase.
I try to stay organized and having a dedicated office helps me do that.
My master bedroom hasn't changed much since I first moved in, but I still love it.
It's my cozy and peaceful space.
With a casual reading nook, it's plenty big enough for me.
Downstairs in the den, I finally got this room completed just recently with the addition of brand new windows and drapes. What a difference all that light makes and the fabric is a wow factor now too.
This whole room is bright and airy now and I love it.
A gallery wall adds interest to the TV wall.
And a cozy reading area helps break up the large room.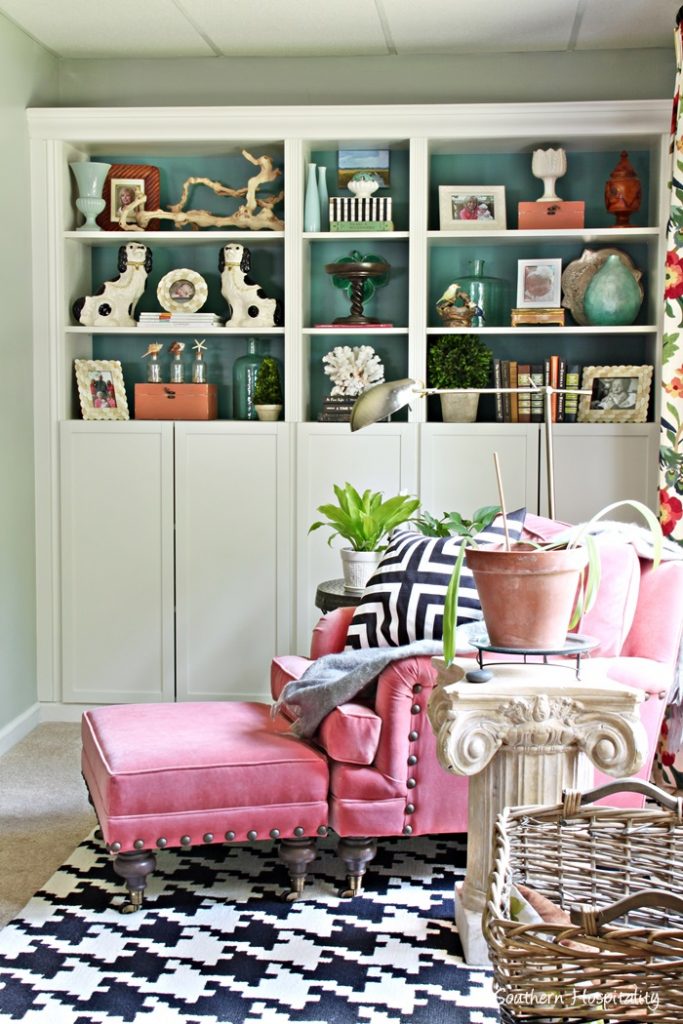 I really had fun decorating this room and am glad to say it is finally done.  It only took 3 years.
My laundry room/mudroom space is one that has really come a long, long ways.  If you look at the before pics, you'll see what I mean.  It was horrible, but I knew that paint would work wonders and it certainly did. Painting stripes on the floor was a great solution to this concrete floor.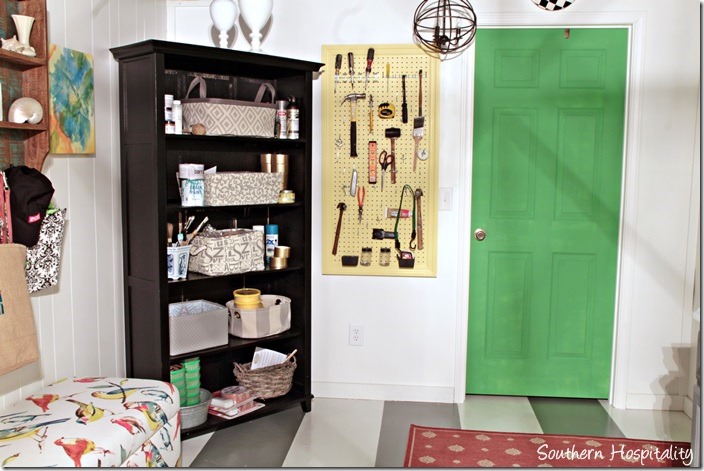 And painting the walls white made it all more open and clean feeling. From drab to fab!
My outdoor spaces are definitely at the top of my favorite list and my screen porch gets a lot of use during the hot months we have here in the South.  I sit out here every day, no matter how hot it gets.
And I eat breakfast at this table most every morning.  Sitting outside makes food taste better, you know?!
I have so enjoyed having a screened porch and don't take it for granted.  That's one of the things I was so excited to see at this house.
Another recent addition, right outside the screened porch is a brand new paver patio. I have had so much fun with this too and I know I'll use it a lot this year.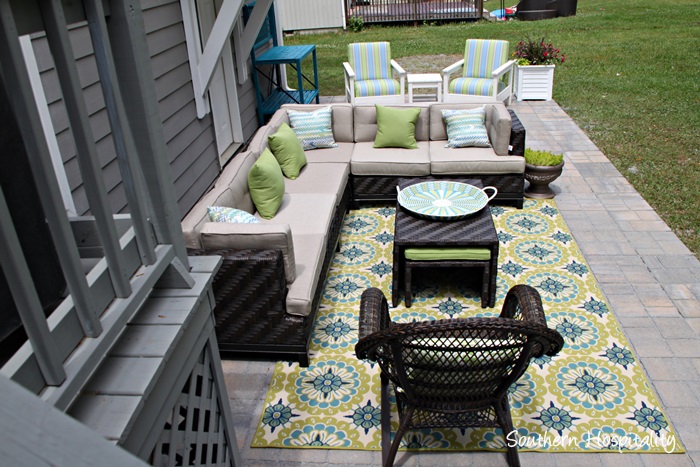 It gets shade after 4 pm every day and with no sun hitting it, I can stand to be out here, reading and/or napping.  Can't wait to do some entertaining out here soon.
Outdoor spaces mean lots of planters and flowers and I love to grow pretty blooms.
They are a nice addition to the patio and make it even cozier.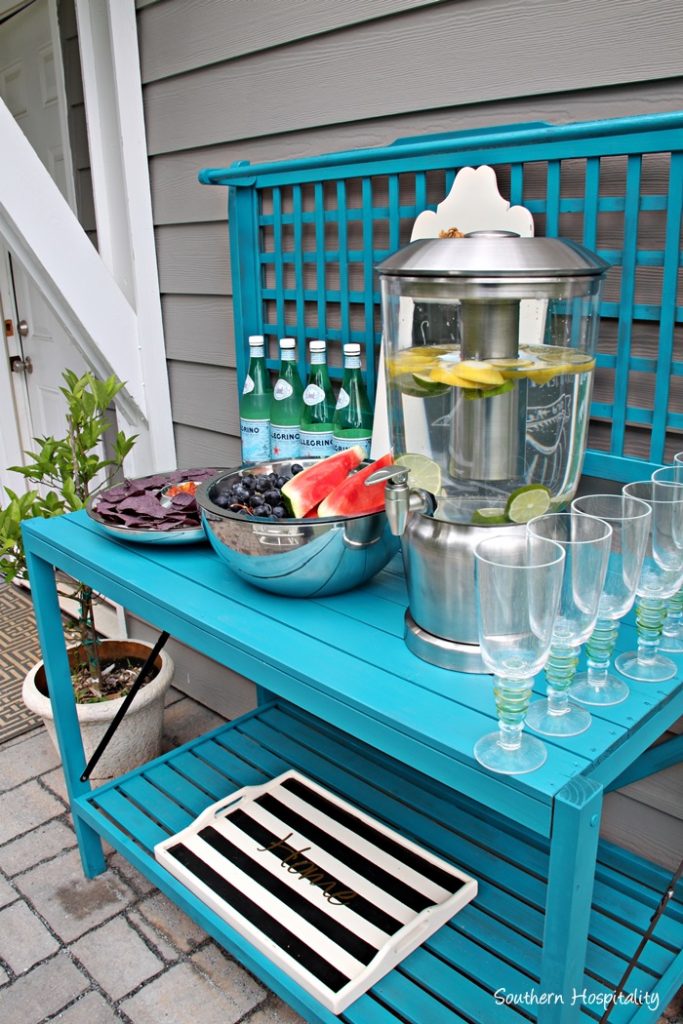 My potting bench will come in handy for parties outdoors.  In fact, we are doing a Father's Day gathering on my patio this Sunday.
SummerTime and the living is easy!  That's what summer is all about!  The food, outdoor activities, sunshine and everything that summer means to you.  Enjoying the outdoors and spending it with those who are important to us is the best part of the season.
Hope you enjoy all the Summer home tours with these other fabulous bloggers and there's also a giveaway.
If you haven't heard of bHome yet, it's a very fun home and garden app with lots of talented bloggers and magazines too.  I'm on there, with a lot of other talented bloggers.  To enter the giveaway, download the bHome app on your iPhone or iPad and leave a comment on my blog with your bHome Username.  That's your chance to win a $200 Painted Fox gift certificate. If you have already downloaded it, just tell us your username. Winner will be notified on bHome on June 20th on the bHome app. Android users: don't worry! We will offer this again when you can download too! 
I hope you'll take the time to visit my other bHome blog friends on the tour with me today.  This is a great group of talented bloggers! 
To view all the other blogs from this week:

Monday
Tuesday
Wednesday
Don't Miss a Post, join my list!