When I left you last week on Cashiers Designer Showhouse Part 1, we still had the top floor to tour, so today I'll be sharing that part. I got some good feedback on the first part, so I hope you enjoy the top floor as well, the bedrooms and bonus room.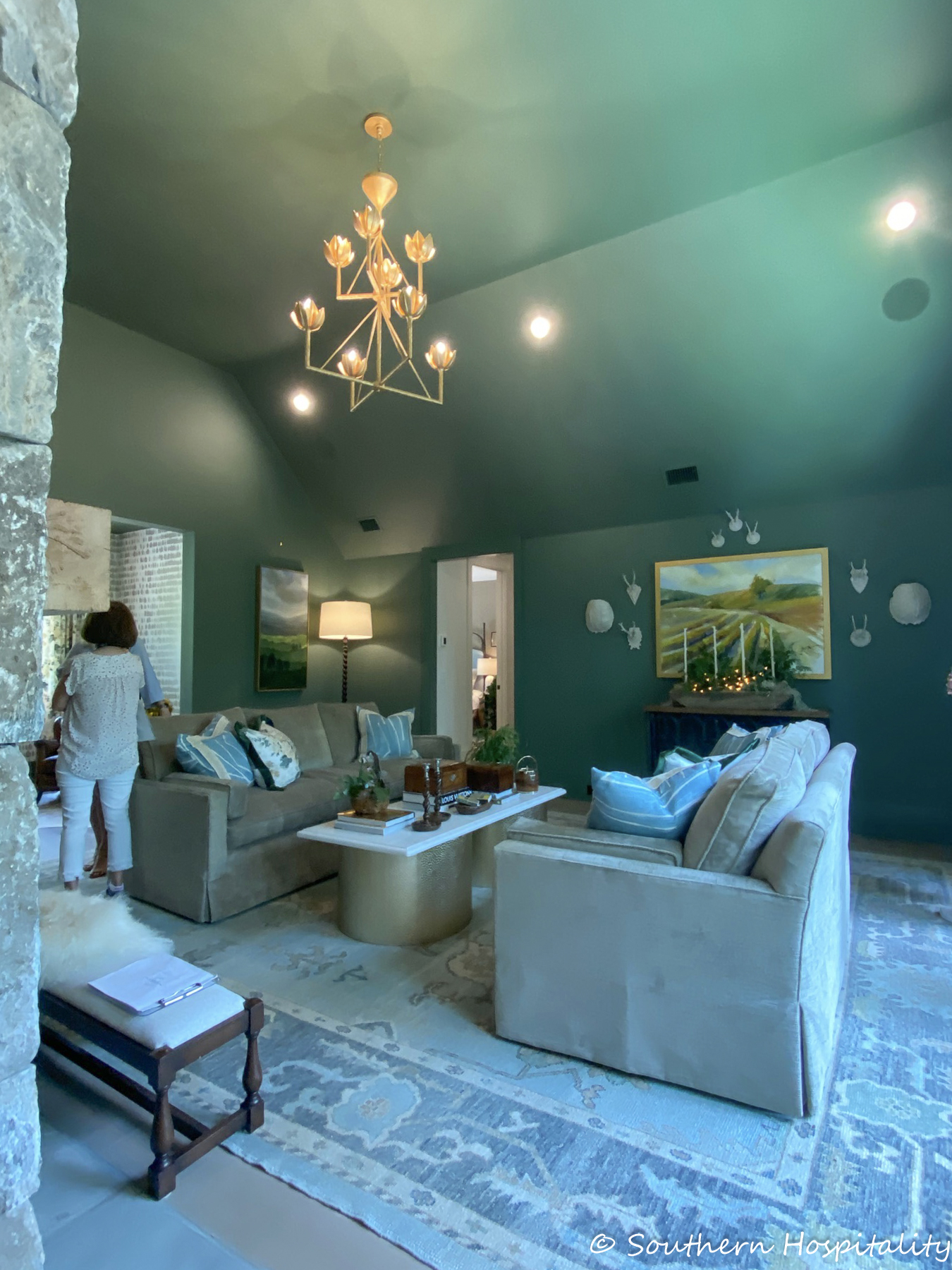 It was hard to capture this space with no people in the photos, so bear with me.
Loft and Lookout space: Melanie Couch & Nancy Dyteski, Spruce Interiors
This space had a tall valuted ceiling, all painted a moody blue/green shade.
Loved the artwork over the fireplace as well as the other art.
Beautiful details on the fabrics. This is
So many traditional details in the accessories that I loved.
This rug was gorgeous!
This gives an idea of the scale of this space, it's huge.
Upstairs Bedroom & Bath 4: Nellie Howard Ossi, Mrs. Howard
Nellie is the daughter of famous designer, Phoebe Howard.
I personally loved this bedroom with all the soft tones, bamboo and rattan textures, and grasscloth wallpaper. A very sumptuous room!
The bathroom was gorgeous as well.
Sweet cafe curtain.
Gorgeous penny tile and subway tile in beautiful shades.
Bedroom &  Bath 3: Lindo Pryor & Lauree Leath White, Atelier Maison
Bedroom & Bath 2: Francie Hargrove, Francie Hargrove Interior Design
Francie is well known in Cashiers and has a shop there, Francie Hargrove,  that I visited one time 11 years ago. It was beautiful.
This beautifully designed feminine bedroom was another personal fave of mine.
And that wraps up the 2022 Cashiers Designer Showhouse. I hope you all enjoyed it as much as I did! It was a gorgeous home all decked out with the latest in kitchen and bath designs as well as colors and textures that are currently popular. I loved it all!
Don't Miss a Post, join my list!