I haven't started decorating for Christmas yet, but I plan on starting very soon and probably this week. We have a project we're working on and I'm trying to get that all cleaned up before I start decorating. But it's fun to look back at past years to see what I did around here. Today I'm looking at my tables for ideas on on how I can change things up and do something a bit different with the mix I have of Christmas decor. 
And a few friends are joining me today too and sharing some of their favorite Christmas decorating ideas, so please be sure and visit them too
A couple of years ago I did this pretty blue and white bowl filled with metallic ornaments and loved this look. The gold and white mixed with the blues is such a regal look for the holidays. 
I love a traditional plaid mixed with transferware, such a classic and elegant look. I get asked about these bamboo flatware and I've got them linked below. 
This was a fun table to set and I'm not positive what I'll do this year, but I'll come up with something I'm sure. 
Golds and blues are always a great combination and they sure look nice with my lamps on the sideboard.
Last year, I did this traditional look with a couple of nutcrackers and added more red in the mix and I loved it too.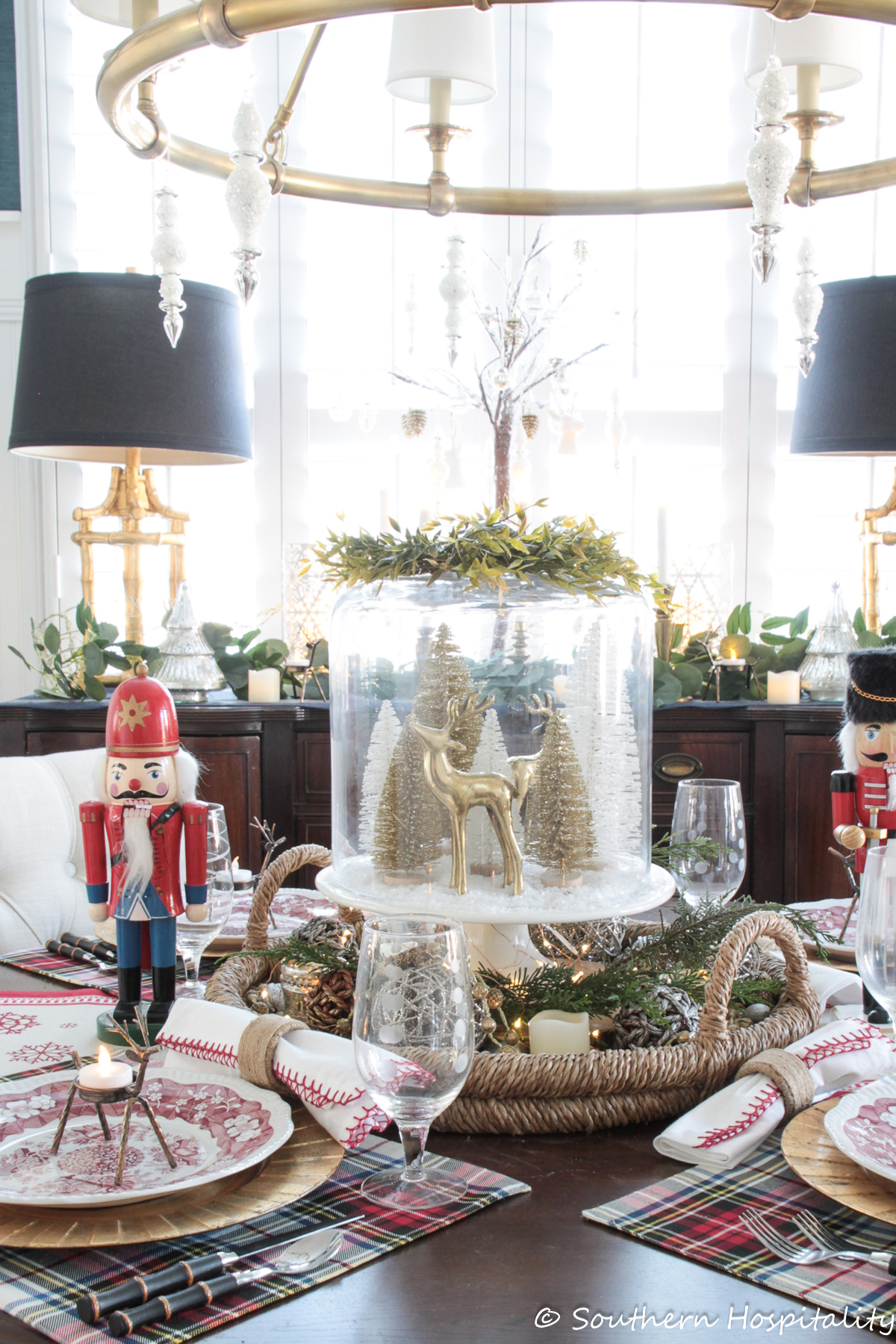 Same plaid placemats, but a different runner and plates. The red and white is another good combo for Christmas. You can put anything under a glass dome and it looks so festive and pretty. Those cute reindeer twig votive holders are from Amazon and I've linked them below too. 
I adore these metal twig deer votives that I found on Amazon a couple years ago. They add such a cute look to the place settings. 
Here are some similar items as you see in my dining room (affiliate links):

This was the first year we moved in our house and I did a simple display with a wreath and gold and white deer along with my blue and white dishes. 
No matter how I decorate the dining room, it will be fun to celebrate again this year. Are you getting in the mood to decorate this year? I think we're all ready to get back to normal and enjoy the holidays with family and friends. I know I am! 
Here are some of the same or similar items that are in my dining room, so check out the widget below (affiliate links): 

Don't miss these friends sharing their homes below. It may give you inspiration for your own Christmas decorating. I know I always look back on what I've done in previous years to figure out what I want to do this year. I try to change things up, but I keep my same tried and true treasures that have been with me for many years. 
Maison de Cinq | Southern Hospitality
Don't Miss a Post, join my list!