Today I'm joining a fun Fall blog hop with a bunch of other bloggers who love color, so if you're a color lover too, you'll love seeing all these colorful homes. I have a lot of blue in our home and thought that this year I'd add the opposite color on the color wheel, orange to make it pop and it really does work that way.
If you're coming over from Lori at Southern Nell's Gracious Living, welcome to you! Lori uses lots of color in her pretty home
I've already share my Fall front porch and this year added traditional Fall colors of orange out here and I really love it. It totally brightens up our front door and says welcome. These Eugenia topiaries were a fun addition this year and I added Fall bows to them to further brighten them up. You can check out the entire Fall front porch on that previous post.
I also shared my Fall mantel on a previous post, but will add it back here.
I'm loving those orange and gold faux leaves that I added this year. And I don't have to clean up messy leaves and can use them again next year. I love real plants and stems, but faux has their place too.
In the living room with all that blue, I added more red/orange eucalyptus faux leaves from Michael's and they really shine in there.
Here are some shopping links for some of the things in my living room and foyer (affiliate links provided):
Just that pop of color makes a big statement in this small space.
They sure bring out the colors in my Chaing Mai fabric pillows too.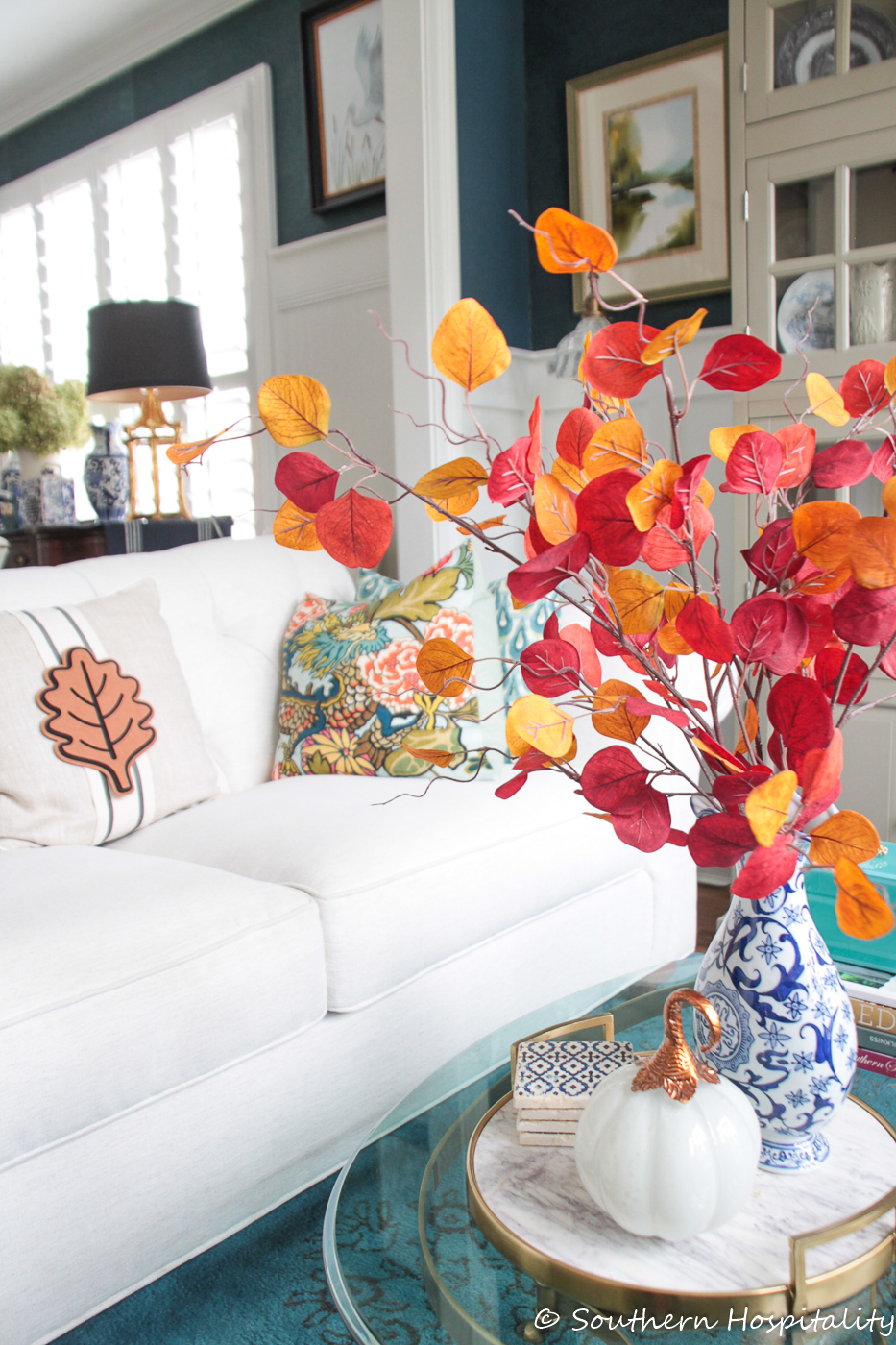 I'm a less is more girl when it comes to Fall, so little touches here and there are what I enjoy most.
Moving on to the foyer table, I always enjoy changing it out for the seasons. That really gets the mood set around here for each new season that comes.
Here's a peek at the dining room table and I'll be sharing more of it next week.
It's fun to add a Fall look there too.
I love layering Fall pieces on this foyer table from Hooker furniture that I bought when we moved in this house. It's my play station and the area that I switch out the most.
This year, I decided to do a mini white pumpkin cloche set up with some faux Fall foliage and my lady head bust which got a new "hair" plant.
I found these faux stems from Michael's and love the colors in this blue bottle.
Mini white pumpkins are so cute enclosed under a glass cloche and I've seen lots of bloggers doing this. I used a small faux mini wreath to add to the cake stand for them to sit on. That Hello Fall sign was gifted from a vendor at Cotton Mill Exchange and I love it here. Just the perfect Fall message. Her name is Melinda Carson at By the C Designs on Facebook.I love it Melinda, thank you!
Mini pumpkins are so cute this time of year.
I don't think I've officially shared this new lamp that I got from Couture Lamps. I met the designer on Instagram and we've been in touch and she gifted me this lamp after I saw it on her website. It's so pretty and I love the statement it makes in here. I don't see this lamp on the website anymore, but my lamps in the dining room that I found at Homegoods are also Couture Lamps designs, so now I have 2 of the designs. Her lamps are beautiful!
I'm still enjoying my lady head planter and her new hair is a creeping fig. So far so good! Thanks for stopping by my Fall home tour today and I hope you'll go on and visit all the other girls on the tour today and the rest of the week. Lots of great Fall inspiration for you.
Next on the tour is my long time friend, Jen with Tatertots and Jello. She always has such a cute colorful home tour, so don't miss it!
And please visit all the bloggers below. Everyone works so hard on their home tours and I know you'll be inspired by all of them.
MONDAY:
TUESDAY:
WEDNESDAY:
FRIDAY:
Join us on Instagram by following #ItsAColorfulLifeTour
Don't Miss a Post, join my list!