Come along with me as I share our Norwegian Cruise Lines cruise! We sailed on a 16 day cruise from Hawaii to Alaska on the NCL Spirit, an older yet beautifully refurbished cruise ship that hosted 1900 passengers with 950 crew members aboard this cruise. Completely renovated in 2020, the Spirit underwent a $100 million refurbishment which shows in the finishes and fixtures throughout the ship. Join me for a look at this older style, yet elegant ship from NCL.
This is only my second cruise with NCL, so I'm not yet a true cruise ship aficionado, but will attempt to share what I know and have learned about cruising with NCL. This is my 5th cruise I've taken and Mark's 3rd, I think. So join us for a look at the cruise ship first and then I'll share the itinerary with you all. It was a beautiful trip and we are really happy that we got to take this trip of a lifetime and see so much beauty.
Today's post will share all about the ship, the Norwegian Spirit. I'll share pictures of the ship, our balcony room, several spaces around the ship and all about the food. This post is geared more towards new cruisers since I'm not as experienced as many long time cruisers are with the topics.
This cruise embarkation began in Honolulu, Hawaii. The cruise schedule was 5 days in Hawaii, 5 days at sea and 5 days in Alaska with one more at sea day to finish out the trip. We flew home from Vancouver, Canada.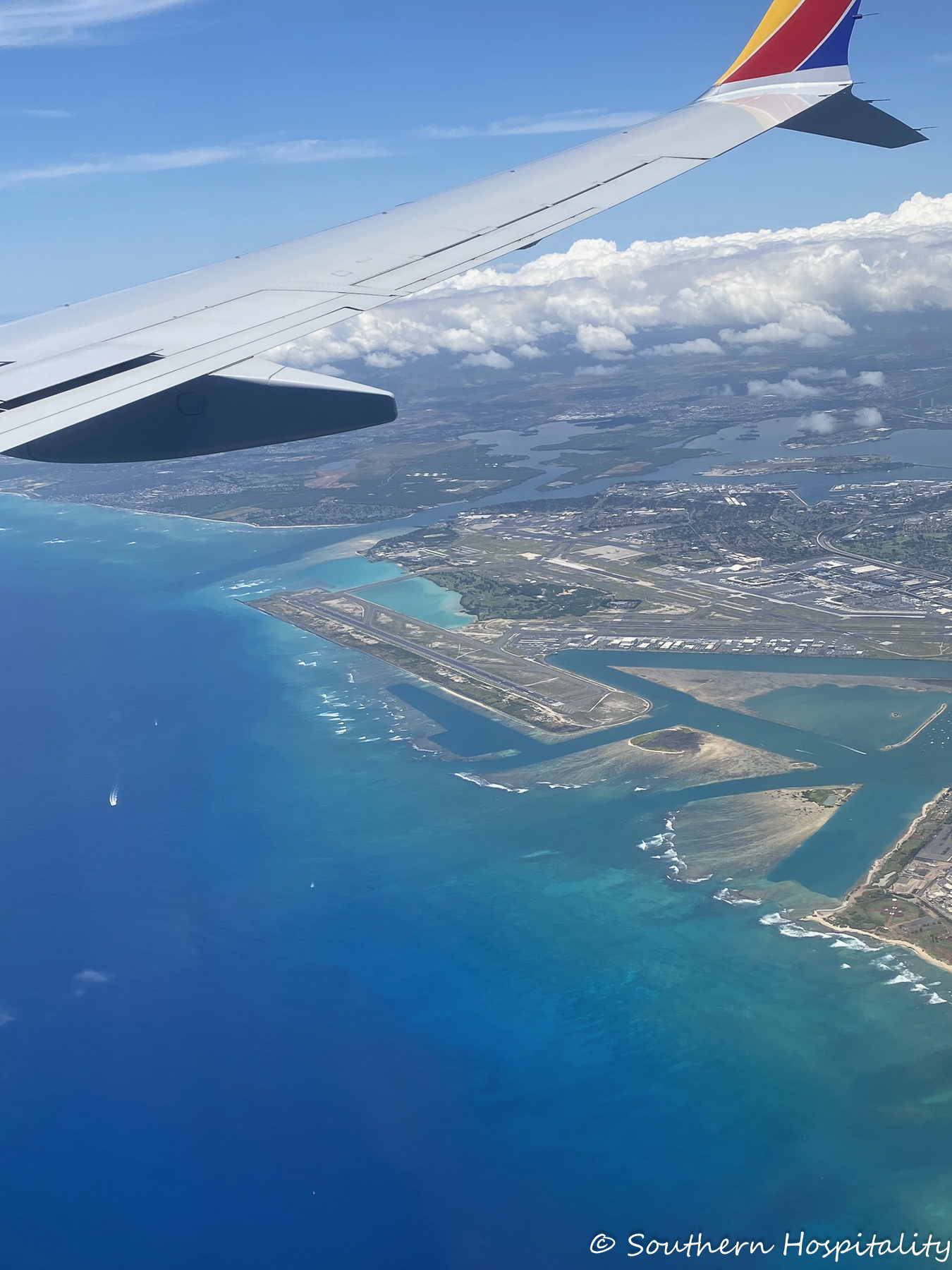 Mark and I planned and booked this cruise in January before the April sailing and decided on the 16 day cruise from Hawaii to Alaska. After mulling it over and comparing costs for a cruise, I came to the conclusion that we might as well pay a little more and do 2 itineraries instead of just one and I'm glad we did it that way. I'll also share the pros and cons of a cruise like this. I had to somewhat talk Mark into doing a cruise this long, but I convinced him (why not, he's retired and I'm semi-retired…this is the time to travel!) and once we had Daisy taken care of with a house/pet sitter, we were on our way.
Cruise travel days are brutal and there's no getting around that fact. It can take hours to get to a far away destination and Honolulu is very far from Atlanta. We had one stop on our flight to change planes and arrived midday to Honolulu. I used a local travel agent to help with our trip and I'm glad I did get the help. They know more than I do about getting the best deals, so I was glad to have the guidance. I used Barbara Linebarger at Delightful Memories Travel/Dream Vacations.
I find it helpful to have a little hand holding on big trips like this. They often know much more about booking and perks than we could ever know. I did some searching myself on some sites like Vacations to Go and directly on the NCL website to check out dates and itineraries to see what was out there and then had the agent give me quotes for each trip.
Booking a cabin:
We knew we wanted a balcony cabin on this cruise. 16 days on a cruise ship is a long time and I don't think we would have had a good experience with any room less than a balcony room. An inside room was out of the question for us on this cruise, but we did talk to 2 other couples who got great deals on an inside room, so if that's something you can handle (they can be claustrophobic), you can save some money on those rooms. We heard a couple of quotes for inside rooms at $999 and $1500 per person, which is a steal for a 16 day cruise. Our balcony room was $7500 for both of us ($3750 per person), not including air. That did include the beverage package and insurance, another pesky cost to worry about. You might not need insurance, but if something happens you sure don't want to lose all that money. We let NCL book our airfare and I think they got a pretty good deal. A trip like this is not inexpensive, but we are happy with the deal we got. Of course, there are add-ons along the way, but not too much more. We did fly in a day early, so an extra hotel night stay was additional.
We did book some excursions before the trip too for Alaska and I'll talk more about that when I do those posts. Of course, excursions add to a trip too cost wise, but when you're on a cruise you have to see some things (that's the point of stopping at ports) and that's an extra cost for a cruise. We ended up booking excursions through our travel agent and not part of NCL and it all turned out fine. We didn't book excursions for Hawaii ahead of time since we were meeting Mark's daughter at 2 out of 4 stops. That all ended up fine too and I'll share what we did later. You just have to be prepared for the little extra charges that creep up on a trip like this, as they are inevitable. Uber fares and airport costs have to be factored in as well.
Flying to the Cruise:
Let's go! As you can see from the above picture, the view out of our Southwest plane was gorgeous! This is our first look at Hawaii and wow, it did not disappoint. There were chickens all over the islands, even at the airport. What a surprise that was!
I booked the Hilton Hawaiian Village for our one night in Honolulu. You will want to fly in a day early to get on a cruise ship, just in case there are travel issues. You never know these days. We flew in on Sunday for a Monday embarkation day. The Hilton in Honolulu sits right on the beach and is a resort all its own, so I'm happy with that choice. It gave us a taste of downtown Honolulu and some spectacular views for our first day in Hawaii.
Our first room didn't work out. It had a beach view, but unfortunately as soon as we walked in we knew the air conditioner wasn't working. I called the front desk and had someone come and look at it and yep, it was broken. They said they could probably get it fixed in a couple of hours but we decided to take their offer of another room with a better view.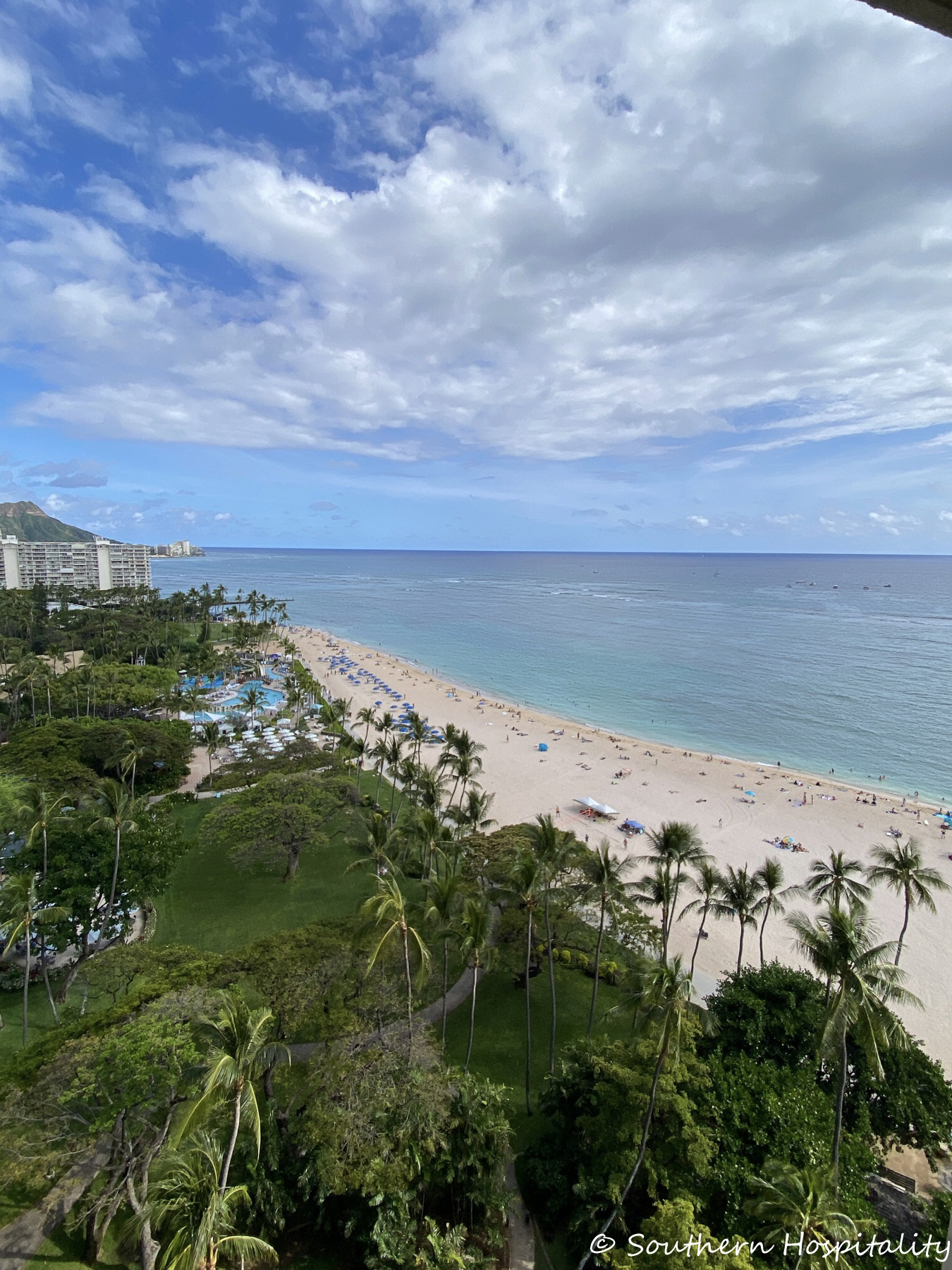 We were then moved to another tower with yes, an even better beach view in a suite this time. We definitely got an upgrade! We were tired and only had one night here, so we didn't try to do anything. Maybe next time we can visit Pearl Harbor, but it was too rushed this time to fit it in.
We ventured out and walked around a bit and the hotel is surrounded by a cute village with lots of shops and restaurants so it was very pleasant to look around. Everywhere we looked, it was beautiful and different. Just look at those trees!
Several people on Instagram told me that they've stayed here before too, so it's a long established hotel and very pretty.
We enjoyed our brief stay in Honolulu, taking in the beautiful sights in this resort hotel.
We found a casual outdoor cafe and had coconut shrimp for dinner that night.
It was a lovely start to our cruise adventure.
After a long and busy travel day, we went to bed fairly early anticipating getting on the ship the next day. We were set to head out before Noon to the cruise port the next morning.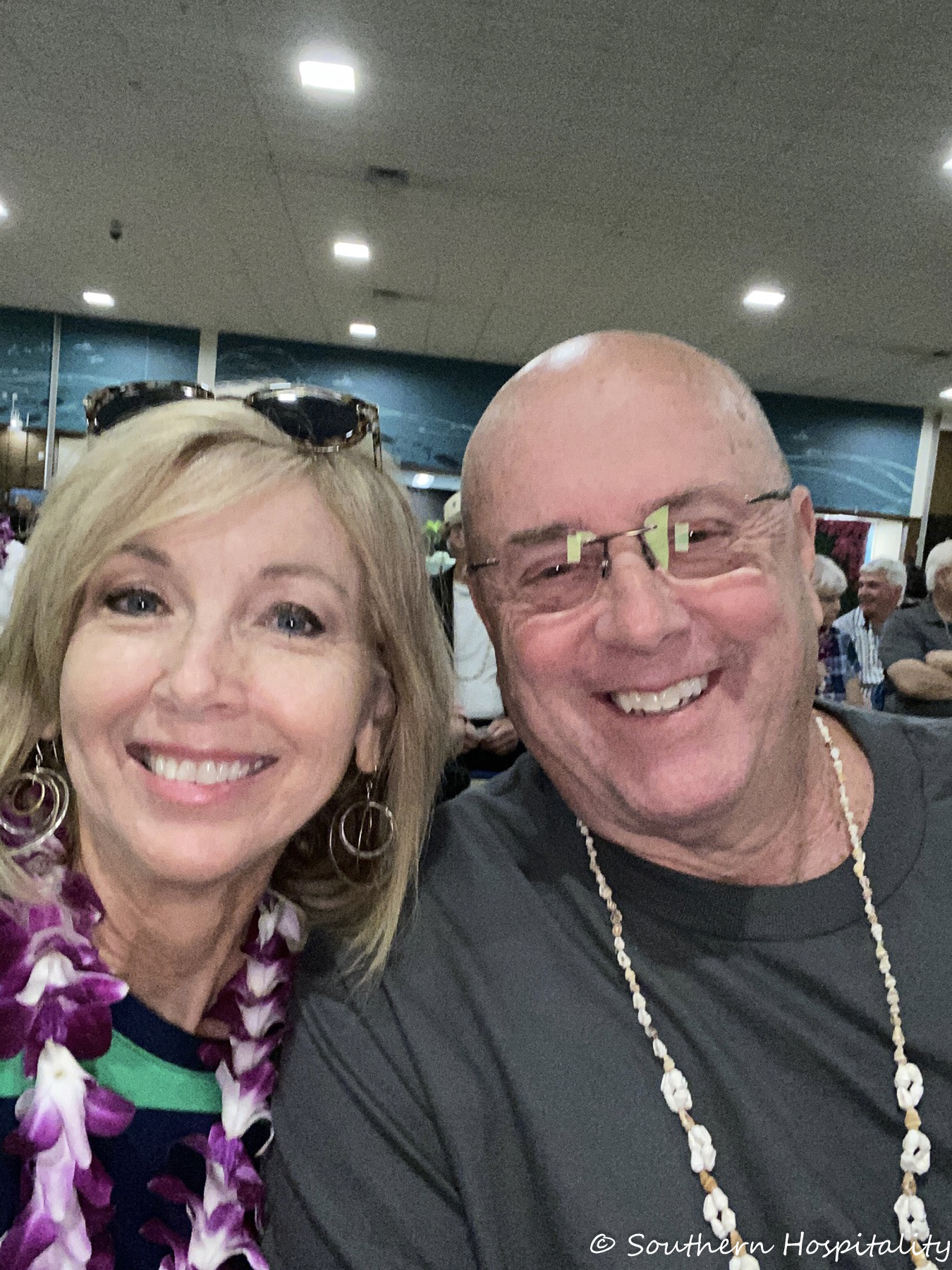 We took an Uber from the hotel to the cruise ship port and made our way through the line and check-in process which was fairly seamless. They really know how to process a lot of people all at once. They called for groups by last name initial and soon we were on our way on board.
The Balcony Cabin:
We had to wait just a bit for our rooms to be ready, so we hung out on the ship and watched others arrive. We also had lunch at the Local, the 24 hour restaurant on the ship. Once in our cabin, we waited for our luggage which arrived later in the day. We unpacked and made ourselves comfortable in our new home away from  home for the next 16 days. We left our Alaska clothes packed in the big suitcase and only unpacked Hawaii clothing for the first week.
Our balcony cabin was very well appointed, not huge but very nice and comfortable.
Everything on the ship has been renovated and updated, so it felt very new.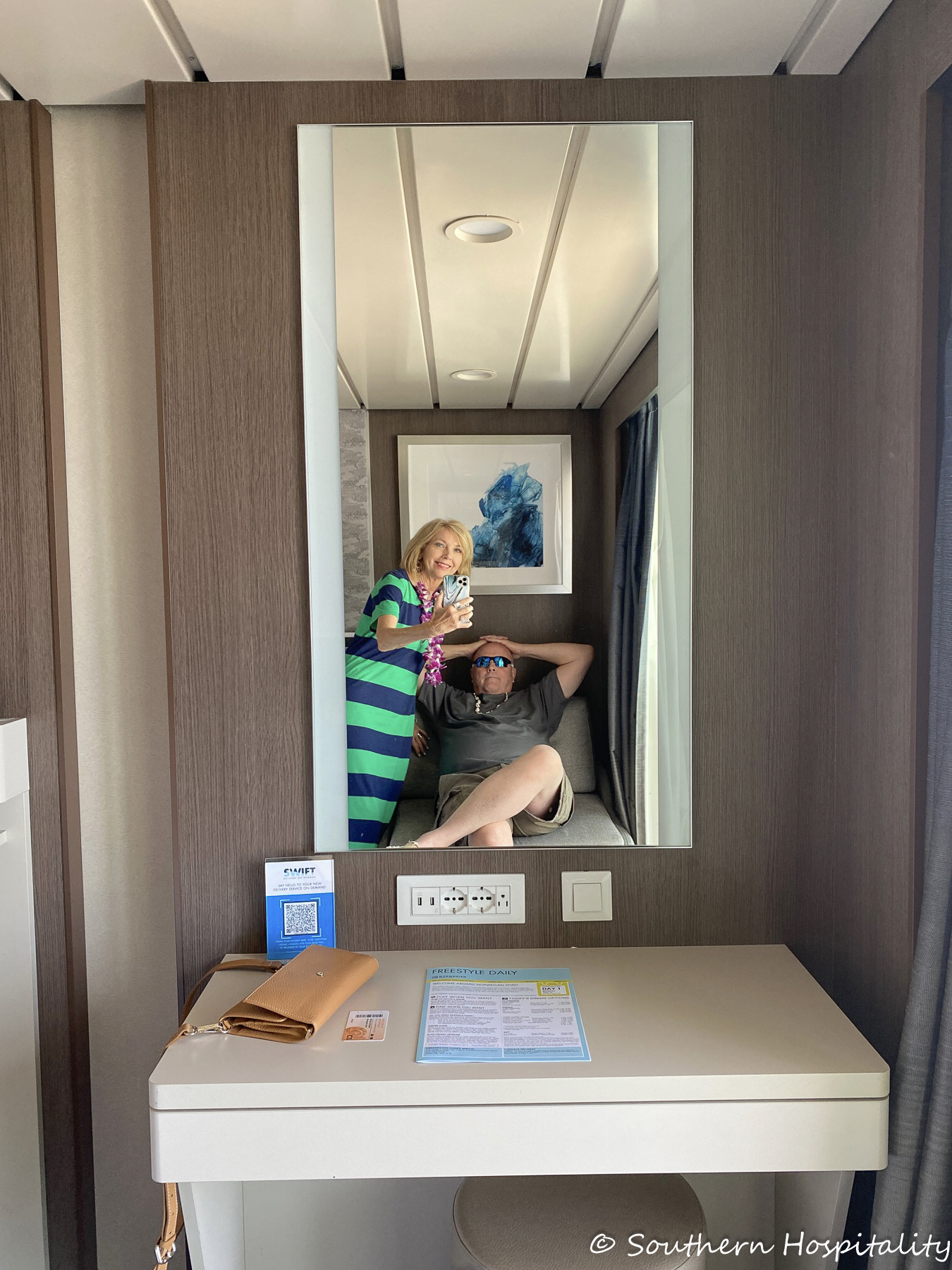 We were happy to be there!
Cruise ship bathrooms are small, but do the job. We quickly acclimated to life on a ship for a couple of weeks and got used to the smaller quarters.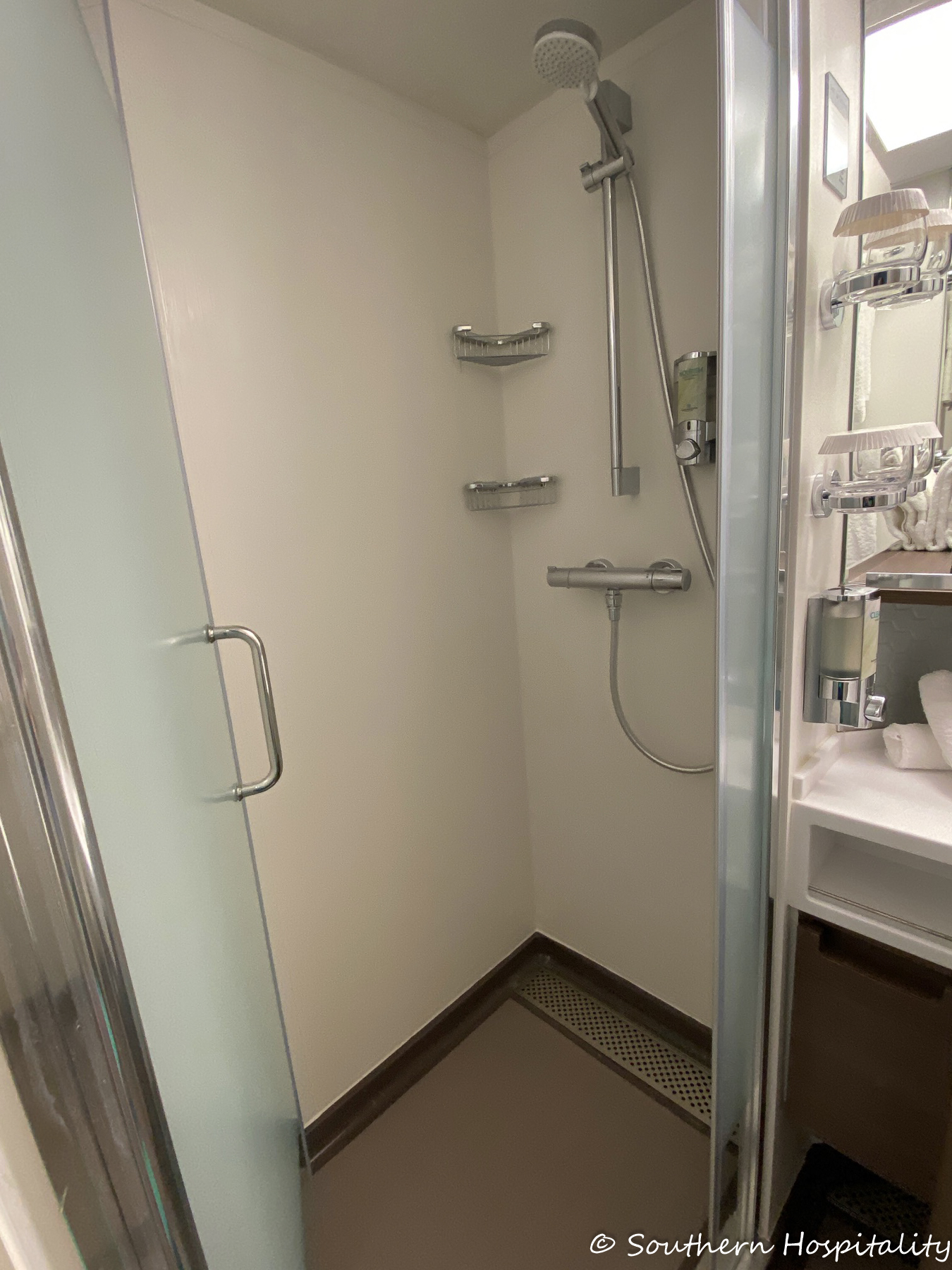 Shower had plenty of hot water and was spacious enough. They provide Conditioning shampoo and body wash in the shower and liquid soap dispensers by the sink. I brought my own shampoo and if you want bar soap, you need to bring that as well.
We were very glad to have a comfy cabin to come back to at the end of the day.
The balcony, although not huge, came in handy for peeking out when we arrived at a new port. It was exciting to come out and see the new scenery at every stop along the way. It started off warm out here and gradually cooled off as we headed to Alaska. What a trip it was!
The Spirit Ship:
As I mentioned, The NCL Spirit is an older ship, but has been completely refurbished with beautiful fabrics, carpets, finishes and fixtures. It doesn't have all the bells and whistles of the new ships, but is an elegant vessel nonetheless. The Atrium is the hub of the ship, where people gather to watch announcements on the big screen, engage in entertainment options during the day and at night, there is live music on the stage in the Atrium. Guest services, restaurant reservations, and shore excursions are found in the Atrium.
With a soaring ceiling, it's a beautiful space.
We took this time to walk around the ship and explore. The largest main dining room is Windows with those gorgeous windows overlooking the water, so we ate here most every night.
We had the pleasure of sitting by the windows several times during our cruise. It was open for breakfast, some lunch days, and nightly dinner. We'll get to the food in a minute.
Mark bought some new linen clothes for the cruise and I had fun matching our outfits. If you missed his linens from Amazon, go over to my packing for a cruise post for all those links. He found some nice things to take and they all looked great on him. This gives you an idea of how spacious the dining room is.
A Note About Dressing:
NCL has what they call Freestyle cruising which means, you eat when you want, where you want and there's no set schedule or sitting with other people unless you want to. You can arrange to sit with other people as much as you want, but there's no obligation to do so. The dress code is very casual so you don't have to dress up. There are no formal nights or dressy nights either. Mark and I opted to dress up for dinner most nights, but by the end of the cruise we were going more casual for dinner. The only requirement in the main dining room, Windows and Le Bistro, at night after 5:00 pm, men are asked to wear collared shirts, pants or nice jeans, closed toed shoes. Women can wear slacks, jeans, dresses, skirts and tops. No shorts. So that's about the only stipulation on dress code they have, which is easy to abide by. We had fun dressing up a little at night for dinner.
The ship also has a casino, which is not our thing, but it seemed to be a hot spot for many.
We walked through this space when we got there, but didn't visit it again and I think it was part of the casino.
We learned our way around the ship in a few days, although it took awhile to get used to all the elevator locations and where everything was located based on forward and aft of the ship.
There's a small social club, which was mainly used for group gatherings. The Stardust theater was the main nightly entertainment venue.
There are several specialty dining options on board and we fortunately with our package got to try our 3 of them. We opted for Le Bistro, the French inspired cuisine, Cagney's Steak House, and Onda, the Italian offering. We enjoyed all 3 of them! They do cost extra if you don't opt for the package that includes them.. We bought the Free at Sea which includes unlimited open bar package, specialty dining meals,  some WiFi minutes (I had to be careful  of that), a $50 credit on shore excursions and I heard there is bottled water added now, although we did not get water offered to us. I would definitely check on this if I do another NCL cruise. I took a water bottle and filled it in the buffet dining room from the water dispenser. Just be aware that it says no water bottles can be filled on the water dispenser in the Garden Cafe, but I found out you can use a clean glass that they have there and fill it with a glass, so that's what I did. There's a lot to learn about all the ins and outs of a cruise purchase and what all is included.
Henry's Pub was a cute space with live music every night. We listened to a talented guitarist, Diego, in this space.
We found The Spinnaker lounge the first day and I knew it would be a fun space to hang out it and it was!
These coveted spots at the front of the ship were a popular spot for watching the water and scenery outside. Plus it was a comfy space to read a book or listen to music. The wait staff made the rounds taking drink orders and Spinnaker was a busy place, utilized morning and evening.
We really used this space during the 5 days at sea. I took a book to read and Mark listened to his music, so it was a super comfy space to chill. At night it was rocking with entertainment and live music.
We made ourselves at home pretty fast and got ready to leave the port that evening.
The Spice H2O space is adults only pool and was really nice. We ended up not utilizing the pool as much as I had hoped, since we had shore excursions every day in Hawaii when it was warm and then when we headed to 5 days at sea, the days became cooler. We did sit outside as often as we could soaking in the sunshine when it was warm. I saw a lot of people in the hot tubs and the pool, so many people took advantage of that.
Up on the 13th deck, the top deck, there's the Promenade for walking. We walked up there a couple of times for exercise and I made it to the gym only once. Vacation gets you in a relaxing mode and I took full advantage of that. This upper deck really came in handy when we visited Glacier Bay national park in Alaska. The views here were outstanding and I'll share those later.
One of our favorite outdoor spaces was on this 13th deck in the Biergarten area. There were plenty of lounge spaces to enjoy with comfy cushions  (which they had removed here due to high winds when we were at sea). We had a nice time sitting up here in the sunshine before that. We met the nicest couple our 2nd day of excursions in Hawaii. Samantha and Rob were from Canada and we ended up catching a taxi with them and seeing the sights together that day. We ran into them constantly and had dinner a few times and hung out several times up here. We so enjoyed meeting them and the conversations we had were fun. It was nice to have another couple to interact with. They were over 10 years younger than we were, so it was good to hear their impressions of the cruise too.
We heard the average age on the cruise was 68 and judging from the walkers, electric scooters and canes, we thought it might be even older than that, but that age is right between me and Mark, so the cruise was definitely a lot of Baby Boomers like us. I do admire people who just go and travel and don't let physical infirmities get in the way. That's what we have to do to live life to the fullest and I plan to do the same. There were maybe 4 kids on board, so the cruise was definitely an older crowd. There were more than 30 different countries represented on board as well, so a varied group of people. We enjoyed conversations with a few people, but we're not those people who have to have a crowd of people to hang out with. We were fine just being by ourselves, doing our own thing. We also don't have to do all the activities and did what we wanted as we felt like it.
A cruise ship offers so many activities each day and you can take advantage of all of them or do none of them. We didn't do many of the activities like bingo, trivia, various games and seminars, but we did most of the nightly shows in the theater at night. It was fun to go to an early dinner and catch the 7:00 pm show. I was more interested in the nightly shows than Mark was, so if he didn't want to go, I would go by myself and then go back and meet him.We would listen to live music after the show before heading to bed. It took us a few days to get our bodies on the new time schedule and we were so tired those first few nights. We stayed up a little later as the trip went on, but we aren't nightowls anymore, closing down the dance floor or any of that. We went back to our cabin by 9 or 10 most nights.
We sat out here on these comfy lounge chairs to watch Honolulu as we left port and headed on the cruise.
It was a beautiful sight.
Our overall impression and experience on this cruise was very favorable and enjoyable. We were so happy we did this cruise and got to see parts of Hawaii and Alaska, two states we've never been to before. I know we only scratched the surface of both, but now we can say we've been there. A cruise gives you the opportunity to see a bit of each port and then you can decide where you might want to go back for a longer visit. We decided we will probably go back to Hawaii for sure, especially since Mark's oldest daughter, Lyndsey and her family live there. It was a treat to see them for 2 of our Hawaii stops and we had a great time seeing some beautiful sights. I'll share more of that later.
Cruise Food:
Cruise food is a big topic and that's one of the main draws of taking a cruise. I am a big fan of cruising and my first cruise was back in the early 80's when I was single and young. I went with girlfriends and we had a great time. That was my first time cruising and it was many years later when I would take another cruise. In fact, the other NCL cruise I went on was 2003, I think and it was also an NCL cruise to the Caribbean with my niece Lauren, after she graduated law school. Mark and I went on the Viking River cruise in 2019 and that really spoiled us.
I will say I'm the one who is more likely to be happy with the variety of food that's offered on a cruise than Mark. He tends to be a bit of a picky eater and if he doesn't love what he's eating, he would just as soon not eat. So that's where we ended up on this cruise. For the most part, I've always heard NCL food is some of the best cruise food there is and I have no complaints. Most of my meals were very appetizing and tasty. Mark was a little more critical. I'll get in more detail below. We aren't used to eating 3 big meals a day and that's part of what Mark got weary of. So he started cutting back and not eating as much. He didn't want to eat just to eat unless he was really enjoying it, so he would save up for dinner and not eat a lot the other meals. On a cruise with all the food you can eat, it's hard to say no and stop, but you can only hold so much food.
This collage shows some of the meals I had on the cruise and you can see they look beautiful and very appetizing. Most of them were tasty and delicious, some were bigger hits than others. These were mostly from the Windows main dining room, which offers some of the same nightly classics, with menus that changed daily for dinner. You can always look at the posted menu each day by the restaurant to see what looks good for each evening meal.
There was a wide variety of dishes to choose from on the main dining room menu and we got appetizers or salads and an entree and dessert. Of course, everyone loves the desserts.
Most of the desserts were very good, with some being better than others taste wise. The main dining room had far fancier desserts than the buffet options.
The Garden Cafe was the buffet option on the ship and it was open for breakfast, lunch and dinner for extended hours, so you could almost always catch something to eat here. The variety of food was vast and many days they had speciality regional foods featured, like Mexican, Russian, Greek, Asian, etc. There was always a salad bar, something on the meat carving station, and lots of casseroles and hot food options available.
The breakfast buffet was huge with everything you could want offered. From pancakes, waffles and French toast daily, to made to order omelets, fresh fruit, breads, pastries, grits, eggs, oatmeal and cereal, the assortment was huge. I ate bigger breakfasts than I do at home, especially when we went on excursions and wouldn't be back for a few hours. Mark eats Cheerios most every morning and he continued that habit on the ship.
Asian noodle soup waiting to be picked up and broth added.
There were plenty of tasty foods available on the buffet and I could always find something I liked. Mark, not so much.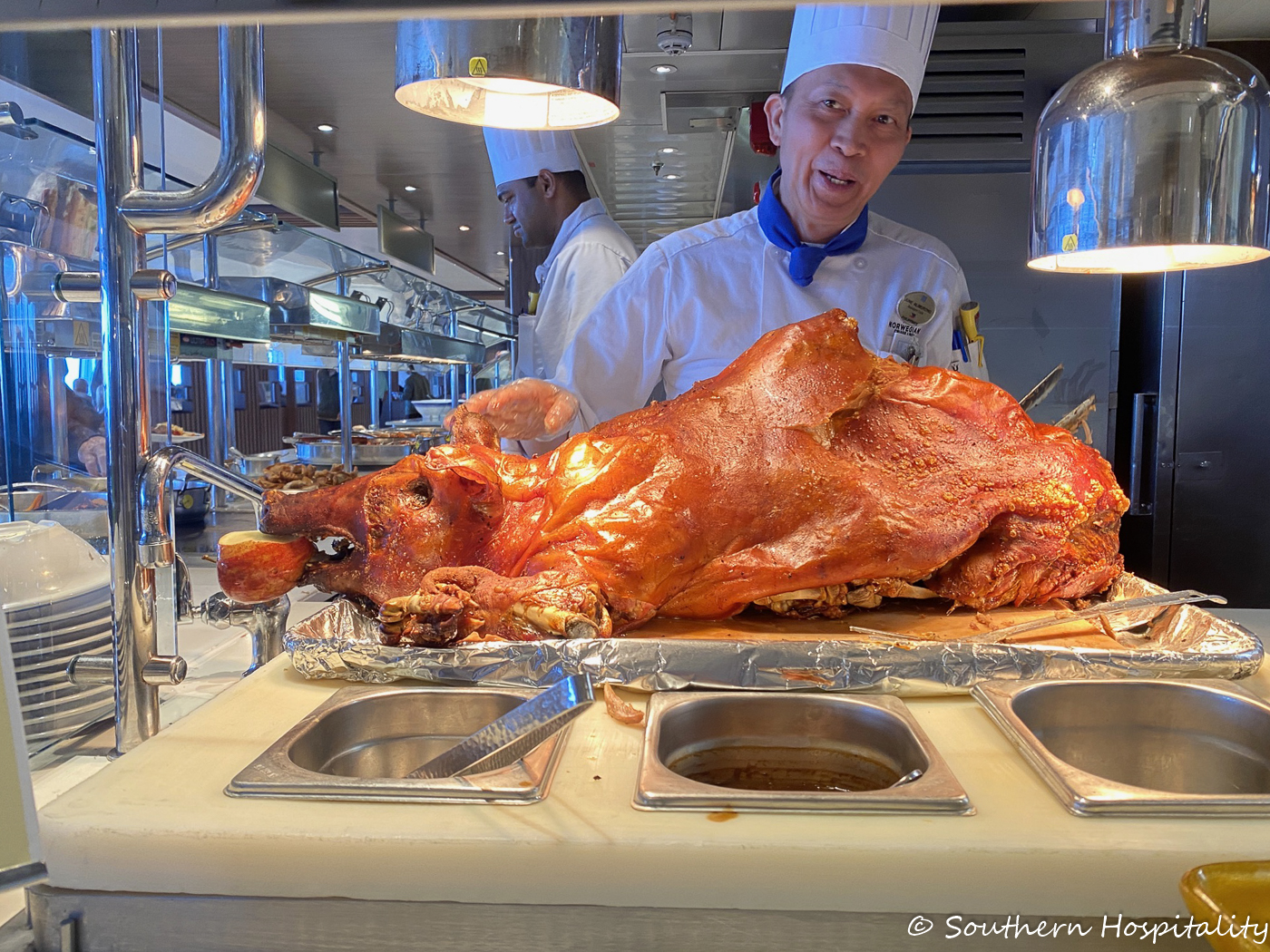 A whole pig was offered one day at the carving station.
This is a typical meal i had at the buffet. They had prime rib early on and there were plenty of sides to choose from. I had no problem eating on the buffet for any of the meals.
Specialty Restaurants:
We really did enjoy the treat of the specialty restaurants. This one was Cagney's, where I got crab cake appetizer (delicious!), wedge salad, and shrimp and asparagus. It was a wonderful meal and we both enjoyed dining there. Mark got the filet and loved it.
One of our favorite meals of the trip, in Cagney's!
We did listen to a presentation one morning when we were at sea by the senior officers on the ship on how they run a floating hotel. It was fascinating to hear about how much food has to be ordered for a cruise like this. Staggering amounts of eggs and everything else. But I'm sure they have it down to a science in figuring out what and how much to order. That was really interesting!
Or course, there are all sorts of tasty beverages to try and we enjoyed the Blue Glacier which happened to match our outfits that day. I had fun pairing our outfit colors as much as I could during our cruise. I'll show you those at another time too.
Entertainment:
Entertainment on a cruise ship; is one of the most fun things to look forward to. Some NCL cruises have Broadway shows on board. The Spirit had some good entertainment, but not Broadway quality. We enjoyed singers, dancers, juggling acts, magicians, dance groups with lots of talented singers and dancers. One night was Blazing Boots, a lively Country night of music and dancing entertainment. There was a comedian on board as well. It's fun to see all the various entertainment people and hear about their stories on a cruise ship. It must be an interesting way to make a living. There was live music all over the ship in the evening and you could pick your favorites to follow around. The Spinnaker was the dance and night spot with live music and some passenger participation events that were fun to watch. We didn't get roped into any of those.
The ship at night had some spectacular views from the outside open decks and I tried to get as many pics as I could. I have 100's of pictures to share and will do so after I figure out how to share each part of the cruise. There's  much to see on a Hawaii and Alaska excursion, so I'll share as much as I can and will likely break it into parts.
Our overall impression of the NCL Spirit is a positive one. We both enjoyed the ship, the cruise and all the port stops along the way. The only thing we had reservations about was the 5 days at sea. I wondered how that would be and I asked my cruise expert cousin, Howard, who is a travel blogger how he did with long sea days and he said he never got bored. I figured we could handle 5 days and we did, but those days did get a little monotonous on the ship. We filled our time relaxing, sipping, reading, napping and eating, of course. There were nightly shows and music for entertainment, so we enjoyed those elements as well.
But, we would probably choose differently the next time we do a cruise. We are super glad we got to see Hawaii and Alaska on this particular cruise and I would definitely recommend it, but be aware that it's got those 5 days at sea. That might bother some people and not others. We didn't know how we would like it and we survived, but were glad to get past those days and onto seeing more ports and sights. Trips like this are expensive, so you need to know what you're signing up for. There's way more cost than just the cabin cost for sure. Airfare, shore excursions, gratuities, etc. are all extras that you need to be aware of. Our travel agent helped walk me through that part, although I'm still not sure how the account on board works. I still need to figure that out. I did download the NCL app and could see the extra charges that we incurred during the cruise for various things, but the final on that bill was less than $100. There were also gratuities that were prepaid and I never saw that account listing.
My cousin, Howard, with Backroad Planet is an expert cruiser on NCL and has a lot of cruises under his belt with NCL and other cruise lines. Be sure and check out his post about NCL cruises, as he is much more detailed in his than I will be since I'm still a newbie with cruising. His post is very informative and you can also see lots of cruises he's been on with details about ports of call and excursions. He's very good at sharing his cruises and opinions of them!
l'll be back over the next few weeks to share a lot more of our cruise with all the stops and things we saw along the way. It's a lot to share and I'm ready to do that!
Don't Miss a Post, join my list!