When we moved in our house 4 and 1/2 years ago and I spotted this tiny 6×9′ space outside the laundry room, I quickly claimed it as my own.  I knew that it would be perfect for my own little bitty office space.  I didn't need a whole room for my office, this tiny area would be just big enough and out of the way for me.  Let's start with the humble beginnings of this space, right after we moved in.
I began making it my own, with a desk from Target online and using shelves that I had already bought from Ballard Designs, this space came together and I have loved my little office space for over 4 years now.  I first shared this space with all of you right after I started blogging in 2007, when I sent it in to our local Birmingham Paper the year before and was lucky enough to get featured.  

I've been tweaking it ever since.   It's been over 2 years ( I know, can you believe that?)  that I added the lime green accent wall (with left over paint, Behr's Grasscloth, from the laundry room) and trimmed it out with braided trim.  Then I changed out the bulletin board to a snazzy zebra print. Take note of the gold picture frames and the desk chair.  Changing out those things made a big difference too, as well as paring down the stuff.  I had way too much stuff in here and it was feeling cluttered and not calm, like I was looking for.
Check out the clever mouse-over that I learned from my friend, Beth, just in time for this post.  Roll your mouse over the pic for a BEFORE and AFTER:
I really loved it like this too, but when  I fell in love with that wallpaper, it was time for a final revamp.
I finally have it the way I want it now and just a few additions and changes have made a big difference, once again. It's going to stay like this for a long, long time now.
I'll show you the whole area, so you can see how small this space is and how it all intersects together.  This is looking in from the downstairs den, into the blue bath on the right, small hallway with the new paint color, Dutch Boy Colony Green, and looking through the office nook into the laundry room.  The new color has a lot more yellow than Grasscloth does, but I love how it brightens up the space. This is a really hard color to photograph, especially with not a lot of natural light coming in.  I know some of the pics look yellow/gold, but they are really lime green, so think of that as you are viewing. 🙂
I never showed you this pretty piece that I won in a blog giveaway last year.  Now I need to remember which shop it came from, but isn't it a cute mirrored shelf?
I don't worry too much about all of this flowing with the rest of the house upstairs. I figure I can have this space the way I enjoy it from day to day, since it is tucked away by itself.  I wouldn't use all this color in the main part of the house, but I love it here.  I went ahead and painted this little hallway in the green too, since I didn't want to break it up. 
In the tiny hallway looking to the right, towards the beachy guestroom, this color is pretty accurate on my monitor of the green shade. Just a note about carpet color.  For some reason, this carpet really photographs very pink and it's not pink in real life(more of a beige/sand color), but definitely has a pinky undertone that photographs always pick up.  I would love to get rid of it and maybe one day that will happen too.  You know how that goes!  Did I mention how much I hate carpet?
Here are the 2 yardsale New Orleans prints I picked up this year in the hallway.
Turning around in the hall, here's the office nook.  Tiny, at 6′ x 9′, but very functional.  It wraps me up with warmth when I'm in here.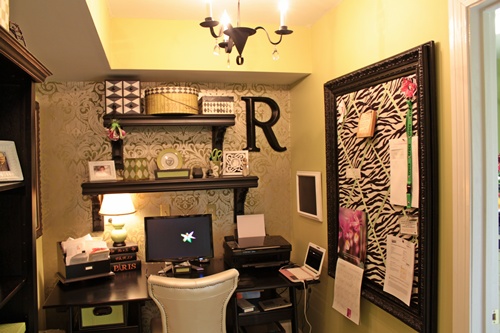 It all feels very good to me now.  I got everything tweaked that needed it and it flows much better. I also decluttered some things and am determined not to let it get too busy again.  I know the patterns are all busy, but I like them all together.  Some may not, but it works for me.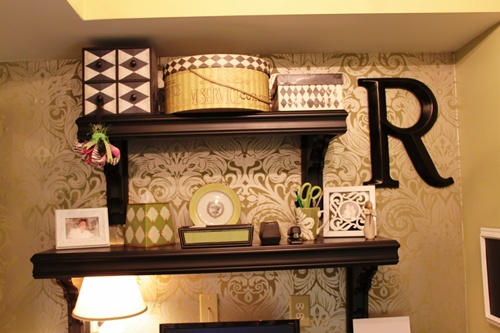 I love the addition of the Graham Brown wallpaper, Cotswold, in case you're interested.  See, I'm the guinea pig who tried it out first and I do love it.  I think adding an accent wall in a space like this really adds some impact.  But, when I decided to add the paper, I just had to paint out the rest of the walls in a lime green to coordinate with the green in the paper.
The paper is green and a pearly/silver color.  I thought it was white, but when I got it in it definitely has a silver/pearl tint, which ended up working fine for me too.   You'll notice that I painted the big R with black paint and before I had it a bronze tone.  I think changing out most of the accessories to either black or white works really well in here as a high contrast to the green.  I did away with most everything that reads gold to keep it consistent. 
I moved both of my Larson-Juhl framed newspaper prints to the left wall together.  I don't have a lot of wall space in here, so have to use it wisely.  All the green baskets you see under the desk were all found separately and then spray painted with the same green paint to unite them.  Quick and easy way to get a cohesive look with mismatching pieces.
To the right of the desk is my big ole' bulletin board, made from a $10 yardsale frame and zebra fabric.  I did a post on how to make that here.  Very easy project!  You  just need a huge frame and this one is ginormous.   Painting the frame black was definitely what it needed.  I knew that last time around, but got lazy and didn't do it.  This board helps keep me organized. I couldn't make it without my calendar nearby. 
This time, I also added a small chalkboard made from a $1 yardsale frame that had plexiglass inside.  Worked perfect for my project and this board will hopefully help keep me more organized as I write my "to do" list on it.
I painted the big R in black this time around and it looks much better.  Remember Mary Tyler Moore and her BIG M in her apartment.  Yes, and her best friend was Rhoda. 🙂  I loved that show, they just don't make them like that anymore.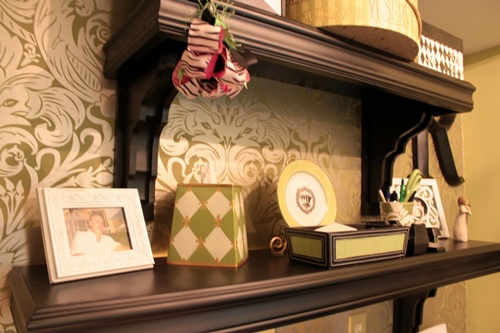 You'll notice the white painted frames on these shelves too.  One thing I've learned is to keep things consistent and getting rid of the gold was key in here to pull it together. There's one more gold plate holder that needs to be painted.  I ran out of black and white paint!   Spray paint, girls!  Such a great way to update.
My large bookcase (the Riley) which I found at World Market faces the laundry room door.  It's been perfect for me to store and organize things in. 
That is scrapbook paper on the back of the bookshelves (all from Hobby Lobby) adhered with double-sided tape, from my last tweaking a couple of years ago and these holders are great for keeping the magazine collection at bay.  You can see how I covered these simple cardboard magazine holders here with scrapbook paper and decoupage.
Those 2 striped boxes came from Ikea and hold hanging files.  I'm really trying hard to stay organized.  It's a constant struggle to keep up with the paper clutter around here!  I'm sure you can relate.   Those 2 lime green boxes on that top shelf are yardsale finds that I painted with lime green spray paint.  When I get more paint, I'll paint that brown basket, probably black also.  Maybe white.
Decorating books and a few family and friends photos round out the top 2 shelves.  I painted the old gold frames white and love the contrast with the bookcase now.  I'm trying not to put too much back in here and am in major purging mode.  That bunny bookend I kept here just because it's heavy and holds the books.
On the wall right outside the laundry room, I decided to put up some black and white old family photos that I had stored for awhile.  My parents, grandparents, and some of my family when we were growing up.  I love having these close.
I have always loved these old pics of my parents back before they got married.  So sweet!  And if you look back at yesterday's post, these are all the formal gold frames that got a quick spray paint coat of satin black.  Changed them instantly. 
That's my maternal grandparents, Clarence and Kitty.  My mother looks a whole lot like her mother.   I found those damask plates at TJ Maxx a few years ago and you can see they were hanging on the soffit in that BEFORE pic. I thought they would be a nice accent with these black and white photos.
This small watercolor to the left of the bookcase is by the fabulous Fifi Flowers, a gift from her after I won one of her giveaways a couple years ago.  I treasure this too, it's a rendering of my laundry room.
Hello, beautiful!  This elegant chair is a find from Homegoods.  Homegoods comes through once again.  The office chair I was using was bought when I worked for Ethan Allen.  It is a pretty gold damask fabric, but it never went with the vibe of this space, so I finally decided to replace it.  It's served me well for many years, so I don't mind getting rid of it now.
I love the new sleek pearly white leather one with silver nailhead trim and simple black legs.  Sleek and stylish, it now pulls this space together, just the way I had hoped. And it keeps my back supported really nicely too.  The rug is a find from Pier One several years ago.
And that concludes the final tweaking of the office nook. I could not be happier with it now. 
Pure bliss and elegance is how it feels now.  And organized, definitely organized! 😉  It's amazing what changing out the chair did for the look too, don't you agree?
One more side by side BEFORE and AFTER and you can compare changes.  Note the new light fixture too that was added last year, an $8 yardsale find.  I think I'm going to add a vinyl saying around the drop down soffit, when I find just the right one:
I adore it and hope you like it too!  For those who loved my old space, I think you will agree that the new one is definitely improved.  I'm learning all the time too.
It just goes to show that you can definitely get some high-style in a really small space.  Here are some ways to do that and I hope these help you to see the potential in a small area:
Keep your color palette to 2 or 3 colors.
Wallpaper one wall as an accent.  It will draw the eye into the space and be the first thing that is noticed when someone comes in.  Besides, it's just so darn pretty and elegant.
Go vertical with storage and use that wall area to the fullest.  Those Ballards shelves have been one of the best purchase I have ever made.
Use boxes for storage, they are pretty and hide all the ugly paper and mess. Be on the lookout for mismatched baskets and boxes at yardsales that you can update to work for you.
Spray paint a lamp if the color is not exactly right. Yep, did that.
Spray paint frames to update them for your new look.
Chalkboard and bulletin boards are another way to stay organized. You can make them pretty and functional at the same time.
Add a rug, even over carpet.  It will further anchor the space with a little color and texture.
Get a comfortable and stylish desk chair.
Do you have a small, tucked away space that you could utilize for an office area?
Adding this post to Kate's Where Do You Blog party!

Don't Miss a Post, join my list!