Many of you emailed me to say you still aren't getting my blog emails, so I wanted to give y'all a little update. The email problem is happening all over blog land and there's nothing I can do to fix it. I did what I know to do and it still didn't help everyone. I'm suggesting that folks sign up to read their fave blogs thru Bloglovin or Digg or another reader service. I'm not sure this email problem will ever be fixed, it's the email providers that are not letting them come thru.
It's been 2 years since we bought my house and started renovations and one of the things on my to-do list has been to get the house painted.  I wasn't sure how long it would take, but this spring seemed to be the right time to hire that job out and just get it done. I got 3 bids for painting companies and chose the one I thought would be best and they came out and got it all pressure washed, rotten wood replaced, caulked, primed and painted.  I am ecstatic with my house now, as you can imagine!  All of those months of waiting paid off.  We got the inside done and now it was time to move to the outside.
Just as a reference point, I paid $2800 for my whole house exterior paint job.  I used a local company, but I am hesitant to share, because someone used them after I put them on here and was not happy with the outcome.  They did a good job for me, but there were a couple of things that I didn't like that they did, mainly not priming my front railings and new wood on the front porch. I know prices are different all over the country. My neighbors have certainly noticed the changes too!
Just as a reminder, I'll show you the house when we first bought it so we can really appreciate the after shots.  It's come a long way baby!  Wow, at the difference, it's amazing to look back 2 years ago.  How quickly we forget how far we have come!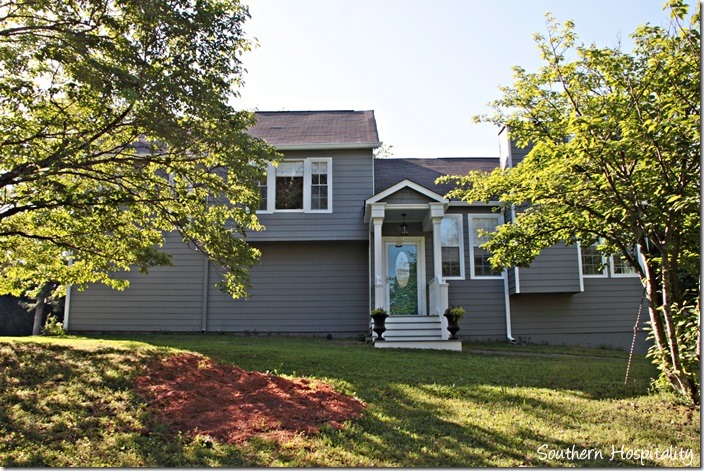 I'm so happy with the paint color I chose. It's Sherwin Williams Dovetail, with Pure White Trim.  I don't have room for shutters on all my windows, so with 2 colors on the house, I went deep and rich with the white trim as an accent and couldn't be happier with the outcome.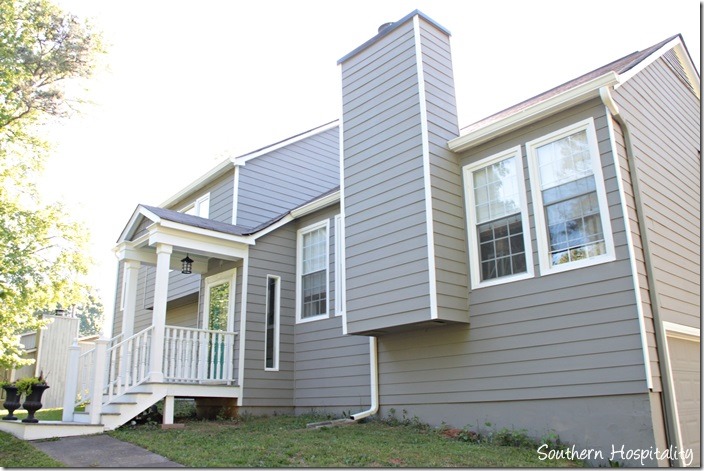 Grays sometimes photographs with a purple hue, but I can assure you this is a true gray, rich and deep.  My house isn't sitting in Nantucket or Cape Cod, but I think it has a little bit of a coastal feel now with the new porch and paint.
Here's a reminder of what the garage side of the house looked like with the rotten little red door.  I had that replaced with a bigger one and what a difference on this side as well.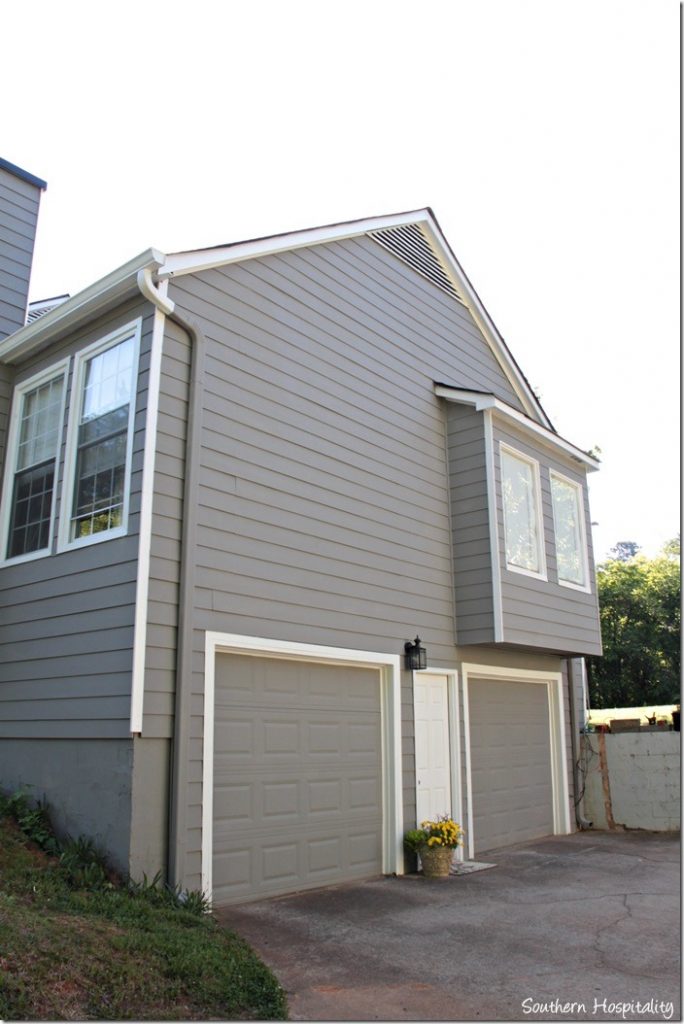 The garage side looks so much better too with the garage doors painted gray as well.  This end of the house really has come a long ways too.  I'll be tackling that retaining wall when the front yard landscaping is finished and at least get a good coat of stucco paint on it to make it look better.  In fact, the folks working on my landscaping are going to add a drain to that wall to take the water pressure off of it.  It's already leaning and we are trying to save it in the long run, so it needs a way to have water drain out.  Houses are always a work in progress, aren't they?
The front of my house has changed so much overall and I am SO happy with the new front portico.  I had that built right before Christmas, if you missed it and knew that getting the whole house painted in the spring would change everything and it certainly did.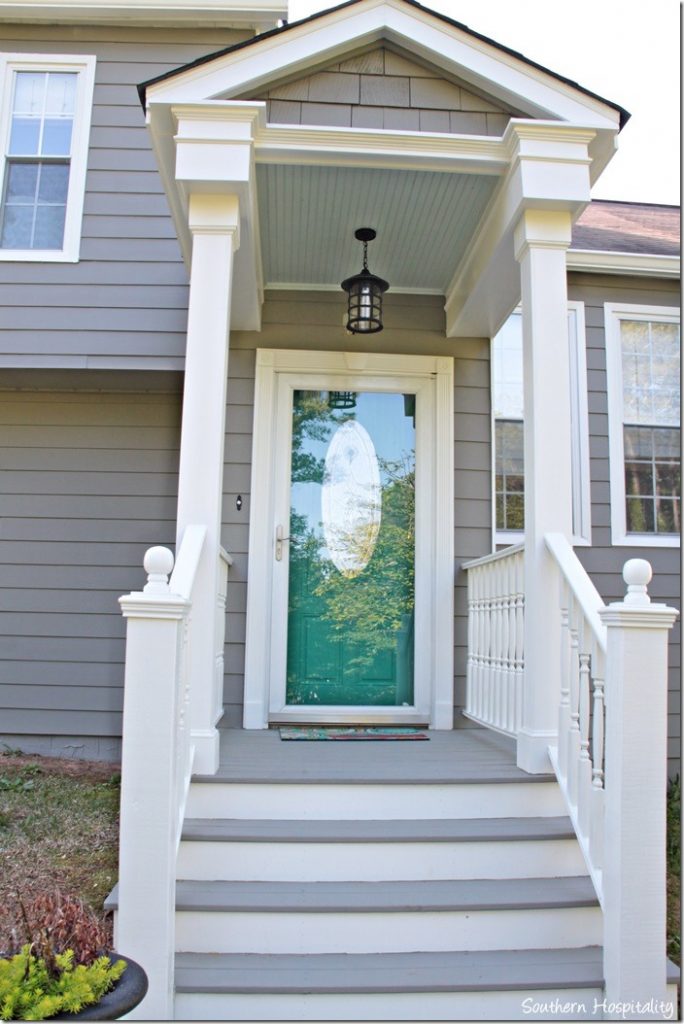 They used a Sherwin Williams solid stain matched to Dovetail for the porch floor and steps.  All the other trim and railings is Pure White, which is the same trim color I used inside my house.  It doesn't show up as vibrant, but I just painted the front door in a beautiful turquoise.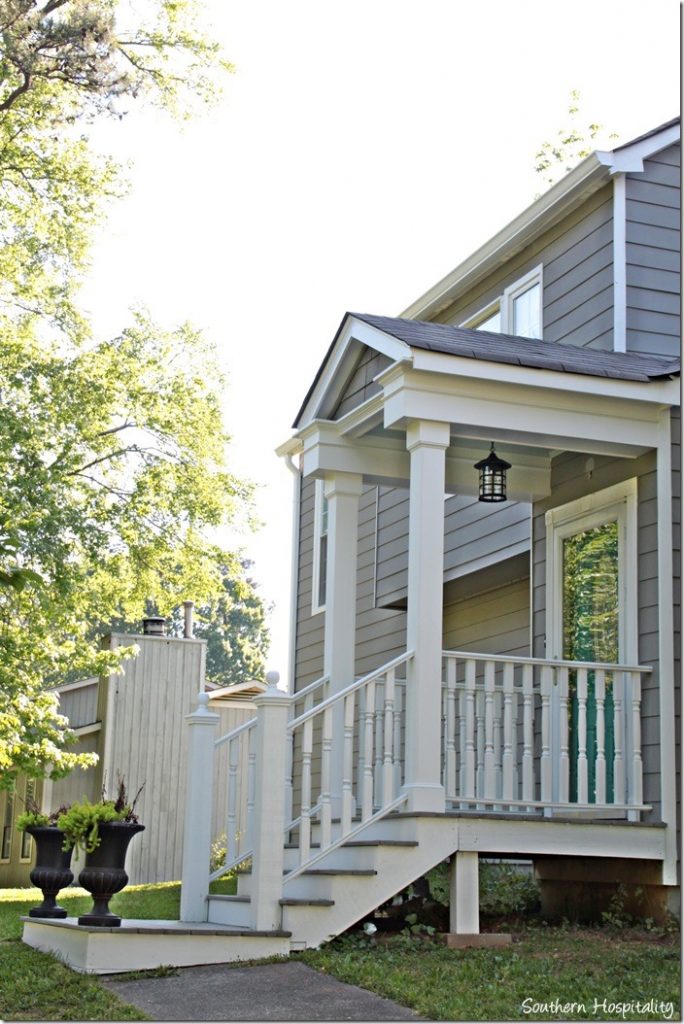 Side view of the porch.  Next week the landscape process begins and I am jumping up and down over that too!  The sides of the porch will be hidden once plants go in.  We're going to tackle the fireplace too and disguise it from the floating feel it has now.
This will all change soon as plants get installed.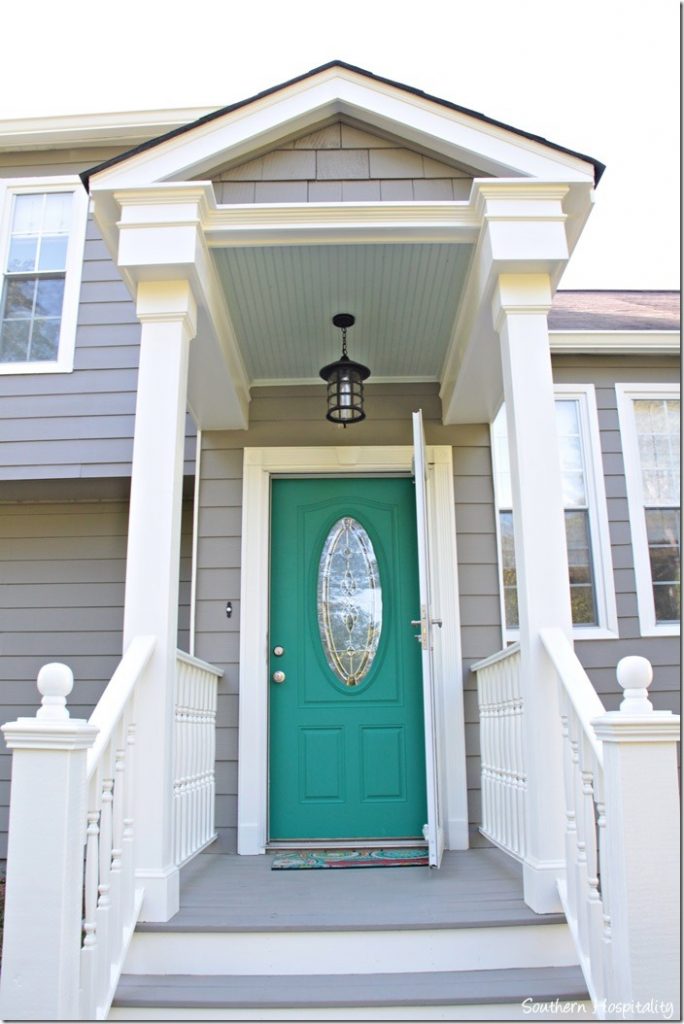 Here's a shot of the new turquoise door and it really is bright and pretty, it's just hard to capture it with the morning light and shadows.  I painted the porch ceiling the same as my screened porch ceiling, Rainwashed by Sherwin Williams.  It's a light blue and very subtle.
If you missed yesterday's post about the front door color, it tells all about the paint color (colormatched to Annie Sloan Florence) and how I did it all. 
New Welcome mat from Target in vibrant colors.
With the storm door propped open, you can see the new turquoise better.
I love how it turned out and I will go back and add a quick poly coat of satin just to give it a little protection and less of a chalky feel.  Inside the storm door, it will be protected anyway.  I love my leaded glass door and so happy that I have it.  It adds just that cottage touch to my house and I really wanted to achieve and now with the front porch, I do have that cottage feel.  You can see I have a little bit of hole patching to do where my old light fixture was.
Did you notice the new fixture?  I knew you would!
A big THANKS to Ballard Designs for providing this fixture for me.  It's a beautiful addition to my front porch.  With the seeded glass and bronze body, it really adds a nice touch to the porch.  At first, I wasn't going to change that light out, but the more I looked at the old one, it just needed to be a bit bigger and I knew a hanging pendant would be the icing on the cake.  The fact that Ballard Designs provided the fixture was extra special.  I had my electrician hang it for me.
So, that's the tour of the new house exterior paint project.  You can imagine how excited I am about all of this.  A dream come true for sure to have this done 2 years later.  And wouldn't you know it, my AC unit just went out and it's the original, 35 years and counting so time for a new one.  I'm just thanking the Lord that I have the money to pay for a new one!
Life is good and I'm loving my cute house!
Don't Miss a Post, join my list!