I love Fall!  It's truly my second favorite season of the year, right after Spring.
I'm  not a huge Fall decorator, but I do enjoy a few touches around my house.  Most of what I use are things that I've had for a long time and I don't usually go out and buy stuff for Fall décor.  And I like to keep things sort of natural and neutral. Nothing that is over the top Fall for me. Nothing against those who like hay bales and lots of pumpkins, that's just not my style.  So, today I'm joining Laura at Finding Home for her Fall blog tour, where 20 bloggers will be sharing their Fall home creativity around blogland. I know you'll all be inspired by the fabulous blogs that are sharing this week.  I'm honored to be a part of this tour and am sharing my Fall decorating in the foyer.
If you are stopping by from Jessica at Four Generations, One Roof, welcome!  It's so festive and Fall-ish at her house!
I'm sharing my Fall foyer table, a simple autumn inspired arrangement using things in my collection.
Welcome to the Fall tour here at Southern Hospitality! I'm so glad you stopped by.  I'm so excited this year because I have my new front porch all finished and it's ready for guests.  I can't tell you how happy  it makes me.  This time last year,  it was just a dream in my head and to have it all finished and painted is wonderful.
I still can't get over how much my cute front portico changed the front of my house. It truly looks like a totally different house now.  I admire it every time I drive up to my house.   If you're wondering what it looked like before, check out this portico and painted exterior post.
My friend, Carmen, gifted these beautiful planters to us on the Nashville trip and it just screams Fall.  Did you notice my turquoise front door?  Yeah, it's hard to miss.
I just love it and this peacock feather wreath from Kirklands is just perfect on it.
Really, I do not go all out for Fall, but I do add a little touch of autumn to my foyer table and mantel (which I'll be sharing soon too!).  I like the subtle nod to Fall in using a few natural touches, like my magnolia wreath I made last year.
The magnolia wreath is really easy to make if you get yourself some magnolia leaves.  They dry easily and I love the muted green with velvet brown backs on them, perfect for creating a pretty Fall wreath.
Starfish is somewhat of a signature on my blog and if you've been reading my blog for awhile, you'll recognize this rustic iron urn that keeps coming around again.  I just love this piece, a $5 yardsale find from years ago. It's super heavy and just fun to use for Fall, piled with pinecones and a cute pencil starfish.  A contrast in texture and simplicity.
Those tall green fronds were cut from my Queen Mum Agapanthus in the front yard.  They were blooming up a storm about a month ago and now they look like this, sort of space agey green fronds waving in the wind. I thought they would be a perfect addition to my Fall décor and I love them in this tall white vase.  I don't know if they will stay this green color for long since I cut them from the plant, so it will be an experiment to see how they dry or die perhaps. I'll enjoy them for now!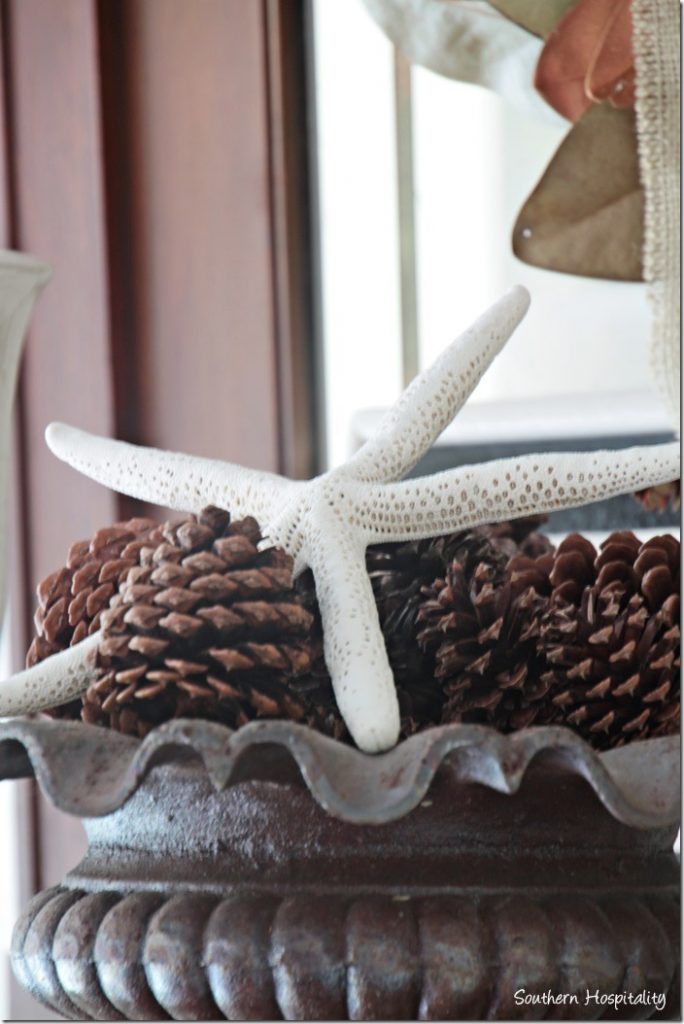 Starfish and pinecones are perfect together in my book.
I love the simplicity with a few touches of Fall in the foyer.
A rustic bullesye architectural piece adds a little fun to the vignette too and my Home striped tray makes a good backdrop.
I've had this acorn metal dish for years too, another yardsale find, and adding in painted acorns is charming this time of year.
The living room as it looks right now.
It's those little touches of Fall that make things special for me:  the soft and cuddly throws, pillows and soft goods that make a home cozy.
Another long ago yardsale find, this basket with metal leaves holds a few more pinecones and dried hydrangeas from my front yard.
It's so fun to have hydrangeas in my own front yard now to cut and dry. Their fading greens and purples are so perfect this time of year.
Thanks for stopping by today.  Happy Fall to y'all!  This is one of my favorite seasons of the year, next to Spring.  Fall football, crisp cool weather, long sleeves, boots and hot apple cider. Those are a few of my favorite Fall things.  I'll be sharing my Fall mantel in another Fall tour next week, so come back for that.
Enjoy this festive Fall season to the max!  I'm planning to do just that.
The next stop on the tour will be tomorrow morning with Emily at Jones Design Company, so don't miss stopping by, I know it will be beautiful.  I can't wait to see all 20 homes decorated for Fall. 
Laura is also partnering with Better Homes and Gardens on Friday and they will have a Pinterest board that we will all be adding to that will highlight all the home Fall tours.  Also, Better Homes and Gardens asked us to share their newsletter sign up for all of their 100 days of Holiday inspiration coming right to your mailbox, so please go to BHG and sign up for that.  You know BHG has the best inspiration for Holidays!
To see the entire tour this week, Laura will be updating all the days and links along the way, so click the pic to go straight to Finding Home, Laura's blog. 
Today's Tour: 
Don't Miss a Post, join my list!