My 64th birthday just came and went, which always makes me stop and think a bit. Getting older is definitely not for sissies and even though I don't like the years to be adding up so much, I will take every one of them. Looking in the mirror certainly has its challenges more now and I see more lines, more saggy skin, and a generally older me staring back. At times, I think who is that person I see, but I know that this is something we all face and deal with in our own ways.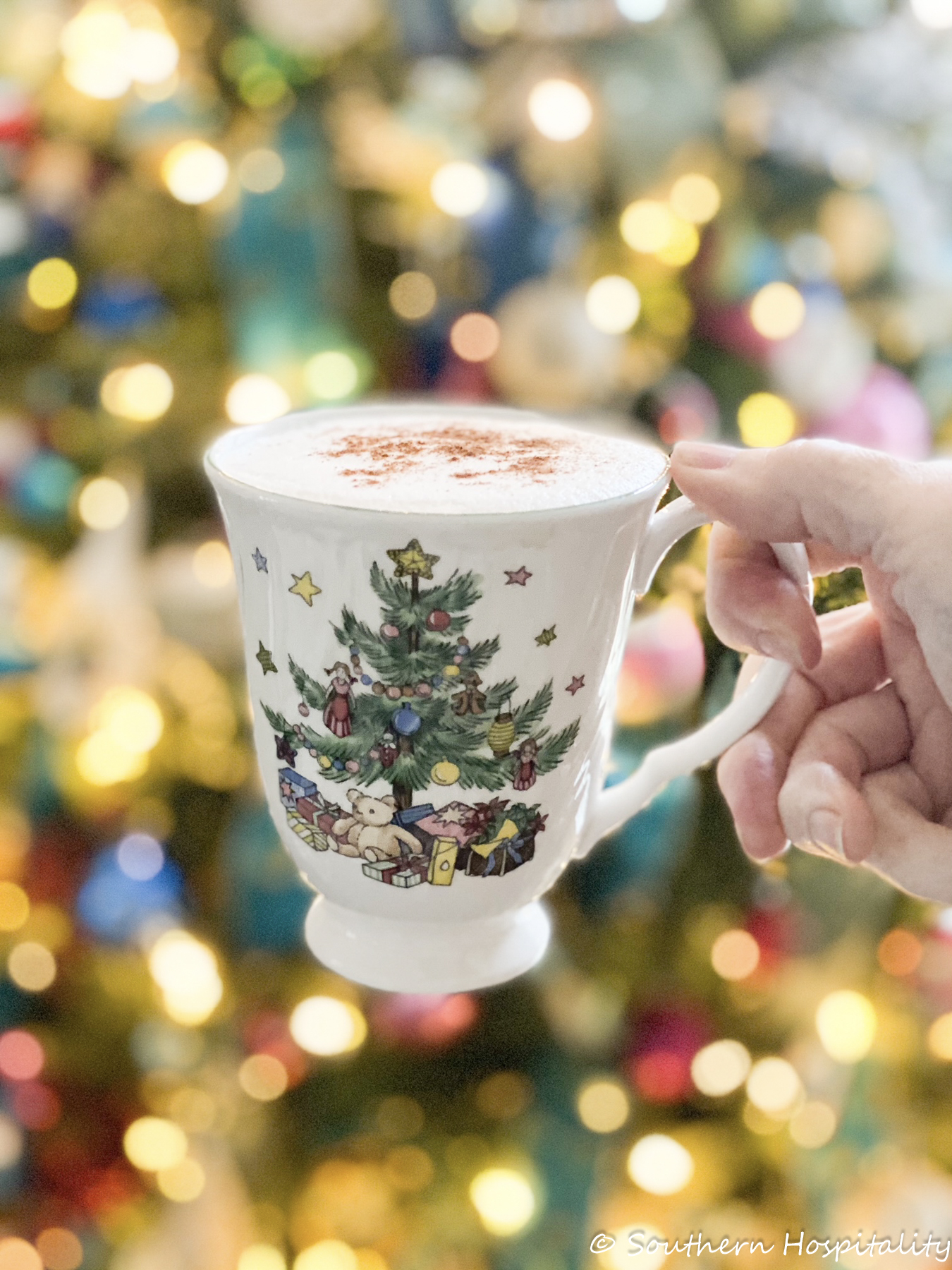 So, here's a little Christmas coffee chat today. I haven't talked a lot about aging since I turned 60, a big milestone on its own. If you missed that post, it's a good long one! The years sure are ticking by fast. Next year will be Medicare year. Oh boy!
Mark took me on a fun birthday outing over the weekend and that was fun. We did this same outing last year at Christmas and enjoyed it a lot. There's a little schoolhouse in Cumming, GA, about an hour from us and they have a nice restaurant in there as well as a little playhouse. I think it's called School Street Playhouse and the restaurant is Tam's Backstage and the food is very good.
Green Sweater from Banana Republic (affiliate link), scarf is sold out!  Camel Cardigan from Banana Republic also. 
We had dinner first and then saw A Christmas Carol on stage. Such a fun evening out and perfect for getting us in the mood for Christmas. They sold very limited tickets so it was a safe environment. We were far away from others.
It was nice to get dressed up for a night out. A selfie for my birthday! Overall, I feel pretty good. Still have aches and pains and looking in the mirror these days is a little sad, but I'm grateful for life and happiness. God has been so good to me and I definitely don't take that for granted. I'm grateful for Mark and being married to him for over 3 years. We've been together 5 years now and that's gone by so fast. Life is good.
I see a lot of Botox, puffy lips, and very smooth skin out there in ladies my age and no offense to anyone who chooses that route, I'm just going to continue my routine of skin care and aging as gracefully as I can: lines, sags, creases and all.
So here's a little bit about our Thanksgiving that I didn't share with you until now. We had a Covid scare with our family being exposed, but all is well now.
Lauren and her family all came home for Thanksgiving and we were planning a nice family get together at my sister's house. Unfortunately Iris was exposed to Covid at school, she tested negative before they came and then was tested again while they were here, the 3rd day and she was positive then. We all scrambled and they packed up and left the day before Thanksgiving and headed back home to isolate. So that meant mom and I especially had been exposed, as well as Renee and Bruce. Which also meant Mark and dad were exposed through us as well, even though they weren't in the house with them. So none of us spent Thanksgiving day together, which seemed very strange. We all had Thanksgiving at home and it wasn't so bad, still ate turkey and dressing and we shared food with each other, picked up outside and brought home.
We all stayed home for more than 10 days to be sure we didn't have it and thankfully none of us got sick. Lauren did get sick the day after she got home and she tested positive too. She didn't see the baby for several days. She stayed in their bedroom and Philip took care of all 3 girls. He and Parker were fine and didn't get it either. Now everyone is reunited, they are way past the 14 days and Lauren is getting better. Her worse symptom was a cough and it didn't get worse than that, but she did lose taste and smell which she is not enjoying.
It was so nice to see them for a few days even though our plans were interrupted. I just hate this virus and hope and pray it gets better so that we can all get back to somewhat of a normal life next year.
It was great to see the girls. Parker has lost her two front teeth, but you can't see it here. They are growing up and are taking well to being big sisters. I didn't get to hug Iris while they were here, but they will all be back for Christmas so we hope to make up for our short visit next time. I'm so thankful that the rest of us are feeling fine and we didn't get the virus at this point. Some people asked me if we got tested and no, we didn't since we never had any symptoms.
I do have a few things I pulled together for you, a gift guide that has some fun things to share. You all seem to like plaid a lot, so there's a little more on here.
These are all linked below if you're interested. I think these are some fun gift and fashion ideas for the season if you're looking for something for a special person. From scarves, PJs, Christmas mugs, and more, these are fun. There are even some bookmarks for the reader in the family. Those round plaid things are coasters. (affiliate links used below)
Don't Miss a Post, join my list!