Growing up in the burbs of Atlanta (Marietta), one of my fondest memories is shopping at Lenox Square. This was way before Cumberland Mall (and for sure Town Center Mall) were ever built and Lenox Square was our maybe once a year spot for fancy shopping.  🙂 I can remember shopping for Easter shoes.  One of the highlights was getting to drive down West Paces Ferry Road on our way to Lenox, passing through the "rich" neighborhood, along with the Gov-nuh's mansion, my neck craning left and right, not wanting to miss any of those gorgeous old homes, many tucked away behind impressive gates.  Such beautiful houses on that road and truly a world away from where I grew up.
Brookhaven is another stately and highly-desired old area of Atlanta, so keep reading for this feature.
Here's another beautiful remodel from the pages of Traditional Home, (click for the whole story) that had me drooling.  Atlanta designer, Amy Morris, worked with her parents on finding a smaller home in their own historic Brookhaven neighborhood when they got ready to downsize.  Amy helped them complete their vision with lots of remodeling and changing things around and the result is one stunning home.  Small, it is not, but beautiful it certainly is. 
It's described as a clapboard Colonial and I really love the outside of the house.  Totally appealing to my eye, it welcomes you in.
Amy and her parents.   She did a fabulous job in their new home and there were so many eye candy pics, I hardly knew where to stop.
Entry way.  I'm going to keep my text minimal, but if you want more details about the house, just click on that link above.  Wonder if those orchids are real?  I'm going to check out our Botanical Gardens  Orchid show this weekend and I just might come home with one.  Always wanted to try my hand at growing an orchid. 
Even though I probably wouldn't paint a room this dark, it really is dramatic and pretty.  The artwork just makes that wall. 
Love the drapes with the pretty border down the leading edge.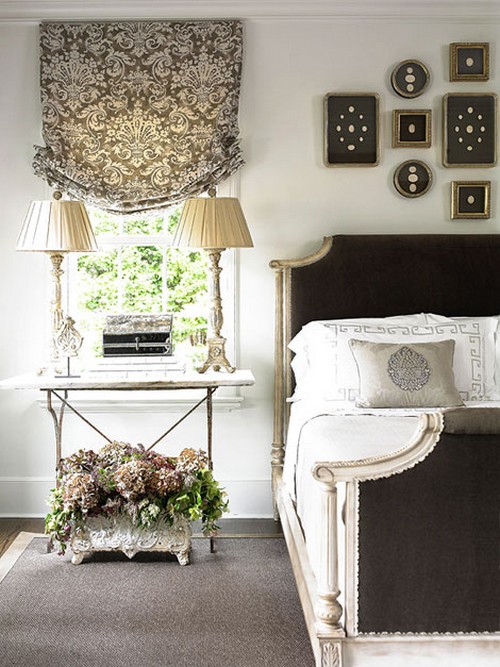 The bedroom really draws the eye in too with the soft damask Roman shade.
Gorgeous bathroom.
Check out these fixtures over the table.  So unique and pretty.
Formal dining room.
And this kitchen is just WOW.  That's all I can say.  Love, love it.
Hearth room.  With not a lot of color, it's still very appealing to me.
I think this is a back entrance of some sort.  Love this shot too of the dark door and white clapboard walls.
Do you love this house too??  It certainly appeals  to me.
Design:
Architect: Brad Heppner, Bradley E. Heppner Architecture LLC, 574 Hascall Rd., Atlanta. GA 30309; 404/734-6687, bradleyeheppner.com.
Interior designer: Amy Morris, Amy D. Morris Interiors
Text by Amy Elbert
Photographs by Emily Followill
Produced by Lisa Mowry
**********************
The lucky giveaway winner for the beautiful quilt from Quilt Creator is #144, Vickie H.   Congrats, Vickie!  I think many of you fell in love with that quilt and playing around with the custom quilt creator on their site to come up with your own design.  So I hope you will go back and take advantage of this fun site if you're in the market for a quilt.  Great gift ideas!
Don't Miss a Post, join my list!