You might remember that I featured Lynn's house a couple of times now, they are the family who lost their house to a fire 2 years ago and they've now been back in the newly built house for a year now.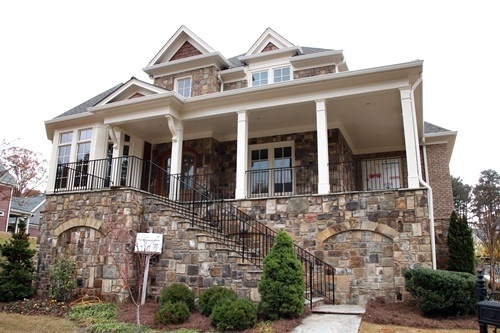 Hard to believe! Lynn's done a lot in the last year getting the majority of her basic bones furniture in place, but she still has more to do on adding accessories and artwork. I can't imagine having to replace most everything, like Lynn has had to do. I know she is breathing a sigh of relief that this year is behind her too.
Coming in the front door, it's a beautifully built home, with lots of moldings and details. I'll just let you enjoy the pics for the most part, as they are self explanatory.
Dining room. Lynn had this rug already, so is using what she has until she can get what she wants. All the furniture is new.
Check out the beautifully detailed moldings on the doorways.
Her hubby's office.
Long view of kitchen looking towards the family room. This is a large open floor plan house.
Kitchen island.
This is a huge space for entertaining.
Lynn's floors are very similar to my own.

Breakfast table
Centerpiece.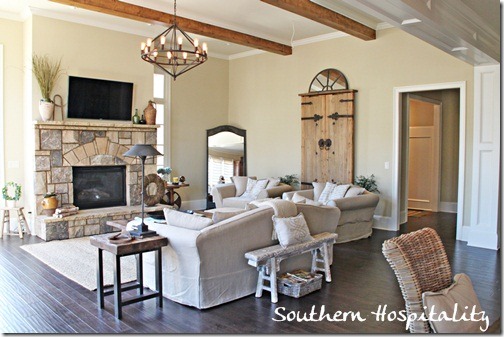 Family room. She bought the sofa and chairs from Restoration Hardware. Love her lighting.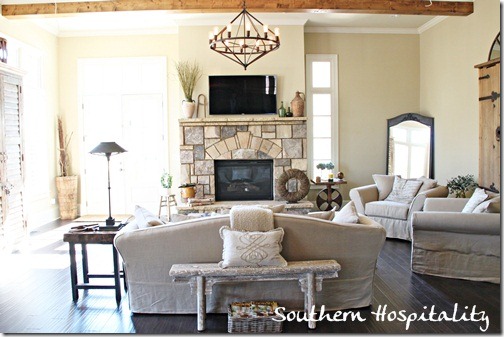 Tall armoire anchors between the windows. She still has lots of soft goods to fill in like drapes, pillows and more rugs.
Love the set of antique doors on that side of the room.
Reclaimed wood coffee table.
Antique doors closer.
Vintage bench and pillow.
Looking from front door hallway.
Open bookcase.
Master bedroom
Master bedroom secret bookcase. This bookcase has a secret door that opens from her hubby's office.
Master bath.
Chandy
Master bath tub
Stairs going to basement.
She's purchased Ikea Ektorp slipcovered sofas and chairs for this downstairs sitting area. No need to spend a fortune on all the furniture in a tucked away area like this.
They even have a wine cellar. Love that door!
Her builder added these to hold their wine.
Downstairs entry way.
They also have a downstairs apartment that they are finishing up and Lynn's inlaws will be moving in with them. I think that's a great idea for aging parents to have that option.
It's almost finished and they should be moving in in a few months. Kitchen area. There's a separate bedroom and bath here too. A very nice apartment.
In the other part of the basement, this large rec room holds a pool table, bar and Home theater.
Bar
Bar sconces
Theater area, how nice is that?
It's a huge space and I'm sure their family enjoys it all, along with friends.
Outside, they have a small, but adorable backyard patio.
With seating and a stone fireplace, perfect for entertaining.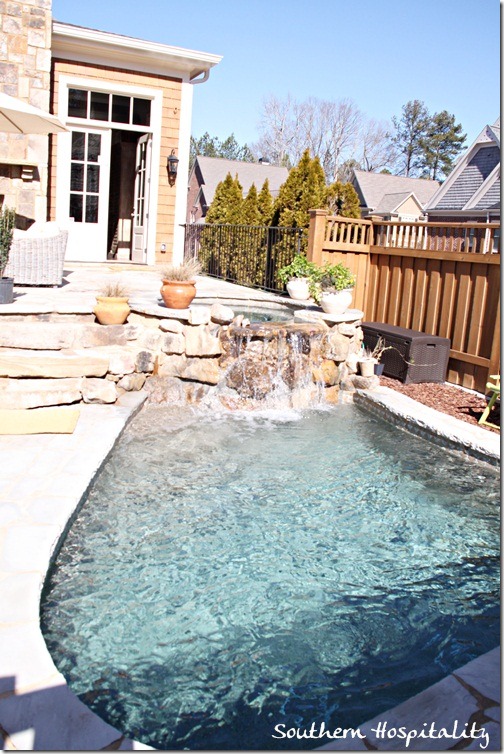 Not to mention, a small pool to take a dip in on hot summer days. How fun!
Chairs beside the pool.
Complete with a waterfall.
What a beautiful home this is! Congrats, Lynn on getting back in your home and adding your furniture, it's all gorgeous! Hope you all enjoyed seeing the update at Lynn's house.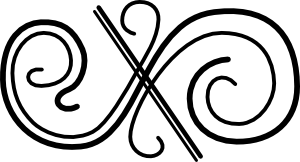 The winner of the Kirklands Lamp giveaway is posted on the giveaway page and the winner has been emailed!
Don't Miss a Post, join my list!