I shared several weeks ago about the home of Lynn and her family, which had burned to the ground over a year ago.  They have made great progress on the house, so Lynn asked  me to come back if I wanted to take some updates.  It has come a long way in those weeks and they are almost ready to move back in.  She still doesn't have a lot of furniture and accessories yet, but all of that will come.
The home is beautiful, stately and gorgeous.  Come on along for a tour.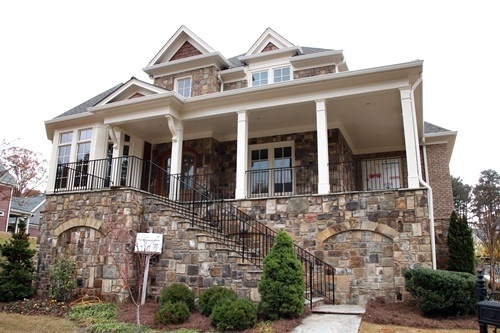 Here's a reminder of the beautiful exterior of Lynn and family's newly rebuilt home.  Gorgeous!
Love the double front door, with the lantern light fixture.  A mix of stone, shingles and brick is on the outside of the house.
They have a great contractor who has not spared the details on this home.
Stone stairs coming up to the front door.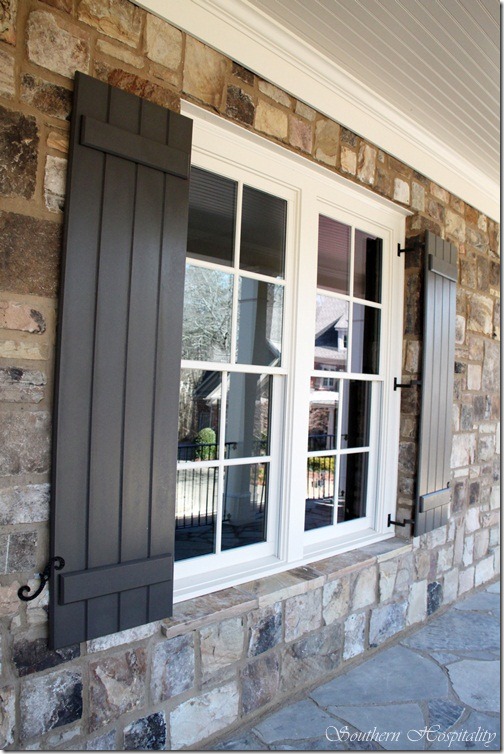 Shutters on the porch area.
Coming in the front door, the stairs have been stained a deep brown to match the floors.
Front door and lantern in the foyer.
Upstairs is her boys' rooms with a spot for relaxing for them at the top of the stairs.
Bathroom tile.
Downstairs, the dining room has beautiful woodwork and details on the ceiling.
I thought you'd love a look at all the millwork detail around the door, as well as the pretty chandelier.
Library with dark paneling.
This hidden door goes through to the master bedroom, a fun little feature.
Going into the kitchen is a butler's pantry.
Kitchen cabinets are in with farmhouse sink and granite.
The whole kitchen.  Love the custom island, range hood and the backsplash.
Closeup of the island.
Island looking towards the greatroom.

Greatroom with fireplace.  It's a big open space and I can't wait to see it furnished.
Lynn saw my post about Rustick's in Cashiers, NC, saw this light fixture and went up there and bought it when they put it on sale.  It's gorgeous!
The spacious laundryroom.
Master bedroom.
Master bath.
Pretty pendants
Spacious double vanities in the master.
Sink with countertop.  Not sure what material this is, but I'm guessing marble.
Check out the fab soaking tub.
Details on the tilework.
The master shower.
Lynn's office space is over the garage.
Powder room vanity and sink.
Downstairs will be a wine cellar and theater room.
Theater area.
So, that is the update on Lynn's beautiful Atlanta home.  Even though most of us will never live in a home this large and stately, I love looking at all the details in upscale homes and what is being used in building today, don't you?  I can appreciate all the beautiful details and love looking at floorplans no matter the price range.
Hope you enjoyed the update on Lynn's home!
Don't Miss a Post, join my list!