While up in Nashville last weekend, several of us stayed with our new friend, Dana, who along with her hubby, owns a decorative painting business, Bella Tucker and is also a partner in a media company.  I first met Dana at the Nashville Southern Living house last year and we became friends.
Dana is one busy lady and also writes the blog posts for their decorative painting business, sharing lots of projects of their house along the way too. They bought and moved in their current house just a couple of years ago and have done some really outstanding projects, using lots of paint, as you can imagine.  While you are looking through the pics, you can see the decorative finishes used all  over their home, making  it unique and one of a kind.  I love homes like this where the owners' personalities come through loud and clear.  Dana is married to a musician/artist and they are quite the team, along with parenting 14 year old twins, Zack and Zoey.
They  have just finished painting the outside of their 1980's era home and I really love how it turned out.  You can see all the before and after pics on Dana's blog, but I totally think it updates and freshens up this house in the trees.  Now it really stands out where before it blended right into the landscape.
Dana is not afraid of color and painted her front door a vibrant lime green.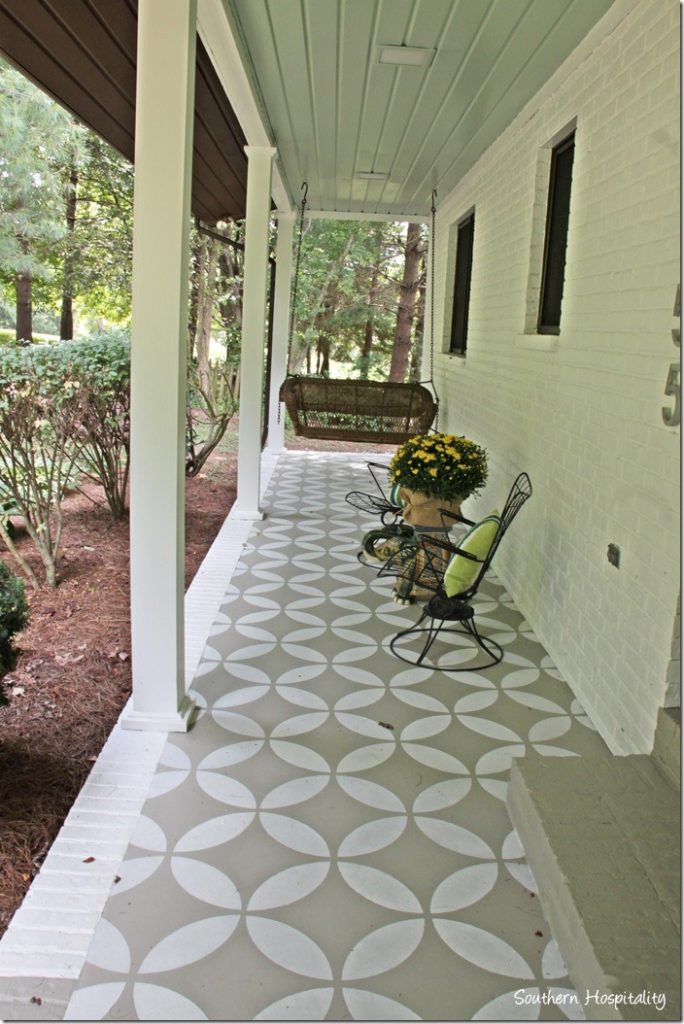 As artists, nothing is left undone at their house and the front concrete porch recently got a stencil treatment.  I love how it turned out!
Stepping into the foyer, an old church pew greets guests and the striped paint treatment on the wall livens things up too.  You can immediately tell that some creative people live in this house.
Church pew with artwork above.
Peek into the family room and the hallway with bold stripes.
The stripes give the hallway a lot of personality.
Dana has a whole post on her kitchen cabinet painting and shares the COOL product they used on their popcorn ceilings.  This is a beautiful styrofoam tile that glues right on top of popcorn ceilings.  I know! I can hear the buzz from you all right now.  Check out that post for all the details on the kitchen and the ceiling product.
Family room with lots of windows.  Love how cozy this room feels.
Those are older ottomans that she has had awhile and just added a slipcover on top, so cute.
An old vintage buffet gets a neat paint job. I see that they use lots of Annie Sloan chalk paint for their paint projects too.
The corner fireplace got a rustic update with old tin above and a whitewash on the bricks.  Love the look of it.

Closer look at the built in shelves.
To the left of the family room is a sitting area with a piano and tall high ceilings.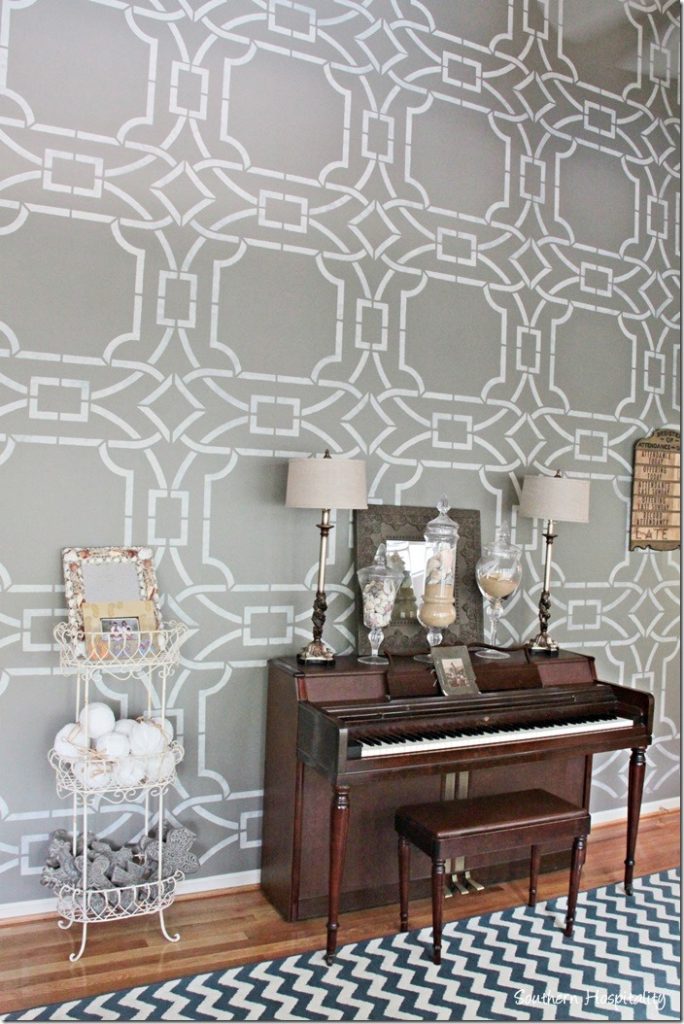 That wall has been stenciled as well.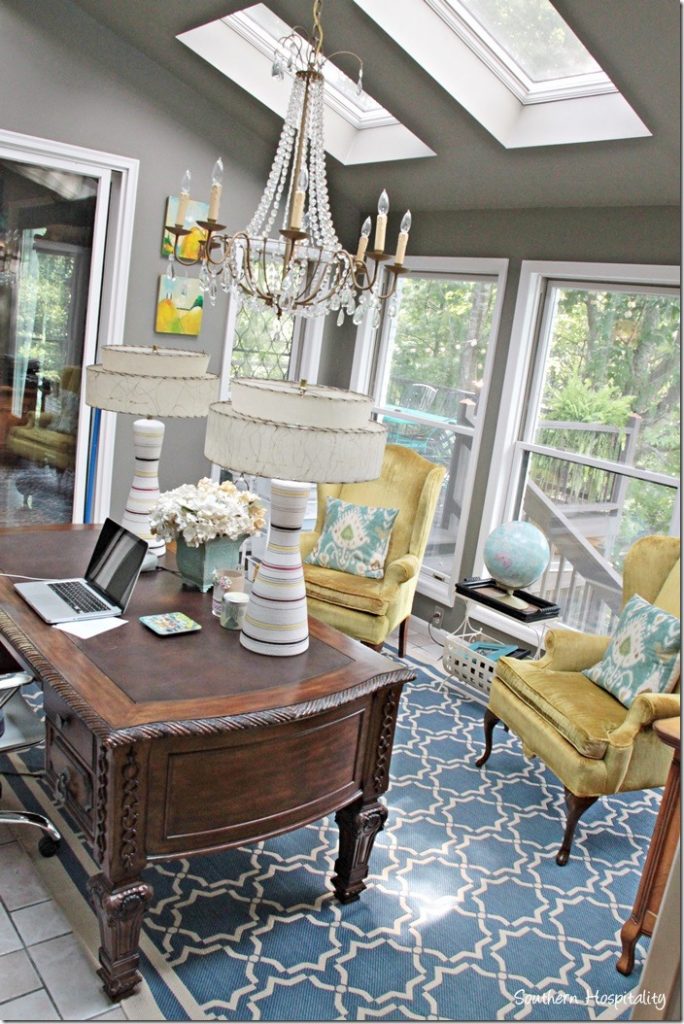 Just beyond, Dana's office is the sunroom with lots of light pouring in.  Love her mix of colors and we both have that Ikat fabric in our homes.
The kitchen has been completely updated with all the cabinets painted and the old soffits removed, adding wood to the top along with crown molding.  The beadboard peninsula was painted with Annie Sloan Graphite I read on her blog.  So pretty now!  You have to go see the before and after pics on this one.
Existing cabinets were painted a pretty gray and a metallic wall finish was added to the walls.
The refrigerator was built-in too.
Here you can see that pretty silvery metallic wall finish in the breakfast area.
An open buffet in the kitchen corrals the necessities.
Pretty in pink, her daughter's bedroom is dreamy and oh so girly.  I got to sleep in this cozy room.
Her son's bedroom is equally cute and so boyish.
The shared bath got a new wall treatment too and the cabinets were painted.
The master bedroom is calm and serene and so pretty.
A dresser gets personalized too.  Lots of creative projects in this family.
Master bathroom with painted vanity.
Dana's husband, Brooks, is very talented in painting art as well.
He updated the stairs going to the lower level with this beautiful and inspirational treatment.  Love it!
The lower area has a pretty guestroom with another metallic wall treatment.
The concrete floor down here was painted with such a cute stencil and really makes the room.
The guest bath on the lower level with a floral shower curtain and checkered walls.
Room for a dresser for linens in this alcove of the bathroom.
The lower level entertainment room is cozy with theater seats.Of course, that is a handpainted armoire that houses the TV.
A vintage buffet with another pretty paint treatment.
Dana picked this up last year at the Chapel Market in Alabama.  Love this and it's perfect for her family with all their creativity.
An art wall.
The lower level also houses a screened porch with a hanging bed.  Oh, how I love this!
Such a cozy spot to relax.
Can't you imagine yourself napping on this hanging bed?  I sure could!
They even have a pretty sea blue pool in the backyard for lots of outdoor fun.
I hope you enjoyed this fun tour of Dana's house. She was such a sweet hostess and it's been fun to get to know her and the other ladies we connected with in Nashville.  I've got lots more to share of our Nashville antiquing too and will share all of that soon.  In the meantime, go over and check out Dana's blog with her Gallery of their fun projects!  What an inspiring couple they are.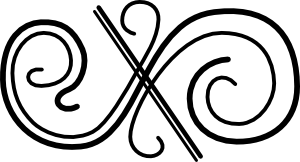 I've got a new style guide up at Ebay, so would love for you to check it out. All about adding a coastal feel to your home! Just click the pic below.
Don't Miss a Post, join my list!