Feature Friday today is an oldie but good one! Buck's house was a favorite for many of you, it's a small house in Atlanta, but Buck has made this place a showplace. Don't miss his backyard makeover linked at the bottom! Enjoy and have a great weekend!
Today's Feature Friday is such a fun one.  My roommate, Rhonda, has a business acquaintance, Buck that she is working with.  When she visited his house, she came home telling me all about it and how Buck had completely renovated this small bungalow that is inside the perimeter here in Atlanta.  In-town living is something that I do not know much about, because I've always been an OTP (outside the perimeter) girl, but I love seeing how houses near downtown Atlanta have been renovated to make them work on smaller lots without a lot of parking options. Buck's house is the cutest thing I've ever seen and at 980 s.f., Buck has captured every square inch of useable space in his home.  I know you are going to love this one.  Plus, Buck has incredible taste in decorating and design and it's a house I could completely feel comfortable in too.  He told me that he bought the house 8 years ago and has been working on it since then. He has moved walls and the kitchen, expanding the space to really fit his needs and the house lives much larger than its square footage would show.
When I would ask Buck if something was new or original, he laughed and said, if it's pretty and you like it, it's new!  I laughed at that and totally get it since that is what my house went through as well.
So, enjoy the tour today of an in-town Bungalow, a smaller house that feels very homey and quite spacious.  I loved it all and I know you will too!  She asked him if I could take pics and he was all for it, so we went in town for a photoshoot this week and I was blown away with what Buck has done with this house.  I wish you could see the Before pics, he showed me the snapshots and it is a WOW renovation.
Here's a little about Buck.  Buck is a consultant and a speaker. He specializes in diversity, inclusion and has a growing practice area in the science of happiness. He's a subject matter expert on race in America and can be seen on CNN from time-to-time and in case you'd like to contact him, check out his website,  BD and Company.
I can attest to Buck being a happy guy, he exudes happiness and zeal for life. I thoroughly enjoyed meeting Buck and seeing his house.  And I really want to get an invitation back to hang out in the backyard, which you'll get a little glimpse of in this post.
Buck's house before renovation
The curb appeal is evident too at Buck's in-town bungalow.
Buck's house is painted Retreat by Sherwin Williams, a gorgeous gray green.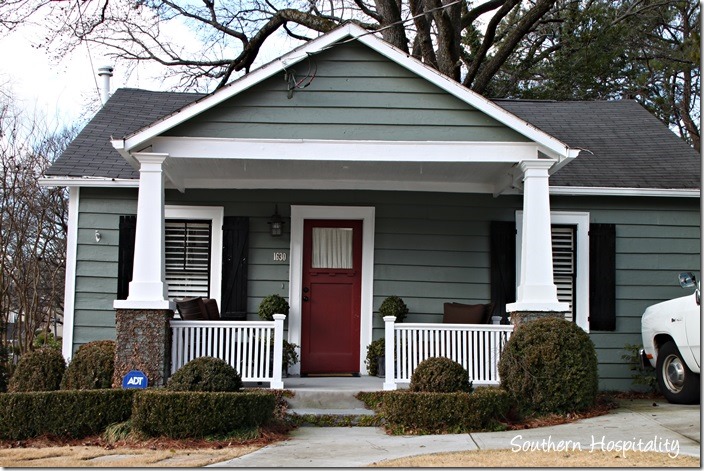 The front porch has been renovated and the columns and railings are all new, giving it a Craftsman vibe.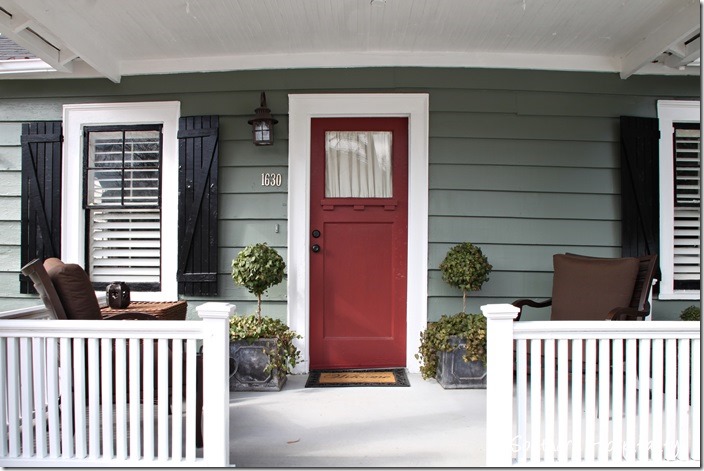 So cute and welcoming.  Love the red front door and the deep teal exterior color.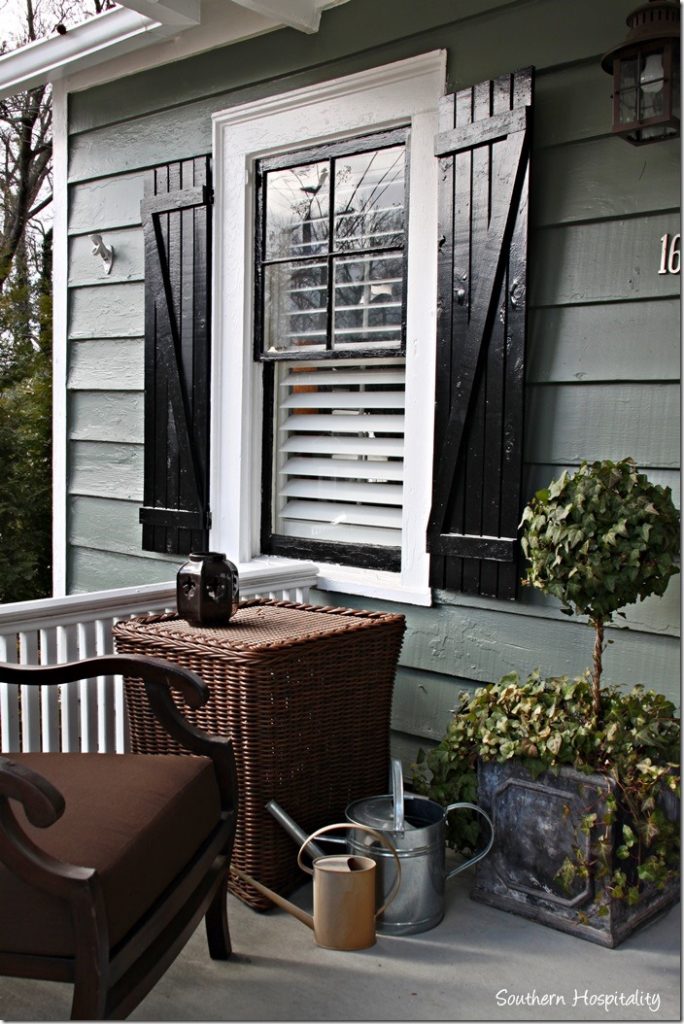 Front porch seating.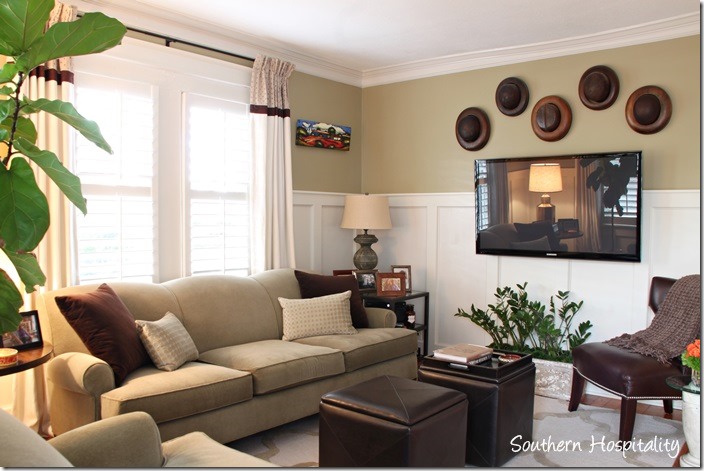 Stepping inside the front door is a cute and nicely decorated living room.  All the board and batten was added.  Those are vintage hat molds on the wall that Buck has collected.  One thing I noticed is that Buck doesn't have a lot of clutter, but it's just enough accessories displayed in his small space.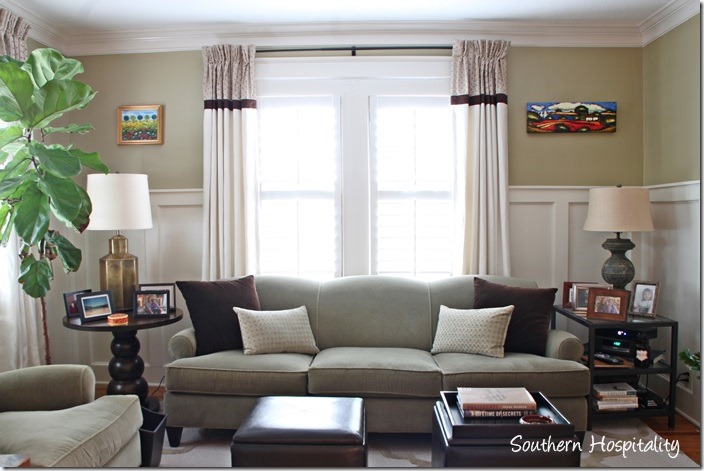 The sofa is classic and I saw a mix of traditional, vintage, and modern.  A happy mix.
Love the rug that anchors the room.  Notice the fiddle leaf fig.
A look back at the front door.
New artwork that Buck had made. This is his  and his family's streets and places he has lived.  Love that personal touch.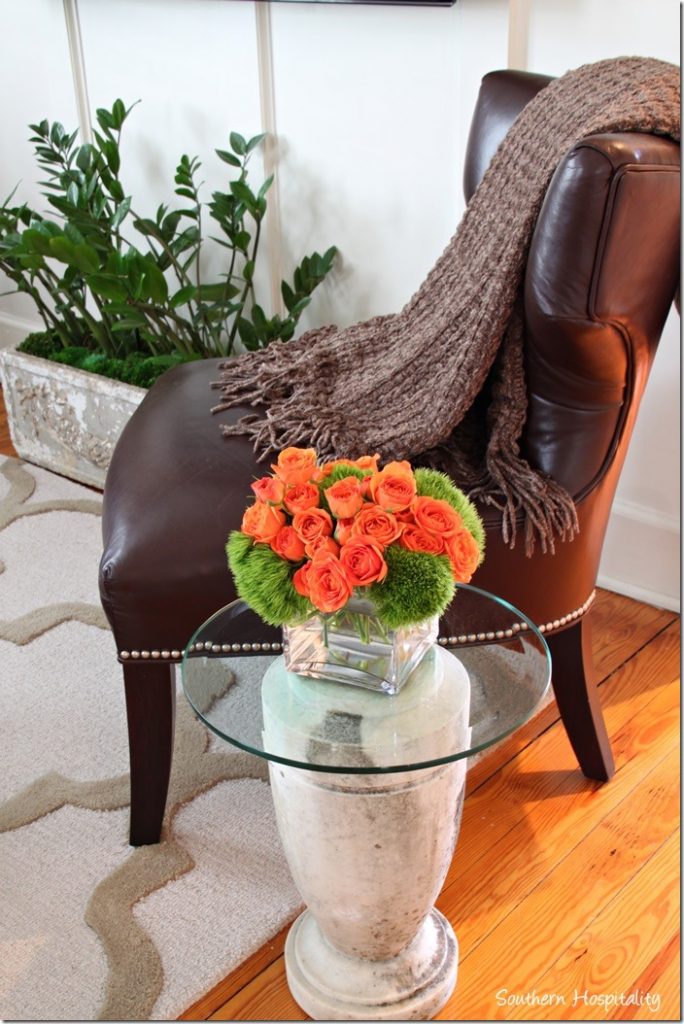 Fresh flowers make a nice impression in the living room.
To the right is the master bedroom.  Buck told me he closed up a window that was on the headboard wall because it was so hard to decorate around.  He still has plenty of light coming in and a focal wall now.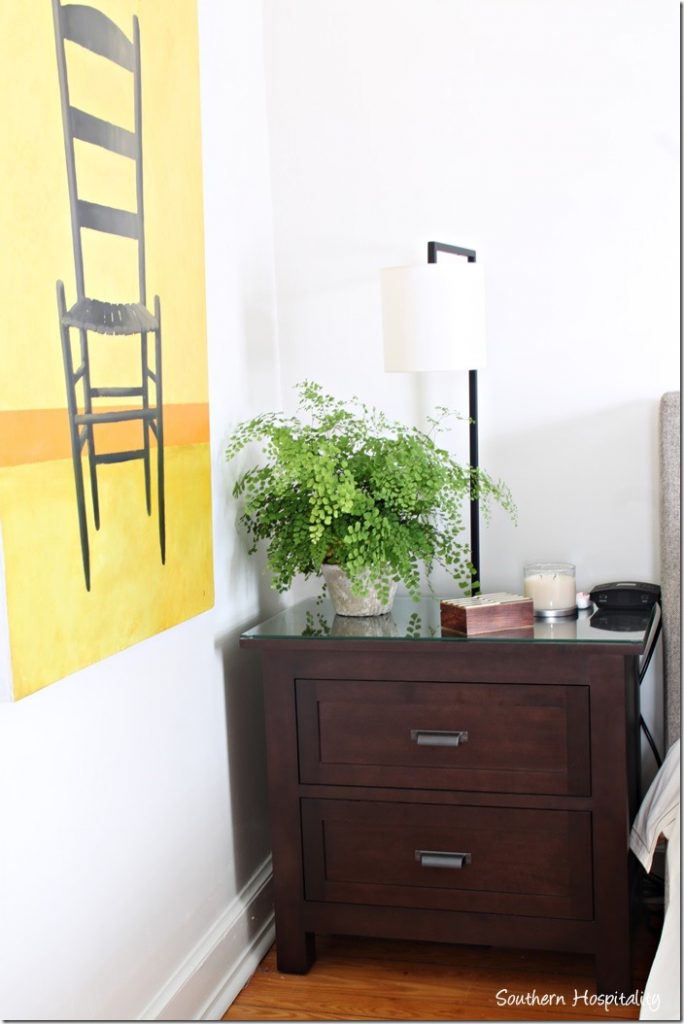 Contemporary art and some classic pieces of furniture make the master a haven.
Looking back towards the living room, Buck had this armoire custom built by a local man and it is just beautiful.  Inside are sliding drawers and shelves that add a lot of storage to his master.  Buck added all the extra molding on the tops of each door frame too.  I love that!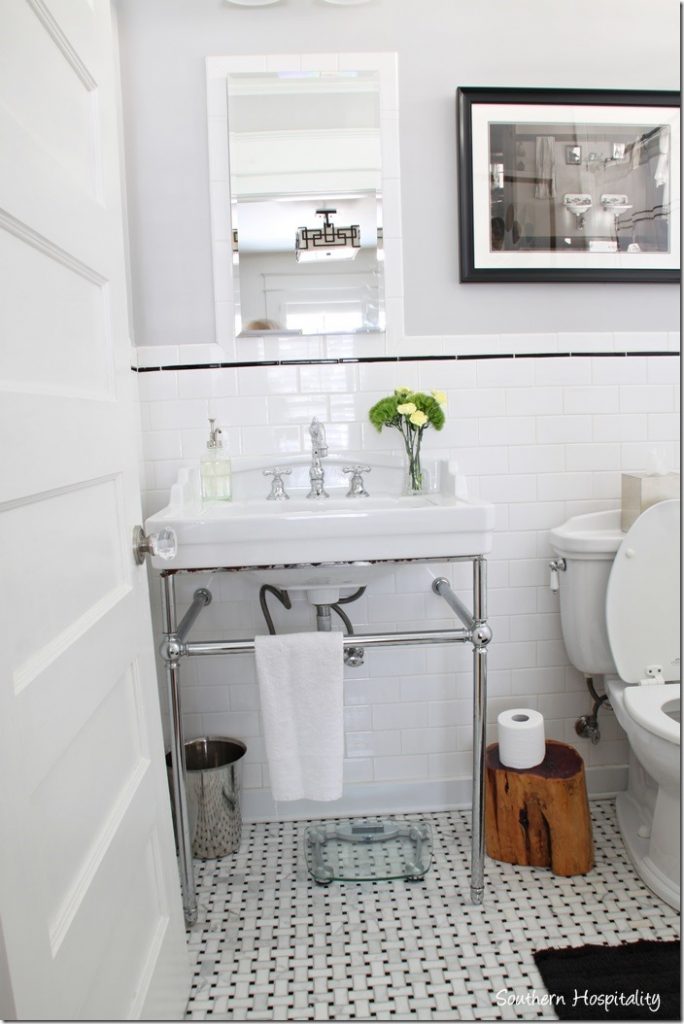 Off the master bedroom is the master bath, a fresh update with basketweave marble tile and a beautiful pedestal sink.  White subway tile with black pencil accent tiles add such a classic touch.
More fresh flowers on the sink.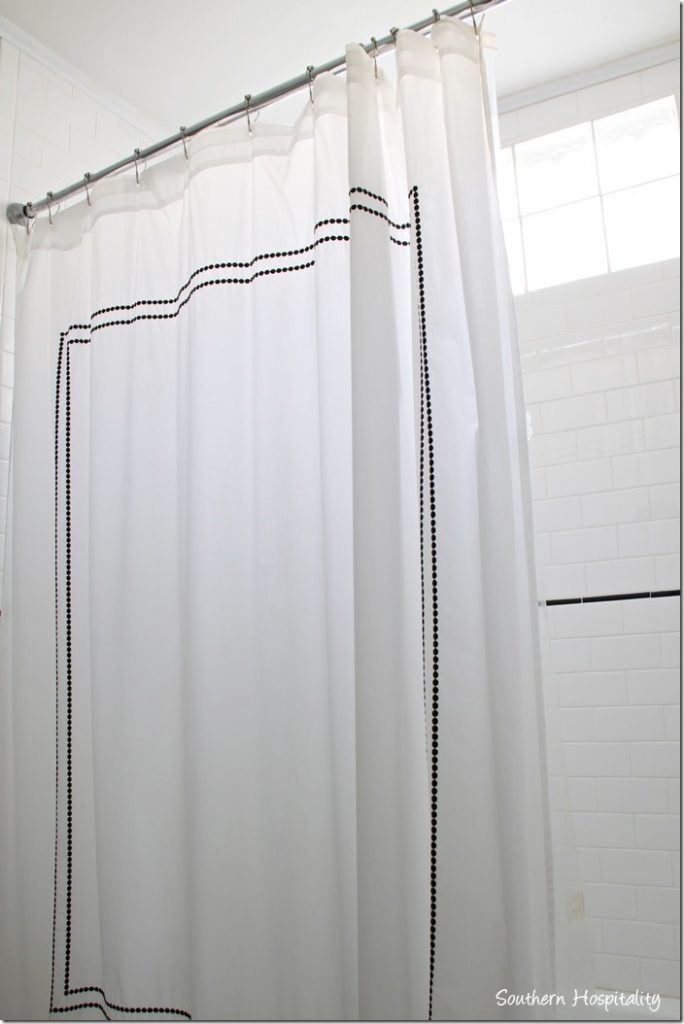 A simple black and white shower curtain in the tub, with glass blocks letting some light come in, makes this space very clean and fresh.
Right past the living room is the beautiful kitchen.  I literally gasped when I saw this space.  A nice center island painted dark, with a beautiful white slab of marble, is just so pretty.  Two barstools are tucked underneath.  I can imagine folks hanging out here and lots of conversations going on.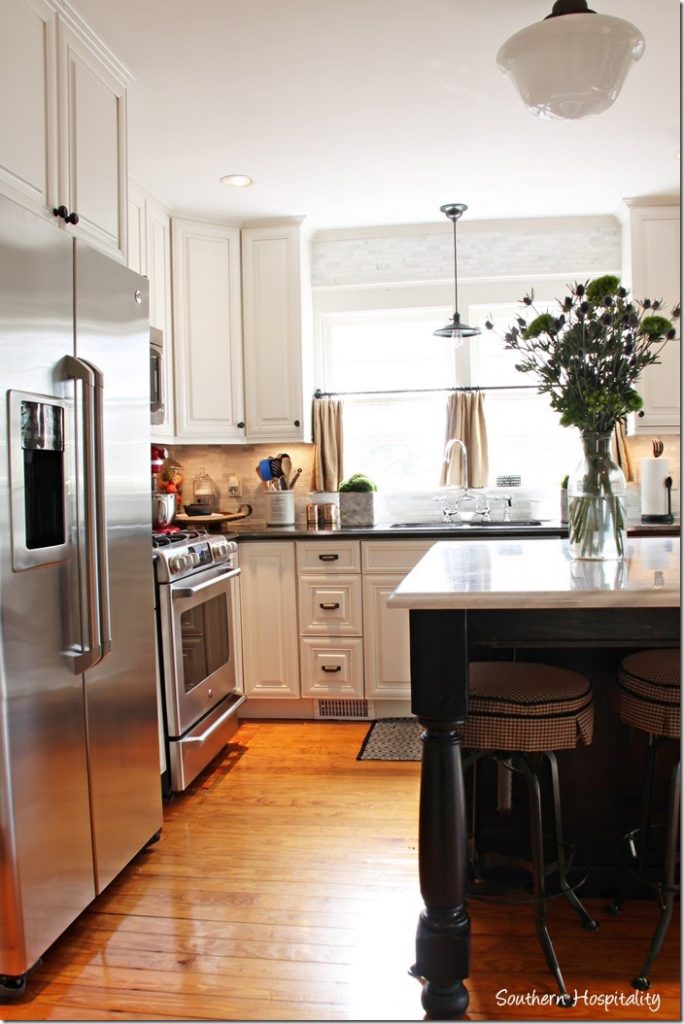 Buck did lots of things on a budget, including the kitchen.  The cabinets were found for a bargain at a local source and he added black granite to the cabinets to offset the marble slab on the dark island.
Small subway marble tile backsplash pulls it all together, creating a really upscale look.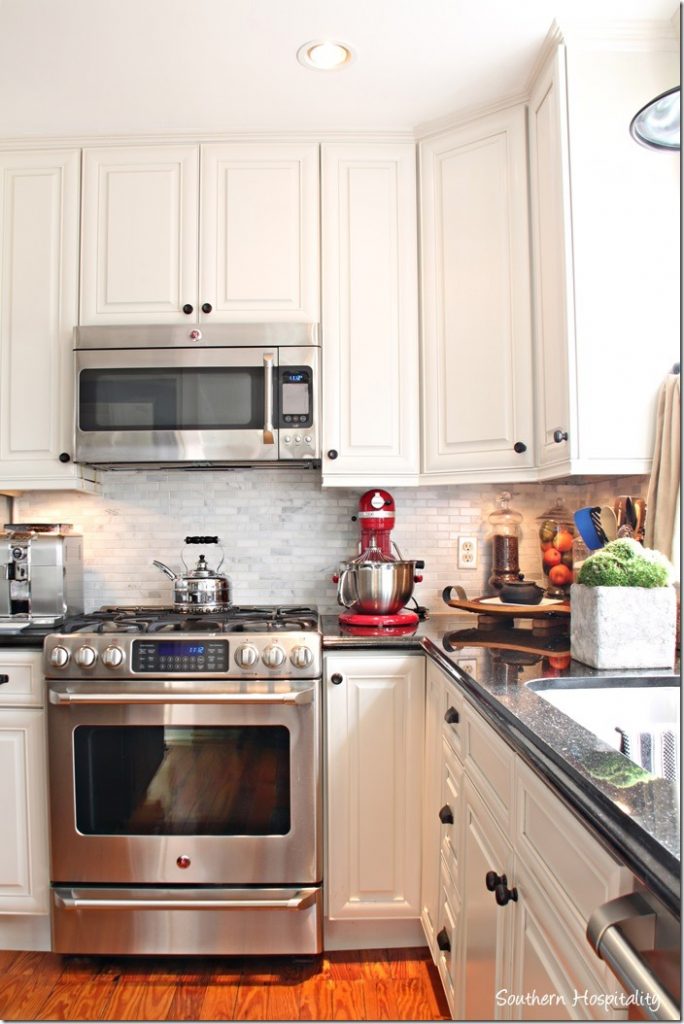 Pine floors keep it warm in here.  Don't you love this kitchen?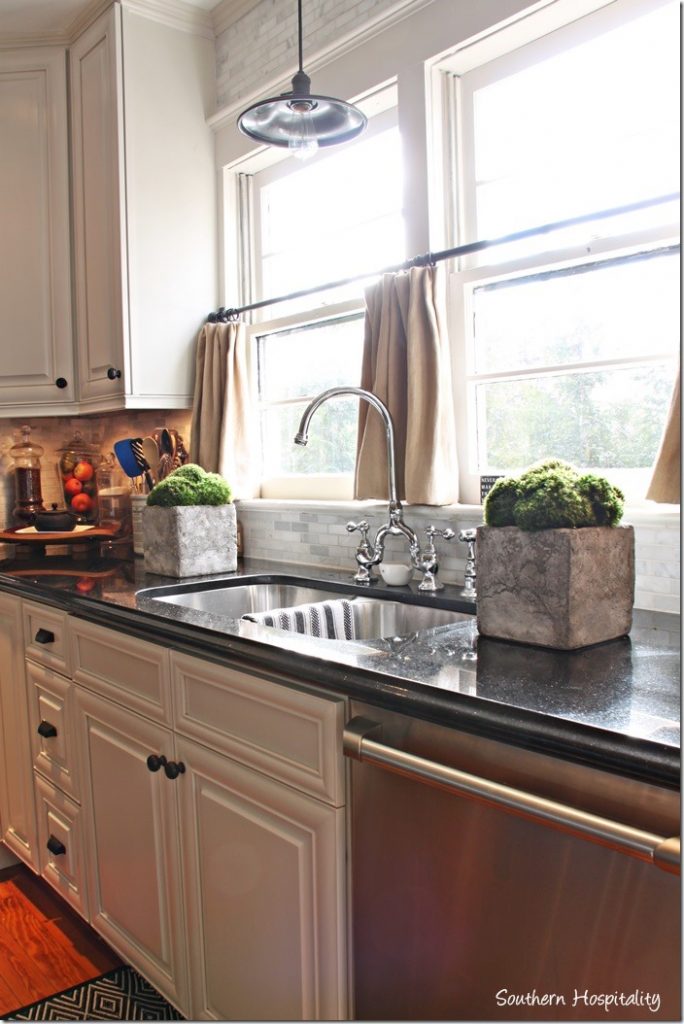 Notice the beautiful chrome bridge faucet and those windows with the cute café curtains.  Everything flows.  Don't miss the light fixture either.
Two pretty mossy plants in rustic planters flank the sink.
Life is Beautiful.  Yes it is indeed!  Good shot of the marble tile.
And then there is the breakfast nook!  Isn't this the cutest thing you've seen?  Check out the table legs and bench seats on either side. It's wrapped in beadboard on the walls and ceiling and I just loved everything about this space.  Buck said that this nook was added onto the house during renovation.
The table top, plants and windows are so inviting.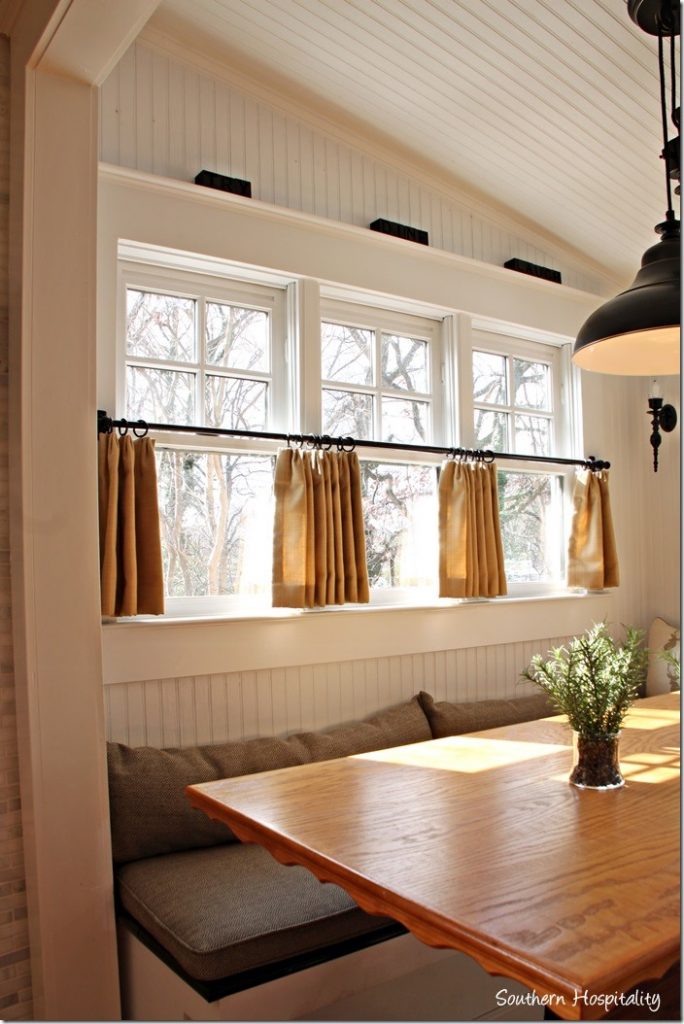 Those café curtains are too cute.
Loved the fabrics and what a sweet space this is.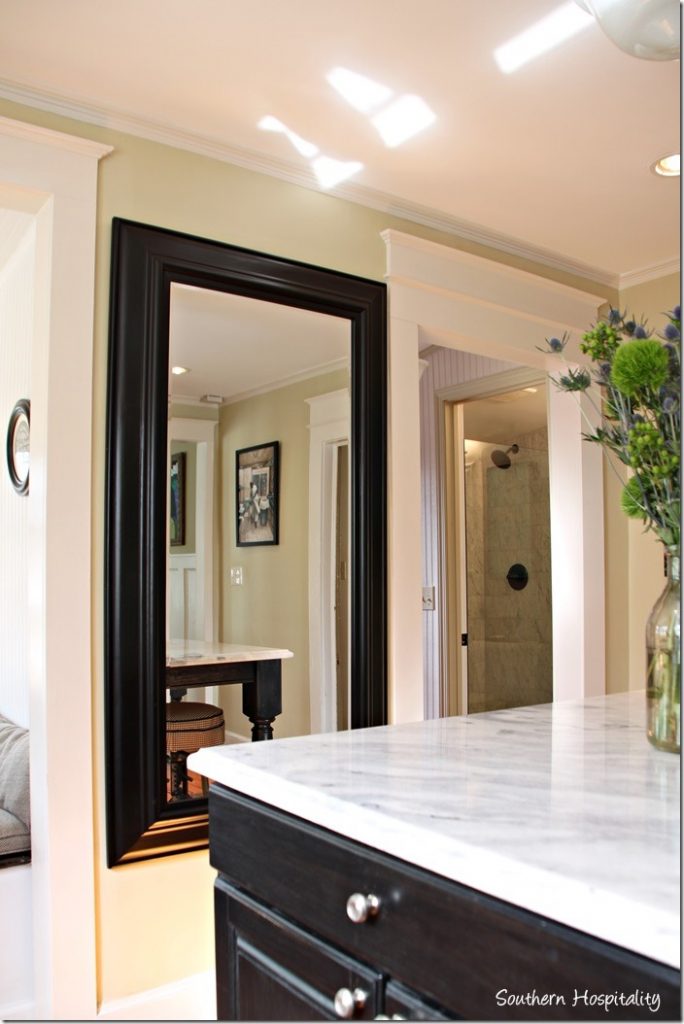 Right outside the nook is a mirror on the wall, which bounces light and really adds a spacious feel.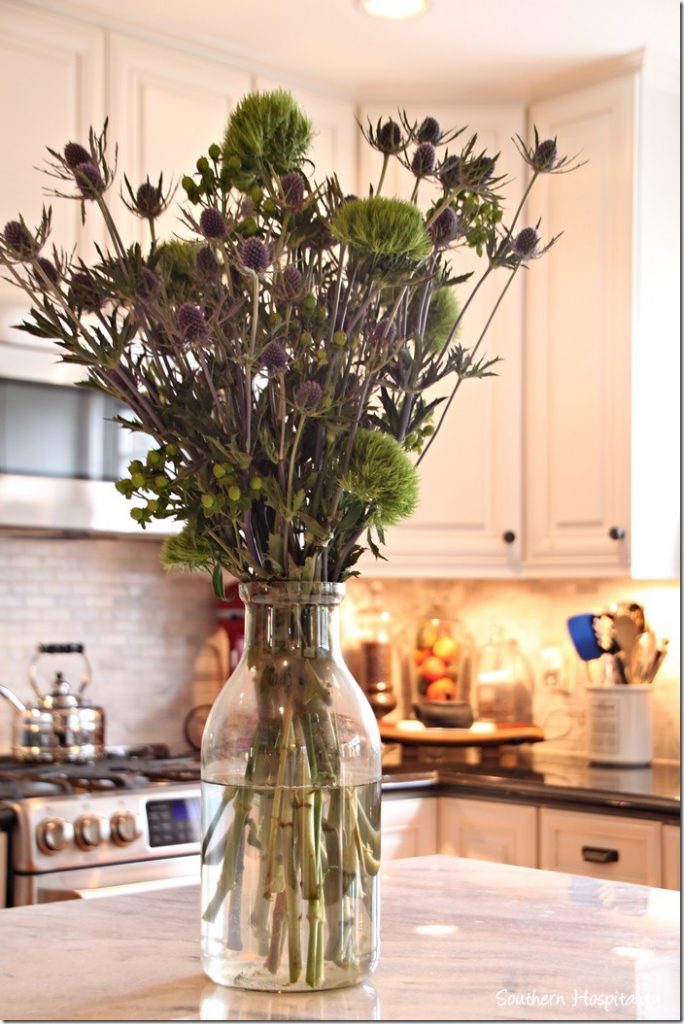 Fresh flowers on the island.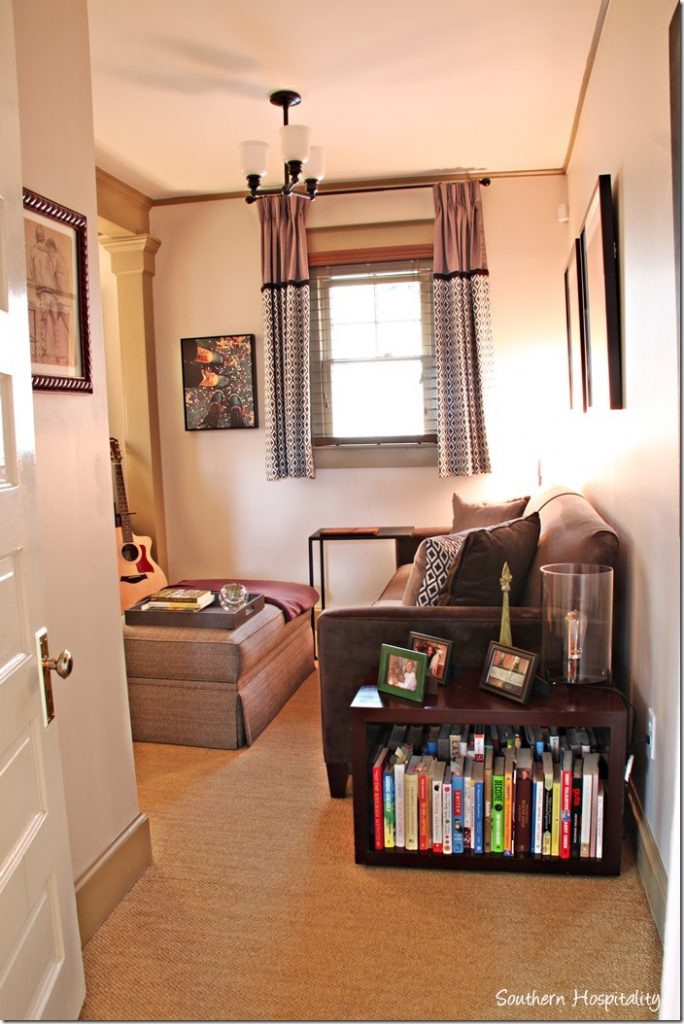 Just past the kitchen is the office.  Warm and welcoming as well.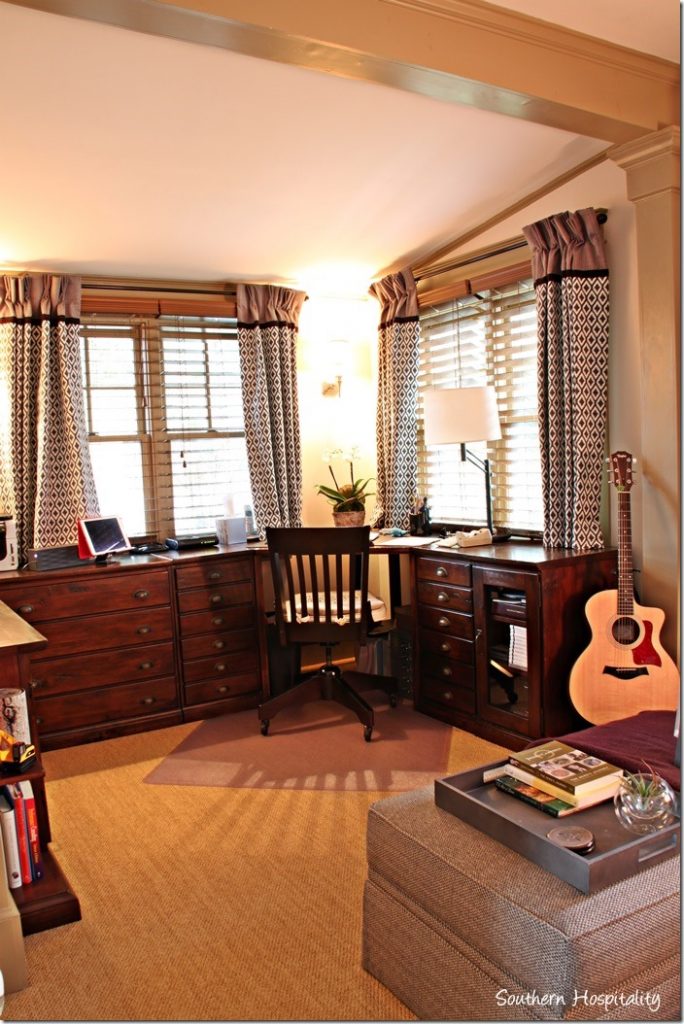 I love the corner desk space and this is where Buck works.
Many of you asked Buck for his paint colors and the trim in the office is a custom color, so here's a photo from Buck with the formula on the can.
Those curtains are so cute and add so much to the masculine space.
Artwork on one side.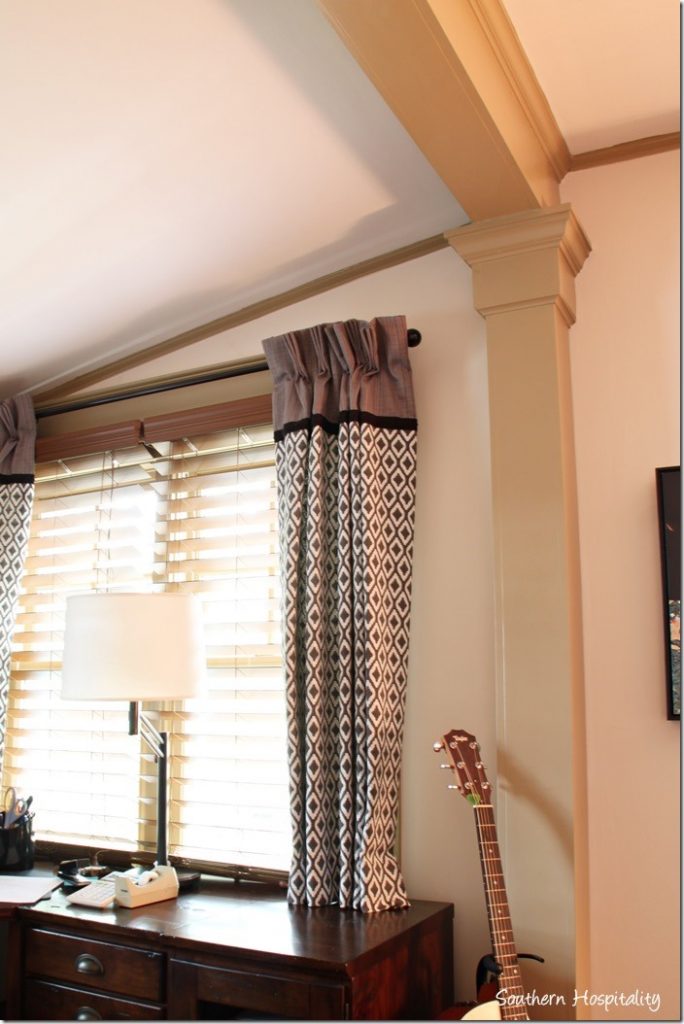 I love the extra molding columns in the room and it totally adds to the space.
In the hallway to the outdoor spaces, is the laundry nook.  How cute is this?   I love the red washer and dryer and the built in cabinets that make it all look seamless.
Notice even the top of the cabinets are useful for storage.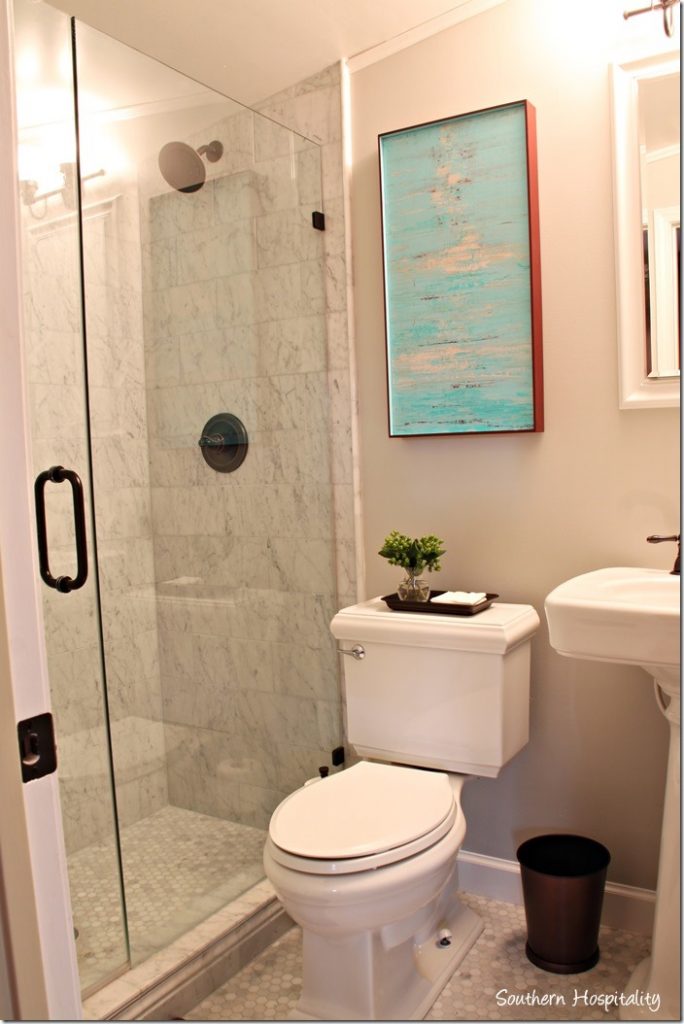 Right across from the laundry space is an extra bath that Buck was able to fit in the house.  Love this marble tiled shower and hex marble floor.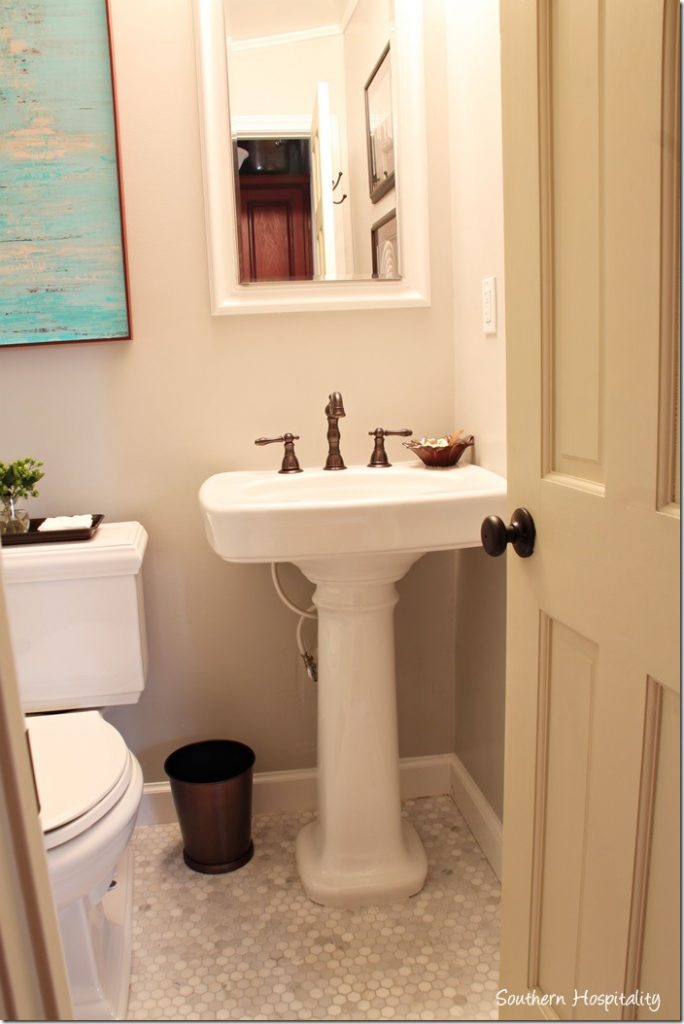 Another clean and classic space.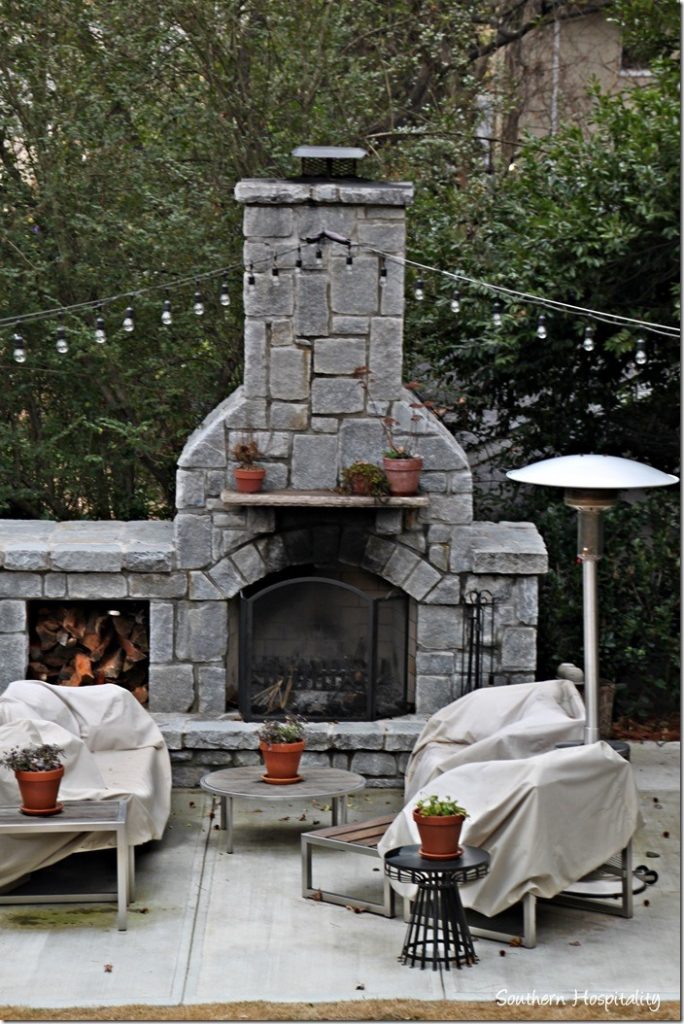 Right outside the back door is a deck and stairs that go down to this beautiful fireplace patio.  It's in Winter mode now, but you can imagine what a fun space this would be during the summer months.  Like having a whole other room right outside.  It has lights strung up and music piped out here.  Love, love it!
Buck said I could come back later in the spring and do another photo shoot of the backyard, so I'm going to take him up on that.
In fact, I did go back and photograph the beautiful backyard and you can see his backyard paradise here! 
I know you loved Buck's house as much as I did!  It's the cutest small house I think I've ever seen.  Buck knows how to live large and live well in his small space.
EDITED to add Buck's paint comments below:
SaveSave
SaveSave
Don't Miss a Post, join my list!