I recently reconnected with an old friend, Jennie, who I grew up with in my Daddy's church for so many years.  Our parents are good friends and have been for a very long time.  Jennie and her husband have built 4 houses and renovated several more than that and about 6 years ago built their dream home in Cartersville, GA.  It's country living, but close enough to the city for shopping and restaurants.  I had heard about Jennie and Eric's home and had to see it for myself.  I knew that they loved old houses and I had heard that when they built this one, they took those beautiful architectural features from the old homes they had loved and renovated and added them in the new house.
I just knew it would be gorgeous and it certainly is!  And I'm sharing it with you today.  I took so many pics that I'm going to split it into 2 posts.  Today is Part I.
This is on the way to Jennie's home, so you can get an idea of the countryside near Cartersville, GA.
Pretty and scenic, it's out in the country, away from the bustle of Atlanta.
Jennie and her family live in a Craftsman style new home built in a planned community with large lots.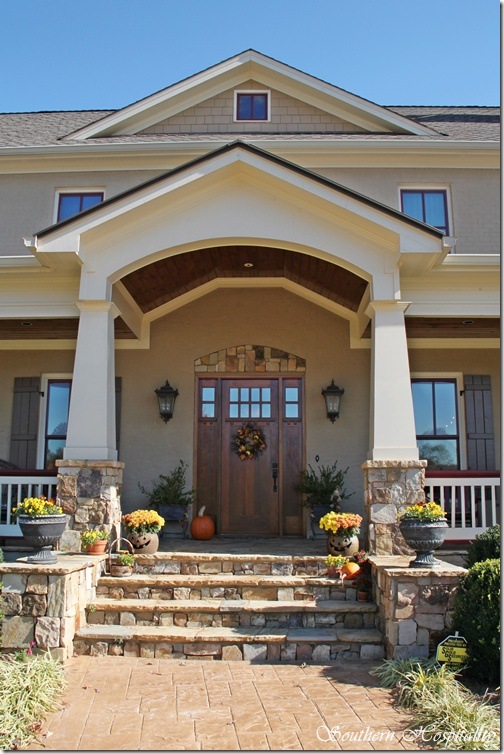 I happen to love Craftsman details and this house has plenty, from the stone steps, columns, barrel ceiling, and lots of trimwork.
I love the detail of stone above the front door.
She had the front door all decorated for Fall.
Front porch with comfy furniture and stone floors.
You can see the details of the shutters and planked ceiling here too.
Inside the spacious foyer, you can see Eric's choice of a curved staircase going upstairs.  Dramatic and beautiful!
Love the details on the staircase too.
They chose a floor that is rustic, but new.  It looks like reclaimed wood, but is prefinished rustic pine and it really is a gorgeous floor.
The red dining room is to the right, complete with box moldings painted white.  It is lovely and so Southern.  Jennie is a great decorator.
Pretty peacock painting over the fireplace.
A lovely dining room to relax and enjoy.
One of the features of their older houses was built-in china cabinets, so they duplicated the look in their new house.  I just love this fine detail too!
To the left of the front entry is a media room, complete with movie-like lounge chairs.  Pretty and functional for their 2 boys and the family to enjoy.
From the familyroom, looking back towards the entry, you can really get a good look at the curved staircase.  The boys rooms are upstairs, so I didn't photograph them.  There is plenty to see downstairs though.
The familyroom is cozy with brown leather and Fall colors.
Here you can see the rustic planked ceiling that soars upward with dark beams.
A black built-in is on the left of the fireplace.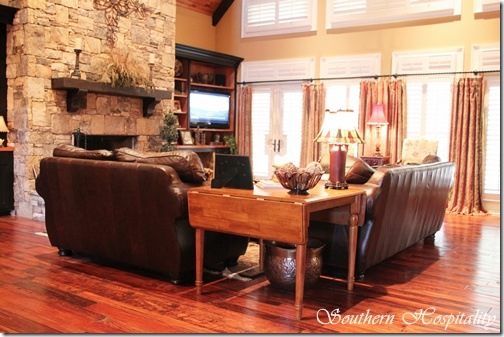 A beautiful mantel is placed on the stone fireplace, with another built-in to the right and a row of windows looking outside to the covered porch and pool.
What a beautiful greatroom they have created.
Teacups are displayed on one of Jennie's antique sideboards.
That's part of the first floor of Jennie and Eric's house.  Here's  Part 2, so you won't want to miss that.  We'll see the gorgeous farmhouse kitchen, breakfast nook, master bedroom and bath, guestroom, porch and pool.
It's a beauty of a house!
Don't Miss a Post, join my list!