Today, I'm back with Part 2 of the beautiful Craftsman style home in Cartersville, GA.  If you missed the first post, go to Part 1 to catch up on the rest of the house.  I'll post a pic of the outside again, just so you can appreciate this gorgeous home's exterior.
Now let's head inside to the kitchen!  Oh, how you are going to love the kitchen.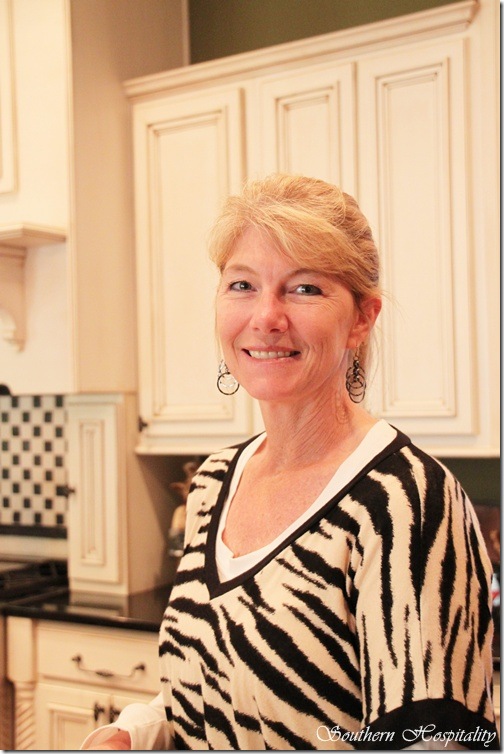 This is Jennie, the homeowner.  She and her husband, Eric, built this custom home with lots of great details from their years of restoring older homes.  Jennie is a sweet lady and I'm glad we grew up in church together.  My family and her family are close friends.
The kitchen is so pretty and I couldn't help but take a lot of pics from all angles, so you can see how gorgeous it all is.  I love this massive black island, don't you?
Creamy glazed cabinets are the main component to this beautiful kitchen.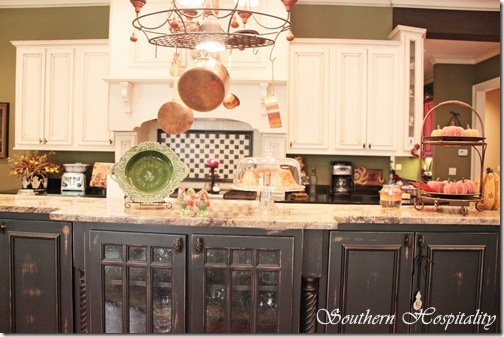 I love the detailed glass doors she added in the black island too.
The backside of the island shows pretty distressing and hardware details.
'
You can see the contrast with the floors and that pretty glass.
A farmhouse sink is right at home in this kitchen.
Update:  Several of you asked about the green paint in the kitchen and Master Bedroom/Bath.  Here it is from Jennie:
The kitchen is Bayleaf by Eddie Bauer sold at Lowes and the master is Carriage Door by Behr sold at Home Depot.
Love the shape of the island and how unique it is.  I've never seen an island like this and I love it.
Pretty and detailed hood over the stove.
I always love display shelves above stoves like this too.   A place to put pretty accessories and check out that black and white checkerboard backsplash.  Very eye-catching!
Jennie's window treatments in the breakfast area are so simple and cute too.I didn't check out how they are hung, but I love the pom-pom trim on these. They highlight the pretty trimwork on the doors and windows.
Here's another great feature that Jennie and Eric chose for their breakfast area.  They added rough planks to the walls (like many in blogland are doing) when they built their house.
Painted it all white to blend in with the trim and it is a gorgeous feature in their house. Jennie's dad is a home builder and he was the contractor of their home when it was built about 6 years ago.  Eric mentioned that when these planks went up, they got a call from him, all in a panic from the cracks and gaps in the boards.  He couldn't possibly understand that this look is exactly what they were going for!  Funny, huh?  No caulking required!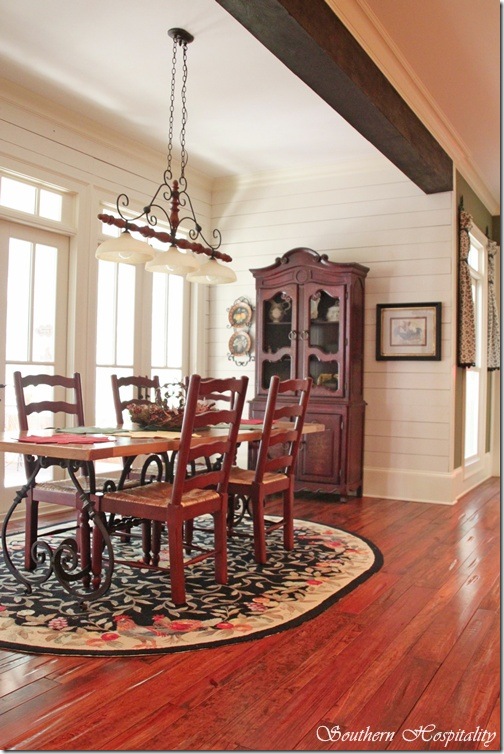 I love the beam that offsets this breakfast area.  It looks like an old farmhouse and that wall of windows is so stunning.
Looking back to the butler's pantry area in the hallway between the kitchen and dining room.
Going down another hallway towards the master suite and guestroom side of the house.
Here's a pretty guestroom.
And guest bath.
The master suite is spacious and calming.
Love the tray ceiling.
Jennie has it decorated so pretty.
One one end of the master, is a very nice sitting area with sofa, lots of windows, and a fireplace.
How nice is this to enjoy?
On the other side of the master suite is the master bath. Another spacious area.
Pretty tub and check out how she displayed her towels in a wine rack.  Great idea!
Vanities for both, it's such a spacious bathroom.
Red guest powder room.
Right off the kitchen is a beautiful screened porch with a stone fireplace.  Great way to enjoy the sun.
That day, the sun was shining bright and their dachsund was enjoying her place in the sun.
A covered porch is great for entertaining.
Soaring ceilings and comfy furniture to lounge on completes the space.
And a beautiful swimming pool is great for those hot Georgia summers.
I hope you enjoyed this beautiful home tour of Jennie and Eric's gorgeous home.  I had heard how beautiful it is and I am so glad I got to see it in person.
Thanks, Jennie and Eric, for letting us stop by your Cartersville home! 
Don't Miss a Post, join my list!