One of the sweetest bloggers I know is Shirley, with Housepitality Designs.  She is so warm and friendly and you can't help but feel like you've known her forever, she's that kind of lady.  Her blog tagline is "it's all about the hospitable home" and I know that is how Shirley lives her life too, welcoming friends and family into her beautiful home.  Like many of us, Shirley is obsessed with decorating, even taking some courses in redesign and starting her own decorating business, after being in the healthcare field for over 20 years, because she just loves decorating that much.  So many of us can relate to that!  Decorating a beautiful home is on the forefront of a lot of our minds and it's so fun to see how everyone interprets that.
Shirley has a beautiful traditional home in North Carolina and I know you are going to enjoy the tour!
Here's Shirley, the gracious hostess at the front door.
What a welcoming front porch!
Shirley is a bit of a Francophile and has even been to France on shopping trips.  She has some beautiful pieces of furniture collected over time and travels.
Living room with welcoming colors and patterns.  A lovely room.
With a large room like this, she has it filled up nicely with such pretty pieces.
A curved sofa reminds me of the new one I just got.  Love the French styled chairs too.
A soaring vaulted ceiling is part of the architecture.
Looking into the dining room.  I spy a beautiful hutch filled with pretty dishes.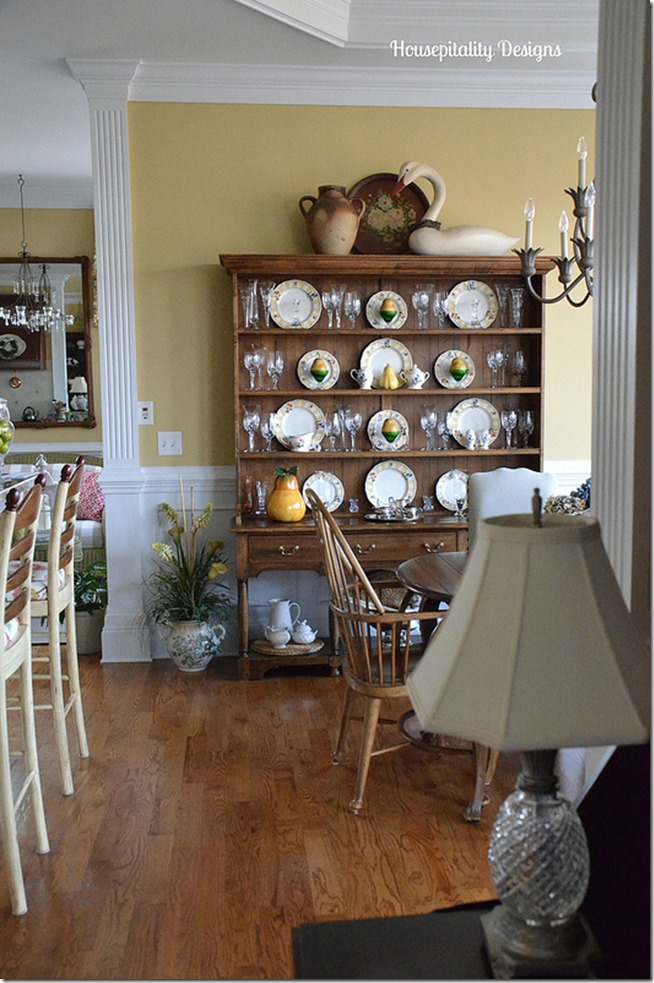 A lovely Fall centerpiece graces the table.  Love those chairs with the big nailheads.
Looking into the kitchen.
Practical and pretty and spacious.
With a big island too.
A sunroom with lots of windows adjoins the kitchen.
She has guest rooms to spare, so let her know when you're coming.

  So pretty and ready for guests.
A guestbath with double sinks and mirrors.
This lovely hutch is in one of the guest baths.
Another guest room holds a bed and crafting area.
With another stylish bathroom and decorative mirrors over this sink too.
Check out the spacious master bedroom and that beautifully detailed trey ceiling.
Another area of the master bedroom.
The master bathroom is huge and spacious too.
With a clawfoot tub.
Upstairs, the bonus room hosts a pool table and plenty of fun, I'm sure.
Media room which I think is probably in the basement..
Along with a beautiful little kitchenette.  What a fun place to entertain.
The laundry room is charming.
And the back yard screams Southern charm and serenity.
What a beautiful Southern home that Shirley and her hubby have created.  I know you have enjoyed meeting Shirley and if you don't know her already, hop over and introduce yourself. She's a sweet lady!
Don't Miss a Post, join my list!