I met Lesli with My Old Country House this year at the Haven conference in June and then again at Blogher in NYC in August.  She is a delightful blogger, super friendly,  and very talented in fixing up her home and painting beautiful artwork.  Wait til you see how colorful Lesli's old country house is, located out in the country from Charlottesville, VA.  From the outside it looks like a vintage farmhouse and when you walk inside, it's full of life and color from all of Lesli's décor and paintings.
Built in 1880, Lesli's old house has seen some years, but they are only the 2nd owners of the house.  That's so amazing to me!
]
Doesn't this look like a Grandma's house, with the gravel road leading up to it? Makes you want to see who lives in this house. On Lesli's About page, she divulges that she has multiple master's degrees and I find that so interesting. She's done a lot of things, but she's a mom, artist and blogger now.
Coming in the front door, her pine wood floors are so comforting and warm. The family dog doesn't hurt either.
A painted church pew completes the scene in this spacious foyer.
Lesli's artwork is displayed all over her home and you can tell she's not afraid of color.  She's a self-taught artist and get this.  She paints with left over Benjamin Moore wall paint!
Her living room is a combination of graphic fabric prints alongside traditional elegance in the furniture and feel of the room.
Beautiful shot of the chevron pattern sofa and that magnificent fireplace with mirror and chandelier.
I think I saw that Lesli's home has back to back living rooms.  What fun that would be!  Check out the pink painted backing inside that bookcase.
Another pretty sofa and lots of color.
The dining room is alive as well, very vibrant and fun.
I love this chest with the yellow chair next to it.  Shots of color.
Painted furniture is Lesli's specialty too.
Her kitchen has undergone a transformation too with refaced cabinets in a simple Shaker style.
Subway tile backsplash, which of course, I love.
Upstairs hallway.  These old houses had some incredible hallways.
Master bedroom with more graphic fabrics.
This pretty girl's room is so fun. She found these twin beds at a yardsale, I think and redid them and I just love how they turned out.
Lesli has 2 boys.
The laundry room isn't ignored either, with bold stripes on the wall.
So pretty!
And here is a sampling of Lesli's art. She has a gallery page on her site with all her artwork and she is quite the accomplished artist.  Love this one, Billy the goat.
Hattie the cow.
And this vibrant yellow barn.
Hope you enjoyed this tour of Lesli's old country house.  I just loved touring her home and seeing her artwork.  Stop on over and say hello to Lesli, she would love to meet you, I know!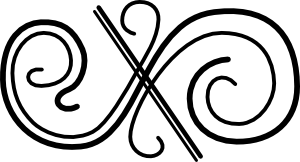 The winner of the Lowes $100 giftcard has been posted here and the winner has been emailed!  In case you miss the notice of the giveaway winners being posted on any of my giveaways, just an FYI, you can always go back to the original giveaway post and that's where the winners are posted and I always email the winners as well. 
Don't Miss a Post, join my list!